Best Enrique Iglesias Songs: 20 Essential Tracks By The Latin Pop Hero
The best Enrique Iglesias songs have smashed language barriers, topped charts around the world and kept parties jumping. Here's why…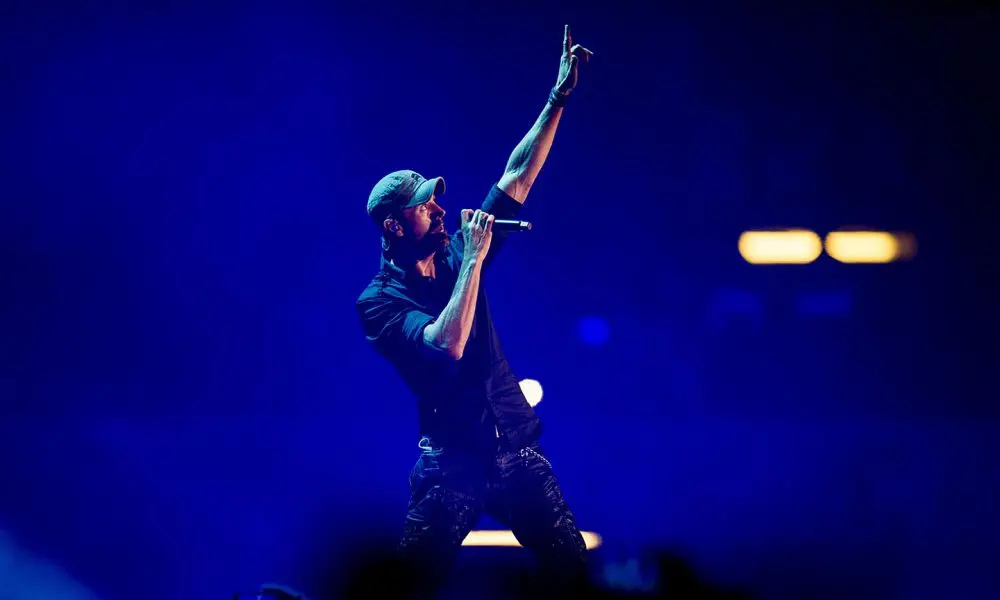 Pop dynasties are notoriously unreliable when it comes to launching lasting careers, so Enrique Iglesias, the son of Europe's most successful singer-songwriter of all time, Julio Iglesias, didn't appear to be any sort of candidate for the spectacular career that followed. But at the end of the 20th century, a Latin-pop track buried away on a largely forgotten Will Smith movie soundtrack became a surprise international smash, and then… it just continued. With plenty of hit albums, countless music videos, and dozens of massive singles, Enrique has stayed one sharp step ahead of pop's fickle marketplace to become one of the best-selling Spanish artists of all time. Today we celebrate his birthday (May 8, 1975) and pick 20 of the best Enrique Iglesias songs, demonstrating just how that story unfolded.
Listen to the best songs by Enrique Iglesias on Apple Music and Spotify.
20: Rhythm Divine
The second single from Enrique's English-language debut, Enrique, followed the euphoric pop formula established by the first – "Bailamos." It came from the same writing team of Paul Barry and Mark Taylor, who had scored the biggest hit of Cher's lengthy career with one of the world's best-selling singles ever: "Believe." "Rhythm Divine," known as "Ritmo Total" in Latin markets, made the Top 40 in the US and topped the charts in Spain.
19: Not In Love (featuring Kelis)
By 2004, Enrique was something of a chart regular, and the campaign for his seventh studio album, 7, was coming to an end when this cut was released as its final single. Kelis added her vocals to an expanded version of the track and the urban-flavored romp surpassed expectation when it made it all the way to the UK Top 5. Despite its success, "Not In love" would be the last official Enrique Iglesias single for three years.
Enrique Iglesias ft. Kelis - Not In Love (Official Video)
18: Heartbeat (featuring Nicole Scherzinger)
As the distribution of music grew ever more complex, so Enrique's release schedule became more diverse, with different markets yielding wildly different levels of success. Nicole Scherzinger's post-Pussycat Dolls career proved more successful in Europe, so it was perhaps inevitable that this electro ballad would do well there. The territories down under loved "Heartbeat," too, and the track made double-platinum status in Australia. In a steamy-enough catalogue, this is certainly one of Enrique's most seductive songs!
Enrique Iglesias - Heartbeat (Official Music Video) ft. Nicole Scherzinger
17: Subeme La Radio
Enrique has seamlessly jumped between English and Spanish tracks across his career, but this Latin mega-hit from 2017 really crossed the divide and made a splash just about everywhere. Zion & Lennox, from Puerto Rico, and Descemer Bueno, from Cuba, featured on the original, while a remix with Sean Paul added the somewhat unlikely extra ingredient of Britain's The X Factor 2016 winner Matt Terry. The latter's involvement may have been an insurance policy to secure Enrique's passage back into the UK Top 10 for the first time in three years, but this great track, supported by a video shot in Cuba, needed little help to become another smash.
Enrique Iglesias - SUBEME LA RADIO (Official Video) ft. Descemer Bueno, Zion & Lennox
16: Experiencia Religiosa
Long before Enrique tried to crack the international charts, he was making a big splash in the Latin market. This 1995 single was taken from his self-titled debut album and was named the Pop Song Of The Year at the Lo Nuestro Awards. A soaring gospel ballad, it also caught the attention of Boyzone, who recorded a version of it – retitled "Mystical Experience" – for the US edition of their A Different Beat album.
15: Be With You
It's extraordinary to think that this US chart-topper failed to secure even a UK release as a single in 2000. "Be With You" came from the hit writing team behind "Bailamos," with production led by Brian Rawling and drenched in his trademark pop-club trickery. Enrique also co-wrote the track, which was the first time one of his English-language co-compositions was chosen for single release. It helped the parent album, Enrique, go on to sell more than a million copies in the US.
Enrique Iglesias - Be With You
14: I'm A Freak (featuring Pitbull)
The first multi-market release from the Sex And Love album, "I'm A Freak" wasn't the first collaboration between Enrique and the American rapper, but this pop-house banger was an inevitable huge global club smash. It also became a major crossover hit across Europe in 2014, but surprisingly failed to crack the Billboard Hot 100. Perhaps they just weren't in a party mood that year!
Enrique Iglesias - I'm A Freak ft. Pitbull
13: El Perdon (with Nicky Jam)
"El Perdon" – or "Forgiveness" – started life as a solo cut by reggaeton star Nicky Jam until Enrique decided to collaborate on the track. The song became one of the biggest genre hits of all time, topping Billboard's Hot Latin Songs chart for a staggering 30 weeks in 2015 (with only another Enrique track bettering that amazing run). Not surprisingly, it was the runaway success at the season's awards ceremonies, winning Best Urban Performance at the Latin Grammys.
Forgiveness | El Perdón - Enrique Iglesias & Nicky Jam
12: I Like How It Feels (featuring Pitbull And The WAV.s)
Legendary producer RedOne has worked with the best of contemporary pop, including Akon and Nicki Minaj, and joined Enrique for his ninth studio album, Euphoria. This collaboration saw Enrique again paired with Pitbull and The WAV.s, but it was dropped from Euphoria (perhaps because the album already included "I Like It") and eventually landed on deluxe editions of the next release, Sex, And Love. Check out the great behind-the-scenes video, offering glimpses of Enrique's high-velocity lifestyle. We'd like how it feels too!
Enrique Iglesias - I Like How It Feels (Official Music Video) ft. Pitbull, The WAV.s
11: Addicted
The diversity of Enrique's catalogue is neatly illustrated by this hypnotic soft-rock track. It was picked as the first single from Enrique's 7 album, but the jolt from Enrique's more typical pop and club cuts proved too brave for radio programmers in the States, who failed to support it widely. Nonetheless, "Addicted" became a solid enough European hit with a No.11 peak in the UK.
Enrique Iglesias - Addicted
10: Sad Eyes
Boardroom eyebrows were likely raised when a steamy David LaChapelle video was delivered to support the release of this Bruce Springsteen cover. The clip was quietly abandoned, but this interpretation of a great song offers gorgeous melodic range and remains one of Enrique's rare forays into other people's back catalogues.
9: Escape
As Enrique's career exploded in the early years of the 21st Century, his music saturated every market and the easy blend of contemporary influences lent itself to multiple remix treatments. A fantastic club mix by Giorgio Moroder with Lady Gaga collaborator Fernando Garibay helped push this light pop blend to the top of the US dance charts. The surprise appearance of tennis ace Anna Kournikova in the racy video got tongues wagging… and this time there was some substance to the rumors. The couple now has twins!
Enrique Iglesias - Escape
8: Dirty Dancer (with Usher, featuring Lil Wayne)
Pop collaborations don't come much more stellar than this. Released in May 2011 and recorded for Euphoria, this club banger was produced by RedOne and, in its remixed form, became a major hit. The super-slick video, directed by Yasha Malekzad, has been viewed more than 130 million times and the track inevitably made it all the way to the top of the US dance charts.
Enrique Iglesias, Usher, Lil Wayne - Dirty Dancer
7: Could I Have This Kiss Forever? (with Whitney Houston)
It says something of the buzz surrounding Enrique at the very start of his international career that he was able to secure the services of an icon such as Whitney Houston. Recorded first for his debut album, "Could I Have This Kiss Forever?" was remade in a more uptempo style for worldwide single release in late 2000. This sultry classic from songwriter Dianne Warren remains the best duet Whitney ever recorded.
Whitney Houston with Enrique Iglesias - Could I Have This Kiss Forever (Official HD Video)
6: Bailamos
In many ways, this is where the Enrique story really begins. "Bailamos" exploded across radio in the final summer of the last century with its catchy blend of contemporary pop and flamenco top-notes. While Enrique was already no stranger to Latin chart success, two weeks atop the Billboard Hot 100 surpassed expectation. A handful of videos were recorded for the track, which stuck long in the memory (unlike the Will Smith movie Wild Wild West, in which it first featured).
Enrique Iglesias - Bailamos (Remix)
5: Tonight (I'm Lovin' You) (featuring Ludacris & DJ Frank E)
One of Enrique's biggest hits of the 2010s, the tension between the song's erotic charge and what radio programmers would be happy to play is palpable in this urgent dance track. With rapper Ludacris joining him on the video, the mix paid dividends with a return to the US Top 10 and strong sales worldwide. And that tension we were talking about? There's a choice turn of phrase on an alternative cut that seems more in-step, but make sure there's no one of a sensitive disposition in earshot…
4: I Like It (featuring Pitbull)
Mixing languages for the first time on Euphoria, the Spanish and English blend of tracks on a single album was a sign of Enrique's growing confidence that he could satisfy and develop both markets at the same time. This RedOne electro-pop classic was a huge hit in 2010 and contains a nod to Lionel Richie's "All Night Long (All Night)" as part of a frenetic monster mash-up. It was named Winning Song at the 2012 BMI Latin Awards, hit the Top 10 on both sides of the Atlantic, and topped the stateside club charts.
Enrique Iglesias - I Like It (Official Music Video)
3: Do You Know? (The Ping Pong Song)
The risk of being branded a novelty didn't deter Enrique from naming this midtempo synth-pop number after the source of its distinctive sample, which helped launch his eighth studio collection, Insomniac. It's such a clever trick for a song that it's surprising no one had thought of it before! This, and the Spanish version, "Dimelo," proved a huge hit, peaking at an impressive No.3 in the UK. And the tongue-in-cheek video raises a smile too…
Enrique Iglesias - Do You Know? (The Ping Pong Song)
2: Bailando (featuring Descemer Bueno and Gente De Zona)
This record-breaking song secured a staggering 41 weeks at No.1 on the US Latin chart in its Spanish version and enjoyed almost universal international success in a remixed, English-language form with Sean Paul. It cleaned up come awards time, too, with three Latin Grammys and numerous Billboard accolades. "Bailando" is a classic Latin pop song with enough urban flavoring to make the crossover into adjacent markets.
Enrique Iglesias - Bailando ft. Descemer Bueno, Gente De Zona
1: Hero
In a shocked world struggling to regain its composure after the 9/11 atrocities, "Hero" seemed to be a song for the moment. This tender ballad was played against a backdrop of unimaginable heartbreak and became something of an anthem around the planet. It topped the Billboard charts and also became Enrique's first No.1 in the UK. A plot-heavy video added extra interest to a song that, in truth, needed little support; the impact of this haunting composition and Enrique's delicate vocal has lingered on.
Looking for more? Discover how Enrique Iglesias became the King Of Latin Pop.