Hero: How Enrique Iglesias Became The King Of Latin Pop
Hits like 'Despacito' wouldn't have happened without Enrique Iglesias. The King Of Latin Pop has demolished barriers to make pop a more fluid place.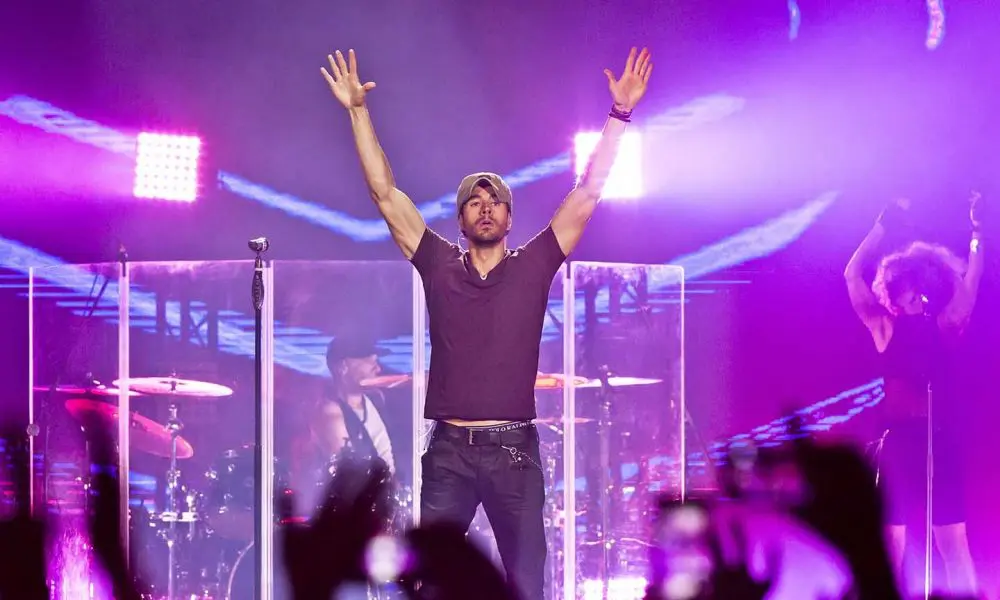 In the Latin-pop invasion that has overwhelmed much of mainstream music for the past two decades, the assault has had one consistent weapon of mass destruction. Without endlessly hogging the headlines, Enrique Iglesias, the undoubted King Of Latin Pop, has quietly built up a multi-platinum career that has straddled the urban, Latin, and pop genres. Across ballads, dance bangers, pop-rock, and Latin record-breakers, he has proved adept at cleverly reshaping his sound time and time again – all achieved with that trademark shy-guy grin and one eye on what's next.
Listen to the best of Enrique Iglesias on Apple Music and Spotify.
One step ahead of the times
It would perhaps be wrong to measure him against that mistress of reinvention, Madonna, but the pair share an ability to keep one step ahead of the times. Like her early releases, Iglesias' early English-language recordings were out-and-out pop-dance cuts, delivering massive hits but hinting little of the longevity to come. "Bailamos" emerged from the production team behind Cher's mega-hit "Believe" and was one of 1999's biggest tracks. Across his debut English-language album, Enrique, the show-stoppers kept on coming, with "Be With You," "Rhythm Divine" and "Sad Eyes" maintaining the momentum. His earlier success on an indie label in the Latin markets had hinted little of this sort of impact: crossover acts just hadn't managed to do this before.
On Escape, released in 2000, sales outstripped expectation still further and the mega-hit "Hero" became Iglesias' first signature song, topping charts around the world. After that, things really became interesting and the singer-songwriter started to experiment, jumping between English-language projects and Spanish recordings. The strategy worked, and Iglesias slowly established himself as a reliable hit-maker in both markets, which, back then were still stubbornly segregated. On 2002's Quizas, the singer started to break down those barriers: some of the collection's singles got airplay on US-based Top 40 stations. Things were starting to change…
A loyal fanbase
As well as masterminding a very successful recording career, Iglesias was canny enough to understand early on that he would really establish his name on the road. He worked hard to a demanding tour schedule that has seen him play to more than ten million people to date. He admits that he owes his lengthy career in a great part to the loyalty he has built among that audience, and has spent much of the past few years largely focused on demanding touring schedules.
If some of Igleasis' early English-language recordings hinted at a pop-rock influence, 2007's Insomniac saw him embrace pop-club culture in a big way – a style he has since established as one of his trademarks. On "Do You Know? (The Ping Pong Song)," Iglesias registered his biggest hit in years, and the sound that he created served him for many releases to come.
Enrique Iglesias - Do You Know? (The Ping Pong Song)
It was around this time that he also developed another of his career consistencies: the clever collaboration. Whether it be Kelis ("Not In Love"), Ciara ("Takin' Back My Love") or Lil Wayne ("Push"), the partnership always seemed to fit effortlessly with the track, and it has proved a smart tactic to drive radio support in tough-to-crack markets. No wonder that, in 2008, Enrique was named the World's Best Selling Latin Performer and Best Selling Spanish Artist. For his famous father (the recording legend Julio), who allegedly had concerns about his son following him into the music business, it must have been quite a moment.
Demolishing language barriers
In 2010, determined to finally demolish redundant language barriers, Iglesias issued his first bilingual project, Euphoria, with a near-even mix of tracks recorded in English and Spanish. The Billboard Latin Awards came thick and fast, and it was clear Iglesias was being recognized as a pioneer. Spanish-language single "Ayer" proved a particular highlight on that album, but it was the international club banger "I Like It," featuring Pitbull, that could be heard blasting out of radios around the world that summer. There was more work to do…
As greater urban and dance influences crept into Iglesias' output, "Finally Found You," with rapper Sammy Adams, and "I'm A Freak" (again, with Pitbull) were big hits in the early years of the 2010s, and it seemed that the singer was determined to focus on the all-out pop market. "Bailando," however, ended that misjudged speculation once and for all.
This Latin mega-track, with Descemer Bueno and Gente De Zona, became one of the biggest genre hits of all time, spending more than 40 weeks on top of Billboard's Latin charts, and was named the second most-viewed video of its year (behind Katy Perry). The King Of Latin Pop had defiantly reclaimed his crown – and hung onto it as the crossover hits kept on coming: 2017's "Subeme La Radio," with Descemer Bueno again, was another huge success; a remix, with Sean Paul guesting, powered it on to even further international acclaim.
Moving pop into a more fluid place
With record-breaking statistics to his name in dance, pop, and Latin markets (he has had more Billboard dance No.1s than Usher or Michael Jackson) it's very hard to succinctly define Iglesias' success. Yes, he's far outperformed contemporaries like Ricky Martin or Marc Anthony on sales statistics alone, but his influence has spread far wider than that. With an unrivaled focus on live dates, and a canny ability to jump into adjacent genres, Iglesias has gently moved the pop market into a more fluid place. He has proved that careers are built with small steps, not on flashy side-projects or the strength of a single album or song alone.
Without resorting to cheap controversy, Iglesias has focused on making great music, finding smart partners who can increase his appeal, and running a relentless touring schedule that would drive lesser artists into the ground. His rapport with his fans and a willingness to take his music to largely overlooked territories has built up a body of support that stands him in a good position for whatever's next. The hints at impending retirement never quite disappear, but it's doubtful whether Iglesias' restless energy would support that for long.
Hits like "Despacito," by Puerto Rico's Luis Fonsi and Daddy Yankee (and a little help from Justin Bieber), wouldn't have happened without Enrique Iglesias' pioneering work. His own "Bailando," just a few years earlier, paved the way for that smash, and no one should be in any doubt that there's likely another of those anthems just around the corner from Latin pop's secret weapon. Just don't keep us waiting too long, OK?
Listen to the best of Enrique Iglesias on Apple Music and Spotify.