Katy Perry
Katy Perry is a pop star whose massively successful career includes the albums Teenage Dream and Prism as well as singles like 'California Gurls,' 'Firework,' and 'I Kissed a Girl.'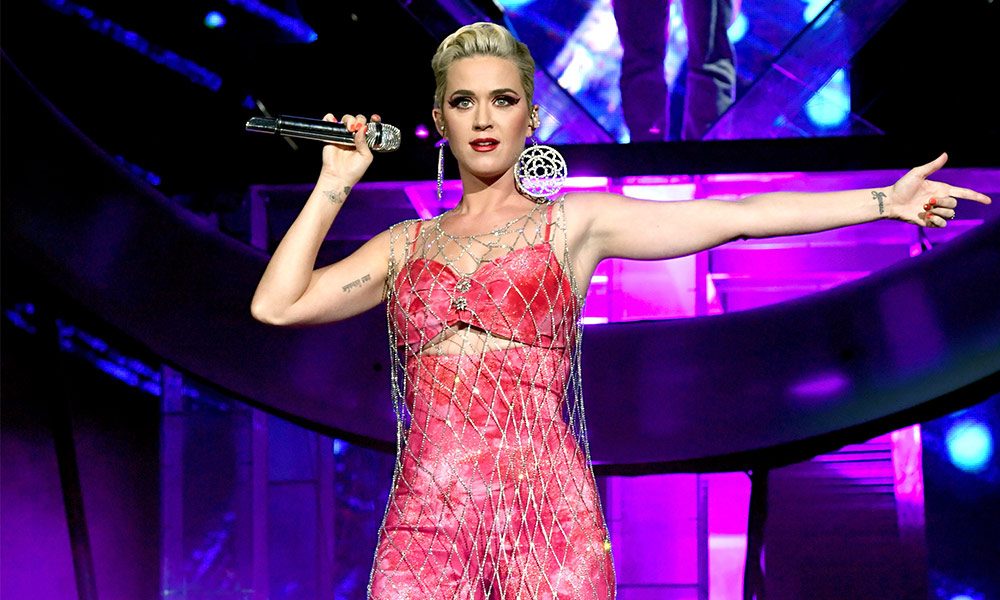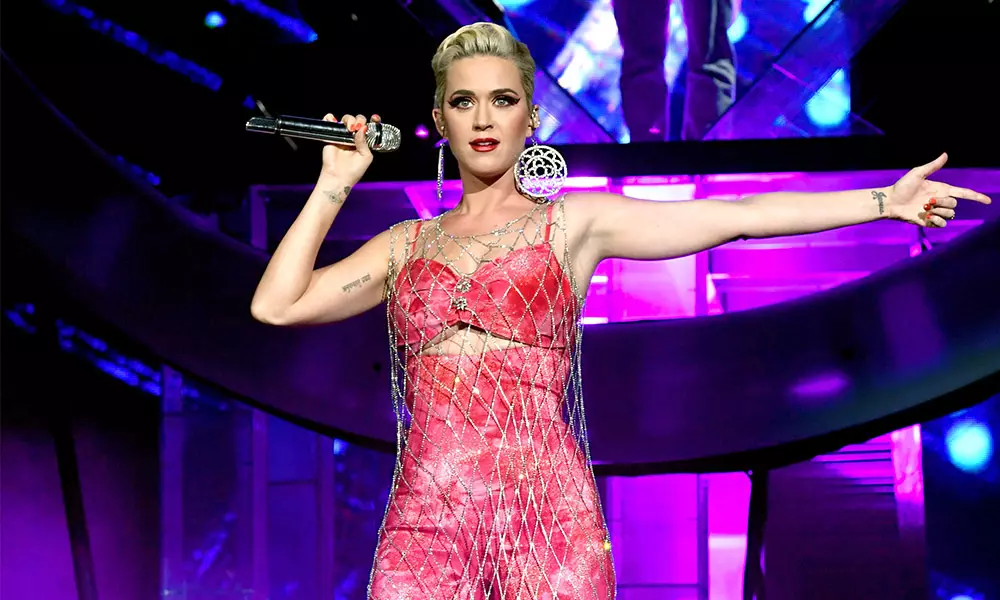 Launching a successful pop career usually relies on creating a big impact early on. Katy Perry missed that trick when her debut solo album almost went unnoticed in 2001, but she eventually seized upon a sure-fire strategy that led to the then risqué breakthrough single 'I Kissed A Girl' in 2008.
Born in 1984, Katheryn Elizabeth Hudson was brought up in a devout Christian household and moved across the US with her parents while they set up Pentecostal churches, before finally settling back in Santa Barbara, California. It was the church that offered an early introduction to the gospel music that was to become Katy's first entry into the business. Growing up, she had been exposed to many genres of music and she joined her ministry's choir, but she also took dancing lessons, suggesting that it would prove hard to pin down her artistic interests in the years to come.
Nashville was where her career truly started to gain momentum with her first album, the gospel project Katy Hudson, released in 2001 on a tiny record label that subsequently went bust. Undeterred by this false start, Katy approached hitmaker Glen Ballard, who today says he was impressed by her clear determination to succeed. They started writing together and she signed with him, but two subsequent deals with major labels fell apart, despite one of them funding work for what was to become much of her first hit album.
Katy finally found a permanent home and a new name when she signed to Capitol in 2007. With her first set of songs almost complete, it was decided that Katy should work with Dr Luke on a couple of extra tracks, including the single that would get her noticed. The cheeky 'I Kissed A Girl', from One Of The Boys, hit the top of the charts across the world, including the UK and US. Further smashes 'Hot N Cold', 'Thinking Of You' and 'Waking Up In Vegas' powered the album to seven million sales worldwide, a peak of No.9 in the States and the green light for her first global tour.
In no time, MTV Europe had named Katy its Best New Act, and she recorded for the channel's prestigious Unplugged series. She also guested on Timbaland's hit 'If We Ever Meet Again' and, by the end of 2009, Katy's spectacular 18 months was crowned with a 31 December engagement to British comedian Russell Brand, who she had met while filming a cameo for his movie Get Him To The Greek.
Juggling appearances on reality shows The X Factor and American Idol, Katy released 'California Gurls' with rapper Snoop Dogg in 2010. It again made the top of the Billboard Hot 100 and the track, playful and naughty without ever crossing the line into crudity or crassness, repeated that chart performance worldwide, including a two-week run at the top of the UK charts in July 2010. Teenage Dream, the title track of her second Capitol album, also followed its predecessor to the top of the US charts. It was a stunning start to the campaign for that sometimes-tricky sophomore album, illustrated by the set's confident debut at No.1 on the Billboard chart.
The collection sold strongly and its singles helped secure Katy a place in the record books as each release raced swiftly up the US charts. 'Firework', widely regarded as Katy's most memorable anthem to date, with its universal theme of self-belief, became the album's third consecutive No.1 in the States in December of that year.
Kanye West joined Katy on 'ET', which managed five non-consecutive weeks on the top of the US Hot 100 from April 2011, making Teenage Dream only the ninth album in history to produce four US chart-toppers. In August, 'Last Friday Night (TGIF)' also made No.1, crowning Katy as the first female artist to get five singles from the same album to hit the peak position stateside. With the album still selling strongly, it was the sixth release, 'The One That Got Away', that did just that and fell two places short, peaking at US No.3. A repackaged reissue of the album entitled, Teenage Dream: The Complete Confection, took Perry back to more familiar territory when 'Part Of Me' again topped the US charts in early 2012, and a follow-up, 'Wide Awake', also made US No.2.
Such success made another world tour inevitable, and the California Dreams Tour grossed almost $60 million, keeping Katy on the road for almost a year from February 2011. Despite this gruelling schedule, she juggled dates with a series of TV cameos, including a guest slot on Sesame Street, which attracted a fair deal of controversy for Katy's choice of outfit, and led to the show deciding not to air the segment. Less contentious were Katy's appearances on The Simpsons, Saturday Night Live and Raising Hope. Movie theatres also witnessed Katy joining the cast for The Smurfs and the release of her documentary feature Katy Perry: Part Of Me, which grossed more than $30 million worldwide.
While Perry's creative success seemed unstoppable, the period was tough for the singer. She had married Russell Brand in October 2010 but, after just 14 months, the marriage collapsed. Wider business ventures, including two fragrance launches, kept her focused and Katy's determination to keep on working saw her back in the studio by the end of 2012 to start sessions for her fourth album, Prism. Though the tone of the songs darkened during recording, Katy was happy with the set and lead single, 'Roar', powered its way to the top of the US and UK charts on its release in August 2013.
It was perhaps unfair to expect Prism to live up to its predecessor's ridiculously high chart records, but though the third single, 'Unconditionally', failed to breach the US Top 10, 'Dark Horse' had by then become her ninth US chart-topper. The parent album has sold more than four million copies to date, and launched Katy's biggest tour yet, with the Prismatic World Tour starting its global trek in May 2014 and culminating in a performance at the Rock In Rio festival in October 2015.
Katy's success has come during the age of the internet, and it's perhaps no surprise that, in 2014, she was certified the biggest digital artist of all time by the Recording Industry Association Of America (RIAA) for certified sales of 72 million digital singles in the US to that date. The following year, Katy Perry performed at the Super Bowl half-time show with guests Lenny Kravitz and Missy Elliott. She spent the rest of the year working on a wide variety of projects, including the launch of her own record label, Metamorphosis Music, with Capitol.
During 2016, Katy released a standalone single, 'Rise', for an American broadcaster's coverage of that summer's Olympic Games, but there's been no new music since, with Katy claiming that she is in no rush to get a new record out. There's no doubt that Katy is an accomplished pop performer with a clearly defined image, but her work carries influences from a number of genres and artists. It's this ability to fuse different styles and keep her audience evolving with her that suggests a career similar to one of her strongest inspirations, Madonna, who captured the zeitgeist more than 30 years ago, just as Katy was born.
Sexy and knowing, canny and influential, Katy supports a wide number of charities, is a ferocious champion of the LGBT community, and campaigned hard for Hillary Clinton in 2016's bitter US election contest. She's struggled with critical reaction – despite a number of popular awards wins – and her relentless schedule has likely taken its toll on her personal life, but this noticeable slowdown in recent months seems timely, and it's certain that her inevitable return to the pop arena will see her back at the top of the charts once more.
Mark Elliott