Carrie Underwood
One of 'American Idol"s greatest success stories, the country-pop crossover artist sings ballads like few others.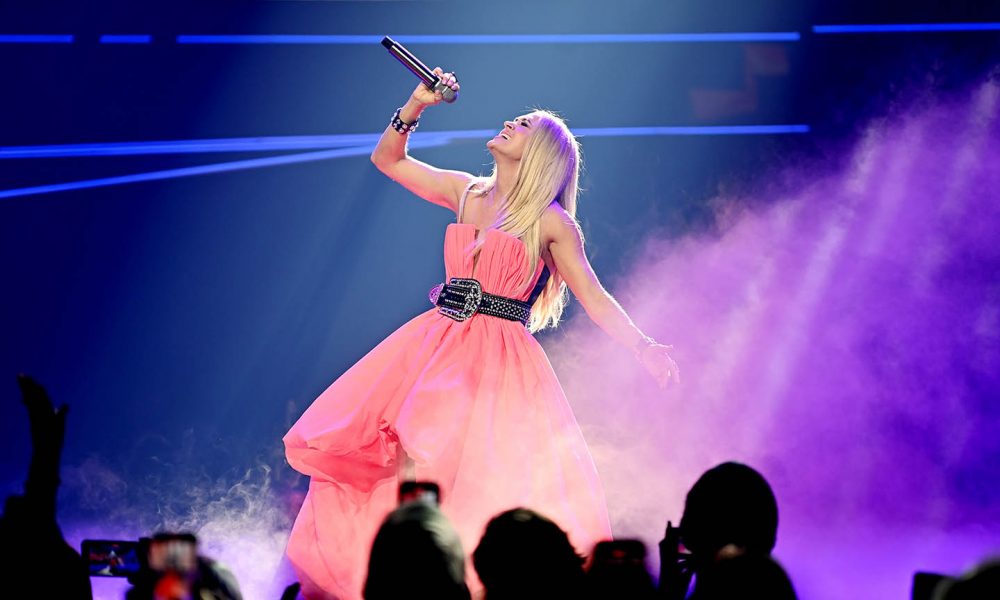 One of American Idol's greatest success stories, country-pop crossover Carrie Underwood has spent the last two decades winning hearts and ears with elaborate ballads exploring great love, crushing heartache, and internal strength. With her soaring, arena-filling voice, Underwood is one of the most arresting stage presences in pop music, and her numerous accolades – including multiple Grammy, Billboard, and American Music Awards – prove it.
Carrie Marie Underwood was born on March 10, 1983, in Muskogee, Oklahoma. Growing up on a farm in the nearby town of Checotah, Underwood got started singing in local talent shows and church. As a teenager, she nearly secured a contract with Capitol Records, but it was canceled at the last minute when management changed. But Underwood was involved in a number of extracurriculars, attending Northeastern State University in Oklahoma and working a number of jobs. She even competed in beauty pageants at the university and was crowned Miss NSU runner-up in 2004.
That same year, Underwood auditioned for the fourth season of American Idol, singing Bonnie Raitt's "I Can't Make You Love Me." She ultimately won the competition, singing with Rascal Flatts during the season finale. Her career took off immediately after, with the release of her first single, 2005's "Inside Your Heaven," which debuted at number one on the Billboard Hot 100. It was a history-making moment for Billboard: "Inside Your Heaven" made Underwood the first country music star to debut at number one on the Hot 100.
A few months later, Underwood's debut album, Some Hearts, was released. It debuted at number one on the Billboard Top Country Albums and at number two on the Billboard 200. What's more, Some Hearts became the best-selling album of 2006 in all genres in the US. Underwood's third Some Hearts single, the booming kiss-off anthem "Before He Cheats," not only hit number one on the Billboard Hot Country Songs chart, it became the first country song to ever be certified double Platinum. Later, in 2007, Some Hearts received four Grammy nominations at the 49th Grammy Awards, and Underwood won her first two Grammy Awards for Best New Artist and Best Female Country Vocal Performance for "Jesus, Take The Wheel."
In 2007, Underwood released her sophomore album, Carnival Ride, which featured the singles "So Small," "All-American Girl," "Last Name," "Just A Dream," and "I Told You So." The first four reached number one on the Hot Country Songs chart, making Underwood the first solo female artist to have four consecutive number ones from an album since Shania Twain's The Woman in Me.
The next few years were equally enormous for Underwood. In March 2008, Randy Travis invited her to become a member of the Grand Ole Opry, and she was inducted by Garth Brooks two months later. In 2009, Underwood won the Grammy for Best Female Country Vocal Performance for "Last Name," which she also performed at the ceremony. Also in 2009, Forbes announced that Underwood was the highest-earning American Idol alumnus to date.
2009 was also the year Underwood released her third studio album, Play On, which famously only took the singer three months to write. The album debuted at number one on the Billboard 200 and has since been certified Platinum, selling three million copies worldwide. Album singles "Temporary Home" and "Mama's Song" were nominated for Grammy Awards, and Play On was nominated for Album Of The Year at both the 2010 Academy of Country Music Awards and Country Music Association Awards.
In 2010, Underwood won her fifth Grammy for Best Country Collaboration with Vocals for "I Told You So" with Randy Travis. She was also nominated again for Best Female Country Vocal Performance for "Just A Dream" and performed with Celine Dion, Usher, Smokey Robinson, and Jennifer Hudson during that year's 3-D Michael Jackson tribute.
It would be a few more years before Underwood released an album: In 2012, the singer unleashed her fourth project, Blown Away, which took a noticeably darker tone. Not only did it debut at number one, lead single "Good Girl" was certified Double Platinum. The album's title track was also a huge success, and was certified triple platinum. That same year, Underwood embarked on the Blown Away Tour, which broke records by selling out its first leg in 90 minutes.
In 2014, Underwood teamed up with Miranda Lambert on the number one smash hit "Somethin' Bad." Also in 2014, she paid tribute to Linda Ronstadt by performing alongside Stevie Nicks at the Rock and Roll Hall of Fame Induction Ceremony. That September, she also headlined the Global Citizen Festival alongside Jay-Z and No Doubt. A string of high-profile live performances followed, including appearances at the 2014 Concert For Valor and the World AIDS Day (RED) Concert. Also, in late 2014, Underwood released her first Greatest Hits Compilation, Greatest Hits: Decade #1, featuring the single "Something In The Water." One year later, at the 57th Grammy Awards, Underwood won Best Country Solo Performance for "Something in the Water."
In 2015, Underwood released "Smoke Break," the lead single to her fifth studio album, Storyteller. The record debuted at number two on the Billboard 200 and number one on the Top Country Albums chart. Storyteller has also since been certified Platinum. In 2016, Underwood embarked on the Storyteller Tour, which Billboard called the top country tour for the first half of that year. In 2017, Underwood was nominated at the Grammys for Best Country Solo Performance for the single "Church Bells." At the ceremony, she and Keith Urban performed their joint single, "The Fighter."
In 2018, Underwood was forced to take some time off after she broke her wrist. She made a triumphant and emotional return to the stage with a performance of "Cry Pretty" at the 53rd Annual ACM Awards. 2018 also saw the release of "The Fighter," Underwood's first all-pop song, which featured the rapper Ludacris.
Underwood's sixth studio album, Cry Pretty, was released in fall 2018, and it debuted at number one and was certified Platinum in 2020. In addition to "Cry Pretty," the album boasted the singles "Love Wins," "Southbound," and "Drinking Alone." In support, Underwood embarked on The Cry Pretty Tour 360.
In 2020, Underwood released her debut book, Find Your Path, as well as a Christmas album, My Gift. She also appeared in and produced a holiday special for HBO, where she performed all of the songs from My Gift. Later in 2020, Underwood released a gospel covers album, My Savior.
The next year, Underwood launched a Las Vegas residency, titled "Reflection." She also contributed a cover song with Dan + Shay, "Only Us," to the Dear Evan Hansen film soundtrack and performed at the Thanksgiving Day Parade and at the annual Rockefeller Center Christmas Tree Lighting ceremony. In 2022, Underwood was nominated twice at the 64th Grammy Awards, winning Best Roots Gospel Album for My Savior. Underwood also performed at the 2022 Grammys, singing her single "Ghost Story," which is also the lead single on her ninth studio album.
Through it all, Underwood has not only been prolific and versatile, she has been one of the most universally beloved country-pop performers in history, by both her fans and industry peers.
Listen to the best of Carrie Underwood on Apple Music or Spotify.