George Strait
George has seen 60 songs feature on the country charts and he has enjoyed more No. 1 hits than any other artist in any sphere of popular music, breaking the record previously held by the esteemed Conway Twitty.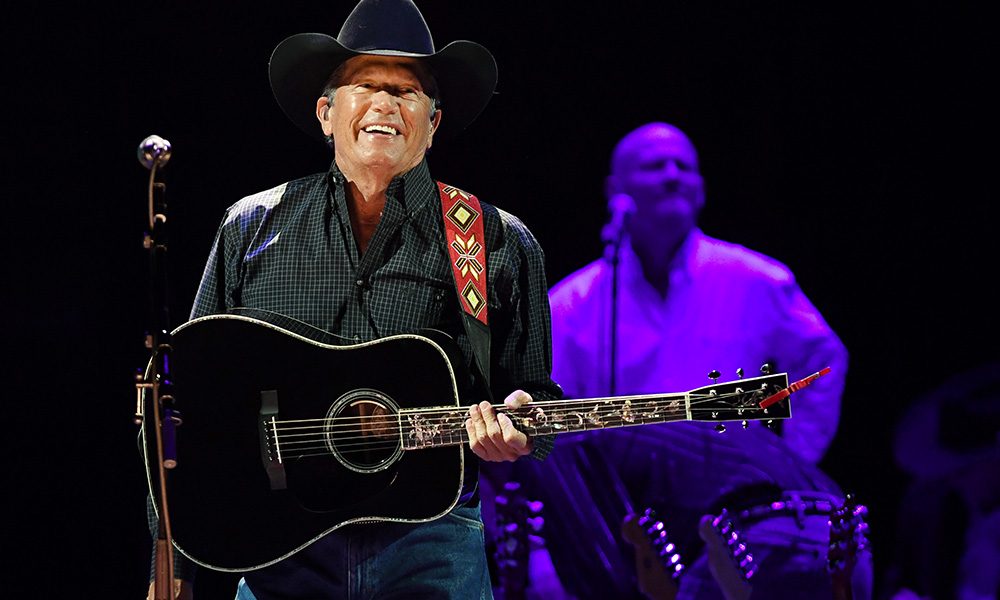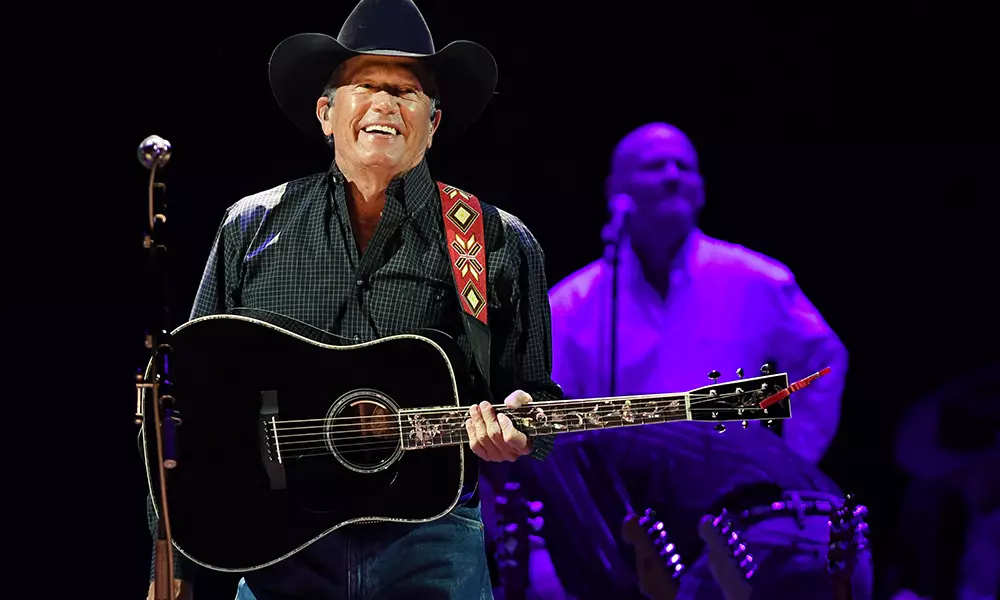 It's not for nothing that they call George Strait "the King of Country". Even in a world that's given to hyperbole Strait's achievements often beggar belief. Example: George has seen 60 songs feature on the country charts and he has enjoyed more No. 1 hits than any other artist in any sphere of popular music, breaking the record previously held by the esteemed Conway Twitty. That he's managed such feats during an era when record sales have diversified makes the achievement even more remarkable. His album sales – all for MCA – number close to 70 million in the USA alone and if we're talking precious metal let it be known that these include 13 multi-platinum, 33 platinum and 38 gold albums. It could be said that this stellar artist doesn't count his royalties, he weighs 'em. And the hell of it is he's not about to stop either. His progress from debut disc Strait Country to the most recent Love Is Everything remains unhindered by failure. A workaholic band leader, prodigious champion of young talent and interpreter of songs old and newly minted, Strait is a phenomenon, He's the only country fellow to win Billboard's Legend of Live and his Academy of Country Music Awards are stretched across the decades from the 1980s onwards. He was elected to the Country Music Hall of Fame in 2006 and he has been honoured with his own George Strait Day in his native Texas.
Strait hails from Poteet in the Lone Star State and was raised on a cattle ranch, which adds piquancy to his traditionalist cowboy image and iconic workingman status. He started his musical career playing rock and roll in garage bands but if you're from Texas it won't be long before the sweet sounds of George Jones, Lefty Frizzell, Bob Wills and Hank Williams enter your life and so it proved as George honed his live act locally before enlisting into the US Army.
Thereafter he enrolled at Southwest Texas Statue and received a degree in Agriculture before resuming his chops with the Ace in the Hole band. Utilising their talents he was signed to MCA in 1981 and hit the ground running with the album Strait Country and attendant hits 'Unwound', 'Down and Out' and the groundbreaking 'If You're Thinking You Want a Stranger (There's One Coming Home)', all of which showcased his magnificent baritone vocal, easy way with a ballad and penchant for combing pure grit with pop sensibilities. Strait From The Heart (also 1981) picked up the baton and gave the world his first number-one single, 'Fool Hearted Memory', and the stone classic 'Amarillo by Morning'.
The crossover appeal of his work gathered apace with the epic Does Fort Worth Ever Cross Your Mind, probably the disc that did the most to bring him to the UK and European attention. Working with producer Jimmy Bowen and crack Nashville cats like Weldon Myrick, Larry Byrom and Reggie Young this five-star beauty said more in a shade under 26 minutes than most acts manage in a whole career – with stand out cuts including the title track and 'The Cowboy Rides Away'. His hot streak never faltered and by the turn of the 90s it was customary to see his new album Chill of an Early Fall sail aloft and produce Hot Country number ones 'You Know Me Better Than That' and 'If I Know Me', continuing his ability – alongside Bowen – to find new material from hitherto marginalised songwriters.
Rapid diversification is a trait of Strait's yet even he may have been surprised to find that his soundtrack album for the movie Pure Country (a dramatic Western musical, in which he starred) would become his biggest-selling album to date. Working now with Tony Brown (the duo have remained partners ever since) George turned out immaculate performances on the Eagles flavoured 'Last in Love' and the Mel Tillis tear-jerker 'Thoughts of a Fool'.
1994's Lead On was a more experimental affair, certainly in terms of personnel since the top-notch players now numbered Brent Mason, Matt Rollings and the legendary pedal steel player Buddy Emmons. Following his 4-CD Box Set, Strait Out Of The Box – a platinum assortment that's lavish with riches, was Blue Clear Sky, a notable triumph that includes the gorgeous 'I Can Still Make Cheyenne', 'Carried Away' and 'King of the Mountain'. The American heartland became his patch.
Equally recommended from this period is the highly accomplished Carrying Your Love With Me which combines splendid versions of songs by Harlan Howard, Vern Gosdin and Bobby Craddock with some of the finest down-home picking in the genre and George's penultimate 90s disc, the wonderful Always Never The Same where the man's amiable vocals are given counterpoint by Bergen White's Nashville String Machine, Randall Scruggs slick acoustic guitar and Paul Franklin's signature pedal steel.
By now it was apparent that GS had nothing to prove but even so, he upped his game with Merry Christmas Wherever You Are, the perfect millennium gift to his fans since it includes a slew of favourite festive crackers like 'Let It Snow! Let It Snow! Let It Snow!' and 'Jingle Bell Rock'. Good honest fare.
The year 2000 gave us Latest Greatest Straitest Hits, basically, a stunning representation of the man's smashes since the previous box set, as well as the unusual 'Murder on Music Row', a collaboration with his good friend Alan Jackson. His work ethic intact the self-titled George Strait (also 2000) and the magnificent The Road Less Travelled were traditional and contemporary in hue.
On the latter disc we point you towards his cover of Rodney Crowell's 'Stars on the Water' and Chip Taylor's 'The Real Thing', both if which brought those artists new relevance from a mass-market – a characteristic of the man's generosity and foresight. 20th Century Masters – The Millennium Collection is twelve more tracks of distinction while For The Last Time: Live From The Astrodome is another important milestone since it marks the fact Strait plays the final concert at the famous Houston landmark. Fittingly it's a tribute to George's home state recorded live that features Western Swing classic 'Take Me Back to Tulsa' and the standard 'Deep In The Heart of Texas', poignant crowd-pleasers.
Not content then to rest on his laurels we now point out Honkytonkville, recorded at the favoured Ocean Way Studios, followed by the self-explanatory 50 Number Ones (!) a 2-CD collection that cries out for investigation and also features new track 'I Hate Everything', a tragic-comic tale of woe that, natch, became Hit 51.
By now we've reached 2006 and George's tale gets better and better. It Just Comes Natural is another Texas cooking delight that is notable for the sly 'How 'bout Them Cowgirls' and 'Give It Away', the track that broke Conway Twitty's aforementioned record run.
It's easy to see why George Strait is such a remarkable artist: the voice, the impeccable musicianship and the classy song selection mark him out as a stalwart in any field of the arts but it's also sobering to realise that he is not a singer-songwriter but rather someone who inhabits the skin of his chosen work. To that extent, he has managed to become a figurehead in country without striving to be a maverick. He is someone with the common touch who while grateful for all the accolades has never sought the roads of excess or controversy to stay in touch with destiny. Like the man might say – it all comes naturally. If you haven't entered his world it's time to change that now. Strait away.
Words: Max Bell
Format:
UK English