Vince Gill
The Grammy-winning country singer and songwriter from Norman, Oklahoma is one of the genre's most famous and beloved musicians.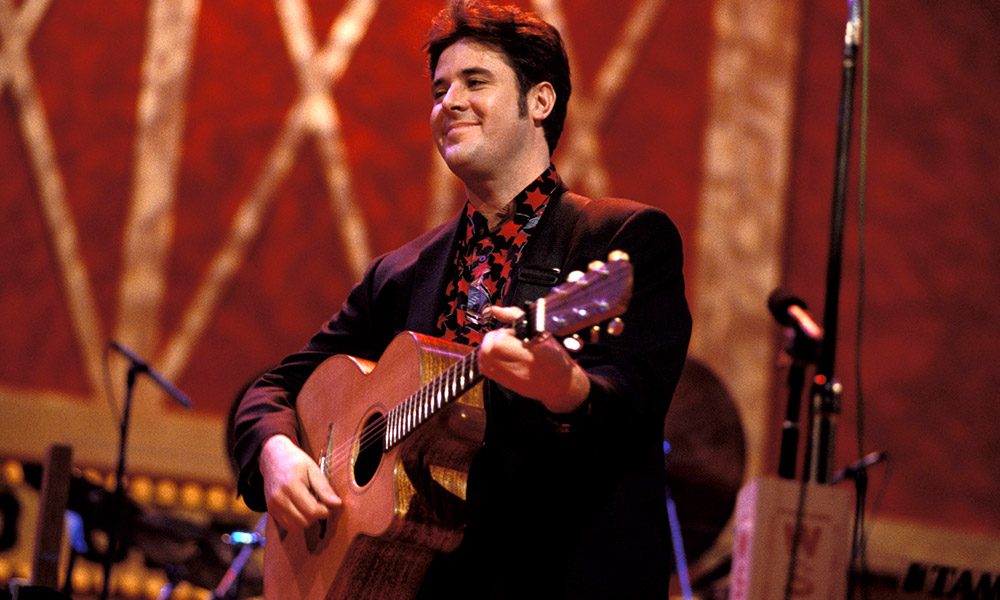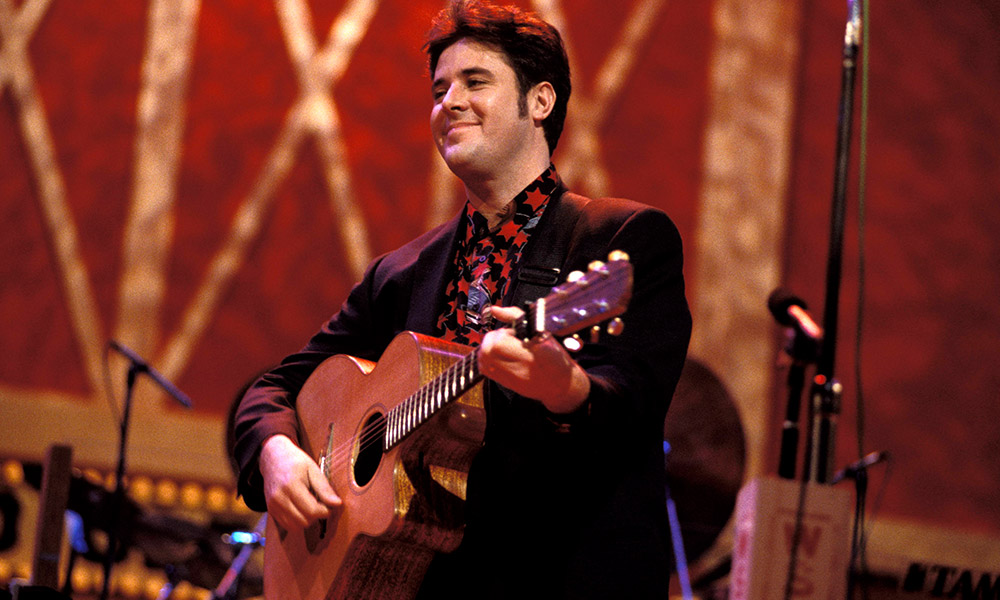 The highly respected American country singer-songwriter Vince Gill is also a musician revered by fellow players. As the frontman for the Pure Prairie League in late 1970, and then sideman in Rodney Crowell's road band The Cherry Bombs, Gill learnt to love the lure of the highway.
Mark Knopfler was an early aficionado and he even asked Vince to join him in Dire Straits. He didn't though he did play on their On Every Street album. Since branching out into solo work in the 1980s he has become an in-demand player, singer and collaborator. But what marks Vince out are the albums he's made since 1984's Turn Me Loose, his string of hits and the fact that he's had more Grammy Awards than any other country artist and is also a Country Music Hall of Famer (2007). With sales exceeding 24 million his fame matches all the acclaim but he is one of the music biz good guys. Just as easy with blue-eyed soul, Southern rock and bluegrass as he is with pure country Vince is one of the genre's polymaths. A dozen albums we offer are the perfect introduction to his craft.
Following Vince Gill's stint as leader of the band Mountain Smoke and with key gigs playing alongside Ricky Skaggs and Byron Berline's roots outfit Vince completed his early musical education with Pure Prairie League before realising he was best suited to being his own man. We pick his career up with the fourth album When I Call Your Name, the disc that heralded his chart breakthrough.
Writing with Rosanne Cash (Never Alone), Guy Clark (Sight for Sore Eyes) and duetting with Reba McEntire on 'Oklahoma Swing', Gill and his producer Tony Brown also called on the talents of such musical specialists as Willie Weeks, Emmylou Harris, various Muscle Shoals stalwarts and steel maestro Paul Franklin. The results confirmed what those in the know were shouting from the rooftops – here is a contemporary country star fit to stand tall along with the old-timers.
Ensuing discs I Still Believe In You and Let There Be Peace on Earth (the first of his so-called 'Holiday' albums) continue to stress his high-class approach though his is no formula. Guests, on I Still Believe… include Delbert McClinton and Lou Reed, for example. With the title track hitting the number one slot and Vince's adjacent Christmas disc punching all the appropriate Yuletide buttons, look out for notable assist from harp man Charlie McCoy and veteran bassist Leland Sklar. For those who wish to catch up with the man's output to that point, the collection Souvenirs is also the handiest of primers, offering a generous fifteen hits – including the Gill and Dolly Parton version of 'I Will Always Love You' that many cite as being the finest reading of the well-loved tune.
The 1996 disc High Lonesome Sound brought Gill acclaim in the UK and Europe and was backed up by extensive touring. This is a particularly recommended release since it features Alison Krauss and her band Union Station playing a reprise of the title cut as well as vocal contributions from the then-unknown Shelby Lynne.
Follow up The Key is another corker with hits aplenty. It became Vince's first number one country album and finally established him at the top of his game. The Patty Loveless duet on 'My Kind of Woman/My Kind of Man' is classic old school country while 'I'll Take Texas', penned by Clint Black, and the closing ballad, 'The Key To Life', give the album real breadth.
Let's Make Sure We Kiss Goodbye takes Gill into the year 2000, looking forward on tracks like 'When I Look Into Your Heart', co-authored with regular songwriting pal Amy Grant, and staying true to his country soul roots on the remaining ballads.
The Next Big Thing allows him to expand on what one might call a double in the old money. Adding Al Anderson's fiery guitar to the mix, recalling Weeks on bass and utilising the specialist talents of Dean Parks and with sax-playing legend Jim Horn adding ace arrangements, the man in charge proves he's still got that rocking touch, the cast of brilliant backing vocalists enriching the appeal of this fine achievement. Michael McDonald, Emmylou, Grant and Lee Ann Womack all add soul, swing and spice.
If anyone deserves a box set it's Vince Gill and so to These Days (which won the Grammy for Best Country Album), a four-disc extravaganza released in 2006 that fully reveals the artist's ability to master genres from jazz and blues to traditional country and rock.
Except that this isn't a retrospective! It's a fantastically ambitious concept that calls on an amazing array of talent. Guests include Bonnie Raitt, Sheryl Crow, Gretchen Wilson, Trisha Yearwood and Guy Clark. Buddy Emmons came out of retirement to play his last pedal steel session and the jazz singer Diana Krall decorates 'Faint of Heart'.
These Days is a substantial listen – close on 3 hours of magic – and a set that will convince all but the hardest hearted that Gill is genuine rawhide. The box set is split into four moods: The Rockin' Record, The Groovy Record, The Country and Western Record and The Acoustic Record. Each section is an utter delight.
Guitar Slinger (also available as a Deluxe Edition) was another wow. More stripped back than his more recent discs of that time this 2011 release allows the man's voice and Fender room to breathe. It's a firm favourite around these parts.
To bring us bang up to date we have Bakersfield (2013), a Vince Gill and Pau Franklin combo disc that pays tribute to Merle Haggard and Buck Owens. In many ways, this is amongst his very best discs. Rough, raw and branded pure country the ten songs, divided equally between Merle and Buck compositions, bring the past into focus and make you want to hurtle back to the original artists, which is exactly what Gill and Franklin had in mind. The fantastic production and crystal clear interpretations should also be stressed. This already sounds like a disc for the country time capsule.
As time goes by it becomes apparent that Gill is a humble auteur. He's immersed in the right stuff and he also has his own vision. He seems to be getting better with age too, which is comforting for his fans and should be an inducement to those who have yet to experience the marvels in his catalogue.
Words: Max Bell
Format:
UK English