Best Vince Gill Songs: 20 Country Essentials
Beloved by fans for wringing every drop of emotion out of a ballad, Vince Gill's best songs are among country music's finest moments.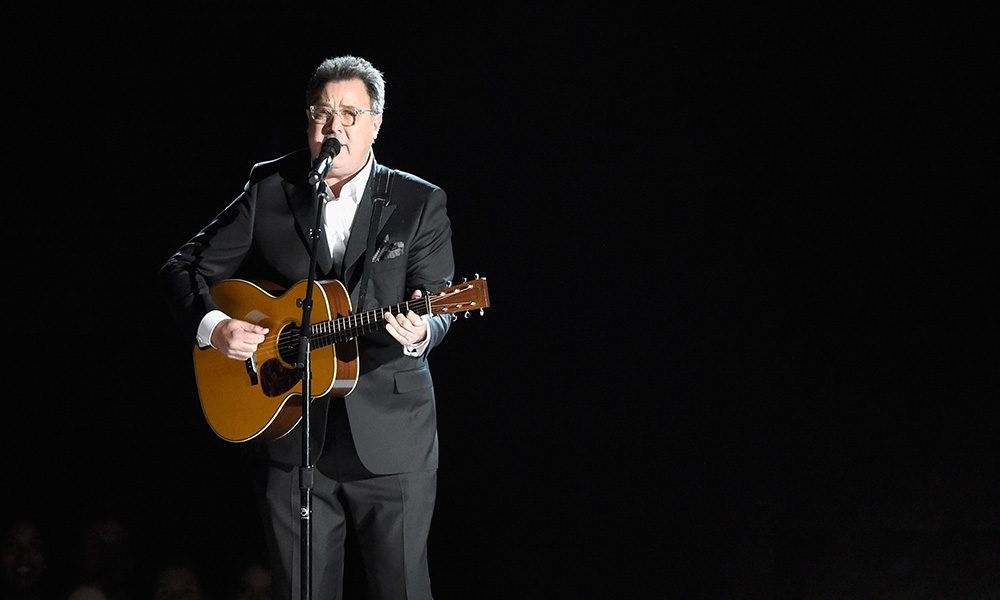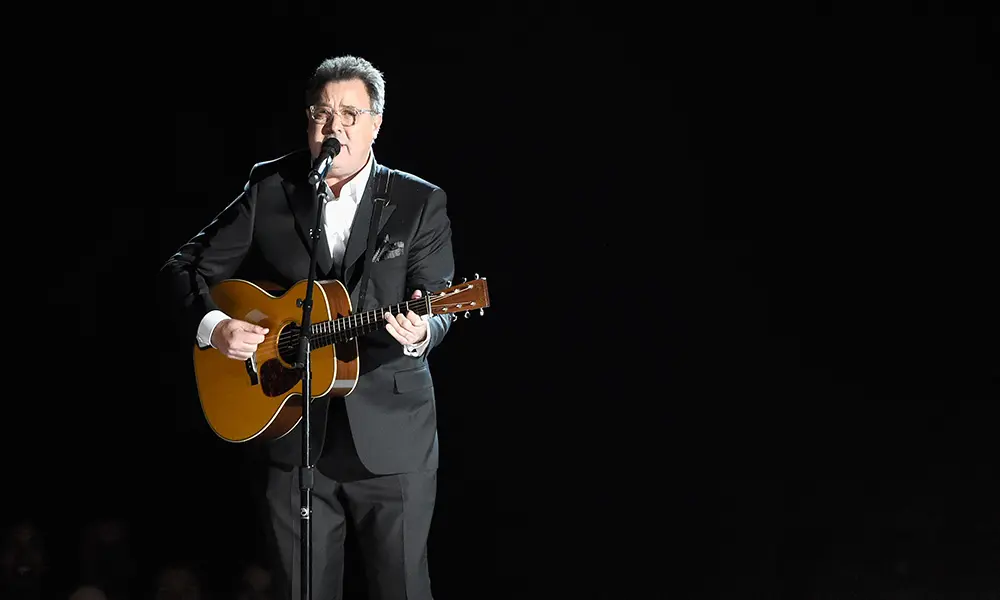 Vince Gill's talent was immediately obvious to peers like Rodney Crowell, Guy Clark, Rosanne Cash, and Emmylou Harris – he played alongside all of them before (and after) he hit the big time in the late 80s. It took audiences a little longer to catch on to his weightless tenor with its almost R&B-ready elasticity. When they did, however, he quickly went from your favorite artist's favorite back-up singer and guitarist to not just country superstar, but part of the genre's increasing pop crossover – all while garnering critical acclaim and more Grammy awards than any other country artist besides his frequent collaborator Alison Krauss.
Respected for his technical music bonafides and beloved by fans for his ability to wring every drop of emotion out of a ballad, Gill has spent decades refining and retooling his particular brand of neotraditional country. Below are 20 of Vince Gill's best songs – not even enough to represent all 21 of his Grammys, but at least a place to start.
Listen to the best Vince Gill songs on Apple Music and Spotify.
20: I Will Always Love You, Something Special (1995)
When Dolly Parton elected to re-record some of her old chestnuts in the mid-'90s, it only made sense to tap country music's favorite vocal powerhouse balladeer to add something new to arguably her most iconic song. Vince Gill reinvigorated the well-worn composition with his effortlessly evocative interpretation and easy harmonizing alongside Parton – and bring the song back to the country charts, where it reached no. 15.
19: What the Cowgirls Do, When Love Finds You (1994)
Vince Gill was unabashedly playing to Texas two-steppers with this, but there's no harm in a dancehall hit – especially when, like this one, it leans into a groove that's delicately laced with funk (also, how many of them shout out Bangor, Maine?). This track, which also spotlights Gill's guitar work with a twangy solo, reached no.2 on Billboard's country chart, and wound up being one of the biggest country hits of the year.
Vince Gill - What The Cowgirls Do (Official Music Video)
18: Whenever You Come Around, When Love Finds You (1994)
There's a fairly juicy backstory to this song, which became Vince Gill's biggest pop hit when it reached no.72 on Billboard's Hot 100. It's Trisha Yearwood singing harmonies on the soaring love song, but as Gill explained later, "Around" was inspired by meeting his future wife Amy Grant (who also happens to appear on the album). The only tricky thing? When it was released, Gill was still married to his first wife, Janis Oliver.
17: I Can't Tell You Why, Common Thread: The Songs of The Eagles (1993)
This one-off contribution to an Eagles country all-star tribute album made it onto the country and adult contemporary charts. It sounds a lot more like R&B, though, complete with Hammond B-3 organ, a soprano saxophone solo, and Vince Gill at his most Michael McDonald. It's refreshing, though, to hear Gill's slick vocal riffs over different material. The album won the CMA for album of the year, with this track widely deemed the standout.
16: I Still Believe In You, I Still Believe In You (1992)
The title track of Vince Gill's most successful album was also its first single, a mellow pop-oriented ballad produced to capitalize on country's increasing crossover with the adult contemporary format. It succeeded, not only becoming Gill's first Billboard country chart-topper, but reaching no.30 on its Adult Contemporary chart; its genre-agnostic appeal meant that it earned plenty of covers, including a smooth jazz rendition and a take by Bad Company. It also earned Gill his third and fourth Grammy Awards, as well as the CMA's Song of the Year award for the third straight (!) year in 1993.
Vince Gill - I Still Believe In You (Official Music Video)
15: Pretty Words, I Still Believe In You (1992)
Yes, this is an album cut, but an album cut from Vince Gill's biggest LP by a mile – plus, it's not every day you get a Don Schlitz co-write. The fresh and sunny modern bluegrass allows Gill's top-tier backing band to flex their muscle, and for Gill to stretch a bit with his guitar solo. Who can resist a Monkees quote?
14: If You Ever Have Forever In Mind, The Key (1998)
This song, a slow-dance special, earned Vince Gill the Grammy for Best Male Country Vocal Performance – a category that may as well have been renamed "The Vince Gill Award": he won it nine times, including five consecutive years from '95 to '99 (the category was eliminated in 2012). The wedding-ready "Forever" showcases Gill's crooning at its traditional, straightforward best; the string section and choir almost drown out the country, but not quite, resulting in a universally appealing favorite.
Vince Gill - If You Ever Have Forever In Mind (Official Music Video - Closed Captioned)
13: High Lonesome Sound, High Lonesome Sound (1996)
Always an expert harmonizer, here Vince Gill finds a match with fellow Grammy fave Alison Krauss – no surprise, then, that they took home a trophy for this collaboration. The single version of the Gill-penned track spotlights both of their bluegrass bonafides over an almost funky, textured arrangement; the album also includes a more traditional bluegrass version backed by Krauss's stellar band, the Union Station.
High Lonesome Sound (Bluegrass Version)
12: Let's Do Something, The Way Back Home (1987)
Vince Gill's pre-MCA output is often overlooked, but there are plenty of gems – like this rollicking collaboration with an uncredited but unmistakable Bonnie Raitt. Gill's bluesy tinge on "Something" became harder to find once he pivoted to down-the-middle country, but it works for him (especially when he gets to flex his falsetto) The track was a top twenty hit on the Billboard charts, but more importantly showed some of the rootsy rock that defined Gill's music career before going solo.
11: Kindly Keep It Country, The Key (1998)
Released a few years later, Vince Gill's The Key could have been billed as an all-star duets album: Sara Evans, Shelby Lynne, Alison Krauss, and, on "Country," an early-career Lee Ann Womack, all served as his support on the neotraditional outing. "Country" wasn't a chart smash, and it's more or less a sad version of "Don't Rock The Jukebox" – but Hughey's inimitable pedal steel work plus the perfect blend of Gill and Womack's voices make this a tough one to beat.
10: Tryin' To Get Over You, I Still Believe In You (1994)
Vince Gill's most recent solo country chart no. 1 was also written by him alone, a melancholy heartbreak tune that plays on some of the same morose themes as "He Stopped Loving Her Today." The song's anthemic chorus stops just short of full power balladry, spotlighting his elastic voice and gentle vibrato as well as John Hughey's pedal steel – all while providing the perfect opportunity for country's then-reigning Entertainer of the Year to have his audiences get their lighters in the air.
Vince Gill - Tryin' To Get Over You (Official Music Video)
9: Liza Jane, Pocket Full Of Gold (1991)
Vince Gill put his own rockabilly spin on the New Orleans folk favorite with this fun, danceable single, which reached no.7 on Billboard's country chart. Retro but not rehashed, it's about as sultry as Gill got during his heyday – come for the come-hither version of Vince, stay for his virtuosic guitar solo, and Andrea Zonn's fiddle playing.
Vince Gill - Liza Jane (Official Music Video)
8: Oklahoma Borderline, The Things That Matter (1985)
Starting out as one of the most in-demand session vocalists and guitarists in the biz made it easy for Vince Gill to attract A-list collaborators throughout his career. Even on his debut, Gill's staff included Rosanne Cash and, on "Borderline," Rodney Crowell and Guy Clark as co-writers. Gill had previously played in both of their bands, so it makes sense that they would return the favor – the result is a bright, bouncy, and fun tribute to Gill's Oklahoma roots that replaces his favored sentimentality with zip and wit.
7: Pocket Full Of Gold, Pocket Full Of Gold (1991)
This song finds Vince Gill exactly where you want him: belting alongside Patty Loveless in some sad country waltz. Stripped down and traditional, it's also one of Gill's few singles that hinges on the wordplay that's at the core of so many country classics; you can probably guess what the titular "gold" is, but that doesn't make the payoff in the chorus any less satisfying.
Vince Gill - Pocket Full Of Gold (Official Music Video)
6: One More Last Chance, I Still Believe In You (1993)
Vince Gill made his contribution to the two-step revival with this up-tempo roadhouse rambler, which features Delbert McClinton on harmonica and a taste of Gill's exceptional guitar playing. The music video features a cameo from George Jones, whose riding-lawnmower beer runs to evade the wrath of (eventually ex-)wife Tammy Wynette became the stuff of legend – and part of the inspiration for this song, co-written with Gill by the prolific Gary Nicholson. It also begins and ends on a golf course, alluding to Gill's road not taken – he almost became a professional golfer instead of a country singer.
Vince Gill - One More Last Chance (Official Music Video)
5: Which Bridge To Cross (Which Bridge To Burn), When Love Finds You (1994)
There's nothing innovative about this timeless country waltz, and that's the beauty of it. Vince Gill co-wrote this single with Nashville songwriting icon Bill Anderson (literally, he is one of a handful of artists to earn that BMI distinction), and when it reached no.4 on Billboard's country chart, it helped spark a renaissance in Anderson's career. The harmonies show Gill at his goosebump-inducing best; the song as a whole is as simple and beautiful as they come.
Which Bridge To Cross (Which Bridge To Burn)
4: Look At Us, Pocket Full Of Gold (1991)
Part of Vince Gill's consecutive CMA Song Of The Year award-winning hat trick, this weepy love song seems tailor-made for anniversaries. Instead of drowning in schlock, though, Gill essentially duets with John Hughey's steel guitar, giving the track a vibrant vintage feel. Gill became country's favorite crooner with some ballads that have aged considerably less well than this one, which has enough space for its nuts and bolts country instrumentation to really shine.
Vince Gill - Look At Us (Official Music Video)
3: Don't Let Our Love Start Slippin' Away, I Still Believe In You (1992)
A fun, dancehall-ready rebuke to a relationship's fading spark, this song spent three weeks atop Billboard's country chart – making it Vince Gill's biggest hit to date. It added a necessary dose of levity to ballad-heavy I Still Believe In You, which was eventually certified platinum five times over by the RIAA. Its all-star music video, which has unfortunately not made it to the internet era, featured everyone from Michael McDonald and Leon Russell to Reba McEntire and Pam Tillis, and was in heavy rotation for weeks on CMT.
Vince Gill - Don't Let Our Love Start Slippin' Away (Official Music Video)
2: Go Rest High On That Mountain, When Love Finds You (1995)
One of Vince Gill's signature songs is also among his saddest – Rolling Stone even dubbed it the 17th saddest country song of all time, a category with some pretty stiff competition. "Mountain" is a beautiful, hymn-like eulogy that, although Gill had written it specifically in honor of both Keith Whitely and his late brother Bob, was released in the midst of the AIDS pandemic and its ensuing onslaught of elegiac pop hits. It dominated the 1996 awards season, winning two Grammys (Best Country Song and Best Male Country Vocal Performance), the CMA Award for Song of the Year, and a BMI Most-Performed Song award. But with Ricky Skaggs and frequent collaborator Patty Loveless as backing vocalists and the wistful fiddle of Stuart Duncan supplementing their soaring harmonies, the song has long since transcended any of its hardware, remaining a funereal standby: Gill performed the song at George Jones' funeral in 2013, and all those years later, couldn't get the lyrics out.
Vince Gill - Go Rest High On That Mountain (Official Music Video)
1: When I Call Your Name, When I Call Your Name (1990)
It may not have been Vince Gill's first country chart hit or ultimately his biggest, but "When I Call Your Name" marked the singer-songwriter's mainstream breakthrough (and his first Grammy and CMA awards, despite Garth Brooks storming onto the scene the same year). Listening back three decades later, it's easy to hear why this was the track that made Nashville finally take notice. Thanks to completely revamped, neo-traditional production courtesy of Tony Brown (Gill's former bandmate in Rodney Crowell's Cherry Bombs) and the perfect blend of Gill's and Patty Loveless' voices, this slow-burning waltz turns into an absolutely jaw-dropping showcase of Gill's impeccable tenor. Co-written by Gill, "Name" is as classic as country gets, with a piano solo from Muscle Shoals legend Barry Beckett and pedal steel from Nashville session stalwart Paul Franklin – but it's the key change that'll give you chills every time.
Vince Gill - When I Call Your Name (Official Music Video)
Think we've missed one of the best Vince Gill songs? Let us know in the comments section below.