Best RBD Songs: 20 Pop en Español Classics
For five years, the Mexican co-ed sextet was one of the biggest groups in the world. These are just a few of their best.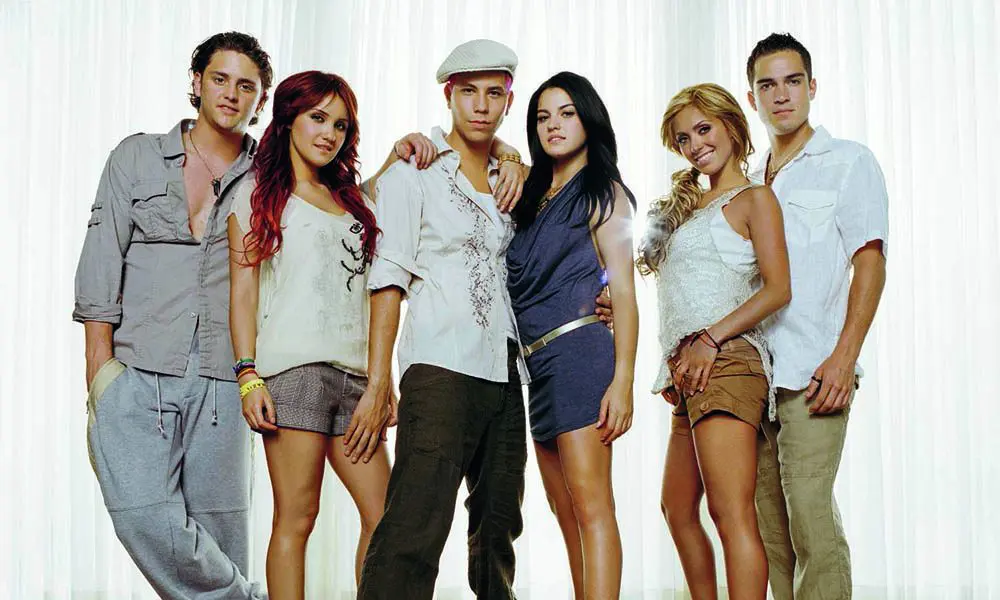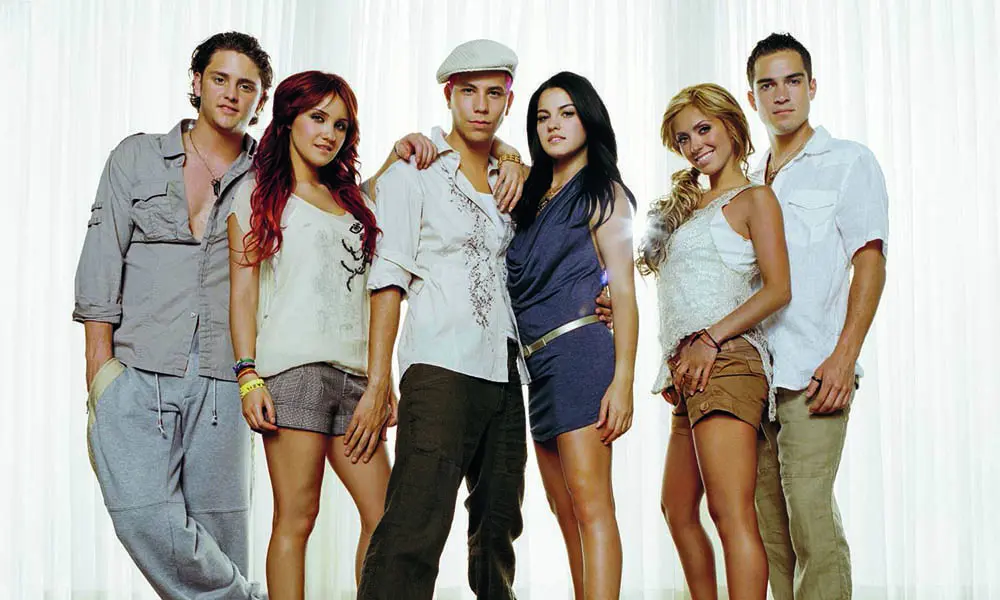 There are few musical groups that come to define an entire generation. RBD was one of them. For five years, the Mexican co-ed sextet was one of the biggest groups in the world, selling over 15 million copies worldwide.
RBD, the group, came together inside the 2004 Mexican teen-telenovela Rebelde. On the show, the characters played by Christian Chávez, Anahí, Alfonso "Poncho" Herrera, Maite Perroni, Dulce María, and Christopher von Uckermann formed a band in order to escape their teenage lives. But the band on the show quickly outgrew the made-for-TV format, and the IRL group went on to become one of the most successful Latin American acts of all time. Over the course of their five year career, RBD had a total of seven songs on the Billboard 200 chart, six top 10 entries on the Top Latin Albums chart, and earned two Latin Grammy nominations.
RBD was a unique Pop en Español band, in that they transcended borders. They were, of course, huge in Mexico, but they also crossed over to nearly all of the Spanish speaking countries in the Americas, as well as Brazil and the United States. They also reached parts of Europe and Asia. Today, la generación Rebelde remains alive and well, despite the group disbanding in 2009.
Listen to the best RBD songs on Spotify and Apple Music.
Rebel Anthems
(Rebelde, Santa No Soy, Así Soy Yo, Tras De Mí, Lento)
"Rebelde" was the song that started it all for RBD. Not only was it the telenovela's opening song, but it perfectly showcased the rebellious spirit of the show (and group). Sure, the telenovela was about a bunch of rich kids in boarding school doing rich kids in boarding school things, but rich kids in boarding schools do plenty of rebelling against conservative society's expectations and assigned roles.
RBD - Rebelde (Lyric Video)
"Santa No Soy," sung by the women in the group, was a self-empowering, feminist track. Dulce María, Anahí, and Maite demand to be loved for their greatness and their flaws, too, boldly declaring that they've never been saints. Similarly, "Así Soy Yo," mainly sung by Anahí, could be perceived as a vanity song, full of boasts about Anahí being able to get with whatever guy she wants. But "Así Soy Yo," which translates to "this is how I am," is also an anthem about being unapologetically free to be oneself and not the demure, passive woman that a machista society requires women to be.
"Tras De Mí," meanwhile, is all about following your dreams and not looking back. "I have a one way ticket and a bunch of dreams inside a suitcase/A goodbye to my parents/A lot of fear, and a big desire to be able to live," they sing on the track's opening verse.
At the same time that RBD was notching chart hits, reggaetón was enjoying its first mainstream moment with hits like Daddy Yankee's "Gasolina" and Pitbull's "Culo." Nonetheless, reggaetón was still regarded as street music, too overtly sexual for conservative audiences in Latin America. So when RBD featured on "Lento," from reggaetón producers Luny Tunes, it was a big deal. What's more, instead of watering down the perreo with a pop treatment, RBD stayed true to the genre's raw sound.
Quintessential Love Songs
(Este Corazón, Algún Día, Para Olvidarte De Mí, Inalcanzable, Celestial, Bésame Sin Miedo)
The key plotlines on Rebelde, like most teen dramas, were the romantic relationships between the characters. On the show, Anahí and Poncho were an item, as were Dulce María and Christopher, and both couples had rollercoaster relationships. One of the songs that came to represent the down parts of both relationships was "Este Corazón," in which the first two verses were sung as duets, first by Dulce María and Christopher, and then Anahí and Poncho.
Most of RBD's songs were about love and relationships. And, though their career carried on after the show ended, that never meant the telenovela-style theatrics stopped. Considered the sequel to 2004's "Sálvame," the Anahí-sung "Algún Día" actually won an award for being the saddest song (the title translates to "song to cut your wrist to"), and it's one of the group's most touching performances. Similarly, the group's swan song "Para Olvidarte De Mí" was also a pop-rock tearjerker ballad. But RBD wasn't always emoting; they also thrived in delivering happy-go-lucky, effervescent love songs like "Celestial" and "Bésame Sin Miedo."
International Releases
(Nosso Amor, I Wanna Be The Rain, Fique Em Silêncio, Cariño Mío, Money Money)
RBD's songs weren't only big in Spanish-speaking countries. Their first Brazilian studio album, Rebelde (Edição Brasil), featured music off of their first album in Portuguese and sold more than 1.5 million copies. Based on the popularity of the Spanish album cut, the teen angst ballad "Fique Em Silêncio" was released as a single in Portuguese. Both the Spanish version – "Sólo Quédate En Silencio" – and "Fique Em Silêncio" eventually peaked at number two in Billboard's Hot Latin Tracks chart. The song also got an English version in 2006, "Keep It Down Low."
The group's second Spanish album, which was nominated for a Latin Grammy and is their highest selling album to date with 12 million copies sold worldwide, also got a Portuguese version. The lead single, "Nosso Amor," was the peppy opening track for the second season of Rebelde. The Spanish version of the song, "Nuestro Amor," peaked at number 33 on the Romanian Airplay Chart – where they had a sizable following.
An English version of "Nosso Amor," called "This Is Love," was also featured on 2006's Rebels. That album was RBD's first attempt at reaching a non-Spanish speaking audience in the US. It included English language songs like the Diane Warren-penned "I Wanna Be The Rain," but also delved back into reggaetón on the Spanglish album cuts "Cariño Mío" and "Money Money." The songs brought much needed flavor to RBD's discography and foreshadowed just how popular pop-reggaetón would eventually be. Though Rebels didn't have a strong impact in the US, the album went gold records in Japan and Spain, and reached the No. 1 position on the Brazilian Albums Chart.
RBD - I Wanna Be The Rain (Lyric Video)
Solo Moments
(Empezar Desde Cero, Tu Amor, No Pares, Sálvame)
Not every member in RBD was an exceptionally talented singer, but as a group, it worked. Nonetheless, throughout the group's run, some members were featured more than others. And, in some instances, certain members carried entire songs on their own.
"Sálvame," for instance, was performed by Anahí. It's a gut wrenching ballad about heartbreak, which was perfectly paired with the overly dramatic on screen romance her character, Mia, had with Miguel, Poncho's character. The song reached No. 1 in Mexico, Spain, and Brazil, and No. 27 on Billboard's Latin Pop Airplay chart.
"No Pares" was Dulce María's solo from Live in Hollywood. Written by 90s teen Mexican pop icon Lynda, "No Pares" translates to "don't stop," and was directly aimed at their young fan base, encouraging them to never stop dreaming. Maite, who generally took a back seat to Dulce María and Anahí, starred in "Empezar Desde Cero." Though the telenovela had already ended by the time this song came out, Maite, who had played the bubbly and innocent Lupita, fit the bright and positive nature of the song perfectly. The song reached the top of Billboard's Latin Pop Airplay chart.
Though Dulce María and Anahí were considered the stars of the group, it was Christian who had the strongest voice. That's why he took the reins of their US crossover single "Tu Amor," a tender, R&B tinged love song. The track was the group's second single to chart on the Billboard Hot 100, peaking at No. 65. Although "Tu Amor" wasn't a crossover smash, it nonetheless cemented RBD's reach and impact across the world, debuting at number 40 on the Billboard 200 album chart, reaching number 1 in Spain, and getting official releases in Poland and Greece. Coming nearly a decade before Pop en Español's current success in the US pop mainstream, RBD helped current chart-toppers like J Balvin, Karol G, and Becky G to become even bigger international stars.
Think we've missed one of the best RBD songs? Let us know in the comments section below.