'Bellybutton' and 'Spilt Milk': Jellyfish's Twin Pop Classics
The group spanned a scant five years, but these two albums remain beloved.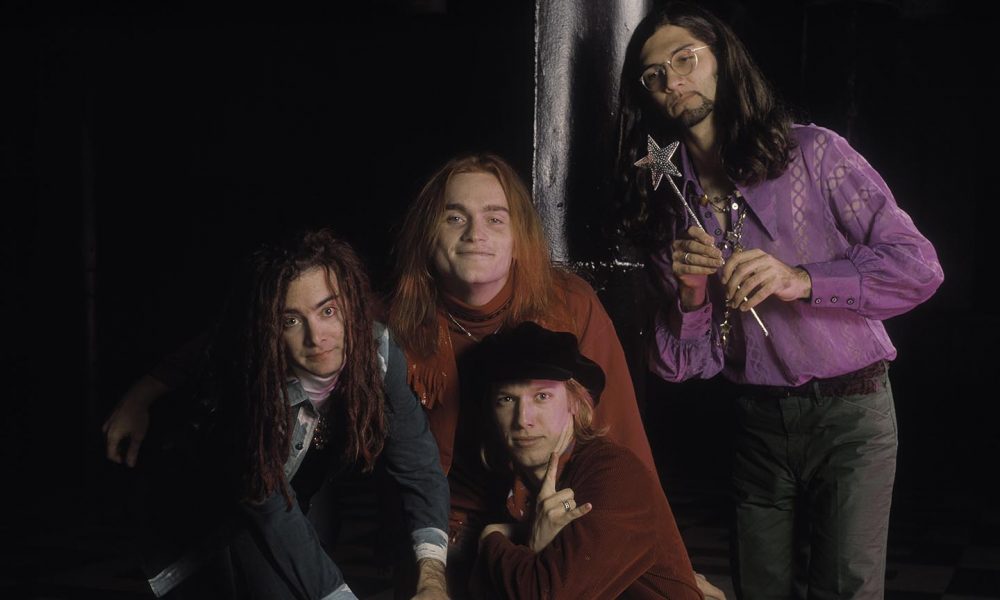 While mainstream rock music in the early 90s embraced agitation and angst, Jellyfish set their compass to sweetly baroque pop melodies. The California band arrived at the dawn of the decade during a time of transition for rock music, the rise of grunge just on the horizon as the sun began to set on college rock and glam metal. Jellyfish didn't sit comfortably within any of these styles, however, instead embracing a progressive power pop sound that owed more to Todd Rundgren and The Raspberries than Guns 'n' Roses or The Smiths.
Formed by keyboardist Roger Joseph Manning and drummer/vocalist Andy Sturmer, two high-school friends and former members of Beatnik Beach, Jellyfish crafted their sound from a range of influences that weren't necessarily in vogue in 1990 – "somewhere between Queen and the Partridge Family," as Manning said at the time. That didn't tamp down interest in the up-and-coming act, though, with Charisma winning an eight-label bidding war to release their debut album.
Though commercial success came slowly, excitement around the release of the band's debut Bellybutton reached a fever pitch among critics, earning widespread acclaim for its hook-driven pop songs laden with elaborate arrangements. Produced by Albhy Galuten, best known for his work on the soundtrack to Saturday Night Fever, Bellybutton put a decidedly modern gloss on songs washed in a retro tint. The group didn't shy away from those signifiers: The backdrop of the video for "That Is Why" depicted the band against swirling, psychedelic '60s backdrops, while the song itself carried chorus harmonies worthy of power pop heroes Big Star.
Rounded out by ex-Three O'Clock guitarist Jason Falkner, the group delivered a set of ambitious pop music. First single "The King Is Half-Undressed" has a grand, progressive arrangement that evokes the grandeur of psychedelic-era Beatles, while "Now She Knows She's Wrong" carries a similar Merseybeat gait. And on "All I Want Is Everything," the group even proved themselves adept at delivering a driving hard rock song. Bright and magnetic as these songs are, however, Sturmer's lyrics occasionally delved into darker subject matter, like domestic abuse on "She Still Loves Him" and absent fathers on "The Man I Used To Be."
With a glowing reception that included a five-star review from Q and supported by a tour with the Black Crowes, Bellybutton nonetheless sold only 100,000 copies in its first year of release, falling far short of expectations. Its sessions were also fraught with disagreement, Manning and Sturmer often butting heads over creative choices. In its aftermath, Jason Falkner left the group over feelings that his contributions had been diminished.
Despite the shakeup within the band, Jellyfish moved forward with plans for an ambitious second album. The year leading up to the creation of their second album, Spilt Milk, found Manning and Sturmer in the company of their heroes, as the duo contributed to Time Takes Time, the 1992 solo album by The Beatles' Ringo Starr, as well as a songwriting session with The Beach Boys' Brian Wilson that Manning called "utterly surreal." Unfortunately, nothing of substance came from that session, but these experiences galvanized the songwriting duo to create what they called their "masterpiece," 1993's Spilt Milk.
From the outset, the Beach Boys influence on Spilt Milk is apparent, most significantly on first song "Hush," featuring a gorgeous a cappella arrangement recalling Wilson and company at their Pet Sounds best. For that matter, The Beatles influence is just as palpable on a song like "Sabrina, Paste and Plato," adding a few prog-rock touches to a bouncy melody reminiscent of "Penny Lane."
In the absence of Falkner, the band enlisted two session guitarists, Lyle Workman and Jon Brion, the latter of whom would later embark on a long and productive career in production. But while the band itself had scaled back to a trio, Jellyfish's ambition saw them creating something that sounded even more grand and elaborate. Through the plinky organ tones of "New Mistake," the band channeled the progressive pop of Supertramp, and on the soaring ballad "Glutton of Sympathy," reluctant frontman Andy Sturmer is given a platform to deliver an even more impassioned vocal performance.
The album's greatest moment is "All Is Forgiven," one of the most dramatic arrangements in the band's repertoire, which includes a suspenseful pin-drop silence mid-song. And once again, there's a powerful vocal from Sturmer, whose range and intensity seemed to predict the dynamic performance of Jeff Buckley.
Similarly praised by critics but falling short in sales numbers, Spilt Milk's performance didn't bode well for the future of the group. The process of making the record saw the fissures in Manning and Sturmer's creative relationship beginning to widen, and though they were happy with the final result, Sturmer said it "took too long and cost too much" to make. Such laments inspired the title of the record, a reference to the idiom "there's no use crying over spilt milk."
After a few failed attempts at writing new material, the group called it quits by April of 1994. In the aftermath of the breakup, Sturmer mostly laid low, composing music for cartoons and children's programming, as well as producing the Japanese group Puffy AmiYumi, while Manning started Imperial Drag and The Moog Cookbook, as well as contributing to records by Beck and Air.
Long after the members parted ways, however, the music of Jellyfish continued to reach new listeners, and traces of their kaleidoscopic pop sound echo through subsequent records by Ben Folds Five, Fountains of Wayne, and Eels. As brief as the band's story is – spanning a scant five years – Jellyfish left an impact bigger than record sales could measure.