'Electric Warlock': How Rob Zombie Once Again Wove His Dark Magic
Whatever world Rob Zombie creates, 'The Electric Warlock Acid Witch Satanic Orgy Celebration Dispenser' offers frightfully extravagant flashes of his ghastly dystopia.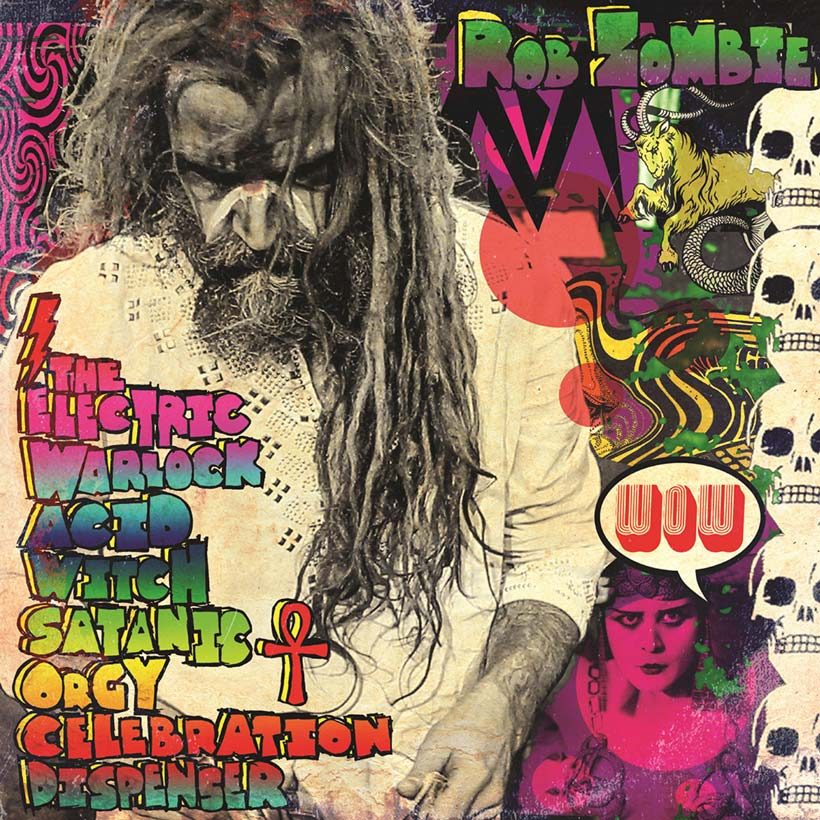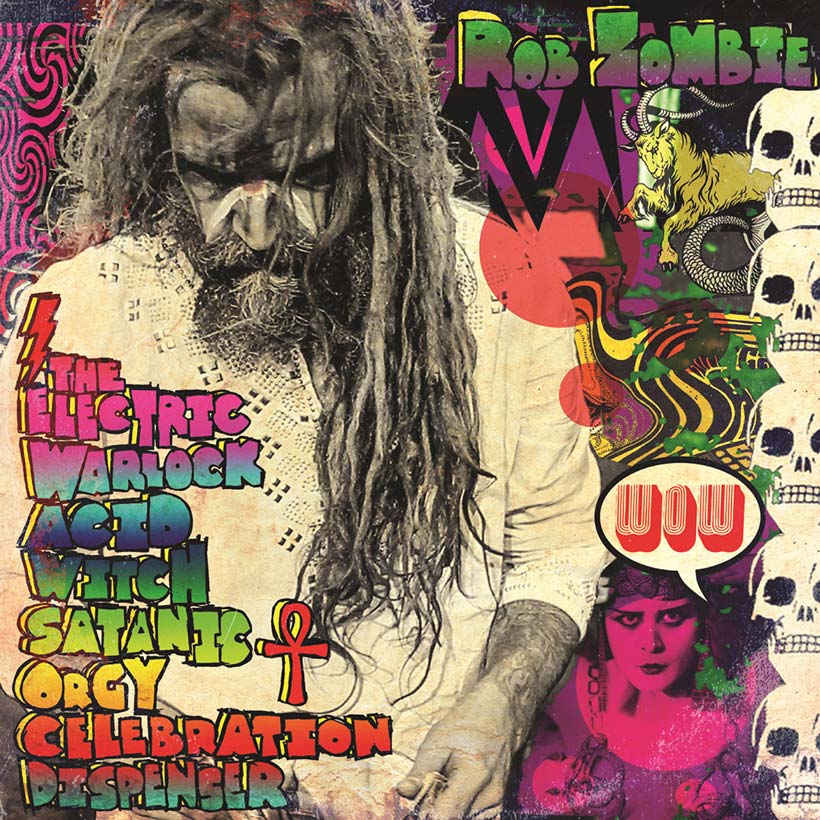 Well, what else was Rob Zombie going to name his sixth studio album? Following 2013's Venomous Rat Regeneration Vendor, The Electric Warlock Acid Witch Satanic Orgy Celebration Dispenser almost seems like the natural choice. A sensible title would in itself be bizarre to fans who have grown used to the most flamboyantly perverse and deliberately provocative parlance in relation to Zombie's similarly, shall we say, colorful music.
Listen to The Electric Warlock Acid Witch Satanic Orgy Celebration Dispenser right now.
Rob Zombie has spent his entire career since White Zombie bouncing from being a musician to a director and back again, and the time since Venomous Rat Regeneration Vendor was no different. Not only did Zombie voice the character of Ravager Navigator in the 2014 Marvel blockbuster Guardians Of The Galaxy, but he also directed, wrote, and produced 31, a crowdfunded film starring Malcolm McDowell, which premiered at the 2016 Sundance Film Festival. Though the modest release only received a lukewarm reception, it did nothing to dampen Zombie's thirst for creativity.
For Zombie, one medium seems to feed off the other, given his flair for bringing the visual element to his music. And, of course, there's the creativity of soundbites that adds an extra dimension and depth to the aural assault. The Electric Warlock Acid Witch Satanic Orgy Celebration Dispenser follows that time-honored tradition. In fact, it perhaps sounds more like a soundtrack to one of his slasher gore flicks than any of his previous recorded work.
Released on April 29, 2016, Electric Warlock is the usual collage of movie snippets and tongue-in-cheek shock, with its 12 tracks providing the theme tune to the acid trip sci-fi dystopia that exists in Zombie's mind, where all these creative flashes happen. And with the whole thing clocking in at a little over 30 minutes, this record is a short sharp shock of Technicolor explosion that is Rob Zombie at his best.
"The Last Of The Demons Defeated" is a militaristic call to action. A rounding-up of the victorious survivors of a hostile alien takeover, Independence Day-style. Who knows? The lyrics are nonsensical: "Electric warlock, electric warlock, electric warlock acid witch," repeat and end. It doesn't matter what it means, it just sounds cool. But there's an extra dimension to Zombie's music that means you don't only hear it – you see it. Every buzzsaw riff, every gut-punching groove, every chiming electro flourish, every excerpt of movie dialogue, and, most of all, every madcap song title serves to paint a picture of the demented world that exists inside his imagination.
"Satanic Cyanide! The Killer Rocks On!" is an apocalyptic ode to the end of something: "This is the end/Farewell my friend/All that you feel/Nothing is real." And yet, as dark and morose as it can all appear on the surface, dig a little deeper and there's an ever-present self-deprecating sardonicism at play: "Lyrics to real rock music is nothing more than Satanic Cyanide/Get it out of your house, throw it out and burn it/It has no place in the house of the righteous." Art imitating life in Rob Zombie's world, perhaps.
Indeed, it could all be the soundtrack to Zombie's double life – Rob Zombie the man at home watching horror flicks with his wife, Sheri Moon, versus Rob Zombie the master of ceremonies at his psychoholic freak show; he could be all three of the Jekyll, Hyde and teenage rock god in "The Life And Times Of A Teenage Rock God." Elsewhere, it's a sleazy, fantastical journey through the depraved corners of Zombie's psyche on "Well, Everybody's F__king in a UFO": "This is the story of the one-eyed wolf/Called the honey of super doom/She rode her five-legged beast/In a mirrored bikini right out of the womb."
And so it goes. "A Hearse That Overturns With The Coffin Bursting Open" is far more gentle than the title suggests, being that it's an acoustic instrumental lament with the soundbite, "So revolting, yet so interesting." A Zombie modus operandi if ever there was one. The shock rock of "The Hideous Exhibitions Of A Dedicated Gore Whore" gives way to the souped-up electro-punk of "Medication For The Melancholy" and into the vigorous bump'n'grind of "In The Age Of The Consecrated Vampire We All Get High." "Super-Doom-Hex-Gloom Part One" is another instrumental interlude, this time heading in a sci-fi B-movie direction, hinting at an intergalactic wasteland, Blade Runner-style – or maybe the Earth's post-apocalyptic future as depicted in the original Terminator.
No matter what he turns to in his multi-faceted art, it's Rob Zombie who rules triumphant through the likes of "In The Bone Pile" ("Well, I was born a rotten freak/Slicking back a widow's peak/Well, I was born to take you down/I don't ever f__k around/Well, I was born into the light/A demon warp on Friday night/Well, I was born to make you crawl/Give it up and lose it all"). And if "Get Your Boots On! That's The End Of Rock And Roll" is a Marilyn Manson-style fist-pumping romp, then album closer "Wurdalak" brings things to an epic five-and-a-half minute funereal death march crescendo.
Whatever world Rob Zombie creates for the listener to step into, The Electric Warlock Acid Witch Satanic Orgy Celebration Dispenser offers 12 frightfully extravagant flashes of his ghastly dystopia, returning the artist firmly to the top of his game.
The Electric Warlock Acid Witch Satanic Orgy Celebration Dispenser can be bought here.