Rob Zombie
The award-winning British pop singer and songwriter has found great success over his multi-decade solo career.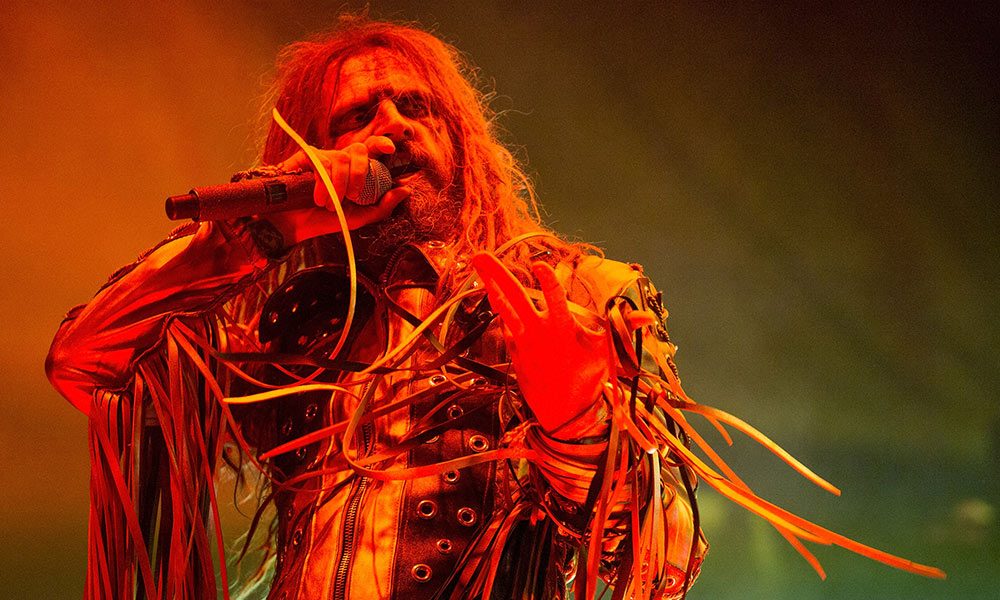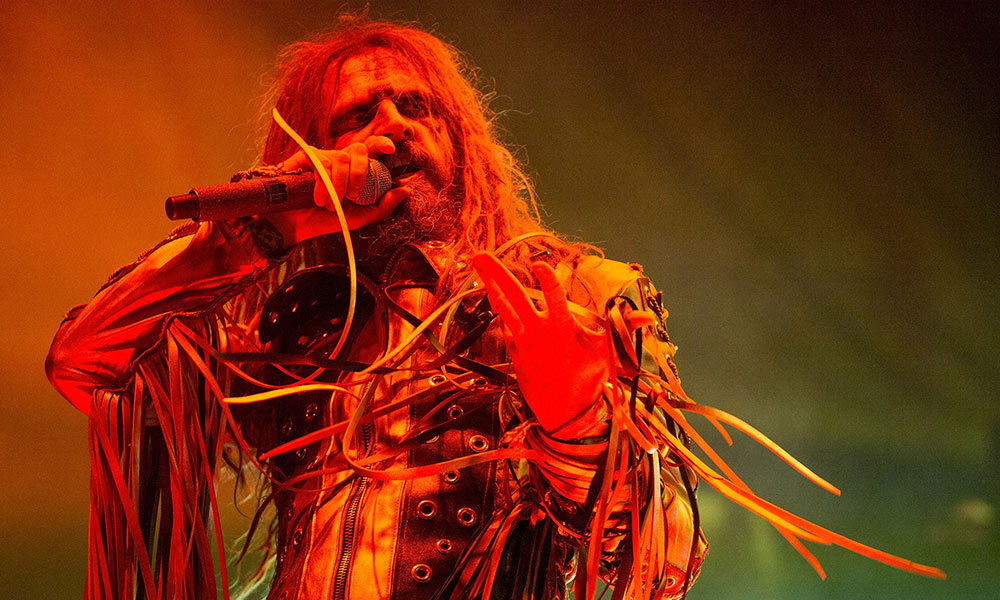 Rob Zombie is what you might call an auteur but he's a damn professional one. Filmmaker, scriptwriter, fashion icon, director, label owner, actor, comic book guy, celebrity husband and wife partner and producer, oh and he is a musician of course. That's why we're here. Hell, this guy could probably mend your washing machine and rebuild your chopper if he so chose. But, if you're familiar with the man's work with White Zombie, in particular their albums Soul-Crusher and the multi-platinum Astro-Creep: 2000 you will know that while dark, not to say black humour pervades most of what Rob does, he still takes that very seriously.
Why wouldn't he? Consider that his debut solo disc Hellbilly Deluxe (he does do the best titles: how about Make Them Die Slowly?) spawned – and that is the right word in the circumstances, three hit singles, made the Billboard Top 5 and sold in excess of three million copies. The follow-ups have followed suit and Zombie has seen 15 million satisfied customers enjoy his unique body, or corpse, of work, which includes his Halloween remake, a movie that grossed over $80 million.
Entrepreneur and a gravedigger of the outré kind, Rob is also a fine singer, multi-instrumentalist and programmer. By turn he adapts those skills to provide mystery and suspense with one eye out of its socket on horror, He reckons to draw his influences from the cinematic world and numbers Kiss, Alice Cooper, Queen and, er, Elton John as inspirational figures. Underneath the trappings lies gothic melody and sonic excellence plus the desire to drag metal music back from the margins and onto the main stage. He's definitely done that.
Digging deeper is the kind of phrase that Rob Zombie would appreciate. He was born Robert Bartleh Cummings in Massachusetts in 1965 and soon developed a passion for Stan Lee's comic art and Alice Cooper's performance rock art.  Handily enough he was raised by carnival touring parents. With girlfriend Sean Yseult, he concocted White Zombie, a lethal cocktail of industrial noise, attaining a riding spiral of success that culminated in the remix disc Supersexy Swingin' Sounds, a liquor and poker set of stupendous girth.
Zombie's move into the solo arena ran parallel with White Zombie for a while. Hellbilly Deluxe (a play on Dwight Yoakam's Hillbilly Deluxe) is subtitled 13 Tales of Cadaverous Cavorting Inside the Spookshow International and it does exactly what it says on the sleeve. It raises merry hell. Hardcore industrial noise and grimy metal abound here but as astute critics noted, despite the wall of metallic sound the arrangements are as fastidious and considered as on any soul or polished pop record. Zombie never throws it against the wall just to see what sticks: there is always a method to his madness. The year after its release Zombie put out the remix version, American Made Music To Strip By, thus inventing roxploitation (with a saucy smile and a cheerfully candid photo of his wife Sheri on the front) and sating his fans appetite for reconstruction before he followed up with The Sinister Urge (2001), named after Ed Wood's cult crime flick. Featuring more orientated material than its predecessor where "Superbeast" and "Living Dead Girl" carved out a hard thrash of guitar, drums and electronics, the Urge… album utilises producer Scott Humphrey's talents as a programmer to fuller effect. Guests include Tommy Lee on drums, Jerry Hey's old school horns, and Ozzy Osbourne's vocal on "Iron Head", one of the schlockiest cuts – though "Demon Speeding" and "Dead Girl Superstar" tickled the fans nerve endings first and foremost.
Guitarist Mike Riggs and drummer John Tempesta left for the third album, Educated Horses and this is also Ron Blasko's final stint on bass. But you don't notice any cracks appearing, apart from in your walls. "American Witch", "Foxy", "Let It All Bleed Out" and "The Lords of Salem" generated terrific sales and huge amounts of airplay and with Nine Inch Nails skin smacker Josh Freese boosting the backbeat this is considered to be Zombie's most brutal and experimental disc to date.
Taking part of the template from British glam rockers the likes of T. Rex, Slade and Sweet, Educated Horses made No.1 on the Top Rock chart and narrowly missed out on winning the Grammy for Best Hard Rock Performance. After slipping out the sequel Hellbilly Deluxe 2, our hero wrote, produced and directed the feature film The Lords Of Salem and then chased it down with the magnificently named Venomous Rat Regeneration Vendor, complete with garish psychedelic cover and a new producer, one Bob Marlette.
Here Zombie covers Grand Funk Railroad's "We're an American Band" and satisfies the fanboys and fangirls with ever more lurid material in the guise of  "Trade In Your Guns For A Coffin", "White Trash Freaks" and the none-too-shy-about-controversy "Dead City Radio And The New Gods Of Supertown", which lambasts the state of mainstream rock radio – a perennial gripe over the years with everyone from Lou Reed to Tom Petty.
Rob, guitarist John 5 (ex-David Lee Roth and Marilyn Manson), Piggy D's bass and another Manson graduate, drummer Ginger Fish, now form the nucleus of a dynamic quartet that delivers exactly the required hall-of-mirrors mania that Zombie's audience demands: total trash entertainment with a megaton of fun that should satisfy the die-hard fans and titillate the casual newcomer. We'd certainly recommend you discover all the above, in any order you choose.
Of course, Rob always leaves his people wanting more – and we have more here. Zombie Live (2007) is well over an hour of the good stuff that dates to the Educated Horses tour and includes a lavish booklet and accompanying DVD. Mondo Sex Head is the remix album that had to have its cover pulled since it featured a "glamorous" photo of Sheri Moon (Mrs) Zombie; a pussycat replaced her image. Everything old sounds new again here, and Photek's take on "Living Dead Girl" adds a trippy, spooky backdrop that is truly hypnotic. Totally recommended.
Not just for completists, the 2003 compilation Past, Present & Future (2003) sees White Zombie and solo tracks coexisting happily. Just to hear Rob tackle KC & The Sunshine Band's "I'm Your Boogieman" (an inspired cover on every level), which featured on the soundtrack of The Crow: City Of Angels, makes this disc an essential listen. For good measure, he also includes the Commodores cover "Brick House 2003" and Ramones' "Blitzkrieg Bop" – evidence that here is a man of fine taste who knows as much about punk as he does soul.
In 2016, the Zombie returned with The Electric Warlock Acid Witch Satanic Orgy Celebration, on which Rob, John 5, Piggy D, Ginger Fish and Zeuss cavorted through a nightmare worlds of UFO orgies, consecrated vampirism, ossuaries and benighted teenage rock gods. It swept to the top of the Hard Rock charts and left a grisly smile on our faces. This is the metal you really can't take home to meet your parents.
Max Bell
Format:
UK English