Poison
Poison are a glam metal band from Mechanicsburg, Pennsylvania founded by Bret Michaels, Matt Smith, Bobby Dall, and Rikki Rockett.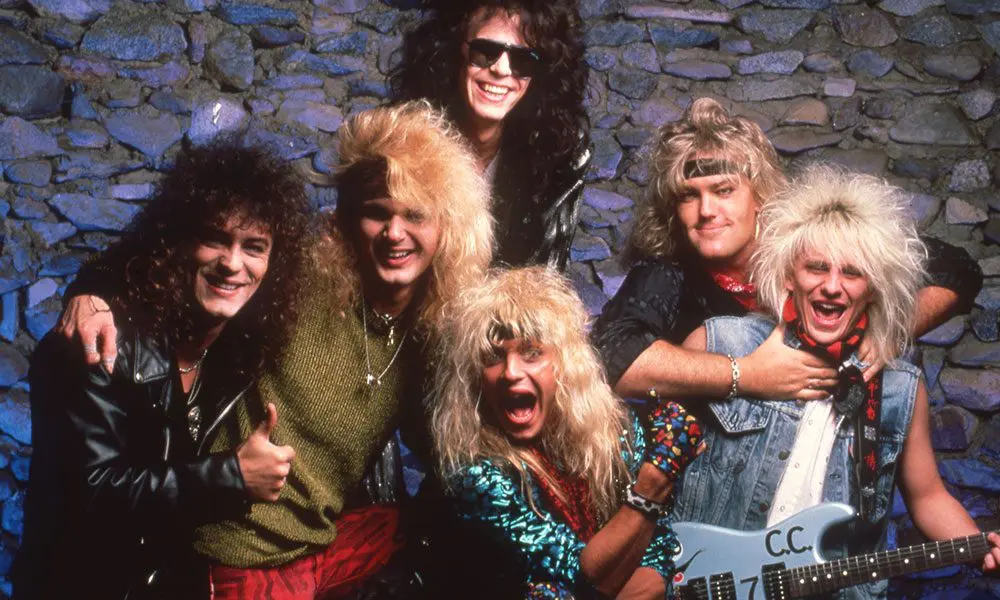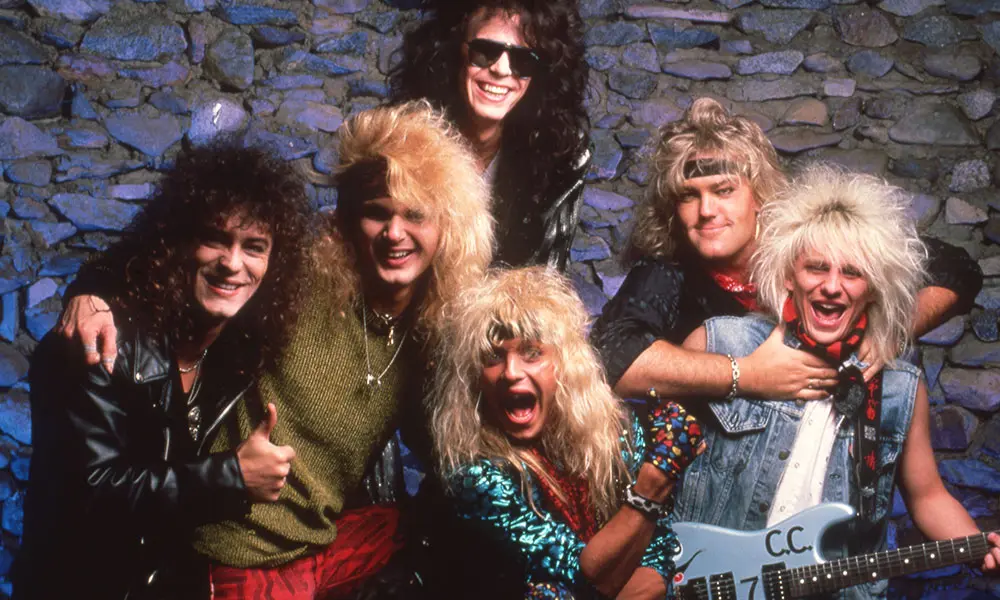 They've always adhered to their motto of "work hard, play hard" and they've lived through their fair share of hedonistic misadventure, yet American glam metal giants Poison have always managed to come out on top.
Active for over three decades, they've sold over a staggering 45 million records worldwide – over 15 million of which found a home in the band's native North America. Certified quintuple platinum, their second album, Open Up And Say… Ahh!, remains the group's commercial zenith, yet Poison have gone on to enjoy a remarkable second life since the dawn of the 21st Century, with albums such as Crack A Smile… And More! and Power To The People reacquainting the seemingly indestructible outfit with gold-selling albums and sold-out stadium tours.
This LA-based quartet have lived and breathed the kind of stratospheric success most bands can only envisage in their wildest dreams, yet they had to fight tooth and nail in their early days, and they suffered plenty of setbacks when they first began playing in lowly Mechanicsburg, Pennsylvania, around the turn of the 80s.
Charismatic frontman Bret Michaels initially learnt his craft in a basement-level band called Laser, before teaming up with his childhood buddy, drummer Rikki Rockett, in another relatively shirt-lived outfit, Spectres, which eventually morphed into Paris in 1983, when the duo joined forces with bassist Bobby Dall and guitarist Matt Smith. Initially a hard rock covers band, Paris built up a strong following, but felt trapped within the confines of the local scene and decided on a make-or-break move to Los Angeles, in March 1984.
Struggling to make ends meet, the band changed their name to Poison and made a determined effort to break through, gigging constantly and playing any LA dive that would have them. They got their first major break when they secured a regular gig at famous Hollywood rock club The Troubadour, but trouble was brewing as guitarist Matt Smith (who was then about to become a father) quit and returned to the band's native Pennsylvania.
Determined not to lose the momentum, Poison auditioned three possible replacements, one of whom was future Guns N' Roses guitarist Slash. The successful candidate, however, turned out to be New York-born CC DeVille, whose vicious but expressive lead guitar style eventually landed him the job.
The band continued gigging and eventually attracted the attention of William and Wesley Hein's small but well-respected LA independent label, Enigma Records. Active between 1980-91, their imprint was nothing if not diverse, as it also released vinyl by artists ranging from Americana pioneers Green On Red through to Van Der Graaf Generator frontman Peter Hammill and notoriously depraved New Hampshire punk GG Allin.
Enigma took a chance on Poison – a leap of faith that paid remarkable dividends. Recorded in just 12 days, the band's August 1986 debut, Look What The Cat Dragged In, cost just $23,000 (some of which the band funded themselves), but it peaked at a sensational No.3 on America's Billboard 200, eventually selling 4 million copies worldwide. Easily Enigma's best-selling slab of vinyl at that time, it also spawned three US chart hits, 'Talk Dirty To Me', 'I Want Action' and 'I Won't Forget You', while the album's anthemic, radio-friendly contents (which frequently drew comparisons to Kiss and Aerosmith) had an immediate, across-the-board appeal.
With help from heavy rotation on MTV, Poison's reputation spread and the band toured with contemporaneous big-haired metal/hard rock outfits such as Ratt, Cinderella and Quiet Riot, and even appeared at the popular metal festival, the not-quite triple-X The Texxas Jam, in Dallas.
Kiss legend Paul Stanley was originally in the frame to produce Poison's second album, Open Up And Say… Ahh!, but due to his heavy schedule of commitments, Tom Werman (Ted Nugent; Cheap Trick) oversaw the sessions. Released in May 1988, the album went supernova commercially, peaking at No.2 on the Billboard 200 (behind Bon Jovi's New Jersey) and eventually sold over 8 million copies worldwide. Its tracklist also yielded four major US hit singles courtesy of 'Nothin' But A Good Time', 'Fallen Angel', the Loggins-and-Messina-penned 'Your Mama Don't Dance' and (to date) the band's only American No.1, 'Every Rose Has Its Thorn': a memorable power ballad with just a dash of country detectable in Michaels' emotive vocal delivery.
As with Look What The Cat Dragged In, the album featured songs relating to universal themes such as partying ('Nothin' But A Good Time'), sex ('Love On The Rocks'; 'Good Love') and all-round rock'n'roll behaviour ('Bad To Be Good'); their infectious metal/hard rock sound was ideal for mainstream consumption in the wake of Guns N' Roses' similarly massive-selling Appetite For Destruction.
As The Metal Years, the second volume in director Penelope Spheeris' landmark documentary trilogy The Decline Of Western Civilization makes clear, LA in the late 80s was the place where all aspiring metal bands wanted to be; and, in the wake of Open Up And Say… Ahh!, Poison enjoyed celebrity status, their numerous excess-related hijinks frequently making the music papers and gossip columns.
The band were always deadly serious about their music, however, and they notched up a third multi-platinum success with their third LP, June 1990's Flesh & Blood, which eventually sold over 7 million copies worldwide. Recorded in Vancouver and overseen by savvy Canadian producer Bruce Fairbairn (Bon Jovi, Aerosmith), the LP again spawned a brace of US hit singles including two Top 10s in 'Unskinny Bop' and 'Something To Believe In', though Poison's changing image – they'd lost the excessive make-up and big hair of Look What The Cat Dragged In – was reflected in the more sombre tone of tracks such as the 'Valley Of Lost Souls', 'Come Hell Or High Water' and 'Ball And Chain', which ruminated on everything from the vicissitudes of life to long-term relationships.
Poison made a rare UK appearance at 90's Castle Donington's Monsters Of Rock Festival and toured worldwide in the aftermath of Flesh & Blood. Several performances were recorded during this trek, with the highlights being released alongside four new studio tracks on 1991's Swallow This Live two-disc set, which went gold after peaking at No.51 on the US Billboard 200. Behind closed doors, however, Poison were going through further changes: guitarist CC DeVille left and was replaced by Pennsylvanian-born guitarist Richie Kotzen before work began on the band's next record, Native Tongue.
Released in February 1993, the album was a marked departure from Poison's tried and tested heavy rock sound. Blues influences crept in and there was an eschewal of the expected party anthems that had made the band famous, with the single 'Stand' even featuring contributions from the Los Angeles First AME Church Choir. Nevertheless, Native Tongue was greeted with primarily positive reviews and again reached No.2 on the US Billboard 200. It went gold and sold 2 million copies worldwide, but with Nirvana, Pearl Jam and the younger grunge generation dominating the charts at this point, Poison found it hard to maintain their superstar status. During their subsequent world tour, Kotzen was replaced with new guitarist Blues Saraceno, who completed the dates – including the group's famous 'Hollywood Rock' concert in Brazilian capital Rio De Janeiro, where Poison performed to an audience of around 165,000 people.
Sessions for the band's fifth studio LP, Crack A Smile, began in 1994, but recording ground to a halt after Bret Michaels was involved in a serious car accident. Instead, Capitol released the band's first best-of' collection, Poison's Greatest Hits 1986-1996, featuring all their significant hits, tracks from the four studio LPs and two new studio tracks, 'Sexual Thing' and 'Lay Your Body Down', featuring Blues Saraceno. It did brisk business, eventually earning double-platinum certification, and, by 1999, Poison were back on the road with their original line-up, with CC DeVille back in the fold. The band's North American Greatest Hits tour proved to be an enormous success, with audiences at each date averaging around 12,000, while one show (at Detroit's Pine Knob Amphitheatre) drew a sell-out 18,000 people.
Bootleg copies of the band's unreleased Crack A Smile LP had also begun to surface by the turn of the new millennium, with many being sold for over-the-odds figures. Consequently, Capitol officially released the band's "lost" LP as Crack A Smile… And More! in March 2000. Featuring outgoing guitarist Blues Saraceno and hedonistic anthems such as the single 'Shut Up, Make Love', the record was a return to the band's party-loving early days, with much of the seriousness and bluesy influence of Native Tongue eradicated. Also included in the package were a brace of additional tracks, including cuts from the band's widely praised 1990 MTV Unplugged performance.
Poison's next full-length LP was the stop-gap Power To The People, featuring five new studio tracks and a further dozen culled from their highly successful Greatest Hits Tour of 1999. Despite being released on the independent Cyanide Music imprint, it again went gold and eventually sold 1.5 million copies. Also released on Cyanide Music was May 2002's Hollyweird: another departure from the band's trademark heavy rock sound, with gritty, punk-influenced tracks such as 'Emperor's New Clothes', 'Livin' In The Now' and a spirited cover of The Who's 'Squeeze Box'.
Capitol issued a second greatest hits set in 2003, but, as its title suggests, Best Of Ballads And Blues concentrated primarily on the band's power ballads and laidback blues songs, lobbing in well-executed new acoustic renditions of 'Something To Believe In' and 'Stand' for good measure. It was soon followed by The Best Of Poison: 20 Years Of Rock, which included one new song: a rowdy cover of Grand Funk Railroad's 'We're An American Band', produced by Don Was. The LP reacquainted Poison with the US Billboard Top 20 for the first time since 1993, and the subsequent North American tour (with Cinderella) was also a huge success, with the two veteran bands playing to 10,000 people per night.
Poison followed this success with 2007's well-received covers album, Poison'd!, for which the band asked their fans which songs they'd like their heroes to record; they were duly treated with Poison's inimitable versions of songs such as The Rolling Stones' 'Dead Flowers', The Cars' 'Just What I Needed' and David Bowie's 'Suffragette City'. The album rose to a highly respectable No.32 on the US Billboard 200, and Poison embarked on another highly subscribed North American jaunt, this time with Ratt in support.
To date, Poison'd! is the band's last studio outing, though they have been typically active since. They toured in 2009 with Def Leppard, and in 2012 with Lita Ford. In May 2011, Capitol/EMI once again issued another extensive career-spanning anthology, the 35-track, double-disc Double Dose: Ultimate Hits, which charted at No.23 on the US Billboard Top Hard Rock Albums and also climbed into the Canadian Top 20.
Elsewhere, all four band members have kept busy. Bret Michaels has focused on his solo career (releasing his latest solo set, True Grit, in May 2015); drummer Rikki Rocket has been engaged with a new side project, Devil City Angels, with members of Cinderella and LA Guns; while DeVille and Dall have formed The Special Guests: a project with Cheap Trick's Brandon Gibbs. At present Poison have no tours or new recordings on the horizon, but you can never bet against them returning to mix up their special medicine and give rock'n'roll's bloodstream another shot of sleaze.
Tim Peacock
Format:
UK English