Cheap Trick
Rockford, Illinois, quartet Cheap Trick have been there, done that and bought all the T-shirts during a formidable career which is now well into its fifth decade.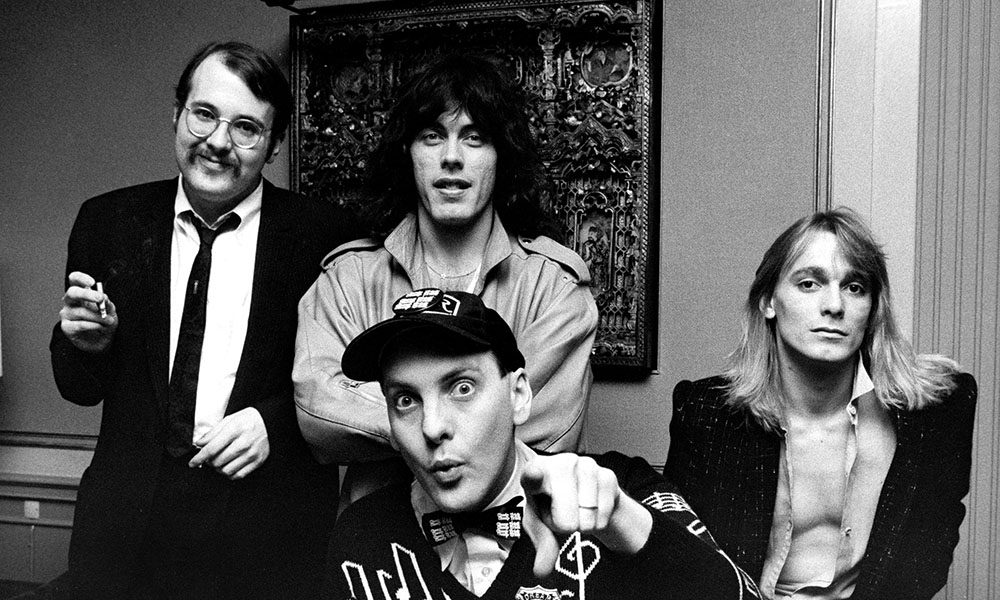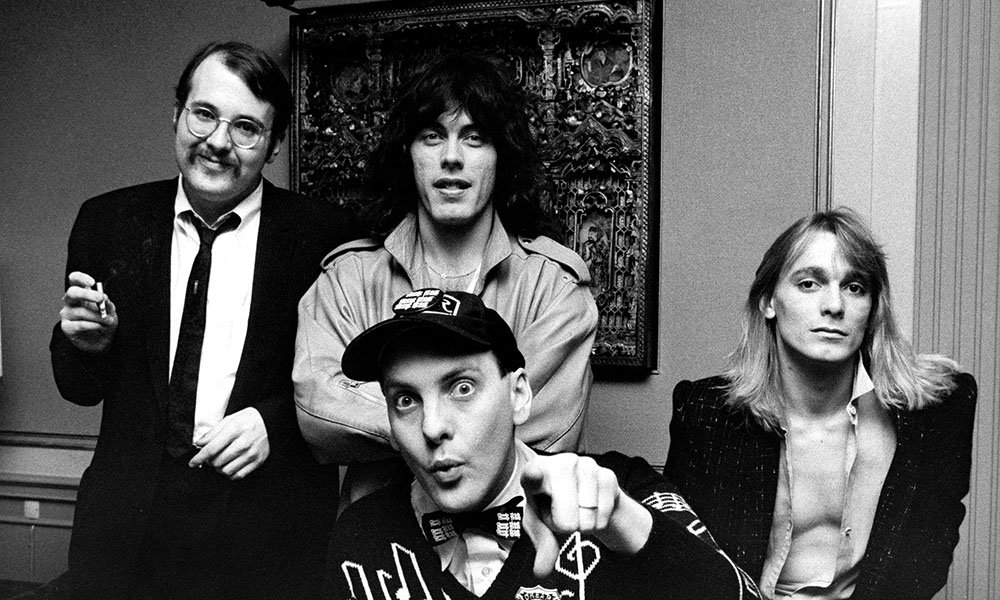 Rockford, Illinois, quartet Cheap Trick have been there, done that and bought all the T-shirts during a formidable career which is now well into its fifth decade.
An enduringly popular international live draw, they've performed a monumental 5,000-plus; the Japanese rock press regularly refers to them as the "American Beatles"; and they've been cited as an influence by seminal performers such as Joey Ramone, AC/DC's Angus Young and Nirvana's Kurt Cobain. Seemingly omnipresent in the US charts during the late 70s, the band remain on favourable terms with the Billboard 200; their recently released 17th studio album, Bang, Zoom, Crazy… Hello, peaked at an impressive No.31: their highest chart placing since 1988's platinum-selling Lap Of Luxury.
Primary songwriter and owner of a formidable arsenal of customised guitars, Rick Neilsen grew up in Rockford. His family owned a music store and he became proficient on a number of instruments during his teens, mastering keyboards and drums as well as guitar. His first serious band, The Grim Reapers (who, ironically, were scheduled to support Otis Redding in Madison, Wisconsin, on 10 December 1967, the day Redding died in a plane crash) also featured future Cheap Trick rhythm section Tom Petersson and Brad Carlson (aka Bun E Carlos). All three later teamed up in Fuse, a short-lived psychedelic-tinged outfit who cut one self-titled LP for Epic in 1970.
Neilsen and Petersson also joined forces with Robert "Stewkey" Antoni and Thom Mooney in Nazz's post-Todd Rundgren line-up of 1970-73, during which time the band were based in Philadelphia and toured Europe as Sick Man Of Europe. By 1973, however, Neilsen and Petersson had returned to Rockford, re-connected with Carlos and, by 1974, Cheap Trick's "classic" line-up clicked into place after the band recruited Wisconsin-born vocalist/rhythm guitarist Robin Zander.
The band became Cheap Trick after attending a Slade concert where Tom Petersson reputedly remarked how the band used "every cheap trick in the book" in their act. Having quickly established their own fearsome live reputation through playing every bar, warehouse and bowling alley that would take them in the Midwest, the group signed to Epic Records in 1976 on the recommendation of Jack Douglas, staff engineer at New York's prestigious Power Plant recording complex, who had been impressed by a show he'd seen them perform in Wisconsin.
Douglas manned the console for Cheap Trick's self-titled debut LP, released in February 1977, which narrowly missed the Billboard Top 200 but attracted a raft of positive critical notices. Still a firm fan favourite, Cheap Trick remains an infinite thrill for power-pop fans, yet while it touted enviably catchy, Beatles-esque harmonies, many of the record's best songs had darker undercurrents, with 'The Ballad Of TV Violence' relating to serial killer Richard Speck and 'Oh Candy' dealing with the recent suicide of the band's close friend, Marshall Mintz.
Produced by Tom Werman (the band's A&R man at Epic), Cheap Trick's sophomore release, In Color, was issued barely six months after their debut hit the racks. Notably more polished and radio-friendly than its predecessor, In Color went gold in Canada and eventually yielded a platinum certification for the band in the States. It also made them superstars in Japan, where the album's two 45s, 'Clock Strikes Ten' and the ludicrously infectious 'I Want You To Want Me', both smashed into the Top 10.
The band inched ever closer to superstardom with May '78's Heaven Tonight. Loaded with attitude, it presented another tasty, hook-stuffed smorgasbord, ranging from the wistful psychedelia of the title song to roaring rockers such as 'On Top Of The World', a furious cover of The Move's 'California Man' and the sturdy, anthemic 'Surrender' – the latter providing the band with their first US Billboard Hot 100 placing when it peaked at No.62.
Often cited as Cheap Trick's finest hour, Heaven Tonight also rose to No.48 on the Billboard 200 and went gold in Canada, yet while the momentum was steadily building around the band in the US, the dam was about to burst in the Far East. Having already notched up two gold-selling LPs in Japan, Cheap Trick toured the country for the first time in 1978, being received with a fervency akin to Beatlemania.
Two of their shows at Tokyo's Nippon Budokan were recorded for posterity during the jaunt and compiled for what should have been the Japan-only live album Cheap Trick At Budokan. However, after the demand for the import became so great, Epic afforded the record a US release in February 1979. Shooting to No.4 on the Billboard 200, Cheap Trick At Budokan introduced the band to the global stage, going triple-platinum in the US and spawning two massive hits courtesy of 'I Want You To Want Me' (which peaked at No.7) and the band's version of Fats Domino's 'Ain't That A Shame'.
Cheap Trick's third (and final) album with Tom Werman at the controls, September '79's Dream Police, also sold in droves, climbing to No.6 on the Billboard 200 and earning a platinum certification just months after its initial release. Sonically, it was the band's most grandiose offering, featuring ambitious tracks such as the orchestrated nine-minute epic 'Gonna Raise Hell' and the complex 'Voices', which incorporated a meticulous vocal arrangement with multiple harmonies.
Cheap Trick were busy conquering the arena circuit by the time 1980's All Shook Up was released, but while the album again went gold in the US and Canada, and was produced by The Beatles' dream team, Sir George Martin and engineer Geoff Emerick, it was a quirky, experimental affair which yielded just the minor US hit 'Stop This Game' and received mixed reviews.
Long-serving bassist Tom Petersson left before the album's release and was replaced by Pete Comita for the All Shook Up tour, though he, in turn, made way for Jon Brant (Chris Spedding, Lou Reed) before Cheap Trick settled down to record 1982's One On One. Overseen by Queen/The Cars producer Roy Thomas Baker, this gold-selling album was a return to the simpler power-pop sound that set the band on the road to stardom and it spawned a pair of notable 45s in the innuendo-laden 'She's Tight' and the slow-burning ballad 'If You Want My Love'.
Despite precise production from Todd Rundgren, the inclusion of the much-loved, Robin Zander-penned 'I Can't Take It' and a choice cover of The Motors' 'Dancing The Night Away', 1983's Next Position Please stalled at No.61 on the Billboard 200. Reuniting the band with Cheap Trick producer Jack Douglas, '85's Standing On The Edge fared better, however, climbing to No.35 and bequeathing a Top 10 Billboard Top Rocks Chart hit with 'Tonight It's You', which also received heavy rotation from MTV.
Produced by Standing On The Edge engineer Tony Platt, the band's ninth studio LP, The Doctor, was released late in 1986 and featured the funk-flavoured 'Take Me To The Top' among a welter of synthesisers and electronic drums. It was swiftly followed by 1988's Lap Of Luxury, which was helmed by Elton John/Diana Ross producer Richie Zito. Welcoming a returning Tom Petersson back into the fold, the album was an accomplished pop/metal set which included two massive US hits in the shape of power ballad 'The Flame' (Cheap Trick's first US No.1 hit) and a poised cover of Elvis Presley's 'Don't Be Cruel.'
Lap Of Luxury cruised to No.16 in the US charts and eventually notched up platinum certifications in both the States and Canada. Also overseen by Richie Zito, June 1990's Busted was trailed by the US No.12 hit 'Can't Stop Fallin' In Love'. In the face of newer styles such as grunge and dance-rock, Busted nevertheless yielded another gold disc in Canada, though it proved to be Cheap Trick's final studio album for Epic.
Having enjoyed one last hurrah with their old label when 1991's self-explanatory Greatest Hits won them another platinum certification, Cheap Trick transferred to Warner Bros and issued 1994's metal-inclined Woke Up With A Monster, recorded with Captain Beefheart/Van Halen producer Ted Templeman. Leaving Warner Brothers shortly afterwards, Cheap Trick toured heavily with critically acclaimed bands of the day such as Pearl Jam and Stone Temple Pilots and recorded demos with alt.rock doyen Steve Albini. The band's return to form then continued with 1997's Cheap Trick (sometimes referred to as Cheap Trick II): a sprightly outing that largely recaptured the stripped-down power-pop sound which originally brought the band to prominence.
Cheap Trick was greeted by a groundswell of critical praise, but just months after its release, Alliance Entertainment, the parent company of the band's new label, Red Ant, went bankrupt. It would be 2003 before Cheap Trick returned with Special One, released through their own Cheap Trick Unlimited imprint. They continued to fight back with 2006's purposeful Rockford. Arguably their best album since their late 70s heyday, it featured an embarrassment of power-pop riches including 'If It Takes A Lifetime' and the Linda Perry-assisted 'Perfect Stranger'.
Cheap Trick's hometown of Rockford repaid the compliment in 2007 by designating 1 April official Cheap Trick day. During August of that same year, the band honoured the 40th anniversary of The Beatles' Sergeant Pepper's Lonely Hearts Club Band by performing the album in its entirety with the Hollywood Bowl Orchestra, with the record's original engineer Geoff Emerick manning the soundboard.
Cheap Trick were back on record with 2009's The Latest, another fine, critically lauded platter which featured a pulverising cover of Slade's 'When The Lights Are Out'. Drummer (and son of Rick Neilsen) Daxx Neilsen replaced Bun E Carlos for live work after the album's release, and the band have since undertaken lengthy tours with Aerosmith, Boston and Peter Frampton across 2012-2015.
More recently, Cheap Trick were inducted into the Rock And Roll Hall Of Fame on 8 April 2016, at Barclays Centre in Brooklyn, New York, and this prestigious event coincided with the release of the band's 17th studio album, Bang, Zoom, Crazy… Hello: their debut for the Nashville-based Big Machine imprint.
Long on dynamism and purpose, this estimable new waxing features Cheap Trick at their versatile best, adroitly tacking melodic hard rockers ('No Direction Home'), swooning pop songs ('The Sun Never Sets') and even holding down a sturdy groove on a rangy cover of Dobie Gray's Northern soul hit 'The In Crowd'. The ideal record to introduce this apparently indestructible outfit to a whole new generation of fans, it's already inveigled its way into the Top 40 of the Billboard 200 and displays all the hallmarks of a classic in waiting.
Words: Tim Peacock
Format:
UK English