Best Guitarists In Music: 50 Legendary Musicians You Need To Know
The guitar is the backbone of rock music, and the best guitarists include some blues and country guitarists that paved the way for rock'n'roll's legends.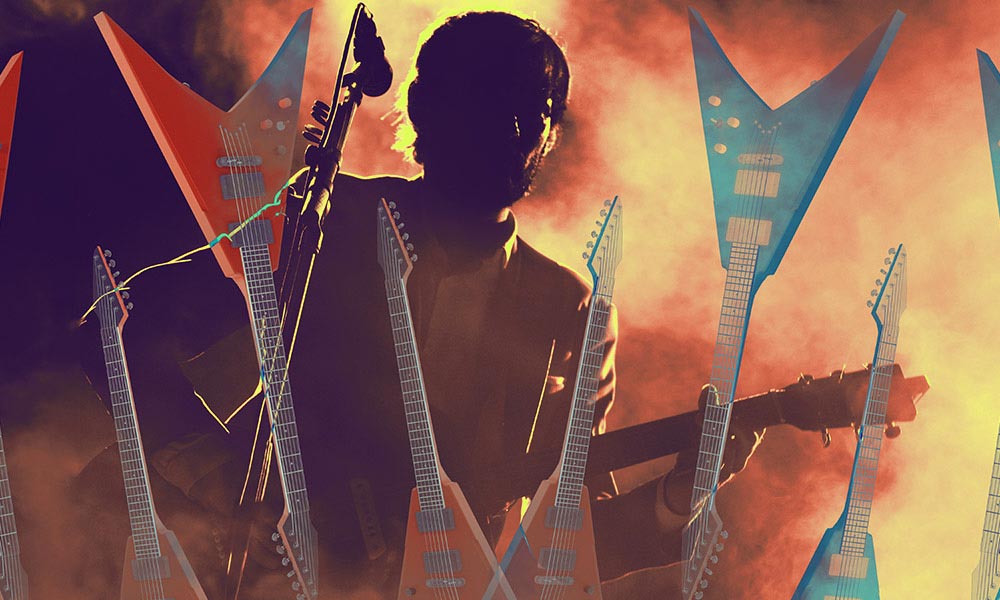 The guitar is the very backbone of rock – not to mention blues and country music – and the world is a better place to live in thanks to all the six-string geniuses that have come along. The best guitarists of all time include not only the hardest rockers to have picked up the instrument, but the groundbreakers who cleared the way for them. Here's who we think deserves to sit among the 50 greatest guitarists in history.
Have we missed one of yours? Let us know in the comments section, below.
Best Guitarists In Music: 50 Legendary Musicians You Need To Know
50: The Edge (U2)
Thanks to his canny use of delay and effects, The Edge had a signature sound from the very first U2 singles. The riffs on 'I Will Follow' and 'Gloria' are indelible as it gets, and his adventurous spirit has never flagged since developing his inventive style during the band's 80s heyday.
Check out: 'Gloria'
49: Ritchie Blackmore (Deep Purple, Rainbow)
If there's such a thing as punk metal, Deep Purple's guitarist probably invented it. What Ritchie Blackmore brought to the mix is pure aggression, first during his time with the Purps, then with Rainbow. Go back to Made In Japan , listen to the solos on 'Space Truckin'' and 'Lazy', and tell us he didn't wish he could murder everyone in the audience.
Check out: 'Space Truckin''
48: Adrian Belew (King Crimson)
A real study in contrasts, Adrian Belew keeps one foot in the avant-garde and another in Beatles-inspired pop, crossing those tendencies when you least expect it. As one of the most versatile and greatest guitarists, he's both a prolific soloist and touring axe man for Zappa, Bowie and Talking Heads, to name a few. He's also laid down some legendary session work on the likes of Paul Simon's Graceland and Nine Inch Nails' The Downward Spiral, and, lest we forget, he does great animal noises.
Check out: 'Mr Self Destruct'
47: Thurston Moore (Sonic Youth, solo)
With Sonic Youth, Thurston Moore changed the sound of the rock guitar, using an array of tones and tunings that were all his own. He also injected some free-jazz awareness into an energising punk-inspired setting with his famous Jazzmaster guitar. Both with Sonic Youth and as a solo artist, he remains an alt.rock guitar hero.
Check out: '100%'
46: Hank Marvin (The Shadows)
The man who brought rock guitar to the UK, with Cliff Richard and, instrumentally, with the Shadows. You can thank Hank for any of your favourite English guitar heroes, since his sound is what they all grew up on.
Check out: 'Apache'
45: Mark Knopfler (Dire Straits, solo)
The world didn't want to know about guitar heroics in the new-wave era, until the first two Dire Straits albums came along. On those records in particular, Mark Knopfler's soloing is clean, economical and effortlessly tasty. His solo work largely downplays lead guitar, but it's still there between the lines.
Check out: 'Sultans Of Swing'
44: James Burton (The Wrecking Crew)
The only guitarist to play with both Elvises (Presley and Costello), James Burton originated the swampy style that John Fogerty, of Creedence Clearwater Revival, plus many others picked up on. The Rock And Roll Hall Of Famer laid down his first iconic solo on Ricky Nelson's 'Hello Mary Lou' and became the most in-demand player for virtually every top Californian record label from the 60s onwards, playing with The Beach Boys and The Everly Brothers, and joining the legendary Wrecking Crew.
Check out: 'Hello Mary Lou'
43: Bob Mould (Hüsker Dü)
The most inventive guitarist to come from the post-punk era, Mould brought psychedelia to the mosh pit when Hüsker Dü did their own version of The Byrds' 'Eight Miles High'. The careening energy he packs into every solo is still a sonic blast 40 years down the line.
Check out: 'Broken Home, Broken Heart'
42: Rick Nielsen (Cheap Trick)
Rick Nielsen is probably the most underrated lead guitarist in the hard-rock world, since he uses guitar heroics on his famous five-neck guitar strictly to enhance the songs. And great songs – he also writes them – are what Cheap Trick is all about.
Check out: 'The Ballad Of TV Violence'
41: Roger McGuinn and Clarence White (The Byrds)
You wouldn't necessarily know it from their studio albums, but The Byrds' Mark II line-up had one of the best guitar tag-teams in history: the founder who turned electric 12-string into an iconic sound, plus a world-champion flat picker who was just venturing into rock. Listen to any later live version of 'Eight Miles High' and hear the sparks fly.
Check out: 'Eight Miles High'
40: Django Reinhardt
The Belgian-French guitarist popularised gypsy jazz and recorded some of the most joyful solos on record. The 1961 compilation album Djangology is one of Django Reinhardt's many collaborations with violinist Stéphane Grapelli, and is the very essence of swing. The Roma musician was one of the most influential jazz figures, and greatest guitarists, to emerge from Europe, and pioneered what would eventually be called "gypsy jazz".
Check out: 'Minor Swing'
39: Prince
Prince was such a prolific performer and songwriter that his gifts as one of the best guitarists of all time ran the risk of getting overlooked. But there's a reason why 'Purple Rain' and his appearance alongside Tom Petty on an all-star version of George Harrison's 'While My Guitar Gently Weeps', at the 2004 Rock And Roll Hall Of Fame induction ceremony, became his two most-shared performances: both feature epic guitar solos.
Check out: 'While My Guitar Gently Weeps'
38: Robert Fripp (King Crimson)
Prog legend Robert Fripp puts all the exploratory spirit of the greatest prog rock into every solo. Leaving King Crimson aside, we'd single out the violent outburst in Brian Eno's 'Baby's On Fire' and the beautiful capper to Peter Gabriel's 'White Shadow'. With Crimson, he's the only member to have played in all their line-ups, from their inception in the late 60s to the present day.
Check out: 'Baby's On Fire'
37: Frank Zappa
Anyone who had the privilege of seeing Frank Zappa live had to marvel at the solos he'd unleash in the middle of all the musical insanity. The surprise was how lyrical he could get; check Joe's Garage for the beautiful 'Watermelon In Easter Hay'. For a deeper dive, check out his Shut Up 'n Play Yer Guitar collection, loaded with enough guitar instrumentals and improvisations to take up three albums.
Check out: 'Watermelon In Easter Hay'
36: Pat Metheny
Predominately a jazz guitarist, though perhaps the most flexible guitarist in any genre, Pat Metheny has managed to play acoustic pieces that border on New Age, along with album-length bursts of avant-noise, though he's probably in top form when he's strayed between those poles. An early adopter of synths in jazz, he's also the only person to win a Grammy in ten different categories.
Check out: 'Last Train Home'
35: Albert Collins
The "master of the Telecaster" was renowned for his stinging, "icy" tone. As one of the most influential and best guitarists on record, Albert Collins recorded well into the 90s, but his 60s sides offer some of the tastiest blues instrumentals on record.
Check out: 'Frosty'
34: Richard Thompson (Fairport Convention)
Earning our vote for one of the greatest guitarists still living, what Richard Thompson does by now transcends categories of folk or rock. There isn't a guitarist working today with a more individual style, who can pack more emotional expression into a solo, or who can let it rip as thrillingly as he does on every live version of 'Tear Stained Letter'.
Check out: '1952 Vincent Black Lightning'
33: Les Paul
Les Paul deserves immortality for his innovations in recording and multitracking, but his guitar-playing was no slouch either, particularly on the duo singles where he flew in and around the voice of his partner Mary Ford.
Check out: 'How High The Moon'
32: Elizabeth Cotton
The trailblazing folk and blues musician originated her distinctive style by accident. Elizabeth Cotton was left-handed but initially learned to play by turning her right-handed brother's banjo upside-down. When she switched to guitar, she still had the instincts of a banjo player, and since the instrument was still upside-down, she fingerpicked the bass strings while using her thumb for the melodies. This style of "Cotton picking" is especially tough to master, which may be why no two versions of her signature tune, 'Freight Train', sound quite the same.
Check out: 'Freight Train'
31: Robert Johnson
Though he never played electric guitar, Robert Johnson's Delta blues embodies everything that a generation of blues-rock players was out to capture – from the swing in 'Sweet Home Chicago' to the sheer aggression of his slide playing on 'Crossroads Blues'. He may have struck a deal with the Devil, but we reaped the benefits.
Check out: 'Cross Road Blues'
30: Carlos Santana
Carlos Santana is one of the most influential and greatest guitarists of the last 50 years, high points including his groundbreaking Woodstock set, his inimitable 70s streak and his 'Smooth' revival. Santana has played every possible combination of rock, jazz and Latin, and you can always tell it's him from the first note. He never runs out of passion or ideas, having released his 25th! studio album, Africa Speaks, in June 2019.
Check out: 'Oye Coma Va'
29: Buddy Guy
If BB King embodied the elegance of blues guitar, then Buddy Guy's got the nastiness down. A blazing soloist even into his 80s, he's pulled countless rock-trained ears over to the blues camp and inspired everyone from Jimi Hendrix to Eric Clapton. Few can bend a note quite like Guy, and he's almost single-handedly keeping the blues alive.
Check out: 'Stone Crazy'
28: Neil Young
Everybody has a trademark style; Neil Young has two, and there's no other rock guitarist who can vacillate convincingly between gentle and crude. There's a reason a certain full-throttle Marshall sound is invariably called "that Neil and Crazy Horse sound".
Check out: 'Like A Hurricane'
27: Rory Gallagher
Of all the great blues-rock guitarists, Rory Gallagher had to be the most fiery soloist; give him a slide and he'd melt your mind with fluent riffs and dazzling speed. No wonder Gallagher was one of the few old-guard rockers that the punks still liked. And he was Jimi Hendrix's favourite guitarist, too.
Check out: 'Philby'
26: Eddie Hazel (Parliament-Funkadelic)
As the charter guitarist of George Clinton's P-Funk crew, Eddie Hazel played some of the most out-there solos ever ventured in a rock or funk context (check any live version of 'Maggot Brain' for evidence). But you could still get down to them.
Check out: 'Maggot Brain'
25: Dick Dale
The story of Dick Dale's surf rock success is an unlikely one in which a hungry young kid flashes back to the Lebanese music he grew up with, applies much volume and a ton of reverb, thinks about the thrill of catching a wave and invents southern California's defining instrumental sound. Not bad for a transplant from Quincy, Massachusetts, who grew up to be one of the best guitarists in rock history.
Check out: 'Miserlou'
24: Glen Campbell
Glen Campbell had hundreds of Wrecking Crew sessions under his belt before launching his solo career, and always played the guitar on his own records. Those bass string solos on 'Galveston' and 'Wichita Lineman' are models of economy, but if you really want to be impressed, check out his live version of 'MacArthur Park', proving his spot on a list of the best guitarists is more than well-earned.
Check out: 'MacArthur Park'
25: Keith Richards (The Rolling Stones)
Sure, there are flashier soloists (a couple of whom have themselves been in The Rolling Stones), but nothing says rock'n'roll like Keith Richards kicking off a rhythm riff. And nobody looks more rock'n'roll doing it. Writing some of the most memorable riffs in rock history more than earns him a place on this list of the best guitarists of all time.
Check out: 'Jumpin' Jack Flash'
22: Stevie Ray Vaughan
Stevie Ray Vaughn wedded the flash of arena rock to the essential soul of Texas blues at a time when both needed a fresh kick (the various live versions of 'Texas Flood' are a crash course in blues eloquence). The world was robbed of one of the greatest guitarists of all time when he died at 35, in 1990.
Check out: 'Texas Flood'
21: Albert Lee
As one of the most-admired English guitarists, Albert Lee applied 70s rock distortion to his fluid fingerpicking, doing some groundbreaking work in his original band, Heads Hands And Feet. Later he put the distortion aside and became a first-class country-rock picker, anchoring the Everly Brothers' reunion-era band.
Check out: 'Country Boy'
20: Robert White (The Funk Brothers)
Part of the legendary Motown Records house band, The Funk Brothers, White and his fellow session players are on more hit records than The Beatles, The Beach Boys and The Rolling Stones combined. He's also featured in the most heart-wrenching scene in the documentary Standing In The Shadows Of Motown, where he talks about sitting in a restaurant unrecognised while his indelible intro to The Temptations' 'My Girl' plays. They didn't mention an even greater moment of his – that one-chord wonder that opens The Supremes' 'You Keep Me Hanging On'.
Check out: 'You Keep Me Hangin' On'.
19: Link Wray
Famously the first rock'n'roller to get banned for an instrumental, when 50s-era parents feared that the switchblade guitar sounds on 'Rumble' were enough to induce gang violence. The great part was, they were right. In some ways, Wray invented the power chord, creating the basis of modern rock guitar playing by all the best guitarists from then on out.
Check out: 'Rumble'
18: Chet Atkins
Early in his career, country music's greatest guitarist – "Mr Guitar", as he would come to be known – could perform red-hot licks with the best of them. But once Chet Atkins had been there and done that, he devised the more elegant, gentlemanly style that not only defined his sound, but defined the "Nashville Sound" from the mid-60s onwards.
Check out: 'Windy And Warm'
17: Eddie Van Halen (Van Halen)
This guitar hero turned hard rock into high art, thanks to his innovative fingertapping style and his famous Frankenstrat. Eddie Van Halen completely changed the sound and style of guitar rock in the 80s and gave us some of the most masterful riffs in rock history, from 'Eruption' to 'Unchained'.
Check out: 'Eruption'
16: Martin Carthy
England's premier folk traditionalist, Martin Carthy is famously the man whose version of 'Scarborough Fair' was nicked by Paul Simon. Far beyond that, Carthy has an individual guitar style built around folk-dance rhythms, and he played some killer electric during his tenure in Steeleye Span.
Check out: 'Byker Hill'
15: Steve Howe (Yes)
Steve Howe's dexterity and imagination embody everything that's great about prog rock, from the wah-wah outbursts on 'Yours is No Disgrace' to the country picking on 'Clap' and the Spaciness of 'Wurm'. And that's just one side of his first Yes album.
Check out: 'Yours Is No Disgrace'
14: Charlie Christian
As the man who brought the electric guitar forward as a solo instrument, jazz guitarist Charlie Christian arguably made most of this list of the best guitaritst possible. For a key moment, check his 1939 recording of 'Stardust' with Benny Goodman, where his solo gets freer and more forward-looking as it builds.
Check out: 'Stardust'
13: Slash (Guns N' Roses)
Among the flash and bombast of 80s hard rock, Slash sounded like a return to form, bringing back the spirit of old rock'n'roll to the Top 40 with a blues sensibility While best known for the kind of epic, stage-stealing solos like the one he unleashed on 'November Rain', the Guns N' Roses guitarist helped to turn GNR from a Sunset Strip fixture to a stadium-rock act. He's also responsible for some of the most iconic guitar riffs in rock, from 'Sweet Child O' Mine' to 'Paradise City'.
Check out: 'November Rain'
12: Duane Allman (The Allman Brothers)
We got a tragically small amount of music from Skydog, but Duane Allman left a mark on slide-guitar artistry for decades to come – not least with his guest spot on Derek And The Dominos' 'Layla'. His secret weapon was the soulful touch that he'd honed through a few years of work as an Atlantic sessionman and later applied to his time with The Allman Brothers, with his brother Greg, before his tragic passing in 1971.
Check out: 'Layla'
11: Sister Rosetta Tharpe
No, the Devil didn't have all the good songs, or even all the greatest guitarists. As an early gospel artist, Sister Rosetta Tharpe really did invent a lot of the distorted tones that blues and rock players would later adopt. Before that, however, she also recorded some of the most fluid acoustic leads on record. On the 1945 hit 'Strange Things Happening Every Day', she blurs the lines between country, jazz and gospel, all in the service of some sanctified testimony.
Check out: 'Strange Things Happening Every Day'
10: George Harrison
The Beatles' masterful popcraft often overshadows their skills as musicians; case in point: George Harrison. Ever the quiet one, Harrison's economic use of soloing – playing exactly what's needed, when it's needed – was an essential part of The Beatles' sound. Even as the band was breaking apart on Abbey Road, Harrison was starting to shine as both a songwriter and guitarist, something we'd get to see more of on his solo work. His lead guitar lines came into focus on Abbey Road, allowing him to fully express himself through his instrument.
Check out: 'Something'
9: Jeff Beck (The Yardbirds)
While Eric Clapton brought passion to The Yardbirds and Jimmy Page brought technical wizardry, Jeff Beck brought aggressive firepower. Guitar playing doesn't get more brutal than 'Rice Pudding', the killer cut from his Beck-Ola album.
Check out: 'Goodbye Pork Pie Hat'
8: Steve Cropper (Booker T And The MGs)
Possibly the greatest rhythm guitarist who ever lived, Cropper drover countless Stax singles (virtually all of them between 1963-73) with his impeccably funky timing. Not to mention his flair for the stinging solo, or his co-writing Otis Redding's signature tune '(Sittin' On) The Dock Of The Bay'.
Check out: 'Melting Pot'
7: Jimmy Page (Led Zeppelin)
The key to Jimmy Page's genius is really his years as a session player, coming up with endless ways to enhance a song. That's what made him so resourceful with Led Zeppelin – he knew all about the possibilities of layering and colouring. As one of the few surviving artists from that era, this guitar virtuoso is a living legend.
Check out: 'Heartbreaker'
6: Brian May (Queen)
Proving that brainiacs really do belong in rock'n'roll, Brian May's talent as an inventor/engineer gave Queen the wide array of guitar sounds that they needed to rule the arenas and properly frame Freddie Mercury as a lead singer. It also enabled them to proclaim "no synths" on their first six albums.
Check out: 'Bohemian Rhapsody'
5: Eric Clapton (Cream, Blind Faith, Derek And The Dominos)
Clapton is God: that was the belief during his Cream and Derek And The Dominos days, when Eric Clapton was one of the most expressive players around. But even after getting tasteful in the 70s, he always managed some thrilling outbursts. And that trademark "woman tone" remains a thing of beauty.
Check out: 'Crossroads'
4: BB King
You might say that BB King was half of the greatest vocal duo in blues history. The other half was his guitar, Lucille, who's elegant, pleading tone said everything that the words couldn't completely express.
Check out: 'Sweet Little Angel'
3: Wes Montgomery
During his too-short career, this jazz great was rightly renowned for his octave technique (playing phrases on two strings an octave apart, giving a clear sweet tone), and his aggressive thumb strokes (something Jeff Beck and others emulated). More important was Wes Montgomery's melodic imagination and his impeccable sense of swing, heard especially well on his late 60s Verve releases.
Check out: 'No Blues'
2: Chuck Berry
The blues had a baby, they called it rock'n'roll, and the guitar intro on Chuck Berry's 'Maybelline' was the moment of conception. Berry was a master of the short and tasty solo (though you can check out 60s albums like Concerto In B Goode if you want to hear his solos at length), and there's been no worthy rock guitarist who hasn't absorbed a little Chuck.
Check out: 'Johnny B Goode'
1: Jimi Hendrix
Let's face it, rock will never come up with a more visionary guitarist. Not only did Jimi Hendrix expand the sonic possibilities of what a guitar could do, he found uncharted places that a guitar could take you to. Fifty years on, every newly unearthed version of 'Red House' is still a revelation.
Check out: 'Voodoo Child (Slight Return)'
Looking for more? Discover the 50 legendary bass players you need to know.
Format:
UK English