Sister Rosetta Tharpe: The Godmother Of Rock'N'Roll
A pioneer who influenced everyone from Chuck Berry to Keith Richards, Sister Rosetta Tharpe played rock'n'roll way before anyone else.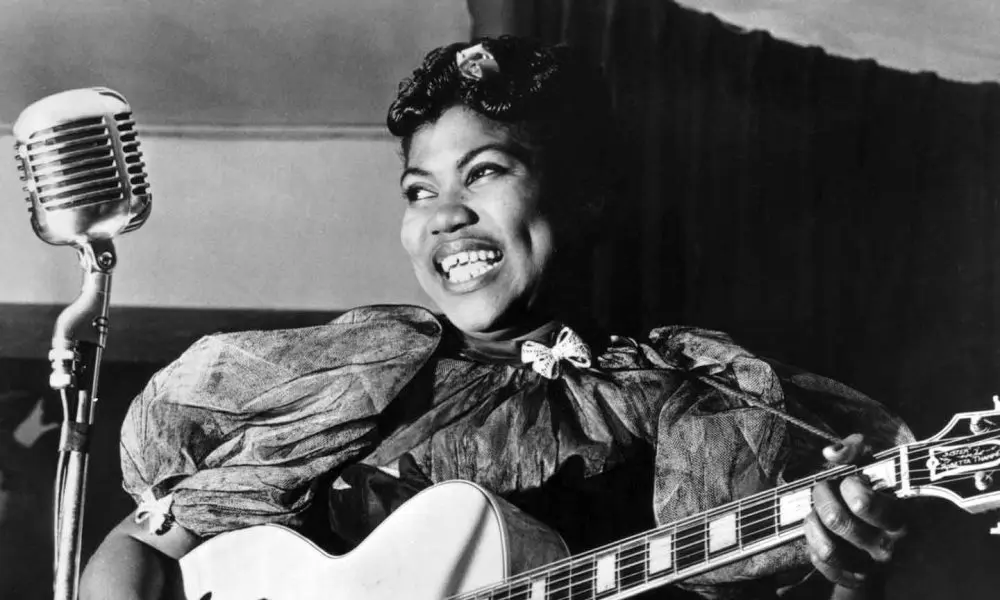 When singer Brittany Howard stepped to the mic to induct Sister Rosetta Tharpe into the Rock And Roll Hall of Fame in 2018, the Alabama Shakes frontwoman exclaimed, "It's long overdue!" before breaking into a rocking version of Sister Rosetta's "That's All."
Despite her Hall Of Fame induction, Sister Rosetta Tharpe's talent, fame, and influence remain largely obscure and barely known to most music fans today. That cries out for a correction.
As both the originator of pop gospel and a popularizer of the electric guitar, Sister Rosetta brought an emotionally charged dimension that was foundational to rock'n'roll. Her hit recordings, beginning in the late 30s and lasting into the 50s, informed a Who's Who of early rock'n'roll.
"Nobody else had come up with something like that"
Born in Cotton Plant, Arkansas – where a stretch of highway was renamed for her in 2017 – Sister Rosetta Tharpe had mastered the guitar by age six and attended church conventions alongside her mother, Katie Bell Nubin. They soon relocated to Chicago, where Mother Bell preached on street corners and in churches, accompanied by her daughter; she would be a constant presence for most of Tharpe's life.
In 1934, Tharpe would marry another traveling preacher, Thomas Tharpe, who joined the mother-daughter act, but it wouldn't last long. By 1938, mother and daughter relocated to New York City, where Tharpe's undeniable talent quickly landed her a spot at The Cotton Club and she was on her way.
Her stint with Lucky Millander's Orchestra found her performing and recording both gospel and – to the dismay of church folks – secular songs such as "Four Or Five Times." A few years later, Sister Rosetta hooked up with pianist Sammy Price for her biggest hit, "Strange Things Happening Every Day."
"She was playing rock'n'roll way before anyone else"
Tharpe recorded her first four sides in 1938 during a session that included her first hit, "Rock Me," along with "That's All." She was 28 at the time, just launching her career as gospel's first real hitmaker, its first crossover artist and first national star. Four years later, Billboard magazine's MH Oredenker praised her for "the rock-and-roll spiritual singing" in her re-recording of "Rock Me" with the Lucky Millander Orchestra.
Even before that, she had recorded some of her best formative material, including her historic 1938 Carnegie Hall concert From Spirituals To Swing, accompanied by the great boogie-woogie pianist Albert Ammons. Though echo-drenched and not of the highest quality, these early recordings are considered some of the first rock'n'roll records.
"She was playing rock'n'roll way before anyone else," said keyboardist Lonnie Liston Smith in a 2018 Richmond Magazine profile. Smith, whose father was a member of The Harmonizing Four, a popular Richmond, Virginia-based gospel quartet that often appeared on shows with Tharpe, added, "That was way before Chuck Berry and all those guys. Nobody else had even come up with something like that."
The original soul sister
Chuck Berry once said his entire career was "one long Sister Rosetta Tharpe impersonation." On stage, she did an early version of Berry's duckwalk, but all you need to hear is the guitar introduction to Sister Rosetta's 1947 hit "The Lord Followed Me" to recognize Chuck's musical debt to her. Little Richard called her his greatest influence and Tharpe was the first to put him on stage, a tale Richard recounts in his autobiography.
Elvis Presley, Carl Perkins, Jerry Lee Lewis, and Johnny Cash were also all inspired by Tharpe. So was Little Walter, whose 1955 No.1 R&B hit, "My Babe," owed everything to one of her biggest hits, "This Train."
"She possessed a remarkably powerful mezzo-soprano voice, which she inflected with a biting attack and fiery, swinging rhythmic drive, not unlike that of the later Dinah Washington," remarked producer Joop Visser in his notes for the compilation The Original Soul Sister.
"I play better than a man"
Sister Rosetta augmented her commanding vocals with a stinging guitar sound that influenced countless guitar heroes. When compared to male guitarists of her day, she'd proclaim, "Can't no man play like me. I play better than a man." And she did. Check out this axe-shredding 1964 TV appearance playing one of her biggest hits to crossover from gospel to the R&B charts, "Up Above My Head."
Up Above My Head I Hear Music In The Air
Few had Tharpe's charismatic stage presence. For long stretches, she might gaze not toward the audience in the seats, but upwards towards the heavens, her greatest audience. When she'd engage the crowd, however, she was the epitome of extroversion.
"Sister Rosetta Tharpe was obviously star material," writes Anthony Heilbut in his pioneering history, The Gospel Sound: Good News And Bad Times. "Rosetta was riding the race record charts with spirituals, packing stadiums with saints and ballrooms with sinners. In her time, she was something of a household name."
Yes, she packed stadiums – especially in 1951 when she staged her wedding (her third) at Griffith Stadium, home to the Washington Senators and Negro League Washington Grays. About 20,000 people attended the event, which included the ceremony followed by a concert featuring Tharpe and her backing group, The Rosettes, and was later released on an LP.
You gotta move
In the late 40s, Tharpe formed a very successful and popular duet with a young gospel singer and pianist named Marie Knight. They played to large crowds and recorded hit versions of "Up Above My Head," "Didn't It Rain" and "Beams Of Heaven," among others.
The two also became lovers, an open secret in the gospel world, until a fire in Newark, New Jersey, killed Knight's mother and two of her children. The grief and strain proved too much, and the pair split as a duo in late 1950, though they would periodically reunite on stage and on record, including for the duet "You Gotta Move," which highlights the gospel call-and-response technique that later emerged in soul music.
Following her gala wedding, Tharpe's popularity waned when secular rock'n'roll and rhythm'n'blues became the rage. However, in 1957 she had a career revival when she began touring Europe and playing to audiences who had never experienced the authenticity of gospel and the blues in person. Sister Rosetta became a trailblazer again and became one of the first artists to take those sounds across the Atlantic.
She was joined in subsequent years by Muddy Waters and other American blues giants for package tours that inspired the young Keith Richards, Eric Clapton, and others to create the British blues scene that transformed them into the torchbearers of the mid-60s British Invasion. Rosetta's televised performance of "Didn't It Rain" and "Trouble In Mind" on the platform of an old Manchester train station became something of a YouTube hit decades later.
People may be starting to appreciate Sister Rosetta Tharpe after all.
Sister Rosetta Tharpe's Decca and Verve albums, Blessed Assurance, Gospel Train, and Sister Rosetta Tharpe, are now all available digitally.