The Allman Brothers Band
Often claimed, and with darn good reason, to be the instigators of Southern Rock, the Allman Brothers Band pioneered a blend of country, blues, boogie and free form R&B with attention to detail, heavy soloing prowess and an almighty rhythm section.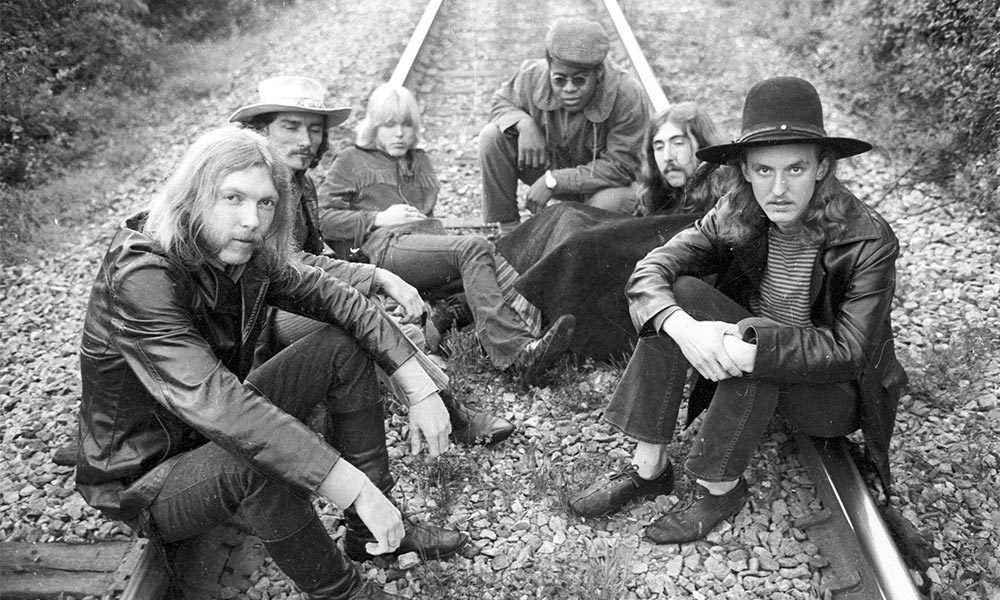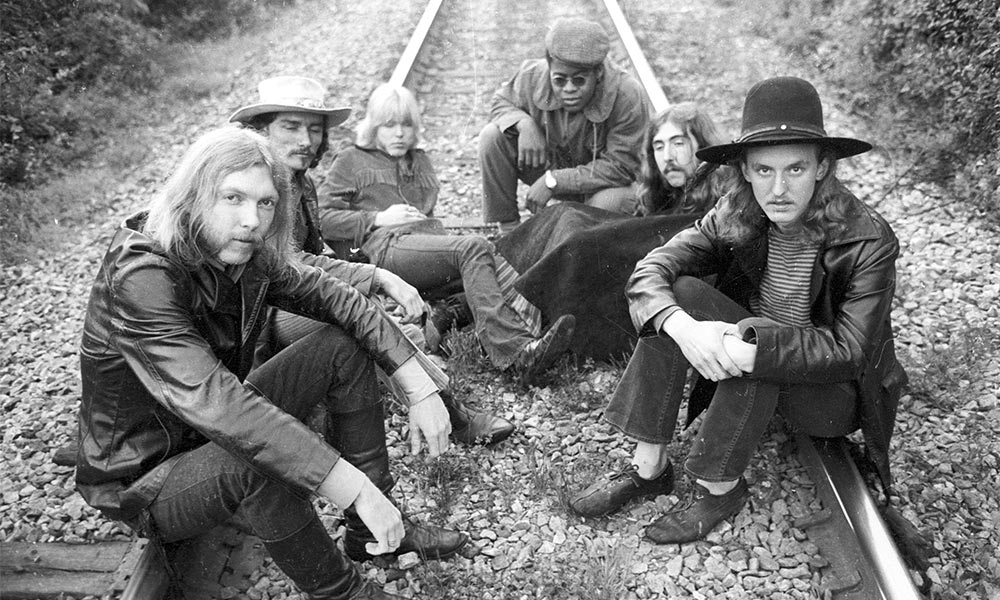 Often claimed, and with darn good reason, to be the instigators of Southern Rock, the Allman Brothers Band pioneered a blend of country, blues, boogie and free form R&B with attention to detail, heavy soloing prowess and an almighty rhythm section.
Formed by the brothers Duane and Gregg Allman – both men expert players on lead and slide guitar and keyboards respectively –  they cut their teeth in Florida and Macon, Georgia performing lengthy jam-based rock for biker orientated crowds who saw themselves mirrored by the group's anti-style image and rebellious sounds. After making their debut with a self-titled album in 1969 the Allmans hit paydirt with the monumental live double, At Fillmore East (1971) and then faced tragedy when Duane was killed in a motorcycle accident. Bassist Berry Oakley also perished in similar circumstances a year later. Undaunted this toughest of American bands survived to find commercial success away from the bars and halls with the splendid Eat A Peach and the groundbreaking Brothers and Sisters which includes the perennial favourite 'Ramblin' Man'. Bro' Gregg kept the flame burning throughout the ensuing decades and also became something of a media celebrity thanks to several high profile liaisons, notably with Cher, but it's as a consummate recording outfit and a constantly inventive live draw that we salute them. Inducted into the Hall of Fame in 1995 the Allman Brothers notched up eleven gold and five platinum albums from 1971 to 2005 and retain a fanatical live following of old and young followers. Like The Grateful Dead, they are viewed as national treasures in the USA and their European fan base is equally loyal. We love 'em to bits and are sure that you'll enjoy discovering or rediscovering what they have to offer – namely American heartland music of the highest quality.
The original Allman Brothers Band formed in the late 1960s with members drawn from teenage groups the Escorts and Allman Joy and the psychedelic affairs Hour Glass and The 31st of February. Meanwhile, Duane Allman became an in-demand session guitarist. He played on Wilson Pickett's hit version of 'Hey Jude' and honed his chops in Muscle Shoals, Alabama working with soul legends Aretha Franklin, King Curtis, Percy Sledge and many others. Gregg was assigned to search for a band contract in Los Angeles but returned to their new HQ in Jacksonville where the siblings reunited with guitarist Dickie Betts, drummer Butch Trucks and bassman Berry Oakley. Adding another drummer and conga player in Jai Johanny Johnson (after known simply as Jamoe) a cult following and word of mouth acclaim lead them to record with producer Tom Dowd.
Their debut was finished in two weeks flat and since they'd perfected the songs in their live sets it had an immediacy and polish to match the group's ambition. You can hear the enthusiasm crackle out of the grooves on every track, most of them composed by Gregg Allman whose organ contributions are as vital as Duane's super slide. Starting with the Spencer Davis tune 'Don't Want You No More' and closing out on the signature piece 'Whipping Post' this is a bold and hard-hitting career start and one of the greatest debut albums ever made by an American rock group although there are plenty of side trips like the jazzy anthem 'Dreams', which nods towards John Coltrane while drummer Johnson pays homage to Jimmy Cobb in his loose fills.
Idlewild South (1970) kept the Dowd partnership going and the Allmans recorded in Capricorn Sound Studios in Macon, Criterion in Miami and New York City's Regent Sound, incorporating the latter stint with some Fillmore East and club dates that would cement their legend on the East Coast. The album title refers to a barn style party venue and hangout and is key to the atmosphere found within. During this year they played over 300 shows and were still a bigger live draw than a vinyl seller. In fact, their style was evolving. Betts contributes the tracks 'Revival' and 'In Memory Of Elizabeth Reed', the latter tune featuring his first real guitar solo on the album. It would become an iconic number in their repertoire. Elsewhere Gregg's 'Midnight Rider' is a standout. Obviously commercial, it has been covered by Willie Nelson, Joe Cocker and Gregg himself. Oakley's move up front to take lead vocals on 'Hoochie Coochie Man' (by Willie Dixon) is a delight.
If they remained a well-kept secret at this point the release of At Fillmore East, with a classic black and white album cover taken not outside the venue as many believed, but in an alleyway in Macon. Whatever, this brought them out of the shadows. Generally recognised to be one of the greatest live albums of any era the Library of Congress bestowed it with cultural, historical and aesthetic importance in 2004. While it had gone platinum by the middle of the 1970s At Fillmore East continues to draw in new converts to this day and anyone who hasn't heard it is in for an almighty good time as it registers over 76 minutes of glorious Allman magic. Culled from a March '71 stint, promoter Bill Graham had booked them as special guests but they were soon usurping the headliners – Johnny Winter and Elvin Bishop.
The album is a glorious thing – light, tight, springy and funky with more rock riffs and soul moves inside 'Statesboro Blues', 'You Don't Love Me' and the elongated 'Whippin' Post' and 'In Memory of Elizabeth' than most bands will carve out in an entire career. This really is a must-have disc – especially in the Deluxe extended version where alternative takes are included plus several other cuts not available on the original: 'Mountain Jam' (not quite how Donovan envisaged it) and Marshall Sehorn's 'One Way Out' is as vital as anything else one might be more familiar with.
1972's Eat a Peach, another indispensable double, is a most poignant listen since it was mixed down after Duane's death, though his playing is kept for posterity on the majority of the tracks. The song 'Melissa' is included as an early tribute to Duane, being a Gregg ballad that his bother adored. A mixture of live and studio, Eat a Peach hit 4 on the Billboard chart and would soon go platinum liker its predecessor. Betts rose to the challenge of becoming the focal guitarist with his pieces Les Brers in A Minor and 'Blue Sky'. The cover art, a giant peach on a truck, is widely regarded to be one of the best gatefold sleeves of the time and makes a perfect visual foil for the Southern delights inside.
Brothers and Sisters (1973) contained further tragedy. Oakley was killed during the making but had got to lay down his parts for 'Ramblin' Man' (featuring second lead guitarist Les Dudek) and 'Wasted Words'. Gregg enlisted further help from new members Chuck Leavell on piano and Lamar Williams on bass, allowing him to move stage front and become the focal point. A more country-tinged set than anything they'd done before the Brothers and Sisters album reached out to an even wider audience, including the FM radio crowd who were curious to hear an outfit whose reputation had become vast. They participated in the infamous Watkins Glen Speedway show with The Grateful Dead and The Band in July 1973, at that time the largest rock concert ever held. From here on in they became a stadium act. Commanded huge fees and travelled on a customised Boeing 720, the Starship, also used by the Rolling Stones and Led Zeppelin. The album soared to number one and is highly recommended. It is also available in expanded Deluxe, Super Deluxe and Remastered formats.
The most popular band in America now, the Allman Brothers sixth album Win, Lose or Draw (1975) marks a watershed for their jam style though Betts (now known as Richard Betts) keeps things bubbling on 'High Falls' and the boys are in scintillating mood for their cover of Billy Joe Shaver's 'Sweet Mama (Lay Your Burdens Down)'.
While it's true that the arrival of punk and the new wave caused concern in the ranks the double live Wipe the Windows, Check the Oil, Dollar Gas (1976) was taken from their mid-seventies heyday as they toured California, New York and Louisiana. Highlights include 'Southbound', the progressive flavoured 'Can't Lose What You Never Had' and 'Ain't Wastin' Time No More' which functions as a lament for both Duane and Berry.
Enlightened Rogues (1979) has an air of the confessional about it – no getting away from the fact that this group has suffered internal and external friction – and is a fine return to form with guitarist Dan Toler providing some fresh impetus to tracks like 'Pegasus' and 'Just Ain't Easy'. Producer Tom Dowd is back in the booth and there's an air of maturity at play throughout.
While our story with this remarkable group is almost at an end we need to flag up some more fine albums.  Martin Scorsese Presents the Blues: The Allman Brothers Band is one of a series that collates the esteemed director's choices in compilation form. Then again the Gold album and The Universal Masters Collection: The Allman Brothers will also provide a fine insight into this long-running saga with all the key hits and tasty Southern cooking you'd expect.
Constantly in demand as a revivalist rock act, the Allman Brothers have swung back into fashion and new generations are keen to discover them anew. There's a wealth of wonder above. Peachy listening.
Format:
UK English