Best Live Albums: 50 Must-Hear Classic Records
The best live albums of all time capture the very essence of a band's energy in concert, making you feel like you were actually there.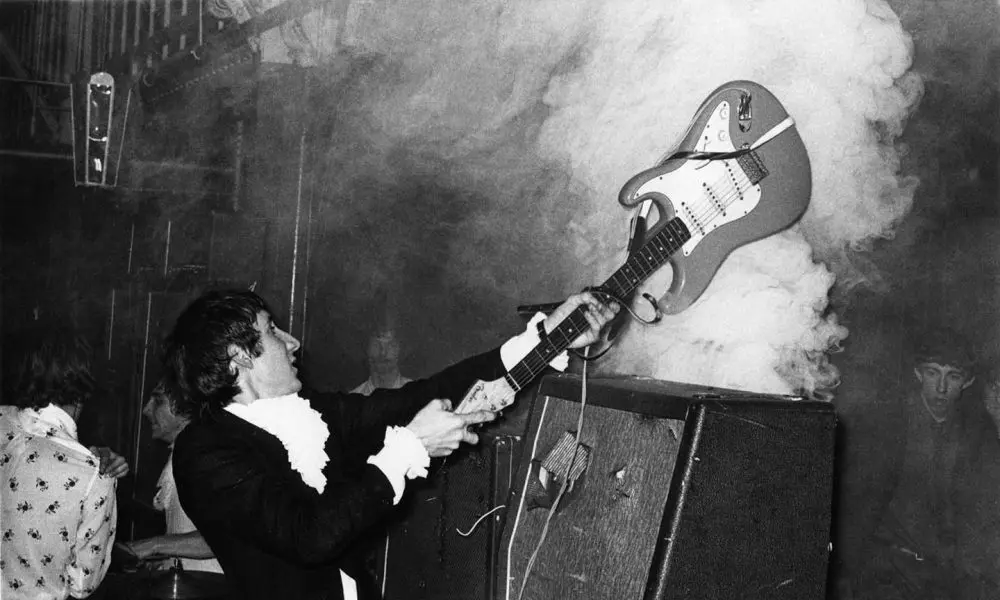 The best live albums capture the very essence of a band's energy in concert and manage to make a listener feel like they were actually there for what, in many cases, are historic performances. Because it's one thing creating magic in the studio. Doing it live is something else, adding a whole new level of excitement (and, often, creativity) to the music.
While you're reading, listen to our Best Live Albums playlist here.
Here are just a few of the best live albums ever put to tape.
50: Diana Krall: Live In Paris (2002)
Verve Records has released live albums from dozens of great jazz singers down the years – including Billie Holiday, Anita O'Day, and Ella Fitzgerald – and one of their finest 21st-century releases is Canadian singer and pianist Diana Krall's Live in Paris, recorded at the historic Olympia venue in the French capital. Krall, backed by a band that included guest jazz stars of the caliber of Michael Brecker and Christian McBride, swings through standards – including from the Gershwins, Cole Porter, and Harold Arlen – and brings her own sophisticated style to versions of modern classics by Billy Joel and Joni Mitchell (Krall delivers a delightful version of "A Case of You"). Live In Paris won a Grammy for Best Jazz Album.
49: Humble Pie: Performance: Rockin' The Fillmore (1971)
This live double-album from English blues-rock band Humble Pie was recorded over two days in May 1971 at the famous Fillmore East Club in Manhattan, which closed a month later. Humble Pie were made up of singer and guitarist Steve Marriott, guitarist Peter Frampton, bassist Greg Ridley, and drummer Jerry Shirley. The best-selling single from the album was "I Don't Need No Doctor." which had been a hit for Ray Charles in 1966. There is also a great 20-minute jam on Dr. John's "I Walk On Gilded Splinters," which showed why Humble Pie were such a dynamic live act. Just before Performance was released, in November 1971, Frampton, who plays some fluid and powerful solos, left the band.
I Don't Need No Doctor (Live At Fillmore East/1971)
48: Dire Straits: Alchemy (1984)
Recorded over two nights at London's Hammersmith Odeon, Alchemy is a showcase for Mark Knopfler, demonstrating why he is considered such a fine, fluid guitarist. The 11-minute version of "Sultans of Swing" features a mid-song guitar solo in which Knopfler fingerpicks with speed and dexterity, exemplifying what makes extended live versions of Dire Straits hits so popular with their fans. The same is true of the 14-minute "Telegraph Road." Dire Straits were an accomplished live band and they were capable of altering the mood of a concert, shown in their delivery of slower, more contemplative songs "Romeo & Juliet," "Love Over Gold," and "Private Investigations."
47: Cream: Wheels Of Fire (1968)
A double-album recorded between July 1967 and April 1968, Wheels Of Fire is a representative slice of Cream at their best. With Disc One recorded live (at Winterland Ballroom and Fillmore West) and Disc Two recorded at Atlantic Studios in New York, it is clear what Cream brought to both settings. Jack Bruce, Eric Clapton, and Ginger Baker have remarkable musical empathy and they combine for a superb rendition of Robert Johnson's "Crossroads," They also show their ability to bring something fresh to blues classics with a fine version of Howlin' Wolf's "Sittin' On Top Of The World." "Toad," which is an epic 16-minute tour de force, includes one of the finest ever drum solos from Baker. The album topped the charts in the US and reached No.3 in the UK.
Sitting On Top Of The World
46: Beach Boys: Beach Boys Concert (1964)
One of the most popular music-related presents during Christmas 1964 was the Capitol Records release Beach Boys Concert: it became the first live album to reach No. 1 on the Billboard charts, a position it held for a month. At the time, The Beach Boys were superstars. The band had 17 single hits under their belts, including "I Get Around." That catchy hit was one of the songs which prompted hysterical cheering from the crowd at the Civic Auditorium in Sacramento, in the band's home state of California. As well as a selection of their own hits, including "Fun, Fun, Fun" and "Little Deuce Coupe," the band showed off their fun side with versions of "Long Tall Texan" and the popular novelty hit "Monster Mash." Beach Boys founder Brian Wilson, a born perfectionist, tidied up some of the tracks in the studio, including removing some organ lines that he didn't like.
45: Rush: Exit… Stage Left (1981)
Exit… Stage Left was put together around the world: recorded in Scotland and Canada and edited and mixed in France. The album, Rush's second live recording, was a re-affirmation of their progressive rock musical beliefs ("We didn't change, everybody else did!" say the liner notes) and is a favorite among their fans. You can hear the audience singing along on "Closer To The Heart." and other highlights include "Red Barchetta," "Beneath, Between And Behind," and "Jacob's Ladder." Alex Lifeson's guitar blends with Geddy Lee's huge bass tones and Neil Peart shows again why he was one of the best rock drummers in the world. The album reached No.6 in the UK and was certified platinum in America after selling a million copies.
Closer To The Heart (Live In The UK / 1980)
44: Alison Krauss and Union Station: Live (2002)
As well as being a consummate fiddle player, Alison Krauss has one of the sweetest voices in modern country music. Her double live album, recorded at Kentucky's Louisville Palace, captures Krauss and her first-class band – including dobro maestro Jerry Douglas – on top form. The songs are invigorating and include live versions of "Down to the River to Pray" and "I Am a Man of Constant Sorrow" (sung by mandolin player Dan Tyminski), two of the best songs from the award-winning Coen Brothers film O Brother, Where Art Thou. Union Station are a fantastic live band and this album showcases all that is best about Krauss.
43: Jerry Lee Lewis: Live at the Star Club Hamburg (1964)
Jerry Lee Lewis, who was born in 1935, is one of the founding titans of rock and roll and the singer-pianist's live album, recorded at the Star Club in Hamburg, Germany, in 1964, is a superb reminder of the wild exuberance of a man who became known as The Killer. The crowd are in a frenzy as he delivers pulsating versions of defining rock songs such as "Great Balls of Fire," "Whole Lotta Shakin' Going On," and "Good Golly Miss Molly," all classics of piano-thumping energy. The album, released by the German division of Philips Records, captures a master performer at his best, delivering a show which encapsulates why crowd-pleasing rock and roll transformed the landscape of music.
42: Motörhead: No Sleep 'Til Hammersmith (1981)
One of the best live albums from the heavy metal era, No Sleep 'Til Hammersmith captures Lemmy Kilmister (singer and bassist), "Fast" Eddie Clarke (guitar), and Phil Taylor (drummer) in dynamic form. In the book Overkill: The Untold Story Of Motörhead, biographer Joel McIver describes No Sleep 'Til Hammersmith as "the peak of the Lemmy/Clarke/Philthy line-up's career." The album title was playful (it was recorded in Norfolk, Leeds, Newcastle and Belfast, and the band did not play London's Hammersmith Odeon on the tour) and shows Motörhead in their natural element – playing fast, frenetic and forceful metal. Highlights include power-driven versions of "Bomber" and "We Are (The Road Crew)" and there is a nice touch from Lemmy, who says, "This is a slow one so you can get mellowed out," before launching into a furious "Capricorn."
Bomber (Live In England 1981)
41: Woodstock: Music from the Original Soundtrack and More (1970)
Engineer Eddie Kramer had the tricky task of recording the performances at the 1969 Woodstock counterculture festival – and he coped expertly with the problems of working with multiple acts, improvised setlists, technical glitches and the background noise of massive crowds, to capture one of the most iconic festival sets in music history. Woodstock was a defining musical phenomenon of the 1960s and the three-disc album Woodstock: Music from the Original Soundtrack and More features remarkable performances from Johnny Winter, Canned Heat, Sly & The Family Stone, The Jefferson Airplane, Santana, Joan Baez, Country Joe McDonald and Crosby, Stills, Nash & Young and Jimi Hendrix, all inspired by the energy and exuberance that was fed back from a huge crowd.
40: LCD Soundsystem: The Long Goodbye: LCD Soundsystem Live at Madison Square Garden (2014)
LCD Soundsystem's clever fusion of dance music, electronic and post-punk, combined with sardonic lyrics, made them one of America's most acclaimed and influential bands of the 21st century. Their 2011 farewell gig at New York's Madison Square Garden was an epic: running for three hours and divided into five vinyl records, a live set that frontman James Murphy described as "a perfect swan-dive." Among the 28 songs, there are riveting versions of "Dance Yrself Clean," "New York," "I Love You But You're Bringing Me Down," and the wistful "All My Friends." The Long Goodbye is a fine testament to a seminal modern band.
39: Bob Seger and the Silver Bullet Band: Live Bullet (1976)
Detroit is one of the greatest musical cities in the world. As well as being the home of Motown, it's noted for its production of rock stars such as Bob Seger. In 1976, he played at the city's famous Cobo Hall venue and Capitol Records captured a musician at his peak – along with his slick Silver Bullet Band – in front of a hugely enthusiastic live crowd. The double album is atmospheric, upbeat and some of the songs performed – including versions of "Nutbush City Limits," "Travelin' Man," and "Beautiful Loser" – became staples of radio play on Detroit's radio stations. Although Seger admitted he had doubts about cutting a live album at that stage, his performance is mesmerizing, and there is a touching moment when implores the crowd to sing along with him, in a call-and-response format, on "Heavy Music."
38: Sam Cooke: Live at the Harlem Square Club, 1963 (1963)
Sam Cooke's 1963 live album, recorded at a small Miami nightclub called The Harlem Square Club in January 1963, is a non-stop rush of joy. The seven-piece backing band, which included Cornell Dupree on guitar and June Gardner on drums, offer pulsating support to soul singer Cooke, as he transforms hits such as "Cupid," "Twistin' the Night Away," and "Chain Gang" into scorching jams, in front of a passionate audience. Cooke, who grew up singing gospel, has a magnificent voice and his extended version of the mournful "Bring It On Home To Me," which includes a section of "You Send Me," is a dazzling delight. Cooke was shot dead less than two years after the concert, aged just 33. This wonderful live concert, which was not released until 1985, is a fitting reminder of the raw power of one of soul's masters.
37: Emmylou Harris: At the Ryman (1992)
Nashville's Ryman Auditorium, home of weekly Grand Ole Opry live performances and radio broadcasts in the mid-20th century, is one of the most significant landmarks in country music. Emmylou Harris's live album At the Ryman, recorded in 1991 with her brilliant all-acoustic Nash Ramblers Band, earned the singer a Grammy for country duo or group performance and ignited efforts to restore the Ryman to its former glory. Harris is a superb interpreter of songs, and as well as country classics such as "Half As Much" and "Cattle Call," she also offers superb versions of modern classics, including Bruce Springsteen's "Mansion on the Hill." To top off a great country music concert, there is even a guest appearance by bluegrass founding father Bill Monroe.
36: Elvis Presley: Elvis (1968)
Elvis Presley's live album Elvis – audio-only versions of the songs taken from the NBC television special Singer Presents… Elvis (commonly referred to as the '68 Comeback Special) – came at a time when the King of Rock and Roll told producer Bones Howe that "I want everyone to know what I can really do." Presley, whose career had been in decline, is in inspired form, helped by the presence of his musical buddies from the 1950s. Drummer DJ Fontana and guitarist Scotty Moore, who took along the custom-built EchoSonic amplifier he'd used in the historic Sun Records sessions in 1955, brought out the best in Presley, in what Moore called a "fantastic jam session." Dressed in black leather biker jacket and trousers, with slick black hair and sideburns, the charismatic Presley was in relaxed mood with the audience as he rattled through so many memorable songs, including "Hound Dog," "Jailhouse Rock," "Heartbreak Hotel," and "Are You Lonesome Tonight?" The full concert version even includes rarities such as Presley tackling the Ray Charles classic "I've Got a Woman." This is one of the greatest comeback concerts of all.
35: Cheap Trick: Cheap Trick At Budokan (1978)
At Budokan was the commercial breakthrough for Chicago quartet Cheap Trick, confirming them as one of the best live bands of the 70s. The concert, recorded at the indoor Nippon Budokan in Tokyo, featured seven songs written by guitarist Rick Nielson, including "Hello There." Cheap Trick were immensely popular in Japan, and the band's label there demanded that At Budokan included some new songs. One of them was the future hit "Need Your Love" (co-written by Nielson and bassist Tom Petersson) and a version of the old New Orleans classic "Ain't That A Shame." on which singer Robin Zander and drummer Bun E Carlos seemed to be having as much fun as the audience.
Cheap Trick - Ain't That a Shame (from Budokan!)
34: Jimi Hendrix: Band of Gypsys (1970)
Band of Gypsys was recorded on January 1, 1970, at the Filmore East in New York City, and captures Jimi Hendrix at his mesmerizing, innovative best. The guitarist singer, who died eight months later at just 27, was supported by new ensemble Band of Gypsys, which comprised Billy Cox on bass and Buddy Miles on drums. Hendrix was always a unique live performer – this is the man who famously burned his guitar at the 1967 Monterey Pop Festival – and he showed off his thrilling, extravagant guitar skills in some gorgeous solos. The album, released by Capitol, is a bluesy, psychedelic no holds‐barred triumph, which also showcases Hendrix's skills as a composer, in tunes such as "Who Knows" and "Power to Love."
33: Duke Ellington: Ellington at Newport (1956)
Celebrated jazz promoter George Wein, the man who founded both the Newport Jazz Festival and its folk counterpart, described pianist and composer Duke Ellington's performance at the 1956 festival as "the greatest performance of Ellington's career… It stood for everything that jazz had been and could be." The concert features scintillating versions of Ellington's own classic compositions – including "Sophisticated Lady," "Black and Tan Fantasy," and "Mood Indigo" – as well as the famous bandleader's own lush piano playing. The concert also features some of the greatest soloists in jazz history, including Johnny Hodges on alto saxophone and Paul Gonsalves on tenor saxophone. The album is full of nostalgia and a wonderful memory of a glorious summer evening of yesteryear.
32: The Velvet Underground: 1969: The Velvet Underground Live (1969)
The Velvet Underground were at their best on stage and although the 1969 incarnation of the band lacked Nico, Andy Warhol, and John Cale, it was a dynamic, tight-knit unit, featuring Sterling Morrison, Lou Reed, Maureen Tucker and Doug Yule. The Velvet Underground was touring regularly in 1969, and their well-honed superb set was recorded at multiple venues, including the End of Cole Ave. club in Dallas and the Matrix in San Francisco. The album included fiery versions of "I'm Waiting For the Man," "Femme Fatale," and "I'll Be Your Mirror." Reed composed the song "Rock & Roll" and he later recorded his own version on his excellent 1974 solo live album Rock 'n' Roll Animal. Reed also wrote "What Goes On" and the nine-minute version on 1969: The Velvet Underground Live includes a splendid organ solo from Yule. This is a terrific concert album and an excellent introduction to one of the iconic bands of the 1960s.
31: MC5: Kick Out The Jams (1969)
Kick Out the Jams was the debut album by American proto-punk band MC5. It was recorded live because Elektra Records A&R chief Danny Fields believed that it would be the best way of capturing the band's energy and excitement on record. The album was recorded over two nights at Detroit's Grande Ballroom in 1968. Featuring Wayne Kramer on lead guitar and Roby Tyner on vocals, it reached No.30 on the Billboard album chart. The highlights include striking versions of "Ramblin' Rose" and "I Want You Right Now," the latter of which owed something to the sound of The Troggs.
30: Led Zeppelin: The Song Remains The Same (1976)
Three years after live tapes had been made at Madison Square Garden during Led Zeppelin's record-breaking 1973 tour, guitarist Jimmy Page went into the studio to mix the songs for release as The Song Remains The Same. The album was released alongside a film of the concert. The band powered through versions of "Rock And Roll." "Heartbreaker," and "Whole Lotta Love," and there is a 29-minute version of "Dazed And Confused" which shows off John Bonham's skill as a percussionist. There is also a fine version of "Stairway To Heaven," the Page and Plant song that remains one of the greatest works in 20th-century rock.
29: B.B. King: Live in Cook County Jail (1971)
Johnny Cash's pioneering example of recording a live album in a prison was emulated by blues titan B.B. King in September 1970, when he went to Cook County Jail in Chicago to record this masterpiece. King's Live In Cook County Jail stands next to his Live At The Regal and features superb performances of classics such as "Every Day I Have the Blues" and "Sweet Sixteen." His guitar opening on "How Blue Can You Get?" is spell-binding and King holds the concert together with his own inimitable banter with the audience. King's singing has never been better and the album features perhaps his greatest live version of the magnificent "The Thrill Is Gone," in which the stirring horns from John Browning (trumpet), Louis Hubert (tenor saxophone), and Booker Walker (alto saxophone) take the place of the original version's strings. This is King at his rapturous best.
28: The Band: The Last Waltz (1978)
Martin Scorsese's The Last Waltz is one of the most immaculately filmed rock concerts in history, and the film – and double-album – preserves for posterity the final appearance of The Band, the brilliant group fronted by Robbie Robertson that had toured (frequently with Bob Dylan) for the previous 16 years. The concert was held at San Francisco's Winterland Ballroom and the cast of supporting musicians is brilliant, forever cementing The Last Waltz's reputation as one of the best live albums in rock history. As well as songs from Dylan, there are appearances from Joni Mitchell, Muddy Waters, and a rollicking Van Morrison singing "Caravan" as he performs one of the strangest high-kicking dances ever seen.
The Last Waltz (1978) - The Weight Scene (4/7) | Movieclips
27: Van Morrison: It's Too Late to Stop Now (1974)
Van Morrison was at the peak of his powers and touring with his greatest band– the eleven-piece Caledonia Soul Orchestra was a brilliant blend of blues, jazz and classical musicians – when he recorded the remarkable double live album It's Too Late to Stop Now. Belfast-born Morrison is an unpredictable stage performer, but these shows – taken from concerts in London, Los Angeles and Santa Monica – are inspirational. The highlights include extended, improvisational versions of his own compositions "Saint Dominic's Preview," "Listen to the Lion," and "Cyprus Avenue" (during which he cries out "it's too late to stop now"), along with magnificent cover versions of songs that inspired him as a youngster, such as Sam Cooke's "Bring it On Home to Me" and Sonny Boy Williamson's "Help Me."
26: Louis Armstrong: Satchmo At Symphony Hall (1947)
When Decca Records first released Louis Armstrong and the All-Stars' 1947 concert, recorded at Boston's Symphony Hall in the summer of 1951, the album became an instant best-seller. The best version to check out is the 2012 reissue, which included more than half an hour of music unheard since the original concert. Armstrong, who was nicknamed Satchmo, is one of the greatest American musicians of all and the trumpeter and singer was joined by a brilliant All Stars band that included vocalist/trombonist Jack Teagarden, clarinettist Barney Bigard, pianist Dick Cary, bassist Arvell Shaw, drummer "Big" Sid Catlett and singer Velma Middleton. This is a rollicking musical revue, with classics such as "When It's Sleepy Time Down South" and "Tea for Two" and a haunting version of the anti-racism song "(What Did I Do To Be So) Black and Blue." There will never be anyone quite like Louis Armstrong and this moving concert shows why.
25: Joni Mitchell: Miles of Aisles (1974)
Joni Mitchell's lyrical insight and ability to capture the human experience has made her one of the greatest singer-songwriters of the modern era. On Miles of Aisles, the Canadian singer performs 18 tracks (16 of which reinvent songs from previously recorded albums), accompanied sometimes only by her own guitar or piano and sometimes by the intuitive support of a fine jazzy band called L.A. Express, who were made up of Tom Scott (woodwinds and reeds), Max Bennett (bass), John Geurin (drums and percussion), Robben Ford (lead guitar), and Larry Nash (electric piano). The songs, recorded with superb clarity at the Universal Amphitheatre in California, include sublime versions of "You Turn Me On, I'm A Radio," "Big Yellow Taxi," "Cold Blue Steel and Sweet Fire," "Blue," and "Love Or Money," with Mitchell displaying her blissful falsetto on such beautiful, subtle lyrics. Miles of Aisles was Mitchell's coming-of-age as a concert performer.
24: Simon & Garfunkel: The Concert in Central Park (1982)
Sometimes a great live concert is all about atmosphere – and there was plenty of that when folk duo Simon & Garfunkel reunited for their first live album, recorded in front of more than half a million people on the Great Lawn in Central Park, New York City, in September 1981. Art Garfunkel and Paul Simon were singing as well as ever, the between-songs riffs were light-hearted and uplifting – and occasionally spikey. The troubled former friends – reuniting for the first time in more than a decade – performed superb on-stage versions of some of the most indelible songs in modern popular music, including "Mrs Robinson," "Homeward Bound," "America," "Still Crazy After All These Years," "The Boxer," "Bridge Over Troubled Water," and "The Sound of Silence." The duo's marvellous vocal harmonies and compelling songs made for a truly memorable evening of music.
23: U2: Under A Blood Red Sky (1983)
Capturing a band on the cusp of greatness, Under A Blood Red Sky: Live At Red Rocks merits its reputation as one of the seminal concerts in U2's decades-long career. The concert, which was also released as a video, was recorded at the stunning Red Rocks Amphitheatre in Colorado, in June 1983. The concert came after torrential downpours but despite the sodden conditions, singer Bono and the band (The Edge on guitar, Adam Clayton on bass and Larry Mullen on drums) put on a magnificent display of live rock, especially with a momentous version of "Sunday Bloody Sunday." The footage of Bono carrying a white flag of peace during the song is one of the most iconic images in modern rock history.
Sunday Bloody Sunday (Live From Red Rocks Amphitheatre, Colorado, USA / 1983 / Remaste...
22: Aretha Franklin: Aretha Live at Fillmore West (1971)
Bill Graham's historic Fillmore West Concert Hall in San Francisco closed its doors forever as a music venue on July 4, 1971 – just a few months after Aretha Franklin's show-stopping concerts. Thankfully, Franklin's shows were captured for posterity and remain a lasting testament to the grace and power of a singer. The opening side of the original album was all covers, revealing the adroit way Franklin, who was 29 at the time, could be effervescent on a fast song such as Otis Redding's "Respect" and slow and soulful on her delivery of Paul Simon's "Bridge Over Troubled Water." Franklin was also a talented pianist, as she shows on an achingly beautiful version of the Beatles' "Eleanor Rigby." Franklin is also accompanied by a first-class band that included King Curtis on saxophone, Bernard Purdie on drums, and Billy Preston on keyboards. Franklin has never sounded more emotional, and Live at Fillmore West remains an essential soul album.
21: Grateful Dead: Live/Dead (1969)
Grateful Dead were one of the most popular touring bands of the 60s and their live double-album from 1969 shows why. With no shortage of candidates to consider among the best live albums of all time, Live/Dead "was our first live release and it remains one of our best-loved albums," said drummer Bill Kreutzmann. "Its appeal was that it took great "you-had-to-be-there" live versions of songs like "Dark Star" and "The Eleven" and put them right in people's living rooms." The artwork for the album was created by Robert Donovan Thomas and the music inside showcased the talents of band members such as Tom Constanten on organ. As well as stirring versions of the Dead's own songs, including "Feedback." there is also a moving blues cover of The Reverend Gary Davis' classic "Death Don't Have No Mercy," on which Jerry Garcia sings with mournful elegance.
Death Don't Have No Mercy (Live at the Fillmore West San Francisco, 1969) (2001 Remaster)
20: Iron Maiden: Live After Death (1985)
Iron Maiden's live album from 1985 stands out, right down to the brilliant cover artwork from Derek Riggs. The music endures, too, with a setlist that offered a good selection from Iron Maiden's first five studio albums. Even though Bruce Dickinson was suffering from a cold when some of the tracks were recorded at London's Hammersmith Odeon, he sings well and the musicians, including bassist Steve Harris, are at the top of their game. They even weave in some of Winston Churchill's famous "We shall fight on the beaches" speech as the introduction to "Aces High." Listen out for a superb version of "The Number Of The Beast," as guitarists Adrian Smith and Dave Murray are supported by drummer Nicko McBrian. The album is a heavy metal classic.
Iron Maiden - The Number Of The Beast [Live After Death]
19: Queen: Live at Wembley '86 (1986)
Freddie Mercury was one of the most natural showmen in music and he gave one of his most charismatic displays as the frontman of Queen on a Saturday July afternoon in 1986, as part of the "Magic Tour," in the old Wembley football stadium in London. "Freddie was amazing that day," said guitarist Brian May. "It was a pinnacle for us. We were very good at that point and Freddie was stunning. He had worked out this amazing way of dealing with a whole stadium and becoming a connecting point." The 100,000 crowd played their part in making this an amazing concert, including the gleeful way, in unison, they joined in with bare-chested ringmaster Mercury as he led the packed stadium audience in a clapping, singalong version of drummer Roger Taylor's joyous song "Radio Ga Ga." Queen were a band who revelled in the arena setting – and they excelled themselves on that fine summer's day.
18: Lynyrd Skynyrd: One More From The Road (1976)
One More From The Road was Lynyrd Skynyrd's first live album and was released a year before the plane crash that killed lead singer and songwriter Ronnie Van Zant along with Steve and Cassie Gaines. Van Zant's singing is tender on "Searching" and "The Needle And The Spoon," and the band, whose influences included rock, blues, and country, deliver a powerful version of the Jimmy Rodgers classic "T For Texas." The guitar work of Steve Gaines, Allen Collins, and Gary Rossington is superb throughout and Lynyrd Skynyrd offer up two fine versions of "Crossroads" in a tribute to Robert Johnson.
17: Deep Purple: Made In Japan (1972)
Recordings of three concerts in Osaka and Tokyo in August 1972 were collated into the live double-album Made In Japan, which captures the line-up of Ian Gillan (vocals), Ritchie Blackmore (guitar), Jon Lord (organ), Roger Glover (bass) and Ian Paice (drums) at their explosive best. There are plenty of songs from the Machine Head album, including the seminal "Smoke On The Water." The whole of the fourth side is taken up by a 20-minute thrashing version of "Space Truckin'."
16: Grand Funk Railroad: Live Album (1970)
The immortal Grand Funk Railroad made their debut in front of 100,000 screaming kids at the Atlanta Pop Festival in 1969 and went on to become one of the most popular live bands of their era, despite their unpopularity with rock critics of the time. Their first live album, released by Capitol Records in November 1970, captures the sheer excitement of their stage work, especially the wild singing from Mark Farner, the steady bass grooves of Mel Schacher and the powerful drumming from Don Brewer. Grand Funk, as they were known, were a loud, dynamic band. Farmer wrote most of the songs, including the popular "Mean Mistreater," and the album was curated from performances during a hectic tour that took in Jacksonville, Orlando and West Palm Beach.
15: Neil Young And Crazy Horse: Live Rust (1979)
Recorded in October 1978 at the Cow Palace in San Francisco, Live Rust was originally released as a double-album and was the soundtrack to the concert film documenting Neil Young's Rust Never Sleeps. Young is no stranger to concert recordings, but Live Rust easily ranks among the best live albums he made. Young plays guitar and harmonica deftly as he reels off introspective songs such as "Sugar Mountain," "I Am A Child," and "Comes A Time," then, showing his versatility, he moves to piano to deliver a haunting version of his brilliant song "After The Gold Rush." There is also a stunning version of "Powderfinger." A master musician captured at his peak.
Powderfinger (Live) (2016 Remaster)
14: Thin Lizzy: Live And Dangerous (1978)
After their album Bad Reputation reached No.4 in the UK Top 10 in 1977, Thin Lizzy decided that a live album was the way to go – a sensible decision for a band who excelled in concert. Tony Visconti was chosen by guitarist and lead vocalist Phil Lynott as the man to produce the album and he worked on the final mix at the Studio Des Dames in Paris, overdubbing to achieve a more uniform sound. Live And Dangerous was also a big hit and U2 claim the album as an early influence. The guest musicians include Huey Lewis, credited as "Bluesey Lewis" on harmonica on "Baby Drives Me Crazy."
13: Peter Frampton: Frampton Comes Alive! (1976)
"We'd like to get a bit funky now," says guitarist and singer Peter Frampton as he introduces "Doobie Wah," another upbeat and joyous track on Frampton Comes Alive!, which was in the charts for 97 weeks following its release in 1976. (One of the best live albums of its era, it was also voted Album Of The Year in the Rolling Stone poll that year.) Frampton, who was 26 at the time, was backed by Bob Mayo on rhythm guitar, piano, Fender Rhodes, electric piano and Hammond organ, Stanley Sheldon on bass and John Siomos on drums. The album produced the hit singles "Show Me The Way," "Baby, I Love Your Way," and "Do You Feel Like We Do," and also included a rousing seven-minute version of The Rolling Stones' classic "Jumpin' Jack Flash."
Show Me The Way (Live In The United States/1976)
12: Frank Sinatra & Count Basie: Sinatra at The Sands (1966)
"Frank Sinatra was at the height of his powers then and I was steering his musical ship, the greatest band in the world," recalled Quincy Jones, who was the conductor and provided the scintillating arrangements for the album Sinatra at The Sands, which was recorded over seven nights at the Copa Room stage, at The Sands Hotel and Casino in Las Vegas, in front of about 600 people. The backing band Jones praised was led by the hard-swinging, gorgeously rhythmic Count Basie. His collection of jazz stars provided the perfect backing for Sinatra's voice to glide effortlessly over classics such as "Fly Me to the Moon," "One O'Clock Jump," and "Come Fly with Me." Basie's piano playing, the sweet trumpet tones of Harry "Sweets" Edison, the honeyed tenor sax playing of Eddie "Lockjaw" Davis and the rich vocals of Sinatra, made for a perfect musical combination. Sinatra was a compelling live performer and this Sands show is the definitive Sinatra live album and a vivid reminder of what can happen when musical greats meet.
11: Bob Marley And The Wailers: Live! (1975)
The Live! version of "No Woman, No Cry" immediately became the definitive recording of the song, which is enough to earn its parent album a place among the best live albums. The recording also became Bob Marley's first hit, reaching No.22 in the UK chart when it was released as a single in 1975. It would later reach No.8 in the UK when it was re-released after Marley's death, in 1981; while it never charted in the US, the song would later be ranked at No.37 in Rolling Stone's Greatest Songs Of All Time.
One of the transcendent albums of the modern pop era, Live! was recorded on July 18, 1975, at the second of two sold-out shows at the Lyceum Ballroom in London, and released in the UK on December 5 the same year. The line-up of The Wailers that arrived in London comprised the long-standing rhythm section of Aston Barrett (bass) and Carlton Barrett (drums) together with Al Anderson (lead guitar), Tyrone Downie (keyboards), Alvin Patterson (percussion) and a depleted vocal section of Rita Marley and Marcia Griffiths (Judy Mowatt missed the London shows). Live! also boasts brilliant versions of "Trenchtown Rock," "Burnin' And Lootin'," "I Shot The Sheriff," and "Get Up, Stand Up." The album is a spiritual and musical wonder.
No Woman, No Cry (Live At The Lyceum, London/1975)
10: Bob Dylan: The Bootleg Series Vol. 4: Bob Dylan Live 1966, The Royal Albert Hall Concert (1966)
Although 1974's Before the Flood is one of the quintessential Bob Dylan albums, perhaps his finest live recording is the snappily-titled The Bootleg Series Vol. 4: Bob Dylan Live 1966, The Royal Albert Hall Concert, which was finally released officially in 1998 after being one of the most sought-after "underground" recordings in music. Although titled "Royal Albert Hall," the album was in fact recorded at Manchester's Free Trade Hall. It captures a remarkable musician during a turbulent time of transformation. The set list was split into two parts, with the first half of the concert showcasing Dylan alone on stage, performing entirely acoustic songs, while the second half of the concert has Dylan playing a set alongside his band the Hawks, with Robbie Robertson and Dylan on electric guitars. This break from folk tradition prompted heckling, with one fan shouting "Judas" at Dylan. Both sides of Dylan were brilliant, however, from the stripped down, harmonica-driven "Mr. Tambourine" of the opening half, to the energized electric version of "Like a Rolling Stone" that closes the second part.
9: Johnny Cash: At Folsom Prison (1968)
Johnny Cash's concert at Folsom State Prison, California, on January 13, 1968, is one of the best live albums in country music. Cash, whose hits such as "I Walk The Line" and "Ring Of Fire" had made him a household name, knew all about human frailty; his empathy with the prisoners drew out a magnificent live performance. The set included his 1955 hit "Folsom Prison Blues" (the chilling song about someone who shoots a man in Reno "just to watch him die") and he also delivered an impassioned version of the traditional song "Dark As A Dungeon." A raw and honest masterpiece.
Folsom Prison Blues (Live at Folsom State Prison, Folsom, CA - January 1968)
8. KISS: Alive! (1975)
Culled from numerous concerts, Alive! (released in the autumn of 1975) made KISS rock'n'roll superstars; it climbed into the Top 10 and its accompanying single, "Rock And Roll All Nite," made it to No.12. The album has everything a heavy metal fan could want: from Gene Simmons, "The Demon," pounding away on bass, to Paul Stanley's guitar antics and Peter Criss' driving drum work. The band's youthful energy is contagious, and the album's thumping electric versions of their finest early material easily makes this one of the best live albums of all time.
Rock And Roll All Nite (Live From Detroit, MI/1975)
7: Bruce Springsteen & the E Street Band Live/1975-85 (1986)
Bruce Springsteen is a performing phenomenon: inspiring, passionate, tender and overflowing with energy. His five-disc live album finds him at his best, spread over a decade of performances, and backed by his celebrated The E Street Band (which included Steve Van Zandt on guitar and the late Clarence Clemons on saxophone). Among the most thrilling songs are versions of his own classics "Independence Day," "Thunder Road," and "Racing In the Street," along with sensational covers of Tom Waits's "Jersey Girl" and Woody Guthrie's "This Land is Your Land." This retrospective, recorded in clubs, concert halls and stadiums across the United States, is a masterful career summary of a legend of American music, a singer who connects all the important strands of the rock tradition of his country. Springsteen's version of his own 1970s anthem "Born to Run" is a particular triumph and this soaring album demonstrates the wonderful power of live music.
6: Talking Heads: Stop Making Sense (1984)
One of the memorable fashion statements of 80s pop was David Byrne's "big suit," and the showmanship of Talking Heads was in full flow on their live album Stop Making Sense. There is a rousing version of "Psycho Killer." powered by a horn section and powerful backing singers, and "Take Me To The River" is mesmerizing. This 1984 concert film and its soundtrack (the first rock movie made using entirely digital audio techniques) showed why this edgy, intelligent band were such fun.
5: James Brown And The Famous Flames: Live At The Apollo (1963)
James Brown originally put out this live concert, recorded at the Apollo Theater in Harlem in October 1962, on his own King Records. Live At The Apollo captures The Godfather Of Soul as a young, vibrant singer, brilliantly backed by his vocal trio, The Famous Flames, who were Bobby Byrd, Bobby Bennett, and Lloyd Stallworth. The heart-wrenching "Please, Please, Please" kicks off a mighty eight-song medley before the album closes with an impassioned version of Jimmy Forrest's blues song "Night Train." Brown is on top form on a night that captures his ability to hold a crowd in the palm of his hand.
Night Train (Live At The Apollo Theater, 1962)
4: Nirvana: MTV Unplugged In New York (1994)
Towards the end of 1993, with MTV's Unplugged series enticing more and more artists to perform acoustically, Nirvana filmed a performance for the show. It was released on the album MTV Unplugged In New York, and "About A Girl' was its only single – posthumously for the song's writer, Kurt Cobain, who died six months earlier. The album, certified five times platinum, won the Grammy award for Best Alternative Music Album and features potent versions of "Dumb" and "All Apologies." There is also a cover of David Bowie's "The Man Who Sold The World." Drummer Dave Grohl, who went on to form Foo Fighters, sings backing vocals on the parody song "Jesus Wants Me For A Sunbeam." The album stands as testimony to Cobain's talent and versatility.
Nirvana - About A Girl (MTV Unplugged)
3: The Rolling Stones: Get Yer Ya-Ya's Out!: The Rolling Stones In Concert (1970)
Get Yer Ya-Ya's Out! was recorded in November 1969 in Baltimore and at New York's Madison Square Garden, and was the first live album to reach No.1 on the UK charts. Its tongue-in-cheek cover photo of Charlie Watts was shot by David Bailey, while the title came from a song by blue singer Blind Boy Fuller, who spent time in prison for shooting his wife in the leg. The tour was the first time that Mick Taylor had played extensively with the band, after he replaced Brian Jones in the group. But you'd be hard-pressed to tell the band was getting used to a new member. Mick Jagger and co are having unadulterated fun on the album, shown in a swaggering version of "Midnight Rambler" and "Sympathy for the Devil." Keith Richards' guitar work is sizzling and an exuberant show ends with fine versions of "Honky Tonk Women" and "Street Fighting Man." The deluxe version includes songs by the additional performers of the caliber of BB King and Tina Turner. Get Yer Ya-Ya's Out! is one of the quintessential rock albums of all time from the great Rolling Stones.
Midnight Rambler (Live From Madison Square Garden, New York/1969)
2: The Allman Brothers Band: At Fillmore East (1971)
Following the demise of the brothers' fledgling bands The Second Coming and Hourglass, Duane and Gregg Allman formed their celebrated self-titled band and, in 1971, they laid down one of the best live albums in history at the famous Fillmore East venue in New York. Vocalist Gregg (on organ and piano) and guitarist Duane are joined by guitarist Dickey Betts, harmonica player Thom Doucette, congo player Jai Johanny Johanson, drummer Butch Trucks, and percussionist Bobby Caldwell. The engaging mix of blues and rock is evident on versions of Blind Willie McTell's "Statesboro Blues" and classics such as "Stormy Monday," "Trouble No More," and "Done Somebody Wrong." Overall, this stirring blend of guitar, drums, and Hammond B3 organ creates the identifiable Allman "Wall Of Sound." At Fillmore East remains a true classic from the early 70s.
Statesboro Blues (Live At Fillmore East, March 13, 1971)
1: The Who: Live At Leeds (1970)
By the end of the 60s, The Who had gained a reputation as one of the greatest live rock bands in the world, and Live At Leeds deservedly heads this list of the best live albums in history. Described on release by the New York Times as the "best live rock album ever made," it was recorded on the university campus at Leeds, England, in February 1970, and includes some bold song choices, including a version of "Young Man Blues," written by master jazz songwriter Mose Allison. The Who also covered Sonny Boy Williamson's "Eyesight To The Blind." As well as their own early hits such as "I Can't Explain" and "Happy Jack," there is an extended version of "Tommy." A medley at the end featured "My Generation" and "Magic Bus." which allowed guitarist Pete Townshend to strut his stuff alongside bassist John Entwistle and drummer Keith Moon. "There was hardly anything dubbed on it – there were more things taken off than put on," said singer Roger Daltrey. "We even pulled a lot of the crowd out because it was distracting to listen to." Sensational.
Think we missed one of the best live albums of all-time like AC/DC's If You Want Blood, You've Got It or Iggy and the Stooges' Metallic K.O.? Let us know in the comments below. And check out our Best Live Albums playlist here.