Best Live Albums: 25 Classics That Make You Feel Like You Were There
The best live albums of all time capture the very essence of a band's energy in concert, making you feel like you were actually there.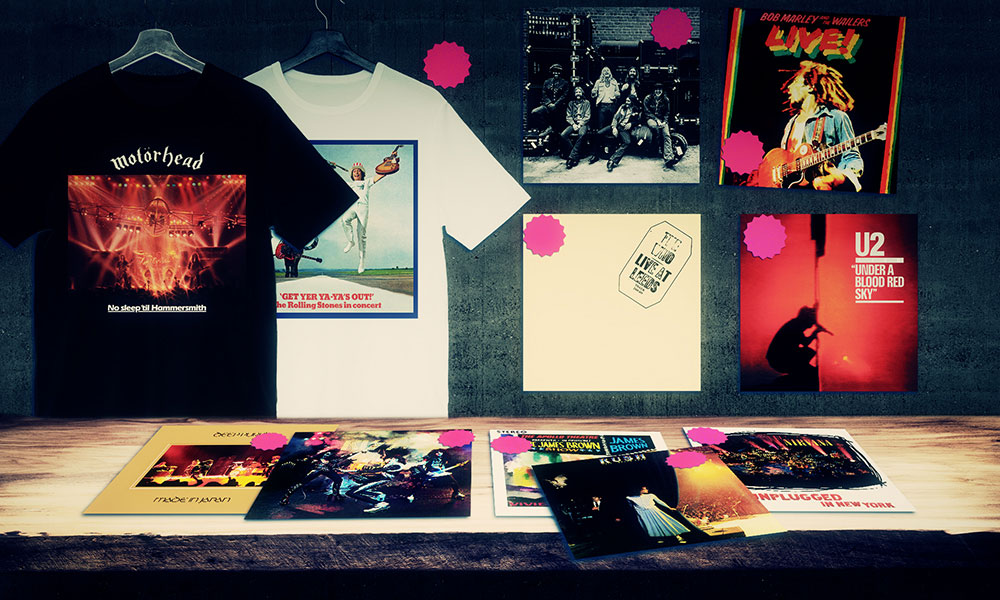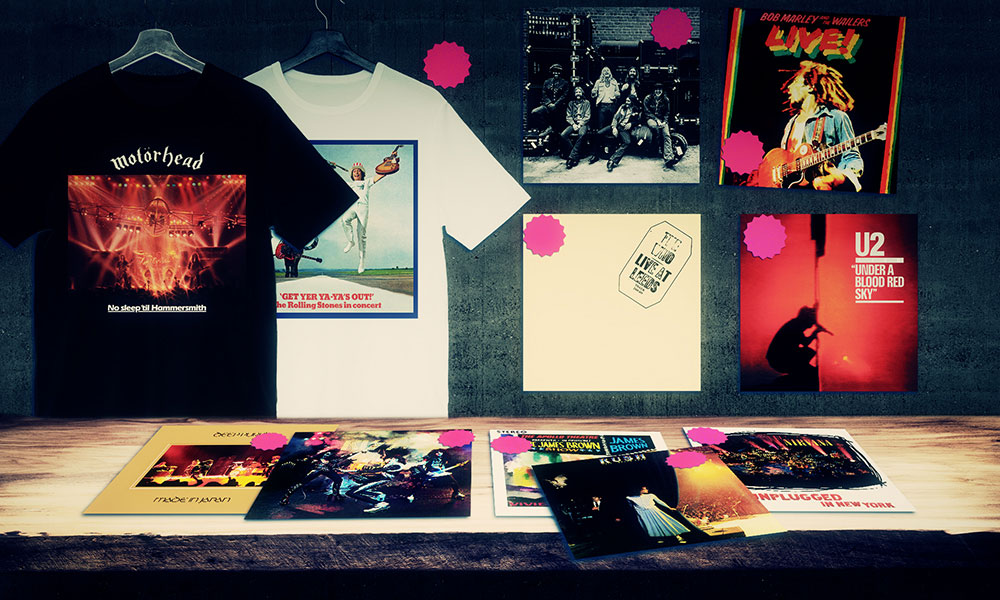 It's one thing creating magic in the studio but doing it live is something else, adding a whole new level of excitement (and, often, creativity) to the music. The best live albums capture the very essence of a band's energy in concert and manage to make a listener feel like they were there actually there for what, in many cases, are historic performances.
While you're reading, listen to our Best Live Albums playlist here.
Here are the 25 best live albums for reliving those glory days.
25: Humble Pie: Performance: Rockin' The Fillmore (1971)
This live double-album from English blues-rock band Humble Pie was recorded over two days in May 1971 at the famous Fillmore East Club in Manhattan, which closed a month later. Humble Pie were made up of singer and guitarist Steve Marriott, guitarist Peter Frampton, bassist Greg Ridley and drummer Jerry Shirley. The best-selling single from the album was 'I Don't Need No Doctor', which had been a hit for Ray Charles in 1966. There is also a great 20-minute jam on Dr John's 'I Walk On Gilded Splinters', which showed why Humble Pie were such a dynamic live act. Just before Performance was released, in November 1971, Frampton, who plays some fluid and powerful solos, left the band.
24: Cream: Wheels Of Fire (1968)
A double-album recorded between July 1967 and April 1968, Wheels Of Fire is a representative slice of Cream at their best. With Disc One recorded live (at Winterland Ballroom and Fillmore West) and Disc Two recorded at Atlantic Studios in New York, it is clear what Cream brought to both settings. Jack Bruce, Eric Clapton and Ginger Baker have remarkable musical empathy and they combine for a superb rendition of Robert Johnson's 'Crossroads'. They also show their ability to bring something fresh to blues classics with a fine version of Howlin' Wolf's 'Sittin' On Top Of The World'. 'Toad', which is an epic 16-minute tour de force, includes one of the finest ever drum solos from Baker. The album topped the charts in the US and reached No.3 in the UK.
23: Rush: Exit… Stage Left (1981)
Exit… Stage Left was put together around the world: recorded in Scotland and Canada and edited and mixed in France. The album, Rush's second live recording, was a re-affirmation of their progressive rock musical beliefs ("We didn't change, everybody else did!" say the liner notes) and is a favourite among their fans. You can hear the audience singing along on 'Closer To The Heart', and other highlights include 'Red Barchetta', 'Beneath, Between And Behind' and 'Jacob's Ladder'. Alex Lifeson's guitar blends with Geddy Lee's huge bass tones and Neil Peart shows again why he was one of the best rock drummers in the world. The album reached No.6 in the UK and was certified platinum in America after selling a million copies.
22: Motörhead: No Sleep 'Til Hammersmith (1981)
One of the best live albums from the heavy metal era, No Sleep 'Til Hammersmith captures Lemmy Kilmister (singer and bassist), "Fast" Eddie Clarke (guitar) and Phil Taylor (drummer) in dynamic form. In the book Overkill: The Untold Story Of Motörhead, biographer Joel McIver describes No Sleep 'Til Hammersmith as "the peak of the Lemmy/Clarke/Philthy line-up's career". The album title was playful (it was recorded in Norfolk, Leeds, Newcastle and Belfast, and the band did not play London's Hammersmith Odeon on the tour) and shows Motörhead in their natural element – playing fast, frenetic and forceful metal. Highlights include power-driven versions of 'Bomber' and 'We Are (The Road Crew)' and there is a nice touch from Lemmy, who says, "This is a slow one so you can get mellowed out," before launching into a furious 'Capricorn'.
21: Led Zeppelin: The Song Remains The Same (1976)
Three years after live tapes had been made at Madison Square Garden during Led Zeppelin's record-breaking 1973 tour, guitarist Jimmy Page went into the studio to mix the songs for release as The Song Remains The Same. The album was released alongside a film of the concert. The band powered through versions of 'Rock And Roll', 'Heartbreaker' and 'Whole Lotta Love', and there is a 29-minute version of 'Dazed And Confused' which shows off John Bonham's skill as a percussionist. There is also a fine version of 'Stairway To Heaven', the Page and Plant that remains one of the greatest works in 20th-century rock.
20: Grateful Dead: Live/Dead (1969)
Grateful Dead were one of the most popular touring bands of the 60s and their live double-album from 1969 shows why. With no shortage of candidates to consider among the best live albums of all time, Live/Dead "was our first live release and it remains one of our best-loved albums", said drummer Bill Kreutzmann. "Its appeal was that it took great 'you-had-to-be-there' live versions of songs like 'Dark Star' and 'The Eleven' and put them right in people's living rooms." The artwork for the album was created by Robert Donovan Thomas and the music inside showcased the talents of band members such as Tom Constanten on organ. As well as stirring versions of the Dead's own songs, including 'Feedback', there is also a moving blues cover of The Reverend Gary Davis' classic 'Death Don't Have No Mercy', on which Jerry Garcia sings with mournful elegance.
19: U2: Under A Blood Red Sky (1983)
Capturing a band on the cusp of greatness, Under A Blood Red Sky: Live At Red Rocks merits its reputation as one of the seminal concerts in U2's nearly 50-year career. The concert, which was also released as a video, was recorded at the stunning Red Rocks Amphitheatre in Colorado, in June 1983. The concert came after torrential downpours but despite the sodden conditions, singer Bono and the band (The Edge on guitar, Adam Clayton on bass and Larry Mullen on drums) put on a magnificent display of live rock, especially with a momentous version of 'Sunday Bloody Sunday'. The footage of Bono carrying a white flag of peace during the song is one of the most iconic images in modern rock history.
18: Iron Maiden: Live After Death (1985)
Iron Maiden's live album from 1985 stands out, right down to the brilliant cover artwork from Derek Riggs. The music endures, too, with a setlist that offered a good selection from Iron Maiden's first five studio records. Even though Bruce Dickinson was suffering from a cold when some of the tracks were recorded at London's Hammersmith Odeon, he sings well and the musicians, including bassist Steve Harris, are at the top of their game. They even weave in some of Winston Churchill's famous "We shall fight on the beaches" speech as the introduction to 'Aces High'. Listen out for a superb version of 'The Number Of The Beast', as guitarists Adrian Smith and Dave Murray are supported by drummer Nicko McBrian. The album is a heavy metal classic.
17: MC5: Kick Out The Jams (1969)
Kick Out the Jams was the debut album by American proto-punk band MC5. It was recorded live because Elektra Records A&R chief Danny Fields believed that it would be the best way of capturing the band's energy and excitement on record. The album was recorded over two nights at Detroit's Grande Ballroom in 1968. Featuring Wayne Kramer on lead guitar and Roby Tyner on vocals, it reached No.30 on the Billboard album chart. The highlights include striking versions of 'Ramblin' Rose' and 'I Want You Right Now', the latter of which owed something to the sound of The Troggs.
16: The Band: The Last Waltz (1978)
Martin Scorsese's The Last Waltz is one of the most immaculately filmed rock concerts in history, and the film – and double-album – preserves for posterity the final appearance of The Band, the brilliant group fronted by Robbie Robertson that had toured (frequently with Bob Dylan) for the previous 16 years. The concert was held at San Francisco's Winterland Ballroom and the cast of supporting musicians is brilliant, forever cementing The Last Waltz's reputation as one of the best live albums in rock history. As well as songs from Dylan, there are appearances from Joni Mitchell, Muddy Waters and a rollicking Van Morrison singing 'Caravan' as he performs one of the strangest high-kicking dances ever seen.
15: Lynyrd Skynyrd: One More From The Road (1976)
One More From The Road was Lynyrd Skynyrd's first live album and was released a year before the plane crash that killed lead singer and songwriter Ronnie Van Zant along with Steve and Cassie Gaines. Van Zant's singing is tender on 'Searching' and 'The Needle And The Spoon', and the band, whose influences included rock, blues and country, deliver a powerful version of the Jimmy Rodgers classic 'T For Texas'. The guitar work of Steve Gaines, Allen Collins and Gary Rossington is superb throughout and Lynyrd Skynyrd offer up two fine versions of 'Crossroads' in a tribute to Robert Johnson.
14: Deep Purple: Made In Japan (1972)
Recordings of three concerts in Osaka and Tokyo in August 1972 were collated into the live double-album Made In Japan, which captures the line-up of Ian Gillan (vocals), Ritchie Blackmore (guitar), Jon Lord (organ), Roger Glover (bass) and Ian Paice (drums) at their explosive best. There are plenty of songs from the Machine Head album, including the seminal 'Smoke On The Water'. The whole of the fourth side is taken up by a 20-minute thrashing version of 'Space Truckin''.
13: Bob Marley And The Wailers: Live! (1975)
The Live! version of 'No Woman, No Cry' immediately became the definitive recording of the song, which is enough to earn its parent album a place among the best live albums. The recording also became Bob Marley's first hit, reaching No.22 in the UK chart when it was released as a single in 1975. It would later reach No.8 in the UK when it was re-released after Marley's death, in 1981; while it never charted in the US, the song would later be ranked at No.37 in Rolling Stone's Greatest Songs Of All Time.
One of the transcendent albums of the modern pop era, Live! was recorded on 18 July 1975 at the second of two sold-out shows at the Lyceum Ballroom in London, and released in the UK on 5 December the same year. The line-up of The Wailers that arrived in London comprised the long-standing rhythm section of Aston Barrett (bass) and Carlton Barrett (drums) together with Al Anderson (lead guitar), Tyrone Downie (keyboards), Alvin Patterson (percussion) and a depleted vocal section of Rita Marley and Marcia Griffiths (Judy Mowatt missed the London shows). Live! also boasts brilliant versions of 'Trenchtown Rock', 'Burnin' And Lootin'', 'I Shot The Sheriff' and 'Get Up, Stand Up'. The album is a spiritual and musical wonder.
12: Cheap Trick: Cheap Trick At Budokan (1978)
At Budokan was the commercial breakthrough for Chicago quartet Cheap Trick, confirming them as one of the best live bands of the 70s. The concert, recorded at the indoor Nippon Budokan in Tokyo, featured seven songs written by guitarist Rick Nielson, including 'Hello There'. Cheap Trick were immensely popular in Japan, and the band's label there demanded that At Budokan included some new songs. One of them was the future hit 'Need Your Love' (co-written by Nielson and bassist Tom Petersson) and a version of the old New Orleans classic 'Ain't That A Shame', on which singer Robin Zander and drummer Bun E Carlos seemed to be having as much fun as the audience.
11: Neil Young And Crazy Horse: Live Rust (1979)
Recorded in October 1978 at the Cow Palace in San Francisco, Live Rust was originally released as a double-album and was the soundtrack to the concert film documenting Neil Young's Rust Never Sleeps. Young is no stranger to concert recordings, but Live Rust easily ranks among the best live albums he made. Young plays guitar and harmonica deftly as he reels off introspective songs such as 'Sugar Mountain', 'I Am A Child' and 'Comes A Time', then, showing his versatility, he moves to piano to deliver a haunting version of his brilliant song 'After The Gold Rush'. There is also a stunning version of 'Powderfinger'. A master musician captured at his peak.
10: Thin Lizzy: Live And Dangerous (1978)
After their album Bad Reputation reached No.4 in the UK Top 10 in 1977, Thin Lizzy decided that a live album was the way to go – a sensible decision for a band who excelled in concert. Tony Visconti was chosen by guitarist and lead vocalist Phil Lynott as the man to produce the album and he worked on the final mix at the Studio Des Dames in Paris, overdubbing to achieve a more uniform sound. Live And Dangerous was also a big hit and U2 claim the album as an early influence. The guest musicians include Huey Lewis, credited as "Bluesey Lewis" on harmonica on 'Baby Drives Me Crazy'.
9: Johnny Cash: At Folsom Prison (1968)
Johnny Cash's concert at Folsom State Prison, California, on 13 January 1968 is one of the best live albums in country music. Cash, whose hits such as 'I Walk The Line' and 'Ring Of Fire' had made him a household name, knew all about human frailty; his empathy with the prisoners drew out a magnificent live performance. The set included his 1955 hit 'Folsom Prison Blues' (the chilling song about someone who shoots a man in Reno "just to watch him die") and he also delivered an impassioned version of the traditional song 'Dark As A Dungeon'. A raw and honest masterpiece.
8: Talking Heads: Stop Making Sense (1984)
One of the memorable fashion statements of 80s pop was David Byrne's "big suit", and the showmanship of Talking Heads was in full flow on their live album Stop Making Sense. There is a rousing version of 'Psycho Killer', powered by a horn section and powerful backing singers, and 'Take Me To The River' is mesmerising. This 1984 concert film and its soundtrack (the first rock movie made using entirely digital audio techniques) showed why this edgy, intelligent band were such fun.
7: Peter Frampton: Frampton Comes Alive! (1976)
"We'd like to get a bit funky now," says guitarist and singer Peter Frampton as he introduces 'Doobie Wah', another upbeat and joyous track on Frampton Comes Alive!, which was in the charts for 97 weeks following its release in 1976. (One of the best live albums of its era, it was also voted Album Of The Year in the Rolling Stone poll that year.) Frampton, who was 26 at the time, was backed by Bob Mayo on rhythm guitar, piano, Fender Rhodes, electric piano and Hammond organ, Stanley Sheldon on bass and John Siomos on drums. The album produced the hit singles 'Show Me The Way', 'Baby, I Love Your Way' and 'Do You Feel Like We Do' and also included a rousing seven-minute version of The Rolling Stones' classic 'Jumpin' Jack Flash'.
6: James Brown And The Famous Flames: Live At The Apollo (1963)
James Brown originally put out this live concert, recorded at the Apollo Theater in Harlem in October 1962, on his own King Records. Live At The Apollo captures The Godfather Of Soul as a young, vibrant singer, brilliantly backed by his vocal trio, The Famous Flames, who were Bobby Byrd, Bobby Bennett and Lloyd Stallworth. The heart-wrenching 'Please, Please, Please' kicks off a mighty eight-song medley before the album closes with an impassioned version of Jimmy Forrest's blues song 'Night Train'. Brown is on top form on a night that captures his ability to hold a crowd in the palm of his hand.
5. KISS: Alive! (1975)
Culled from numerous concerts, Alive! (released in the autumn of 1975) made KISS rock'n'roll superstars; it climbed into the Top 10 and its accompanying single, 'Rock And Roll All Nite', made it to No.12. The album has everything a heavy metal fan could want: from Gene Simmons, "The Demon", pounding away on bass, to Paul Stanley's guitar antics and Peter Criss' driving drum work. The band's youthful energy is contagious, and the album's thumping electric versions of their finest early material easily makes this one of the best live albums of all time.
4: Nirvana: MTV Unplugged In New York (1994)
Towards the end of 1993, with MTV's Unplugged series enticing more and more artists to perform acoustically, Nirvana filmed a performance for the show. It was released on the album MTV Unplugged In New York, and 'About A Girl' was its only single – posthumously for the song's writer, Kurt Cobain, who died six months earlier. The album, certified five times platinum, won the Grammy award for Best Alternative Music Album and features potent versions of 'Dumb' and 'All Apologies'. There is also a cover of David Bowie's 'The Man Who Fell To Earth'. Drummer Dave Grohl, who went on to form Foo Fighters, sings backing vocals on the parody song 'Jesus Wants Me For A Sunbeam'. The album stands as testimony to Cobain's talent and versatility.
3: The Rolling Stones: Get Yer Ya-Ya's Out!: The Rolling Stones In Concert (1970)
Get Yer Ya-Ya's Out! was recorded on 27 and 28 November 1969 in Baltimore and at New York's Madison Square Garden, and was the first live album to reach No.1 on the UK charts. Its tongue-in-cheek cover photo of Charlie Watts was shot by David Bailey, while the title came from a song by blue singer Blind Boy Fuller, who spent time in prison for shooting his wife in the leg! Mick Jagger and co are having unadulterated fun on the album, shown in a swaggering version of 'Midnight Rambler'. Keith Richards' guitar work is sizzling and an exuberant show ends with fine versions of 'Honky Tonk Women' and 'Street Fighting Man'. The deluxe version includes songs by the additional performers of the calibre of BB King and Tina Turner. Get Yer Ya-Ya's Out! is one of the quintessential rock albums of all time from the great Rolling Stones.
2: The Allman Brothers Band: At Fillmore East (1971)
Following the demise of the brothers' fledgling bands The Second Coming and Hourglass, Duane and Gregg Allman formed their celebrated self-titled band and, in 1971, they laid down one of the best live albums in history at the famous Fillmore East venue in New York. Vocalist Gregg (on organ and piano) and guitarist Duane are joined by guitarist Dickey Betts, harmonica player Thom Doucette, congo player Jai Johanny Johanson, drummer Butch Trucks and percussionist Bobby Caldwell. The engaging mix of blues and rock is evident on versions of Blind Willie McTell's 'Statesboro Blues' and classics such as 'Stormy Monday', 'Trouble No More' and 'Done Somebody Wrong'. Overall, this stirring blend of guitar, drums and Hammond B3 organ creates the identifiable Allman "Wall Of Sound". At Fillmore East remains a true classic from the early 70s.
1: The Who: Live At Leeds (1970)
By the end of the 60s, The Who had gained a reputation as one of the greatest live rock bands in the world, and Live At Leeds deservedly heads this list of the best live albums in history. Described on release by the New York Times as the "best live rock album ever made", it was recorded on the university campus at Leeds, England, in February 1970, and includes some bold song choices, including a version of 'Young Man Blues', written by master jazz songwriter Mose Allison. The Who also covered Sonny Boy Williamson's 'Eyesight To The Blind'. As well as their own early hits such as 'I Can't Explain' and 'Happy Jack,' there is an extended version of 'Tommy'. A medley at the end featured 'My Generation' and 'Magic Bus', which allowed guitarist Pete Townshend to strut his stuff alongside bassist John Entwistle and drummer Keith Moon. "There was hardly anything dubbed on it – there were more things taken off than put on," said singer Roger Daltrey. "We even pulled a lot of the crowd out because it was distracting to listen to." Sensational.
Format:
UK English