Motörhead
The British rock band was co-founded by frontman Lemmy Kilmeister known for classic songs like 'Ace of Spades.'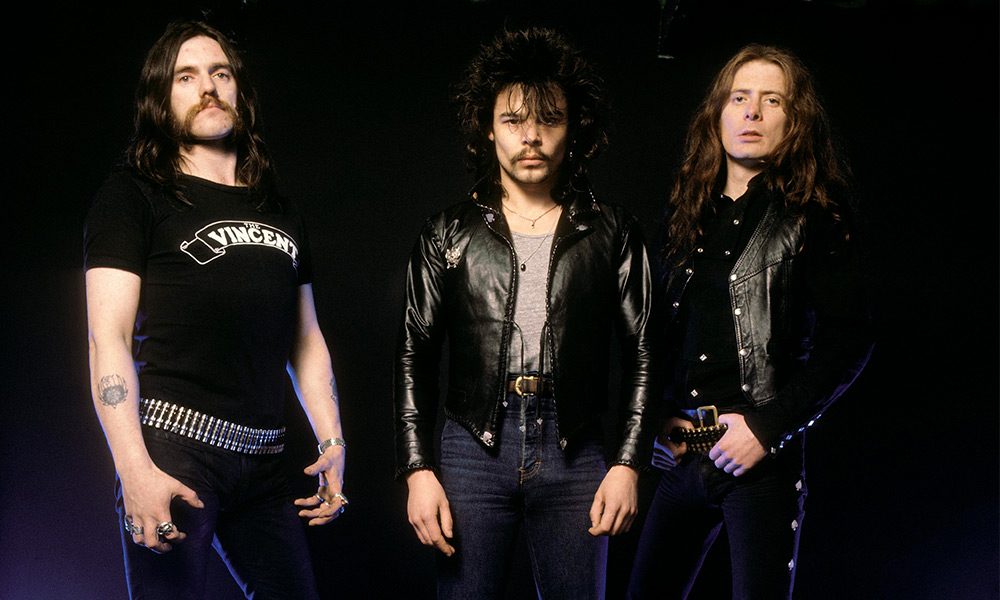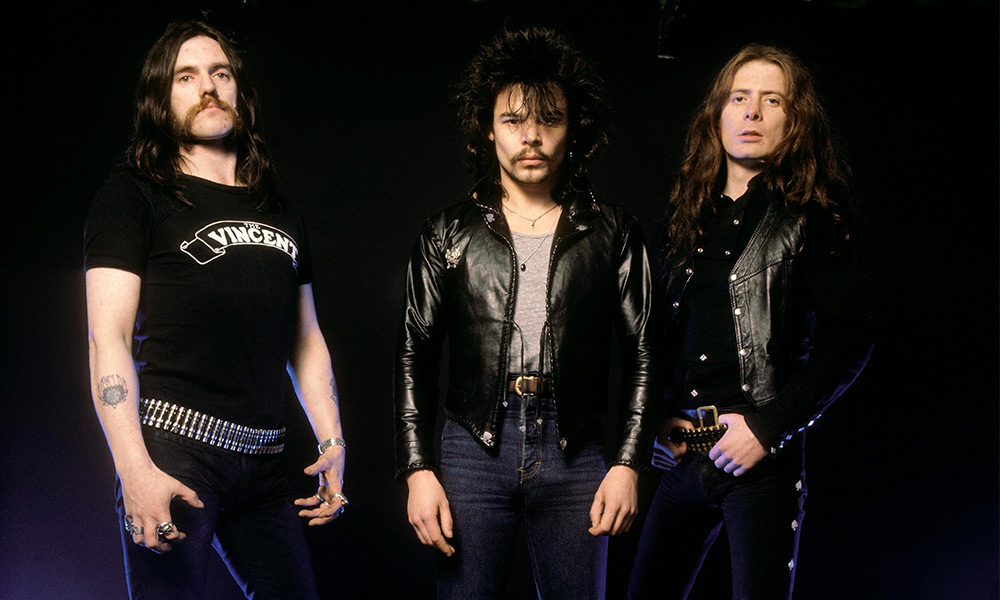 The quintessential English rock band and trailblazers in the New Wave Of British Heavy Metal, the mighty Motörhead are an institution, a national treasure, even, certainly in the case of founding member Ian Fraser Kilmister, known to us all as Lemmy. His sad death, on 28 December 2015, four months after the release of their final studio album, Bad Magic, signalled the immediate announcement that the band would split, though the brand lives on. Listen carefully: you can still hear the sound resonating from his trusty old amp, nicknamed "Murder One".
Their ear-shattering array of studio, live and compilation albums are revered by fanatics for attention to sonic detail, speed punk riffs and lyrics that function like some kind of Viking Armageddon allied to a noise that might be compared to a neutron bomb. Add all that to their distinctive logo, a fanged boar's tusk decorated biker emblem (familiar to insiders as 'War-Pig' or  'Snaggletooth') and you have a band that matches content to imagery. Their classic albums include Overkill, Bomber, the must-have Ace Of Spades and the genre-defining No Sleep 'Til Hammersmith (a reference to their many appearances at the old Odeon and their habit of staying up rather later than is generally considered sensible) are all within our remit here, as are the majority of Motörhead's ball-busting epics. But while they have a certain beastly quality Lemmy and co. have never been without wit and purpose. Roots in old-school rock and roll are at their bedrock but they can do subtle too and if they're deadly serious and seriously deadly they are also smarter than the average metal act, hence the fact they've sold more than 15 million albums worldwide and show no signs of slowing down. They are not a guilty pleasure, they are a force to be reckoned with: warts and all exemplum of metallic majesty.
Lemmy formed Motörhead in the aftermath of his departure from Hawkwind, the progressive acid speed drone rockers whose "Silver Machine" characterised the era of patchouli oil-soaked headbanging. Citing a desire to be fast, raucous and arrogant, with a side order of paranoia and speed freak rocking overkill, Lemmy enlisted Larry Wallis (ex-Pink Fairies) to add electric guitar lines to his bass while the original drum seat was taken by Lucas Fox. Having practiced their act in a disused furniture store in Chelsea, close by Lemmy's latterday home on a moored Thames barge, the trio format was established and they supported Greenslade and the Blue Oyster Cult on early dates in 1975 before Andrew Lauder signed them to United Artists. It wasn't plain sailing. Phil "Philthy Animal" replaced Fox and a would-be debut was recorded at Rockfield in Wales with Dave Edmunds. That remained unreleased until 1979 when it appeared as On Parole, and mighty fine it was too. Even so, the classic Motörhead line-up didn't hit plastic until Stiff released the "Leaving Here" single while the band actually considered packing it in. Satan forbid. The salvation of a sort arrived via Chiswick Records – a feisty independent who gave them studio time and the debut single and album, both called Motörhead hit the racks in summer of '77 while all around them was punk. Motörhead's hardcore attitude meant they avoided being cast into the dinosaur pit however and the album is well worth another look today since it features stalwarts from their live set like  "Lost Johnny" and the thrashy "White Line Fever".
Going out under the banner "Achtung! This Band Takes No Prisoners" the rejuvenated 'head changed production, subbing Speedy Keen for Jimmy Miller to create Overkill with its stand out cuts "No Class" and "Metropolis" studding a rough and ready collection that easily passes muster four decades later. Check out the Deluxe Reissue with 2-CDs. The groundswell of good reviews continue with Bomber (1979), an entirely in-house project that contains the legendary tracks "Lawman" and  "All The Aces", autobiographical in content, and the Len Deighton-inspired title track. Again the reissue is a double-CD affair that is perfect for rediscovery.
By now the Lemmy effect is in full flow and the band prove adept at bossing then destroying theatres with a look and sound that is every bit as vital as anything in the hip punk world. While the terrain starts to shift they emerge with the classic Ace Of Spades, produced by Vic Maile in less than three weeks, summer 1980. The title track, a signature tune of massive import, will hit the charts while the parent album soars to number 4 in the UK and there are TV appearances on Top of the Pops, and bizarrely, the kids show Tiswas. Nostalgia aside this is one of those albums you have to hear, its impact on the development of thrash metal is beyond dispute. The Deluxe Edition contains many alternative takes and it's a real gem.
After combining with the female metal act Girlschool to make the St. Valentine's Day Massacre doubleheader 45 the boys document their exploits on No Sleep 'Til Hammersmith (1981), their first live album. This will hit number one in the UK and set Motörhead on the path to true greatness. But just as their star rises highest internal friction leads to Clarke's departure after Iron Fist. Enter Brian Robertson, ex-Thin Lizzy axeman, for the five-star comeback, Another Perfect Day (1983).
Combining Sci-Fi excess and cartoon nightmare artwork this disc is one of our all-time 'head faves with particular reference to "Shine", "Die You Bastard!" and "I Got Mine" where the trio are at their smoothest.
Those playing catch up should check out the compilation No Remorse, basically four sides of utter mayhem with a large dose of grandstanding Motörhead genius and the bonus appeal of four new recordings based on sessions under a new guise of Lemmy, Phil Campbell, Wurzel and Pete Gill (ex-Saxon). Time to take stock here and wouldn't you know, this lot is suddenly accepted as the thinking person's headbangers: grizzled without pretention, albeit biker mean throughout.
Now is the time to rediscover Orgasmatron (produced by Bill Laswell of Material, no less) and the sleek Rock 'N'Roll (muscle in on "Eat the Rich" and "Traitor") and then gird yer loins for the next live disc, No Sleep At All (on the boards in Finland). It's ten years on now and Motörhead are giants of rock. So what else to do but make an album, 1916, that is portentous in reference to the Great War, a Lemmy fixation, but is equally loved for "R.A.M.O.N.E.S.", their tribute to the New York punk contemporaries who also shifted the parameters of fast noise back in the day. Both acts have of course become tee-shirt icons.
We pick ourselves back off the floor for Sacrifice, made in America, and one of those things that slipped through the net on release but shouldn't have done since it is one of Lemmy's top picks, and ours. Groove harder though on Overnight Sensation where there is a change of tack as they ditch the quartet and return to classic trio formation without breaking step.
The really great reviews that We Are Motörhead received are more than justified by their version of the Sex Pistols' "God Save The Queen" and the rabid crowd pleasers "Wake the Dead" and "Stay Out of Jail". Also, look out for Hammered and the comprehensive 4-CD box set Stone Deaf Forever, a fantastic career overview with fascinating liners, fantastic artwork from the ever-loyal genius at work known as Joe Petagno (his gloriously lurid paintings help define the outfit) and really, just hours of not too harmless fun.
Search and destroy for the BBC Live & In-Session (2005) and 2013's Aftershock, where all those years of rock'n'roll experience flourish anew. The final album from the studio is the aptly named Bad Magic, produced by Cameron Webb. It has that live-in-the-room vibe the band thrive on, and storming songs such as "Victory Or Die", "Teach Them How to Bleed" and a hair-raising version of the Stones' "Sympathy For The Devil". The live outing Clean Your Clock was captured at Zenith in Munich in late November 2015 and serves as the greatest hits with all the tried and trusted showstoppers on view.
With Phil Taylor's passing a month before Lemmy's, it was decided to call it a day, though more live material and outtakes are in the can. The archive hasn't run dry.
It's been a tempestuous career, with ups and many downs, but so many recorded highlights that we blush to point out most of them are here for your perusal. And on any given dark night when the sound of the crowd rises to a roar and the name of Lemmy is chanted on the wind, you will realise it's got to be time to discover Motörhead all over again. Rude not to. In fact, very rude, indeed.
Max Bell