'Hoochie Coochie Man': Behind Muddy Waters' Classic Blues Song
One of the building blocks of rock'n'roll, 'Hoochie Coochie Man' has been recorded by everyone from Muddy Waters to Motörhead.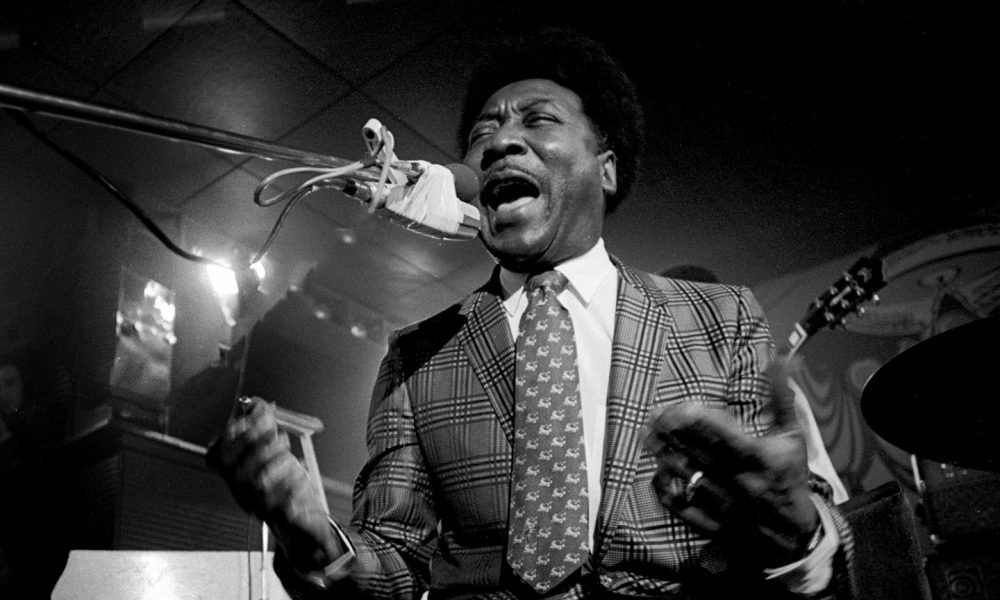 Willie Dixon was the undisputed Poet Laureate of post-war Chicago blues music. His undoubted talent as a wordsmith probably stemmed from the fact that, as a youngster growing up in Vicksburg, Mississippi, he heard his mother recite poetry that she had written. But music wasn't Dixon's first calling. He enjoyed several years as a moderately successful heavyweight boxer before he switched careers. His big break was landing a job at Chicago's Chess label in 1948, where the combination of his double bass-playing, arranging skills, talent scout acumen, and, of course, songwriting prowess (among countless classics, he penned "Hoochie Coochie Man," "I Just Want To Make Love To You" and "Back Door Man"), allowed him to rise rapidly in the ranks of the company's backroom hierarchy.
"Hoochie Coochie Man" was first recorded on January 7, 1954, by a Delta blues singer with a big, booming voice who was born McKinley Morganfield, in Rolling Fork, Mississippi. He went under the stage name Muddy Waters, and had already seen some chart action before arriving at Chess in 1950. Waters had racked up five Top 10 R&B hits for Chess before Dixon offered him "Hoochie Coochie Man," which was originally titled "(I'm Your) Hoochie Coochie Man." It became Waters' biggest American hit (No.3 on the R&B charts) and also, perhaps more significantly, put Willie Dixon on the map as a songwriter of note.
Listen to the evolution of "Hoochie Coochie Man" on Spotify.
The musical bedrock of the song is its tense, swaggering, stop-start monolithic guitar riff (doubled by Little Walter's plaintive harmonica), a component later absorbed into rock music in the 60s and which quickly became a fundamental part of its DNA.
Like many of Dixon's songs, "Hoochie Coochie Man" bristles with a pent-up eroticism. The term "hoochie coochie" has its roots in a salacious 19th-century dance, as well as African-American slang words for alcohol and sex. Dixon makes "Hoochie Coochie Man" even more powerful by adding the notion of a gypsy prophecy and employing black-magic imagery derived from voodoo religion ("I got a black cat bone/I got a mojo too"). He also emphasizes the power and significance of superstition and luck, the latter represented by the use of the number seven in the song's third verse ("On the seventh hour/On the seventh day/On the seventh month/The seventh doctor say…").
Though Waters enjoyed R&B hits both before and after "Hoochie Coochie Man," none of them outsold it. As well as being the Mississippi singer's biggest-selling single, it also became his signature song and, perhaps because it was perceived as the record that encapsulated his earthy and distinctive style, he went on to record it numerous times during his career.
Muddy Waters - Hoochie Coochie Man (Live)
The missing link between Delta blues and rock'n'roll, "Hoochie Coochie Man"'s sound and structure quickly permeated popular music. In 1955, Bo Diddley recycled the main riff and used virtually the same vocal melody (though gave it new lyrics) and presented it as his own composition, "I'm A Man," which ironically outsold "Hoochie Coochie Man" and topped the US R&B charts. Rock'n'roll songwriters/producers Jerry Leiber & Mike Stoller also filched "Hoochie Coochie Man"'s riff for The Robins' hit "Riot In Cell Block No.9."
With a resurgence of interest in blues and folk music in both Europe and the US in the 60s, cover versions of "Hoochie Coochie Man" began to proliferate. One of the earliest came in 1962, from the UK, when Alexis Korner's Blues Incorporated got their hands on it. Two years later, pop group Manfred Mann recorded the song on their debut LP, The Five Faces Of Manfred Mann. Also in Britain, The Graham Bond Organisation (with future Cream members Jack Bruce and Ginger Baker assisting organist, Graham Bond) used it as the lead cut on their 1965 album of the same name.
Another, more famous, Hammond organist was Jimmy Smith, who cut a souped-up jazz version of the song in 1966, and, a year later, Chuck Berry – who was at Chess with Muddy Waters in the 50s – recorded a smoking live version reconfigured to reflect his own inimitable style. That same year, The Jimi Hendrix Experience offered up a supercharged rendering for a BBC radio session. but one of the best takes on "Hoochie Coochie Man" in the 60s came from counterculture darlings Steppenwolf, a Canadian rock group who are best remembered for their epoch-defining hit "Born To Be Wild." Their version of Willie Dixon's song boasts a hard-as-granite riff, feedback-ridden lead guitar, and growling vocals.
Arguably the most notable version of "Hoochie Coochie Man" in the 70s came from those pioneers of Southern blues-rock, The Allman Brothers Band, on their Idlewild South LP, where they served up a high-octane version featuring incendiary slide guitar from Duane Allman.
Around the same time, Chicago blues guitar master Buddy Guy served up his own stripped-back acoustic version of the Willie Dixon song on the album Buddy And The Juniors (which was a collaboration with harmonica blower Junior Wells and pianist Junior Mance).
[I'm Your] Hoochie Coochie Man
Also in the early 70s, proto-punks New York Dolls recorded a version of "Hoochie Coochie Man" (though it wasn't released until 1992), which was distinguished by Johnny Thunders' thrashing power chords and David Johansson's stentorian vocals and wild harmonica. A different perspective of the song was offered by soulful New Orleans singer Skip Easterling, whose mellow version, with its dancing flute and soft horn parts, melds blues with jazz-infused funk.
Much, much heavier was rock trio Motörhead's seismic rendition from 1983, where Brian Robertson's screaming axe counterpoints the late Lemmy Kilmister's strangulated vocals.
In the 90s, notable versions have come from ex-Free and Bad Company singer Paul Rodgers; Eric Clapton, who decided to revisit his blues roots when he recorded "Hoochie Coochie Man" on his 1994 album From The Cradle; and Etta James, who recorded it under the title "Hoochie Coochie Gal," in 1998.
In recent years, there have been contemporary versions by the late blues rocker Jeff Healey and the large-lunged Karen Lovely (whose striking version was subtitled "Hoochie Coochie Woman"), while, in 2016, a previously unheard live version by blues aficionados The Doors, recorded 50 years earlier, surfaced for the first time on the vinyl box set London Fog.
"Hoochie Coochie Man" has also been sampled in the hip-hop age – most notably by Big Daddy Kane, who borrowed a section from Willie Dixon's 1970 version of the song for his track "Somebody's Been Sleeping In My Bed." Elsewhere, Muddy Waters' original 45 was sampled by Spanish rappers Def Con Dos (on their 1993 track "Toponoto Blues") and Rapsusklei (on his 2010 song "Nací Para").
Well over half a century since it was first recorded, "Hoochie Coochie Man" shows no sign of losing its popularity, and is rightly regarded as a major building block in not only blues, but rock and pop music as well.