Best Power Ballads: 25 Lighters-In-The-Air Classics
From the hardest rock bands to the pop savants, the best power ballads transcend time and genre to pull at your heartstrings.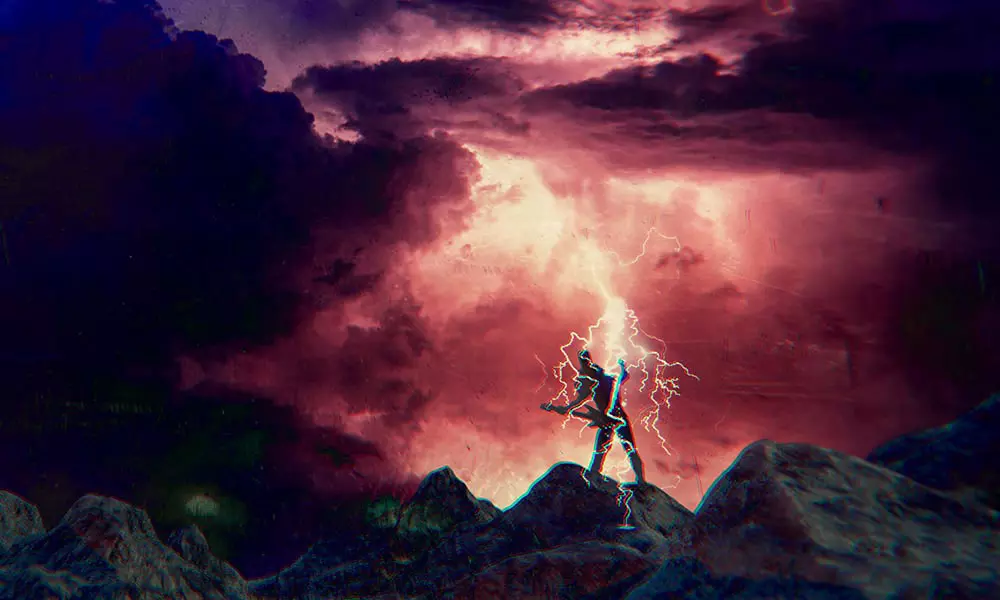 Ah, the power ballad: 80s radio – and most of our love lives – would have been a lot less colourful without it. This list of the 25 best power ballads drawn mainly from that era, but we've also included a few earlier songs that laid the groundwork. If you put these all on a playlist, you've got the best two hours of slow dancing you'll ever enjoy.
Best Power Ballads: 25 Lighters-In-The-Air Classics
25: Styx: 'Lady'
Styx's first hit sounds like The Hollies with delusions of grandeur – and we mean that as a compliment. Far more majestic than their later ballad hits, even if Dennis DeYoung does manage to turn "all" (as in "all-a-lll your love") into a three-syllable word.
24: Motörhead: 'I Ain't No Nice Guy'
Ozzy Osbourne turns up on this duet with Motörhead's Lemmy, a tongue-in-cheek confessional song that's by far the funniest power ballad on this list. Both sing of their heartfelt desire to be known as nice guys, before realising they had zero chance of pulling it off. Kinda gets you right here.
23: Ozzy Osbourne: 'Goodbye To Romance'
This power ballad was a key track on Ozzy's solo debut album, Blizzard Of Ozz, and was light years away from Black Sabbath. More than anything else, it sounds like Ozzy getting The Beatles out of his system, since he never made a secret of his love for the Fab Four. While the song was reportedly about Ozzy bidding goodbye to his band, you better believe it's been drunkenly serenaded to many a past lover.
22: Whitesnake: 'Here I Go Again'
'Here I Go Again' just edges in as one of the best power ballads, since it rocks pretty well once the band kicks in. But David Coverdale gets to emote for a full minute before that happens, and this tune did a lot to launch the power ballads trend. After all, if a guy who once sang for Deep Purple could have a ballad hit, anybody could. Just hearing the chorus conjures up images of Tawny Kitaen doing car-top cartwheels.
21: Poison: 'Every Rose Has Its Thorn'
One of the great ironies of the Los Angeles metal heyday was that the most hellraising bands had to have the most sensitive power ballads. And it's doubly ironic that Poison, a band whose bad-boy image could give Mötley Crüe a run for its money, is now remembered largely for this surprising bit of gentleness.
20: Bon Jovi: 'Never Say Goodbye'
Few songs have ever tried so hard to be that last slow dance you play at your high-school graduation party. 'Never Say Goodbye' sounds like an outlier on the otherwise hard rock fare of Slippery When Wet; the lyrics get all the coming-of-age references just right and, when he's emoting like this, Jon Bon Jovi is just the guy you want to take it home.
19: Night Ranger: 'Sister Christian'
This one-shot hit did everything the best power ballads should do: it made everyday struggles sound huge and heroic. At its heart, this is a song that Night Ranger drummer Kelly Keagy wrote about his younger sister's coming of age, so its support for a female character is unique in this genre. Her name was actually Christy, but making it Christian added to the song's mythos. If her name was Gladys it surely wouldn't have been the same.
18: Asia: 'The Smile Has Left Your Eyes'
Commercial though they were, Asia still marked the late John Wetton's peak as a singer and songwriter, and it was ultimately his vocals that made their breakthrough. Their one ballad hit is a bit of an oddity, however, since Wetton sounds like he's doing his best to be Greg Lake. So it makes perfect sense that Lake really did sing the song, when he briefly took Wetton's place in the band in 1983.
17: Meat Loaf: 'I'd Do Anything For Love (But I Won't Do That)'
At over 12 minutes, this is as "over the top" as it gets, with the grandiosity and wordplay that's a trademark collaboration between Meat Loaf and songwriter Jim Steinman. The song from the 16-times platinum-selling Bat Out Of Hell II, and its accompanying video (directed by Michael Bay, no less!), prompted an unseemly amount of speculation over what Meat Loaf wouldn't do, even though the answer is right there in the lyric.
16: The Moody Blues: 'Your Wildest Dreams' and 'I Know You're Out There Somewhere'
The Moodies arguably helped create the power ballad with 'Nights In White Satin' back in1967, but they mastered the 80s trend on these two tracks, which made a romantic lead out of the frontman Justin Hayward. Though originally released on different albums, the songs are forever linked thanks to their connected videos. Together they created the MTV era's greatest romantic tearjerkers.
15: KISS: 'Beth'
When in doubt, write what you know: KISS' first sensitive moment came from the need to explain to one's girlfriend that an all-night rehearsal wasn't winding down anytime soon. For all the sighing strings, you know they were having more fun than the lyrics lets on.
14: Journey: 'Faithfully'
Yes, there are some far more obvious Journey songs we could pick, but 'Faithfully' has one of Steve Perry's most effective vocals, plus a touching lyric about trying to keep love alive when you're a rocker on the road. Extra points for writer Jonathan Cain's oft-told story that Prince asked him permission to use the same chord progression in 'Purple Rain'.
13: The Cars: 'Drive'
True to form, The Cars added a bit of cerebral intrigue to their classic power ballad; this one's really about the singer's attraction to a self-destructive woman. The lush soundscape (thanks to co-producer Mutt Lange) is darkly seductive, while the song proves what a great singer Ben Orr was – and what the best power ballads are made of.
12: Def Leppard: 'Love Bites'
Since Def Leppard's 'Love Bites' (with producer Mutt Lange again) embodied all the grand excess of 80s production and notched them their only No.1 on the Billboard Hot 100, it's surprising that they didn't do more power ballads. Or maybe they just got it right on this six-minute track off their seminal album Hysteria, which doesn't shy away from the innuendo of the title.
11: Boston: 'Amanda'
From the nearly-lost classic that is Boston's Third Stage album, 'Amanda' manages to use the words "I love you" in the chorus without sounding trite. The key line from the lyric is "I'm gonna say it like a man," so it's about growing into a relationship, summing up the whole theme of the album it opens.
10: Nazareth: 'Love Hurts'
Plenty of classic songs have been reinvented as power ballads, but this is one of the rare cases where the grandiose arena-rock version gets to the heart of the song better than the understated original (by no less than The Everly Brothers, in this case).
9: Yes: 'If Only You Knew'
It took most of their career for the prog kings to get around to a classic-model power ballad, but they nailed it on this one, with Jon Anderson's unusually straightforward lyrics getting an assist from some of the loveliest late-period Yes harmonies.
8: Genesis: 'Throwing It All Away'
Genesis' most commercial hits were never all that far from their prog roots. One of the best power ballads the group wrote, 'Throwing It All Away' has a sublime melody (courtesy of Mike Rutherford) that stands with their best, while Phil Collins' vocal is more understated than his norm at that time.
7: Aerosmith: 'Dream On'
'Dream On' is the song that started Aerosmith's career and, to some extent, birthed the power-ballad genre. It goes beyond the usual romantic themes to touch on youthful dreams and angst. Their many later power-ballad efforts don't even get close to the triumph of this one.
6: Humble Pie: 'Live With Me'
This soulful gem might have topped our list if only it had become a monster hit, which is usually a requisite for the best power ballads. But no rock frontman ever sang better than Humble Pie's Steve Marriott on these eight minutes of intensity: a song that builds to an ecstatic peak not once but three times.
5: Chicago: 'You're The Inspiration
Yes, even Chicago's best power ballads can get formulaic, but this one transcends the formula. The gospel feel helps, but the song's secret weapon is that brilliant chord change at "wanna have you near me".
4: Foreigner: 'I Want To Know What Love Is'
Foreigner's 1984 hit is as close a pop ballad ever get to gospel testifying, with a soul-tearing vocal from Lou Gramm. The song doesn't even need its great chorus, that "change this looonely life" delivery is enough of a payoff.
3: Prince: 'Purple Rain'
Prince, of course, wouldn't settle for a simple love-song lyric: his epic ballad is mythic, cathartic and otherworldly… and that's just the guitar solo. Too bad that it's running the risk of becoming the only Prince song that classic-rock radio is willing to play.
2: Heart: 'Alone'
Heart's more commercial period gets relatively little love, but 'Alone' may be the definitive power ballad, not to mention the performance of Ann Wilson's life. Over-the-top emotive? Check. Unforgettable hook? Check. Responsible for hundreds of impulsive hook-ups? Undoubtedly.
1: Guns N' Roses: 'November Rain'
In the middle of a two albums full of outlaw rock, Axl Rose tapped into his sensitive side. During the Use Your Illusion era, Guns N' Roses were the most ambitious band in rock, and here they set out to create the ultimate power ballad – and succeeded. Hear the original piano and vocal demo from 1986, when Axl was still cooking up one of the best power ballads of all time.
Format:
UK English