10 Bands Keeping The Spirit Of Rock Alive
Whether they're unapologetic in their politics, deploying shredding solos or rolling with swagger, here are a few bands keeping rock alive.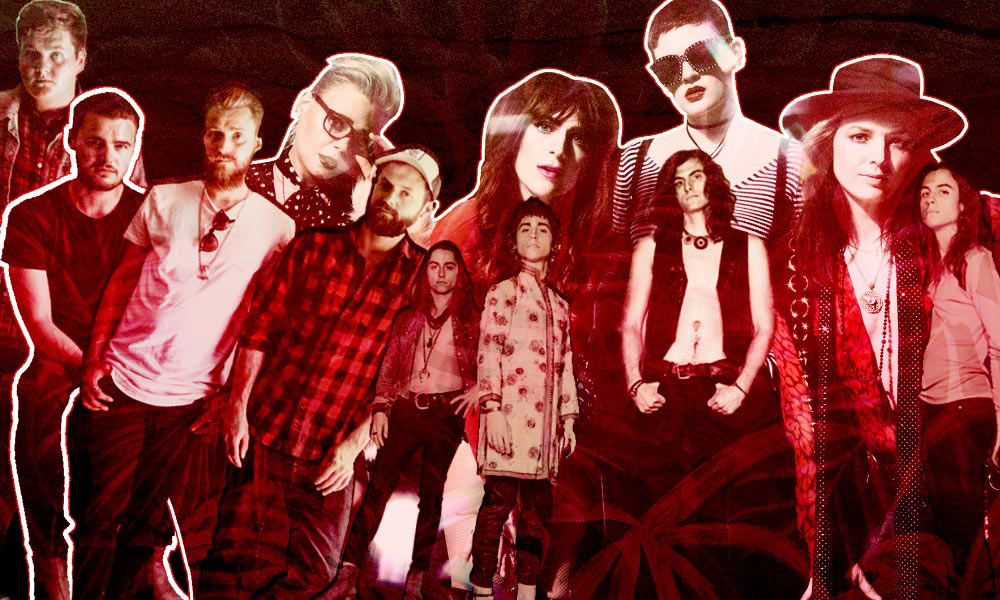 For the better part of the past few decades, naysayers have written off rock music, saying that the genre is dead. It may not be as prominent as it was during its formative years, but there remains a strong, vital scene with a number of bands keeping rock alive. While rock'n'roll may not be the dominate cultural force it once was, plenty of rock bands top the billings at many biggest mainstream festivals.
Here are 10 bands keeping rock alive.
10: Thunderpussy
Hailing from the traditional hard rock hotbed of Seattle, Thunderpussy are one of the rare bands that match the shock value of their name with a killer sound. Loud, with ferocious riffs and unapologetic feminist themes, this power quartet are a throwback in a good way. Not many contemporary rock bands are willing to take a deep dive into heavy music that doesn't directly court mainstream music fans, yet these four women have not only managed to do exactly that, but they've earned plaudits for their approach. With a bold voice and a sharp vision, don't be surprised to see Thunderpussy headlining big shows in the not-so-distant future.
9: Shannon And The Clams
Wearing their vintage influences very much on their sleeve, this indie garage punk outfit out of Oakland, California has developed a cult following for their spunky mix of 50s doo-wop, 80s punk and surf rock in between. What sets them apart from a groundswell of garage-rock revivalists is their anthemic sing-alongs and the inimitable vocals of frontwoman and bassist Shannon Shaw. The band raised their profile, after Dan Auerbach of The Black Keys produced their album and added them as the Key's opening act, putting them on the national stage.
8: The Interrupters
This Los Angeles outfit makes a compelling case for another SoCal ska revival. While garage rock and glam are having another day in the sun, this power quartet is bringing ska-punk back to the charts, cracking both Billboard's Rock and Adult Alternative charts respectively. Leading the charge is their high-wire singer Aimee Interrupter, who when she's not channelling Pauline Black of the Selector, she's commanding the stage with her fiery pipes. If they sound reminiscent of Rancid it's not by accident, since their mentor and album producer is none other than Rancid's Tim Armstrong.
7: Anti-Flag
Not to be confused with Black Flag, these Pittsburgh punk rockers have long been favourites for their politically-charged music. With their lyrics focusing on activist and progressive topics (in particular anti-war and anti-capitalist themes, class struggles and human rights) the band's brand of melodic hardcore has won them a devoted fan base that respects them for their authenticity. Unlike other longtime punk bands that have pivoted away from the genre in recent years, Anti-Flag continue to plough ahead with their trademark buzzsaw guitars and songs that stay true to their leftist spirit.
6: Broken Witt Rebels
There aren't many UK bands keeping rock alive, but this Birmingham quintet stand out from the slew of retro-rock bands by drawing on the blues-rock sound of its pioneers (Chuck Berry and Muddy Waters) and adding in unexpected elements of Southern and country rock. It doesn't hurt that Broken Witt Rebels' frontman, Danny Core, sounds like he's lived several lifetimes, and the band knows how to write a catchy riff. Even when they dip into wailing rock territory, BWR never lose their soulful spirit.
5: The Shrine
This Venice-based act appeals to heshers and skate punks alike, the sonic love child of Black Sabbath and Black Flag, but don't confuse them for a revivalist act. Since their 2012 debut Primitive Blast, they've taken all the elements of punk, hard rock, and heavy metal to create new riffage for another generation and have been ripping up the festival circuit including Hellfest, Download and Ozzfest Meets Knotfest. With a self-described sound as "psychedelic violence", these-scuzzy rockers are disrupting the rock scene in all the right ways.
4: Black Label Society
With Zakk Wylde at the helm, Black Label Society has the instant credibility that many of their peers crave. The outfit, led by the iconic guitarist who cut his teeth shredding for Ozzy Osbourne, continues to be one of the best hard rock and metal bands keeping rock alive. Despite a number of line-up changes and after two decades of playing together, Black Label Society continue to be one of the most consistent bands in hard rock. As Wylde told Billboard, "That's why I had pictures of Jimmy Page up on the wall and I still do. You never want to lose that feeling of being 15 when everything's larger than life and it's magical. Once that flame goes out, it's not good."
3: Tyler Bryant And The Shakedown
This Texas native is the latest in a longline of blues-inspired rockers from the Lone Star State. Having first picked up an electric guitar when he was 11, the 27-year-old Tyler Bryant – who looks the part of a gangly 70s rocker – and his backing band The Shakedowns blend heavy modern rock with elements of classic rock to produce a sound that's earned the respect of many in the rock community. Bryant's heavy take on the blues has earned him a spot on Eric Clapton's Crossroads Festival and he's also performed with ZZ Top. Despite having only two studio albums to their name, the future is very bright for this skilled songwriter and his dynamic band.
2: Greta Van Fleet
Howling vocals with amazing range, gut-busting drumming and ridiculous shredding… that describes Led Zeppelin, right? Well, it does, but it's also an apt description for rising blues- and hard-rockers Greta Van Fleet. Upon first listen, it's hard to believe that this group of three brothers and a friend from Michigan aren't Led Zeppelin. Yet, the quartet seems to have channelled the legacy, spirit and overall aura of Robert Plant, Jimmy Page, John Paul Jones and John Bonham, which isn't easy. But not only do they pull it off, they do it with the bravado that's won them many new fans and has built anticipation ahead of their debut full-length album.
1: The Struts
Since their arrival on the scene in 2014, The Struts have embodied the spirit and theatrics of rock'n'roll – especially the UK glam rockers who came before them: T.Rex, The Sweet and Queen, to name a few. Following their debut, The Struts made quick work of achieving rock supremacy, opening for The Rolling Stones, recording with Mike Oldfield and touring with Guns N' Roses. While their electric live sets sold out within minutes in the US, the band is still primed for stardom in their native UK. Pairing androgynous glam aesthetics with arena rock, it's no wonder Foo Fighters' Dave Grohl called them the "best opening band we've ever had".
Looking for more? Discover the 10 Best Power Trios In Rock.
Format:
UK English