"It's Just Beginning": Molly Sides On Thunderpussy's Storming Year
After an acclaimed debut and a whirlwind year on the road, the four-piece are out to prove they're more than a "one album and bye" band.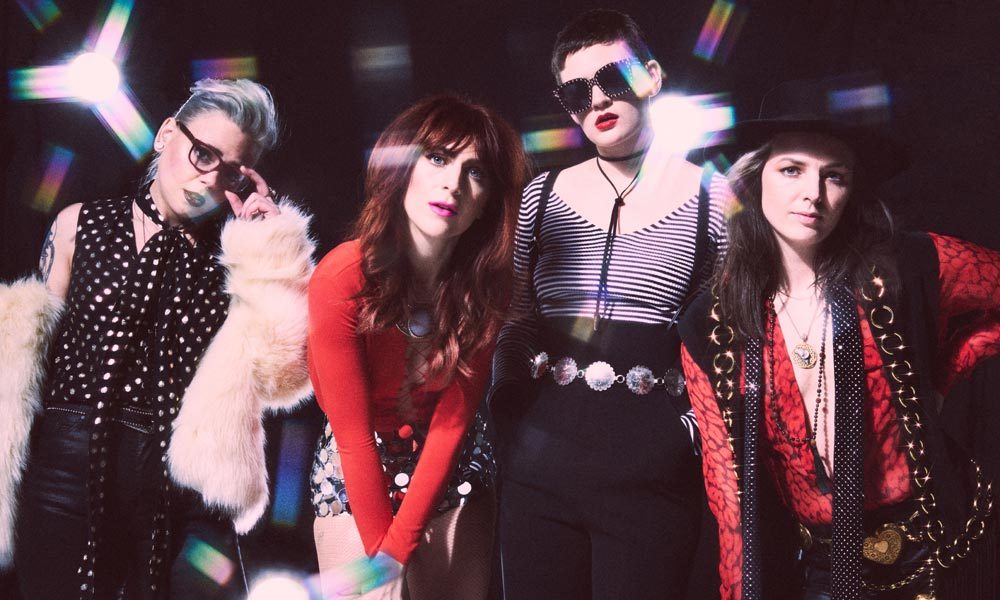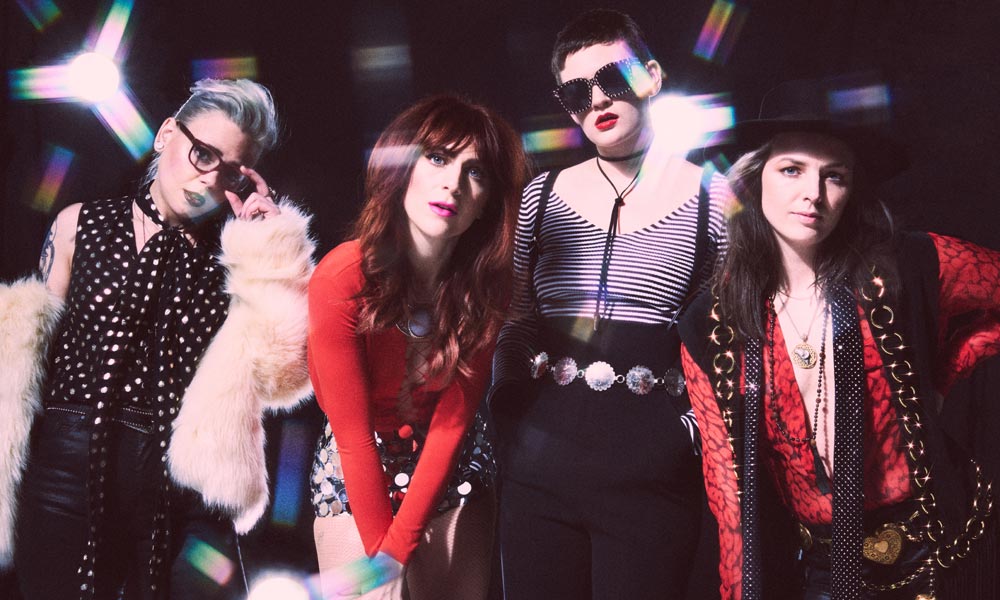 After releasing their acclaimed debut album on 25 May 2018 and a whirlwind year on the road, Thunderpussy are out to prove they're more than a "one album and bye" band. The group has fought for free speech in the Supreme Court, covered Jefferson Airplane and now will headline their first tour this summer, it's never been a better time to be Thunderpussy.
Listen to Thunderpussy right now.
"It was meant to be"
Comprising of Molly Sides (vocals), Whitney Petty (guitar), Leah Julius (bass) and Ruby Dunphy (drums), and formed in 2014, in Sides and Petty's living room, Thunderpussy's band name didn't come from some elaborate brainstorming session. Instead, Sides says, it was on the tip of Petty's tongue.
"Whitney and I were working on this [music] for a long time," Sides tells uDiscover Music over the phone from Seattle. "One day, I was back home in Idaho and I got a phone call from her saying, 'Babe, what do you think about Thunderpussy?' I was like, 'That was it!' She said she was kidding and asked if I was sure. I knew that was the one. It actually came from a friend of hers that they joked about a long time ago, but it was kind of meant to be."
Though they've garnered a following in their Pacific Northwest base, Thunderpussy are steadily gaining traction with audiences across the country. It's simple – upon first, second and third listen – to understand why they've been favourably compared to bands of the hard-rocking 70s. Being a rock band, especially now, when other genres dominate mainstream radio, makes it difficult to succeed unless a group has a killer live show or an endorsement from a reputable source. Thunderpussy have both.
On the strength of their local popularity, Thunderpussy were booked several times at the now-defunct Sasquatch! Music Festival a few hours east in George, Washington. By chance, their 2016 set was watched by Pearl Jam lead guitarist Mike McCready. Intrigued by the band's energetic performance, McCready greeted them when they got offstage ("None of us knew who he was!"), and, to their surprise, invited them to a van backstage where he was sporadically interviewing bands. Often, ending up in a van with a person you just met could spell trouble. Instead, it introduced Thunderpussy to a new friend and an important supporter.
"He's become such an incredible friend," the singer says. "And I would say family. One thing that I've definitely learned from Mike is don't overthink things and it's more about the feeling than the part. He has the most incredible energy and is definitely more about the feeling than the part. He's an exceptional human."
After releasing a single in conjunction with McCready's HockeyTalkter Records, Thunderpussy inked a deal with Stardog Records in late 2017. The label was originally started in the late 80s by Mother Love Bone, before relaunching in 2016 as a subsidiary of Republic Records. Thunderpussy became the first new band to sign to the label.
"We've finally unleashed this beautiful beast into the world"
With the industry no longer solely relying on rock music to fuel its bottom line, there hasn't been pressure for Thunderpussy to churn out throwaway hits, so they can focus on songwriting and taking their explosive live show on the road.
"I think that's been the most exciting part about this album," Sides says. "We've finally unleashed this beautiful beast into the world. One, our priority is to perform and obviously make great music, but we want to share it with as many people as we can."
Following the release of their-self-titled album  – which was recorded two years prior and produced by Sylvia Massy – Thunderpussy spent most of 2018 and 2019 on the road, which included a slew of high-profile festival appearances at Austin City Limits and the Foo Fighters-curated CalJam. They also spent a few weeks at the end of October and early November opening for The Struts. As they've continued to tour, momentum has steadily been building around their full-length LP.
"People are getting to know [the album] and that's the beauty of touring for people who haven't heard of us yet," Sides says. "Going to these places that you've never been before and hearing people say, 'We've never heard of you and you're awesome!' And, 'I can't wait to buy your record!' That's been the most exciting part. Inspiration is all around."
Even with their relentless schedule, Sides says that she's been busy at work on new material and writes all the time. She says she finds inspiration on the road, and flying, in particular, allows her to sharply focus her writing. In early November, Sides and Petty appeared on a new track with McCready for the teen drama Sadie.
"To be honest, I feel like it's been pretty manageable," she says of the band's busy year. "Even though it feels fast and crazy at times, I feel like we're on a slow ride – the beginnings of the rollercoaster. I don't think we've peaked. We're rearing to go."
Sides says that Thunderpussy is heading back into the studio in Seattle to lay down new tracks from the material she's been working on for the past months. The singer says it's time for the band to turn their ideas into actual recorded songs.
"That's where the pieces come together"
"It's different when it's in your head and on paper and it's an idea," she says. "But when you're able to actually let loose in a studio and share it with everybody, that's when it really blossoms. It's exciting because we get to experiment in ways we don't get to necessarily on the stage."
The group has songs that they recorded for their debut that didn't make the first album, and a slew of new ones that they've been writing.
As much as they enjoy banging out tracks in a studio, the thing that sets Thunderpussy apart from their peers and would-be contemporaries is their live show. Having a strong work ethic and being open to touring and its experiences has made the quartet a better, more seasoned band.
"That's where the pieces come together," Sides says of the band's live show. "The spontaneity on the stage is the most exciting, and we don't want people to think we've got one album and bye. We've got so much more to do that we still haven't done. It's just beginning."
Thunderpussy can be bought here.
Format:
UK English