Beck
His major-label breakthrough disc Mellow Gold revisited an early cut called "Loser" whose bittersweet bleakness coupled to a joyously willful refrain made Beck an instant star for the so-called Gen X tribes.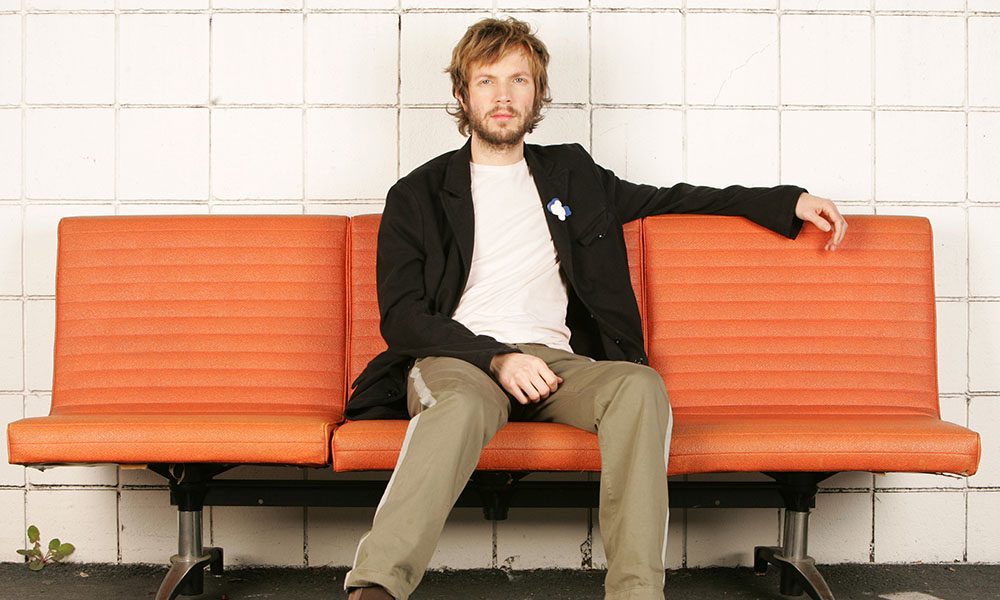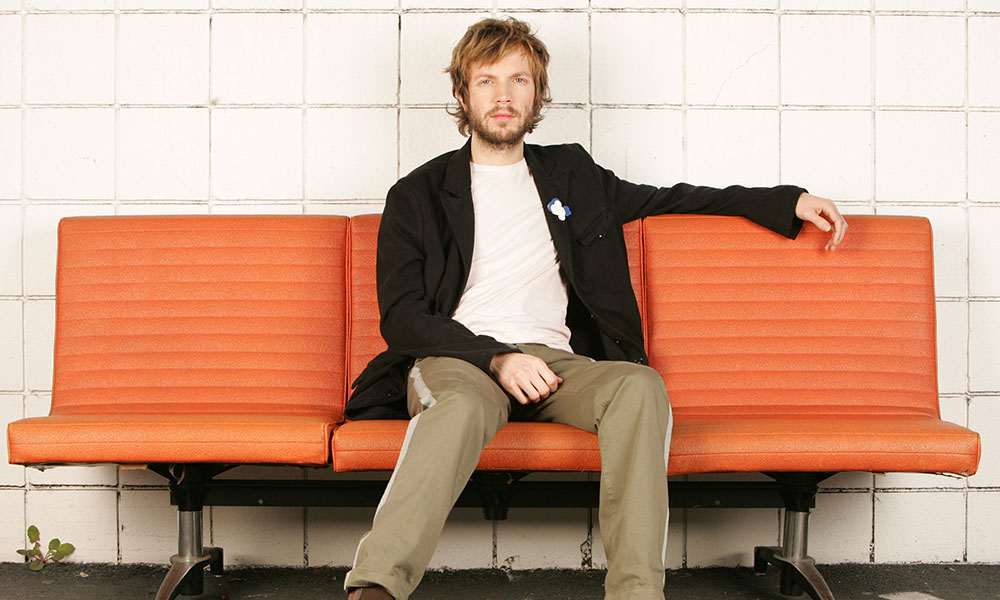 Not so much a product of the modern rock era, more a cornerstone in its development the artist known as Beck has been active since 1993 when his independently released Golden Feelings became a byword for quality and swept like a bushfire through the Californian underground. His major-label breakthrough disc Mellow Gold revisited an early cut called "Loser" whose bittersweet bleakness coupled to a joyously willful refrain made Beck an instant star for the so-called Gen X tribes, although knowing this man it's likely he was standing outside looking in rather than firing off an autobiographical missive, even though he insists the gleeful pay-off line "So why don't you kill me" references his own naïve attempts at rapping while fusing a hip-hop beat to a folk-blues strum. Whatever he has captured the zeitgeist ever since with the albums One Foot in the Grave and Odelay acting as a blood rush of novel pop, side glancing rock and multi-instrumental prowess that has seen him team up with everyone from Willie Nelson to Cat Power, Dave Eggers and Danger Mouse. The Flaming Lips have been his backing band, that's how cool he is. He's a one-man catalyst.
Another of Beck's traits is the ability to maintain a certain mystique so that his fans find it easy to believe he performs only for them. He isn't quite part of the mainstream and releases when it's appropriate, rather than to fulfil the obligations of time and marketplace. Even so, he's recognised as an important maverick that has sold over 16 million albums worldwide and generated extraordinarily positive press with each new offering a genuinely exciting event. The perfect example of this is his album Morning Phase where Beck is reunited with many of the players who figured on his acclaimed 2002 disc Sea Change.
One of the contemporary masters of sampling and mixing, Beck is renowned for his wicked studio skills and has worked his magic on Björk, David Bowie, Seu Jorge, Thurston Moore of Sonic Youth and Stephen Malkmus and the Jicks. His impromptu Record Club ensemble has covered whole albums by Skip Spence, Yanni, The Velvet Underground & Nico and Leonard Cohen. Lucky for him he's in the position to entertain such wonderful idealism: lucky for us we are here to listen to the results.
Born Bek David Campbell it was evident that the stars were set for a career in the arts since father David is the highly respected Canadian-born musician who has worked on over 450 gold and platinum albums as arranger/composer and conductor while mother Bibbe Hansen is a former Andy Warhol starlet and latter-day musician herself. That didn't mean his early life was of the silver spoon in mouth variety since the family resided in a rooming house for a while. The boy's first inspiration was the blues, pure and simple – Son House, Leadbelly – and hip-hop, Latino and psychedelia. Folk blues and fingerpicking guitar stylists were another fascination and he cut his lyrical teeth backing his busking with improvised verses that stood him in good stead when he moved to New York City and hooked up with the anti-folk movement who congregated on the Lower East Side and somewhat self-consciously set about rewriting the rule book.
Returning to Los Angeles, Beck made home tape collections for fun if little profit but enjoyed a break when his song "Loser" and a work in progress throwaway called "MTV Makes Me Wanna Smoke Crack" were aired on Santa Monica's college radio station KCRW. An auspicious liaison with Calvin Johnson would see light as the One Foot in the Grave project by which time major labels sensed the kid was talented and he signed to Geffen in 1993, yet retained the right to record one-offs for independent outlets.
Typecast as a slacker spokesman Beck replied that he was hardly lazy since he'd work any $4 an hour job to make ends meet and with "Loser" entering the Top 40 his debut disc proper Mellow Gold confounded that perception for good. Stuffed full of goodies like "Pay No Mind (Snoozer)", "Beercan" and "Nitemare Hippy Girl" the album ripped through the media, won five-star A-plus reviews and sold over a million copies in months. Cynics fell out of the trees and acolytes began lining up to pay homage to this image-slinging folk-punk who didn't seem to care whether you liked him or not (but kinda knew you were going to anyway).
Off the back of Mellow Gold, the independent Stereopathetic Soulmanure set also sold well and One Foot in the Grave (1994) continued to finger Beck as a rising star even though it was actually recorded a year before. Check it out on the re-release where you find 16 additional tracks, 12 previously unavailable.
Still a cult figure really, Beck's fortunes took another upturn on Odelay. Teaming up with producers of the day The Dust Brothers the ensemble crunched out a lo-fi masterpiece with hip-hop funk colourations and a side order of psych-rock. The whole thing is essential but consider some of the parts: "Where It's At", the epic "Devil's Haircut", "The New Pollution" and "Sissyneck" make this a kind of underground Thriller. Samples are from Sly & The Family Stone, Bernard Purdie, Them via Bob Dylan; mixes are from Mickey Petralia most often and Noel Gallagher on occasion. This album is definitely where it's at; even the Beck directed videos were cleaning up. This remains Beck's most successful album to date and is well-loved by British audiences who made it turn platinum.
Mutations (1998) won him the Grammy for Best Alternative Album, although most eclectic is a far better description. After some traumatic personal times, including the death of his grandfather Al during the making of Odelay, Beck returned in chipper mood for "Tropicalia" but didn't hide a darker, introverted mood on "Nobody's Fault But Mine" (later covered by Marianne Faithfull with Beck producing) and "Cold Brains", a wondrous power-pop work out with Roger Manning, Jr, Joey Waronker and Justin Meldal-Johnsen underpinning the riffs like some new Hollywood royalty.
In keeping with his status, the excellent Midnite Vultures makes full use of the session resources open to Beck: his father David provides arrangements while the guests range from Johnny Marr and pedal steel virtuosi Greg Leisz and Jay Dee Manning to the great banjo man Herb Pederson. Embracing strains of country rock, Bowie, Prince and Kraftwerk might not seem the most obvious way to follow Odelay's alt.funk but new directions are still pursued for those who care to listen and the cuts "Sexx Laws", "Nicotine & Gravy" and the slinky "Debra" are bang on the Beck-o-meter.
Sea Change is partially so-called because during recording it became apparent that Beck's vocal range had deepened considerably allowing him a far wider sonorous attack. Anyone concerned that the sampling, turntable magician had disappeared needn't really have done because while the songwriting is necessarily grown-up (he's gone past the 30 is a dangerous age mark, after all) the simple, emotional approach to such gems as "Guess I'm Doing Fine" and "Lost Cause" are matched to the organic musicianship. Besides country Beck is no bad thing.
Guero reunited Beck with the Dust Brothers and found a space for Jack White's bass on "Got it Alone". Something of a sleeper outside of alternative circles, Beck purists reclaimed their man and marvelled at his use of vintage soul sampling from Ohio Players and Love Unlimited on the Philly funked-up "Hell Yes" where Christina Ricci adds spoken word.
"Earthquake Weather" and "Black Tambourine" are equally special and the feeling is that Guero is a few years ahead of its time since it's been name-checked by Black Keys and White as a firm favourite. We recommend it and also point you towards Geurolito, the complete remix shebang, where the songs are given fresh legs and the new technology is embraced.
Information does just that. Available as the original and in a Deluxe 3-CD set with customisable artwork stickers, this all has the combo of quirky Beck-ness allied to a futuristic identity that crops up on the double meaning of "Cellphone's Dead" and the downright end of the world spook song "Nausea" where the Stooges of "1969" meet some alien catastrophe on a video set and nothing makes much sense.
Dysfunctional reality is steadily creeping in and the "Timebomb" single prepares the way for the Modern Guilt album (2008) whose tracks "Chemtrails" and "Gamma Ray" doesn't shy away from doomy surf pronouncements about the apocalypse with production from Danger Mouse that might make uneasy listening for some.
No such worries about the triple-Grammy-winning Morning Phase where father and son collaborate on all the orchestral arrangements and there is a matching poignancy to the material. "Blue Moon" and "Waking Light" are some of his best work for a while – literally, considering the six-year gap between albums – and betoken an artist who might have begun paying homage (albeit elliptically) to the rock greats of the past but who now stands revealed as their equal. Not to say that the sea change is complete, it just sounds like the best is yet to come. Judging by single releases 'Wow' and  'Dreams' – other new songs are the poppy 'Up All Night', '7th Heaven', 'Dear Life' and the techno maze issues addressed in 'No Distraction' it should be a lucky 13th album.
Max Bell
Format:
UK English