James
James are a Manchester indie pop band whose career has spanned more than 30 years and are best known for their classic single 'Sit Down'.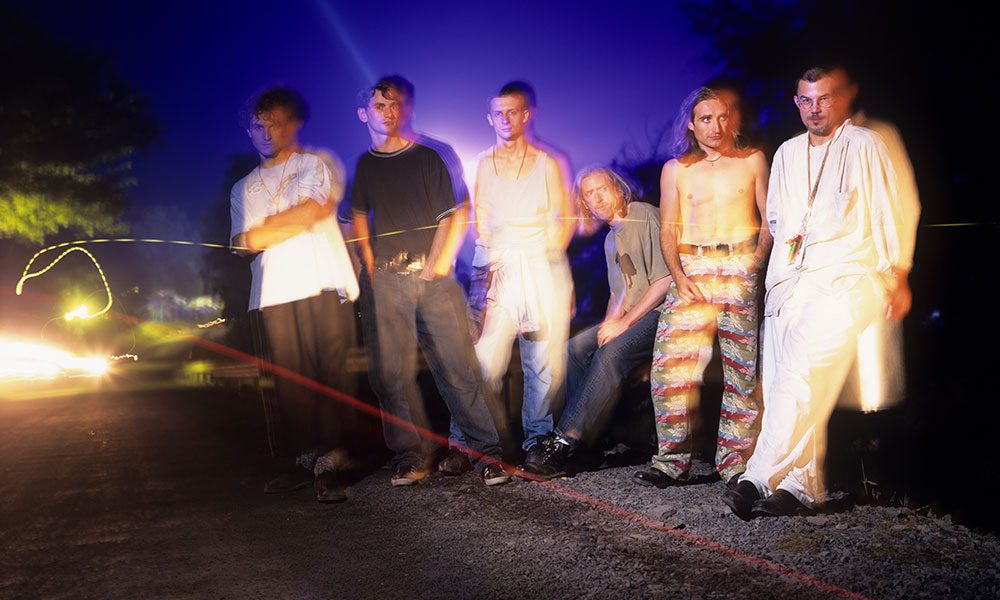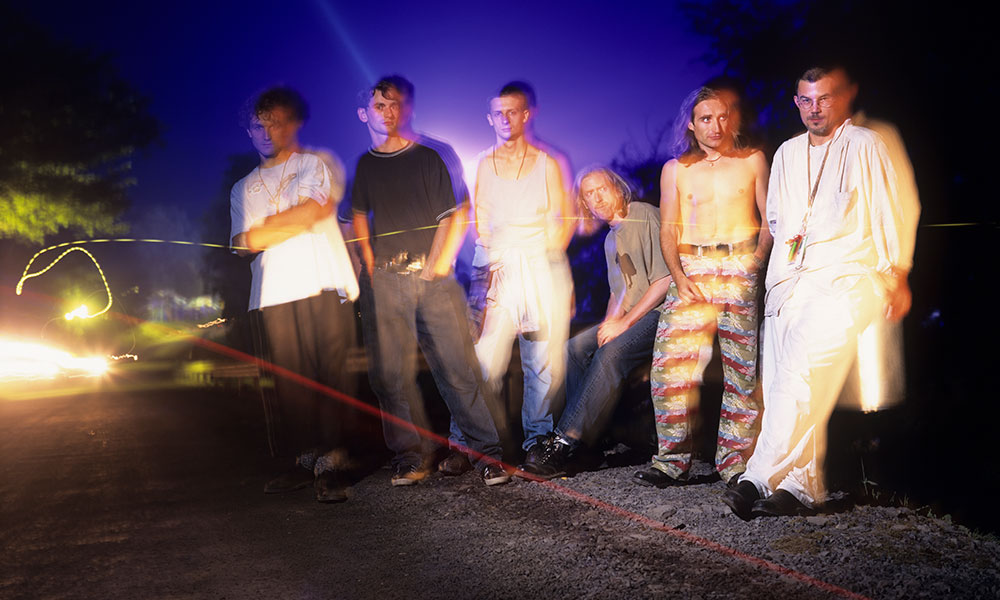 They started out as Venereal & The Diseases and at one stage their t-shirt revenue vastly outstripped their record sales, yet James have gone on to sell over 25 million albums worldwide. They've outlived everything from acid house and the indie-dance revolution, through to grunge, Britpop and beyond, and they remain one of the most cherished and celebrated bands ever to emerge from Manchester.
Hailing from that city's insalubrious southside suburb of Whalley Range (later immortalised in 'Miserable Lie' from The Smiths' eponymous debut LP) the band was originally the collective brainchild of guitarist Paul Gilbertson, bassist Jim Glennie and drummer Gavan Whelan. For their rudimentary early shows, they called themselves the aforementioned Venereal & The Diseases and then (briefly) Volume Distortion but, by 1982, they'd adopted a new name, Model Team International. Shortly after, they recruited their new vocalist, Tim Booth, whose mesmeric dancefloor moves reputedly snared him the job even before his new bandmates realised he could sing.
The quartet's embryonic early rehearsals were chaotic affairs with songs of sorts gradually emerging from long, free-form jam sessions. The music became much more focused, however, after Gilbertson and Glennie started being tutored by their significantly more accomplished guitar-playing friend Larry Gott. Shortly after, Model Team International became simply James, and, in August 1982, they played their first gig at a venue called the 21 Club in Darwen, outside Manchester; the gig flyer declared that they were "James (not a poet)."
The fledgeling band got their next break when they supported New Order at Factory Records' new venue, The Haçienda, in Manchester's Whitworth Street: an event which was captured for posterity on Factory's A Factory Outing VHS video release. Suitably impressed by their performance, Factory label boss Tony Wilson asked James to again support New Order at Liverpool's State Ballroom in March 1983. Factory then released the band's first two EPs, November '83's Jimone and February '85's James II, the latter recorded after Paul Gilbertson had departed and Larry Gott had become James' de facto guitarist.
Later assembled and reissued as the Village Fire 12" EP, James' early Factory recordings created quite a buzz around the band. Jimone scooped the coveted Single Of The Week prize in UK rock weeklies NME and Sounds, while the NME gave the band a front cover feature to coincide with the release of James II. Further invaluable publicity followed when fellow Mancunians The Smiths (whose star was then very much in the ascendant) invited James to support on their UK tour following the release of their critically hailed second LP, Meat Is Murder, in February 1985.
Factory Records had hoped to release James' debut LP, but after a major-label bidding war enveloped the band, Sire Records emerged with their signatures and released James' debut LP, Stutter, on subsidiary label Blanco Y Negro in June 1986. Produced by Patti Smith guitarist Lenny Kaye, the LP was a spiky, invigorating record, with Booth's wild, whooping vocals cascading over the band's adventurous, folk-flecked indie-pop sound. Linear anthems may have been thin on the ground, but with long-term live favourites such as 'Johnny Yen' and 'Why So Close' among the record's frenetic sonic delights, Stutter seduced the critics and also cracked the UK Top 75, peaking at No.68.
Helmed by former Echo & The Bunnymen producer Hugh Jones, James' second LP, Strip-mine, endured a difficult pregnancy. Though the band had deliberately intended to fashion a more straight-ahead pop LP, their record company requested the record be remixed; 12 months elapsed between the recording sessions and the album's release in September 1988. Released with relatively scant promotion, Strip-mine still made it to No.90 on the UK chart, but while it's generally regarded as one of James' lesser works, it includes several excellent tracks, such as the jangly 'What For', the sprightly 'Fairground' and the infectious 'Are You Ready', all of which strongly hints at greater things to come.
The band's relationship with Sire was relatively rocky after Strip-mine and they negotiated their way out of their contract during 1989. Though financially strapped at this time, Booth and co's reputation as a live band was second to none and their range of highly popular t-shirts (which included designs involving flower petals and another with the group's name displayed as 'Ja-m-es') sold heavily in Manchester, helping to keep the band afloat during this transitional spell.
James' next release was a live LP, 1989's One Man Clapping, a 10,000-only limited edition live LP, released through the band's own One Man imprint in conjunction with Rough Trade. Culled from two spirited shows on the Strip-mine tour, the LP topped the UK independent chart, garnered a string of positive reviews and successfully renewed wider interest in James all over again.
Before the band began work on their next LP, however, their line-up changed radically. Drummer Gavan Whelan departed and, during the course of 1989, Booth, Glennie and Gott recruited keyboardist Mark Hunter, versatile multi-instrumentalist Saul Davies, drummer Dave Baynton-Power and ex-Pale Fountains/Diagram Brother's trumpeter Andy Diagram. James' new extended line-up proved its mettle live during '89 and released two radio-friendly singles, 'Sit Down' and 'Come Home', both of which cracked the UK independent Top 10 and tickled the lower reaches of the mainstream Top 100.
Rough Trade had originally intended to release James' third album, but the band's profile rose considerably during 1989 – a year when the UK indie scene underwent a dramatic sea change and embraced the nascent acid house revolution. With Manchester bands such as The Stone Roses and Happy Mondays (both of whom had previously supported James on tour) spearheading what the press dubbed the "Madchester" indie-dance scene, James' home town was suddenly an extremely cool place to be associated with.
The hype did the band little harm and, after a successful UK winter tour in 1989, James signed to Fontana Records, who issued their third LP, Gold Mother, in June 1990. Released at the height of Madchester, when local stars Happy Monday and Inspiral Carpets were selling out shows at Manchester's massive G-Mex Centre, the highly accessible gold-selling Gold Mother went to No.2 in the UK and yielded three Top 40 singles in 'Lose Control', the remixed 'Come Home' and the blissful 'How Was It For You?'
James were riding the crest of a wave in the early 90s. A sharper, remixed version of the already highly infectious 'Sit Down' shot to No.2 in the UK singles chart in March 1991, earning itself a silver disc and going on to become one of the 20 best-selling singles of the year. Hot on its heels came the band's fourth studio LP, Seven; issued by Fontana in February 1992 and charting at No.2, it earned the band another gold disc in the UK. Partially overseen by ex-Killing Joke bassist/hot-shot producer Youth, the album touted a robust, arena-friendly sound and again spawned a brace of hit singles, including the mesmeric 'Sound' and anthemic 'Born Of Frustration'.
In the aftermath of Seven's release, James toured the US for the first time and played a huge sell-out show in front of 30,000 people at Alton Towers theme park, broadcast by BBC Radio 1. Andy Diagram then quit before James returned to America for a high-profile acoustic tour supporting Neil Young; they then embarked on a fresh series of recording sessions with ex-Roxy Music mainstay/ambient pioneer Brian Eno.
The Eno sessions proved highly productive, eventually yielding enough material for two full LPs. The band's debut for Universal Music's Mercury imprint, the more traditionally song-based Laid was released in September 1993 to almost uniformly positive reviews. It rose to No.3 in the UK and helped break James in America, where it sold 60,000 copies and charted at No.72 on the Billboard 200. Though it spawned two upbeat Top 40 hits in 'Sometimes' and the openly risqué title track, Laid was largely a lot subtler and more atmospheric than its immediate predecessor, and included a brace of introspective beauties such as 'Out To Get You' and the affecting, piano-led 'Lullaby'.
Edited down from James' Can-esque studio jams during their sessions with Eno, the experimental Wah Wah was released in September '94. Considerably less accessible than the sublime Laid, it largely baffled the critics yet still rose to No.11 on the UK albums chart and spawned the Top 40 single 'Jam J', which reached No.24 as a double A-side alongside Laid's 'Say Something'.
Twenty years on, both albums have enjoyed a critical renaissance thanks to Universal Music's well-received 2015 4CD Laid/Wah Wah Super Deluxe reissue, but after Wah Wah's original release, James suffered some turbulence when guitarist Larry Gott handed in his notice. In response, James recruited ex-Sharkboy guitarist Adrian Oxaal and returned sounding revitalised with 1997's Whiplash, which charted in the UK Top 10, earnt the band a gold disc and bequeathed a fresh rash of hit 45s including the soaring 'She's A Star' and the aspirational 'Tomorrow'.
The band toured extensively following Whiplash's release, bringing in additional guitarist/backing vocalist Michael Kulas and earning a place on America's prestigious Lollapalooza tour. 1998 also proved to be a vintage year for James, with a series of sold-out tours and Mercury/Fontana releasing the UK chart-topping, double-platinum The Best Of greatest hits collection, which also featured two freshly recorded UK hits, 'Destiny Calling' and the world-weary 'Run Aground'.
Major commercial rewards appeared to be there for the taking for James on the cusp of the new millennium, yet despite yielding two UK Top 40 hits, 'I Know What I'm Here For' and 'Just Like Fred Astaire', 1999's smart, consistent Millionaires struggled outside of the UK, where it again charted at No.2 and went gold, selling a highly respectable 150,000 copies. Again produced by Brian Eno, 2001's Pleased To Meet You also featured stellar material, such as the uplifting 'Space' and icily stark ballad 'Alaskan Pipeline', but it surprisingly stalled at No.11 in the UK charts and proved to be the band's last album for six years.
James' contract with Mercury ended after Pleased To Meet You and, after an emotional tour culminating in a huge hometown gig at the Manchester Evening News Arena (recorded for a live CD and DVD entitled Getting Away With it…Live), Tim Booth quit the band. He released a solo LP, Bone, in 2004, but by early 2007 he had rejoined James, with the band's newly reconfigured line-up also welcoming back both Andy Diagram and Larry Gott, the latter coming back in place of Adrian Oxaal.
The band's first post-reformation tour, in April 2007, was a sell-out jaunt that coincided with Mercury's updated greatest hits collection Fresh As A Daisy: The Singles, which returned the band to the UK Top 20 and earned them yet another silver disc. James have remained on reliably consistent form ever since. Their fully-fledged comeback, 2008's energised Hey Ma, peaked at No.10 on the UK chart, followed by two mini-LPs in 2010, The Night Before and The Morning After, which were sold separately in the UK but packaged as a double-disc set for the US market.
Going from strength to strength, James' 11th full-length LP, the polished La Petit Mort, was released through BMG Chrysalis/Cooking Vinyl in June 2014, and again featured a brace of classic, idiosyncratic anthems such as 'Moving On', 'Frozen Britain' and the epic, seven-minute 'Walk Like You'. Despite being influenced by the death of Tim Booth's mother, and its title reading as a literal translation of "the little death", La Petit Mort is actually one of this rejuvenated band's most consistently life-affirming records. It also demonstrates that, after three highly eventful decades, James still have absolutely no intention of sitting down – or even thinking of trading on past glories.
Format:
UK English