19 Surprising Things That Sting And Shaggy Have In Common
The Sting and Shaggy collaboration '44/876' might have taken many by surprise, but the rock icon and reggae legend have more in common than you think.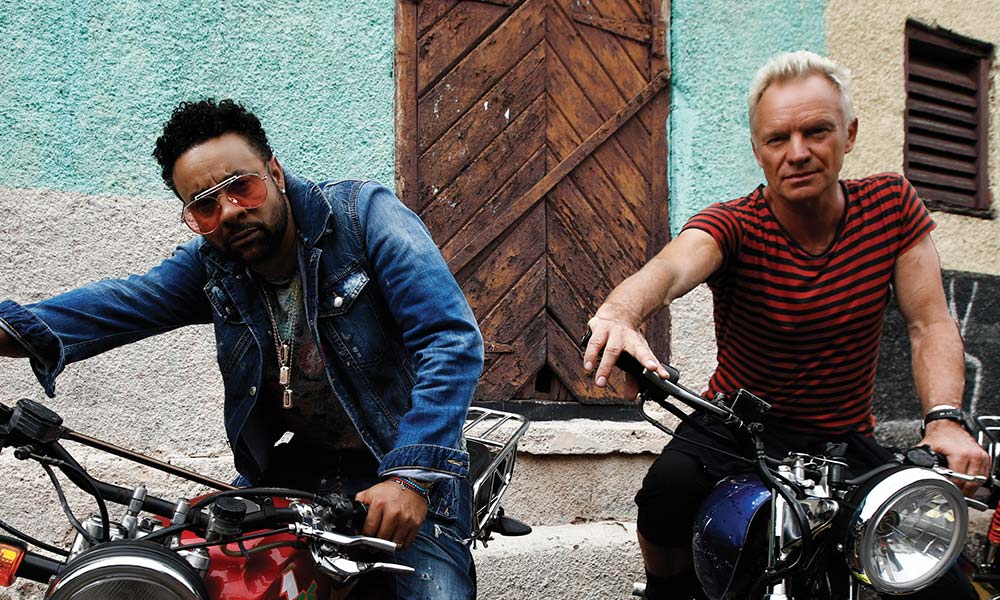 On 20 April 2018, Sting and Shaggy released their collaborative album, 44/876, which united a rock star who built some of his biggest hits on an easy-flowing reggae rhythm, and a singer-MC more usually associated with dancehall rhythms. It turned out this unlikely combination were not quite the odd couple you might expect. Why? Because this dynamic Englishman and versatile Jamaican have more in common than you might think.
Listen to 44/876 on Apple Music and Spotify, and scroll down to read our 19 things that Sting and Shaggy have in common.
19 Surprising Things That Sting And Shaggy Have In Common
1: One word
Both stars are known by one-word names starting with an S. Shaggy's real name is Orville Richard Burrell, Sting's is Gordon Matthew Sumner.
2: One love
Both Sting and Shaggy were inspired by Bob Marley. Shaggy declared him his musical hero, and Sting took part in a tribute to the Jamaican reggae pioneer at the Grammy Awards in 2013. Additionally, Sting covered the Marley/Peter Tosh composition 'Get Up, Stand Up' at a benefit for Amnesty International in 1988, and Shaggy performed the same song in his shows a decade later, as part of a Marley medley.
3: The Casey connection
Legendary US DJ Casey Kasem compiled a promo album that included Sting's 'All This Time', one of the DJ's all-time favourite tunes. In a curious coincidence, Kasem was the first voice of the ghost-chasin' Scooby-Doo cartoon character that Shaggy was named after.
4: ¡Ay, caramba!
Shaggy isn't the only one with a cartoon alter ego. Sting appeared in The Simpsons' episode 'Radio Bart' (in season three). Oddly, The Simpsons already has a character called Shaggy – Barney Gumble's dog.
The Simpsons-Timmy O'Toole song ft Sting
5: Zoinks!
The cartoon character Shaggy appears in the Scooby-Doo comic Ghosts In The Mystery Machine. Ghost In The Machine was The Police's fourth album, on which Sting played, sang, and wrote most of the tracks.
6: 007
Shaggy was born in Jamaica, and Sting is no stranger to the island, having enjoyed a songwriting stay at GoldenEye, the former home of the late James Bond author Ian Fleming, where he penned some of his biggest hits, including 'Every Breath You Take', 'Wrapped Around Your Finger' and 'King Of Pain'.
7: Easel does it
Sting collects art and has commissioned paintings by well-known artists. Shaggy is a skilled fine artist in his spare time, specialising in painting and drawing.
8: Twin Stings
Shaggy's first hit, 'Oh Carolina', was produced by Shaun Pizzonia, better known as DJ and producer Sting International… No relation, just another curious coincidence.
9: Trench town
Sting and Shaggy both found themselves in holes before they were famous. Shaggy was often in trouble when he was in the US Marines and, as punishment, was handed a spade and told to "dig a hole the size of a truck". Sting worked as a builder's labourer in his early days and dug trenches as part of the job.
10: Family ties
Shaggy appeared on Elephant Man's 2008 album Let's Get Physical – which was released on Bad Boy Records, the label owned by P Diddy. One of Diddy's biggest hits as Puff Daddy & The Family was a version of The Polics's song 'Every Breath You Take', retitled 'I'll Be Missing You', as an ode to the late Notorious BIG.
The Police - Every Breath You Take (Official Music Video)
11: Sister fact
Sting and Shaggy have Whoopi Goldberg in common. Sting sang with her onstage at a 1992 charity concert at Carnegie Hall, New York. Shaggy's connection is more basic: he had a childhood crush on the dreadlocked actress and comedian.
12: Lest we forget
Both played at the Bataclan, the Paris venue that was the tragic scene of a terror attack in November 2015, in which 90 people were killed. Shaggy played there in 2013; Sting was the headline act at the theatre's reopening in November 2016.
13: Sly & Robbie
Shaggy's 2014 single 'You Girl' was co-produced by Sly & Robbie – reggae's legendary "riddim twins". Thirty-three years earlier, they'd played on Grace Jones' breakthrough album Nightclubbing – which included a cover of Sting's tune 'Demolition Man'. What's more, Robbie Shakespeare played bass on Sting and Shaggy's new album.
Shaggy - You Girl ft. Ne-Yo (Official Music Video)
14: Full Nelson
Both artists idolised Nelson Mandela. Shaggy said meeting the South African statesman was one of the greatest moments of his life, and Sting sang 'If You Love Somebody Set Them Free' at the Nelson Mandela 70th Birthday Tribute in London, in 1988, which put pressure on the Apartheid Government to release the freedom fighter from prison.
15: The kids are all right
Both Sting and Shaggy have written children's books. Sting's was called Rock Steady: A Story Of Noah's Ark, a tale with an ecological message, and Shaggy's was Shaggy Parrot & The Reggae Band, distributed free with a CD to schools in Jamaica.
16: Ali G'n'me
Sting appeared at the 2002 Brit Awards – and Sacha Baron Cohen's comedy creation Ali G was on the same show. That same year, Ali G and Shaggy released a single together, 'Me Julie'. In another connection, Ali G and UK TV presenter Gail Porter sang The Police's 'Every Breath You Take' on Baron Cohen's TV series, Da Ali G Show.
17: I'm an alien
Shaggy grew up in Kingston but moved to New York City as a teenager, retaining his identity and style as a Jamaican. His Rae Town clothing label now sells T-shirts bearing the motto "Jamaican In New York", inspired by Sting's smash hit 'Englishman In New York'.
18: Clothes(line) drop
Sting and Shaggy are also the names of wrestlers: Shaggy is a German grappler and Sting was a WWE wrestler in the US who held 15 world championships.
19: Tuff gongs
They have both been honoured by their respective governments. Shaggy was awarded the Order Of Distinction in 2007 and Sting was made a CBE for services to music in 2003. Respect due.
The Sting and Shaggy album, 44/876, can be bought here.
Format:
UK English