The Moody Blues
The British rock band from Birmingham, England are revered for their varying approaches to rock music as well as their touring reputation.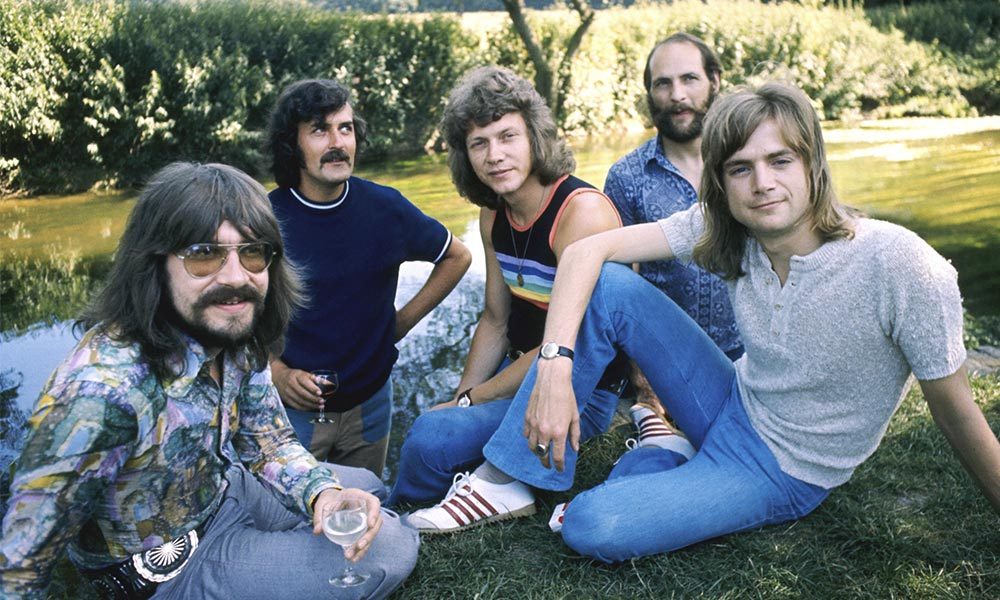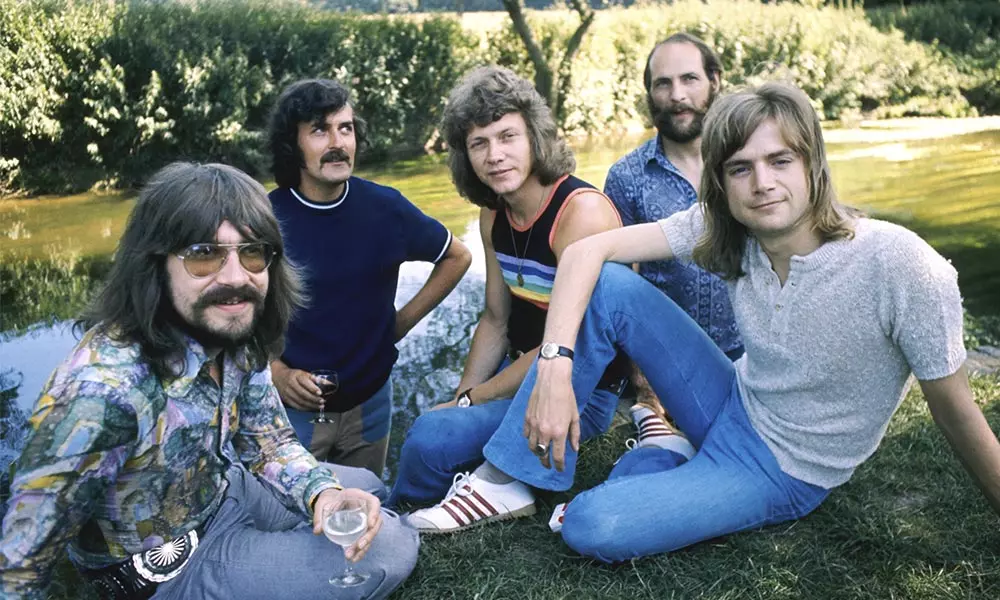 Not just a group, more of an English institution, The Moody Blues have been active since 1964. Their transitions are legendary, from classic R&B beginnings to progressive psychedelic experimentation; string laced orchestral extravaganzas, the finest ballads and outer space excursions such as To Our Children's Children's Children that was inspired in the heat of the moment by the moon landing of 1969.
They've sold over 70 million albums, have a global fan base that lives up to the hype and can count on so many gold and platinum discs that reserves may be running out. The Magnificent Moodies – as their debut album marked them – can be found in their pomp here with 1960s masterpieces like Days of Future Passed and In Search of the Lost Chord being just a foretaste. A band that embraced technology early and became pioneers in Mellotron and synth-drenched Moog rock in advance of the copyist hordes; the Moody Blues were always destined to shine in the era of FM radio. They pushed the barriers for hi-fi sound in any case. Their so-called fusion of progressive or art rock atmospherics is a template for the times. They also followed The Beatles' lead and created their Threshold label in the 1970s (somewhat before The Rolling Stones and Led Zeppelin handled their own distribution), and they also insisted on high design artwork and gatefold sleeves – a smart move since despite the costs their work always stood out in the racks and recouped the investment. Never ones to overlook the fine details, they also put out fabulous singles, whether via the auspices of original member Denny Laine or his replacement Justin Hayward. 'Nights in White Satin' and 'Question' are always spinning somewhere on the celestial jukebox.
Prolific in the extreme the Moody Blues catalogue illustrates their capacity to create brilliant music on a regular basis. During their early heyday, they could match The Beatles for commercial appeal and their music abides today as a testimony to what a truly gifted band can achieve. In some respects, they invented the concept album-cum-song cycle, and that became their touchstone. It has drawn them a following that is quietly fanatical. They'll be happy to rediscover what's on offer here, and any newcomers are in for a treat.
The original Moodies hail from the Birmingham area of Erdington. Ray Thomas, John Lodge and Michael Pinder were in local R&B groups while guitarist and singer Denny Laine and manager/roadman/drummer Graeme Edge, alongside short-lived bass player Clint Warwick, dabbled with various possible band names based around the regional M&B Brewery name before settling on Moody Blues, then honing their skills in Birmingham's night club scene. The initial blend of Merseybeat and R&B was well caught by producer Denny Cordell on the mono only LP The Magnificent Moodies and the single 'Go Now' launched them as worthy competition for the beat group boom.
In 1966 Laine quit to go solo but the band reconvened with new additions Justin Hayward and John Lodge completing the classic second stage or Mark 2 line-up. The decision was now made to move away from cover material and embrace a symphonic sound. The new identity evolved perfectly and just in time for the psychedelic revolution with the album, suitably entitled in the circumstances, Days of Future Passed, whose conceptual tale takes place within a day. Pinder had introduced The Beatles to the Mellotron and they repaid the favour by backing the Moodies desire to feature the London Festival Orchestra. The strings on 'Nights in White Satin' were groundbreaking for the time, even if tinny transistor radios and rudimentary monophonic sound systems struggled to cope with the sonics therein. To some extent, the Moody Blues led the way in persuading fans to update their stereos since the efforts they went to demanded an enhanced aural experience.
With Tony Clarke on board as producer and 'sixth Moody' (he worked with the band for a number of years) the album also made headway on 'Tuesday Afternoon', a lovely pastoral piece, and 'Dawn is a Feeling', but all the tracks are designed to stretch listeners and take them 'out there'.
In Search Of The Lost Chord (1968) was inspired by LSD and the works of acid guru Timothy Leary – though one doubts whether the majority of their audience needed to be attuned to that fact. Nor should it matter since tracks such as 'Voices' and 'Om' – with Hayward experimenting on sitar after George Harrison's example, and Mike Lodge's 'House of Four Doors' were matched to Ray Thomas's song-poems.
Live concerts began to match the progressive expertise of the group and suitably emboldened they released the magnificent On The Threshold Of A Dream in 1969. This is a total mind blast album that encapsulates everything the Moody Blues can do. Hayward's 'Lovely to See You' and 'Never Comes the Day' are commercial gold while Thomas excels with 'Dear Diary' and 'Lazy Day'. The  'Dream Sequence' itself and Pinder's elegiac 'Have You Heard?' are post-psych gems as is his classical instrumental 'The Voyage'. Perfect music for the space race era.
Talking of which, To Our Children's Children's Children  (later in 1969) begins with an Apollo rocket thrust on 'Higher and Higher' while 'Watching and Waiting' and the glorious 'Out and In' must have been a huge influence on Genesis. They stand out as consummate examples of how progressive music would benefit from the FM revolution that was still three years away.
A Question Of Balance (1970) was designed to simplify the esoteric approach of the previous album and make for a sound that could be reproduced in concert halls at a time when sound systems were apt to pack up at the drop of a roadie's screwdriver. By now the Moody Blues have established a European following for themselves and their status in markets like France and Germany will be as vital as their superstar status in America. In Britain, of course, we simply hold them dear as our own chosen sons. The stand out single 'Question' and  Pinder's 'Melancholy Man' pulled all the pieces together and they appeared triumphant at the Isle of Wight in 1970.
Every Good Boy Deserves Favour and Seventh Sojourn cemented their place in the States as a major export success. The former, named after the musical mnemonic for the standard chording EGBDA, contains 'Story in Your Eyes', one of Hayward's unsung classics, his equally ambitious 'You Can Never Go Home' and drummer/poet Edge's 'After You Came',  all showcasing the group's gloriously flexible harmonies, a facet of their sound that shouldn't be overlooked. The Sojourn album finds them utilising the new breed of electronica – Chamberlin keys, electronic drum kits, plenty of phase and giving full weight to Thomas's rapid mastery of flute and sax. This album is renowned also for the tracks 'Isn't Life Strange' and 'I'm Just a Singer (In a Rock and Roll Band)' that elevated the parent disc to the top five in Britain and a Christmas number one in America where it outsold all competition for six weeks.
The compilation This is The Moody Blues followed a two-year sabbatical and reminds everyone of what they're about in the interim. Absence didn't dampen public demand since it was another huge seller. A double album at the time it includes the otherwise hard to find single B-side 'A Simple Game'.
Octave (1978) is their ninth album though the title refers to the Mark 2 variance and is the last album with Mike Pinder before Patrick Moraz replaced him. Although it represents a band in hiatus and arrives when punk and disco have taken over as staple sounds it doesn't reflect at all badly on the group. Hitting platinum in America and making the Top 10 in Britain, Octave is one of the albums in the MB's catalogue that deserves to be reconsidered. 'Steppin' in a Slide Zone' and 'Driftwood' are full of characteristic Moody magic and the Remastered and Expanded editions will set a precedent for many future albums in their catalogue here. In this instance, there are live American recordings to enjoy.
Long Distance Voyager and The Present follow that format so that fans new and old will get exceptional value for money. The former features Moraz (ex-Refugee and Yes) and the title track is destined to be an American number one while the cuts 'Gemini Dream' and 'The Voice' will keep them on the airwaves through 1981. That's B.J. Cole on pedal steel and the strings are from the New World Philharmonic. Business as usual in Moody land.
The Present (1983) is particularly notable since it is arguably the first compact disc to be released on a worldwide basis (the format began in Japan but took a surprisingly long time to take hold). 'Blue World', 'Sitting at the Wheel' and 'Running Water' astounded those who could then hear the new technology and they sound equally magnificent today.
Now enter producer Tony Visconti for The Other Side of Life (1986) who persuaded the band to move from symphonic rock/pop to pure synth-drenched sounds. Incorporating the de rigueur electronic drums of the time this is one of those albums that polarised opinions while still selling bucket loads.  The single 'Your Wildest Dreams' proved that Moody mania was abroad in America and 'Rock'n'Roll Over You' (as featured in The Karate Kid, Part 11) both capitalised on smart use of drum sequencing. For a group who were always keen to explore an artistic vision of the future, it seemed that their prophecies had come to pass.
Sur la Mer sticks to Visconti's synth template with Hayward and Lodge bossing the writing and continuing to locate the commercial nerve ends on 'I Know You're Out There Somewhere' and 'No More Lies'. Keys Of The Kingdom is a sea change disc from 1991 with plenty of sumptuous horns and pop gems like 'Say it With Love' and 'Bless the Wings (That Bring You Back)' to satisfy listeners from any generation.
New era Moody Blues arrives with A Night at Red Rocks with the Colorado Symphony Orchestra. The band has now wisely aged up –  to celebrate their 25th anniversary since the Days of Future Passed announced their arrival as something truly exotic. This is available in original format and in the recommended Deluxe Edition, which contains many extra captures and functions as a fantastic account of the Moody Blues entire career.
Alongside the various anthologies and best of documents of this wondrous group, we'd warrant that you'd still find room for Strange Times (1999), and point anyone to check out the forgotten classic 'English Sunset', one of Hayward's most emotional and charged up forays into progressive synth-rock. This is sadly the last album to feature Ray Thomas, in which case it's a fitting swan song for the man's wit and flute.
December (2003) is an oddity, yet a pleasant surprise. A collection of Christmas themed numbers, albeit, with no lip-service to the usual fare, this manages to succeed by tackling the John Lennon and Yoko Ono anthem 'Happy Xmas (War is Over)' and setting it alongside airs by Bach and Holst, as well as Hayward originals and a marvellous interpretation of  Irving Berlin's White Christmas.
To complete our comprehensive array of Blues beauties we have Nights In White Satin – The Collection, a most user-friendly set of Moody standards, as is The Very Best Of, and the more far-reaching Timeless Flight series (available as a 2 part and 4 part anthology) which is designed to provide a truly rounded listening experience for completists as well as those curious enough to check out a massively important group from their beginnings to their present-day incarnation.  You could say that they've bossed their patch from the outset – the journey from Dansette to FM and beyond will provide you with untold pleasure.  Imagine – you are standing at the threshold of a dream.
Words – Max Bell