The Influence Of The Beatles' 'Sgt. Pepper'
The influence of 'Sgt. Pepper' cannot be overstated. After its release in 1967, the album changed not only music, but pop culture at large.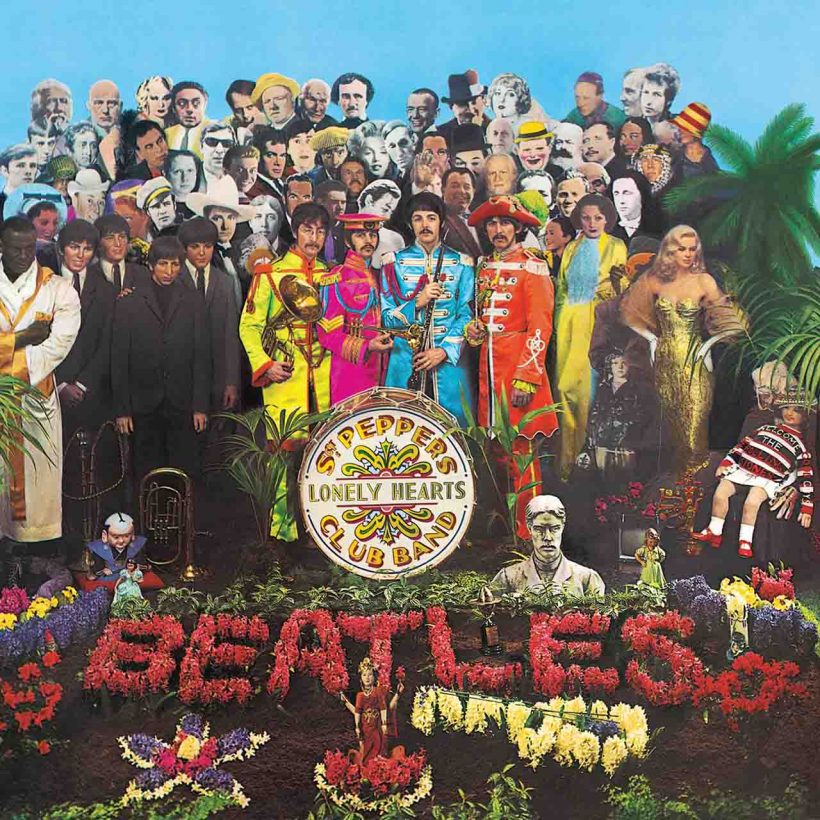 In terms of experimentation, it may not be too far-fetched to say that much of popular music in the half-century after 1967 has come under the influence of The Beatles' Sgt. Pepper's Lonely Hearts Club Band. The group's unique adventure in sound, songwriting, studio technology, and even cover art had an immediate impact when the album, which went on to become the biggest-selling UK record of all time, was launched on May 26, 1967.
Listen to Sgt. Pepper's Lonely Hearts Club Band now.
Release and impact
Within three days of its release, The Jimi Hendrix Experience opened a show at the Saville Theatre in London with a rendition of the title track. Paul McCartney and George Harrison were in the audience and must have known they had created something special.
Within five months, Jefferson Airplane released the experimental Sgt. Pepper-influenced After Bathing at Baxter's, which was substantially different to Surrealistic Pillow, a record they had released earlier that year. The Moody Blues were also quick off the mark in adapting to a new musical landscape. Released in November 1967, their Days Of Future Passed album utilized the London Festival Orchestra to help create a psychedelic rock/classical sound that owes much to The Beatles.
In December, The Rolling Stones released Their Satanic Majesties Request. The album was branded a cynical psychedelic response to Sgt. Pepper, and even Keith Richards admitted: "It ended up as a bit of flim-flam. It was time for another Stones album, and Sgt. Pepper was coming out, so we thought basically we were doing a put-on."
The Rolling Stones - She's A Rainbow (Official Lyric Video)
Other albums shaped by The Beatles came thick and fast, including 1968's SF Sorrow by British rock group The Pretty Things. A year later, King Crimson's In The Court Of The Crimson King paid direct homage. Guitarist and producer Robert Fripp said he was inspired to make the groundbreaking prog rock album after listening to John Lennon and the rest of The Beatles on Radio Luxembourg. "After hearing Sgt. Pepper, my life was never the same again," said Fripp.
Sgt. Pepper's influence
The Beatles had brought the values of the counterculture into the mainstream. By breaking traditional rules about what a "rock album" should be, Sgt. Pepper gave other musicians new ideas and new attitudes to the approach of music.
The production of the record also set new standards in expertise and innovation. Whereas The Beatles' first album, Please Please Me, had been recorded in about 10 hours in a single day, an estimated 700 hours of work (according to producer Geoff Emerick) went into recording Sgt. Pepper between November 1966 and April 1967.
The idea that you would carry on recording until a record was finished (instead of hiring a studio for a few days) was a revolutionary concept and helped, said producer George Martin, to re-define "the studio as an instrument." No wonder production costs at Abbey Road Studios reached a record-breaking £25,000.
The Beatles - A Day In The Life
The use of multi-tracking was also groundbreaking, as Martin helped blend Western music with Indian music, jazz with psychedelic rock and pop (throwing in some Victorian music hall for good measure), into a dizzying collage of voice and instrumentation. McCartney says one reason Sgt. Pepper made "the big difference" in music culture was that previously "people played it a bit safe in popular music and we realized that you didn't have to."
Inspiring concept albums and rock operas
Sgt. Pepper is sometimes hailed as the first concept album. Even if that's not necessarily accurate (drummer Ringo Starr freely admitted that there was no consistent theme to the record, and two superb songs from the very early sessions, "Strawberry Fields" and "Penny Lane," were issued separately as singles), people believed it was a "concept" album and the term became part of music folklore.
Genesis, Yes, Rush, and Jethro Tull were among the bands influenced by The Beatles, and their seminal album also played a part in inspiring the so-called "rock opera" craze. The Who's stunningly successful double-album Tommy (1969), and Tim Rice and Andrew Lloyd Webber's Jesus Christ Superstar (1970) are both branches on the Sgt. Pepper tree.
It was not only in rock circles that The Beatles triggered change. When singer Carla Bley heard the album she "decided to match it" and spent the next four years creating the 1971 triple-album Escalator Over the Hill, an avant-garde jazz LP featuring Linda Ronstadt.
Sgt. Pepper also popularized the idea of the musical alter ego. The idea that you could step outside everyday life and take on different personae on stage and on record was "liberating" said McCartney, and part of a journey that would go on to include David Bowie and the glam rock of KISS, among many others.
Sgt. Pepper parodies
Some of the albums it inspired were altogether less serious. We're Only In It For The Money, released by Frank Zappa And The Mothers Of Invention in 1968, on Verve Records, parodied the Sgt. Pepper album cover and satirized the political stance and supposedly phony "hippie" values they thought were at the heart of the late 60s counterculture. Sgt. Pepper has also been parodied by The Rutles, with Sgt. Rutler's Only Darts Club Band, and even children's TV show Sesame Street recorded a song called "With A Little Yelp From My Friends."
Take Your Clothes Off When You Dance
Groundbreaking artwork
But it wasn't only The Beatles' music that blazed new trails. The dazzling visual on the front helped confirm the album cover as a work of modern art, and was the first rock album to incorporate complete song lyrics as part of the album's packaging.
Michael Cooper's photograph of the band dressed in satin marching-band outfits showed them in front of artist Peter Blake and his then-wife Jann Haworth's cardboard college of historical figures such as Mae West, Oscar Wilde, Laurel And Hardy, and WC Fields. It is one of the most enduring images of the whole 60s psychedelic era, and has been affectionately imitated hundreds of times, including by The Simpsons. In 2016, British artist Chris Barker did a modern makeover with a cast of much-missed stars who died that year, including Leonard Cohen, Prince, and footballer Johan Cruyff.
Sgt. Pepper song covers
As well as entire albums, Sgt. Pepper inspired countless one-off covers, including notable versions of "Lucy In The Sky with Diamonds" (Elton John); "With A Little Help From My Friends" (Joe Cocker), and other good covers by Harry Nilsson, Fats Domino, Bryan Ferry, Jeff Beck, Sonic Youth, Al Jarreau, Billy Bragg, and even Billy Connolly.
Elton John - Lucy In The Sky With Diamonds (Live On The Old Grey Whistle Test)
The process of paying tribute to a 20th-century music masterpiece has continued beyond the 1995 effort by Smashing Pumpkins and into the new century. Kaiser Chiefs recorded a version of "Getting Better" for a 2007 tribute album pulled together by Geoff Emerick, the engineer in charge of the 1967 sessions; he used the original equipment to record the new versions of Sgt. Pepper on an album that also features Bryan Adams.
American band Cheap Trick put out a live version in 2009 that featured a full orchestra, and in 2011 American guitarist Andy Timmons made an all-instrumental cover album, echoing something Booker T & The MG's did for another Beatles album, Abbey Road, back in 1970.
Sgt. Pepper's legacy
Perhaps the best summary of why Sgt. Pepper was so influential comes from Roger Waters, who explained why it played a big part in forging Pink Floyd's 1973 masterpiece The Dark Side Of The Moon. "I learned from Lennon, McCartney, and Harrison that it was OK for us to write about our lives and express what we felt… More than any other record it gave me and my generation permission to branch out and do whatever we wanted."
The Sgt. Pepper's Lonely Hearts Club Band reissue can be purchased here.