The Best Heavy Metal Debut Albums Of All Time
From NWOBHM to thrash pioneers and the bands that continue to define what metal can be, here are the best metal debut albums of all time.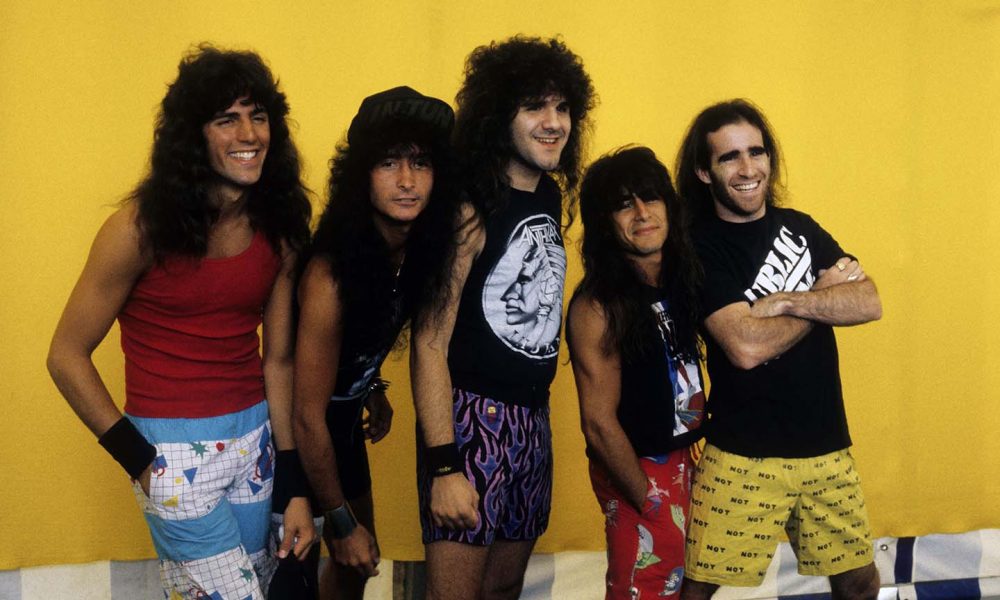 When it comes to the world of metal music, the best metal debut albums not only require raw power and mastery of instrument, but the ability to push the genre forward into unexplored territory. From New Wave Of British Heavy Metal behemoths of the 70s, to the thrash pioneers of the 80s and 90s, and all the groundbreaking acts that continue to refine what metal can be, here are the top heavy metal debut albums of the past four decades.
22: Baroness: Red Album (2007)
After releasing their three simply-titled EPs First, Second and Third, this Savannah-based quartet put out their most ambitious work yet, Red Album. The album really encapsulates what this band is about: heavy and brutal in parts, yet also incredibly beautiful and melodic in others. Baroness weren't afraid to let their riffs do the talking for them, in stretches and with many instrumental patches and minimal (yet impactful) vocals in between.
Essential track: "Rays On Pinion"
21: Anthrax: Fistful Of Metal (1984)
Fistful Of Metal is an album bubbling with potential and hinted at what was to come for Anthrax on future classics like Spreading The Disease and Among The Living. That's not to say that this album isn't great in its own right, "Deathriders" and "Metal Thrashing Mad" are two killer tracks that hold up just as well today. There's enough energy, speed, and great musicianship on this record to make it stand out. It's a tight, blazing 35 minutes with a plethora of great hooks and riffs (if maybe just ever so slightly reliant on its influences) but as initial statement, there's a lot to gush over.
Essential Track: "Metal Thrashing Mad"
20: Rammstein: Herzeleid (1995)
Even before breaking out of their homeland, German industrial metal outfit Rammstein birthed an entirely new music genre with their 1995 debut, dubbed Neue Deutsche Härte ("new German hardness") by the German music press. Rammstein's postmodern metal sound drew inspiration from both German rock and alt.metal acts the likes of Skinny Puppy, while infusing elements of electronic samples and drum'n'bass beats, like Kraftwerk on PCP. Their unique strain of radio-friendly, electro-metal would drive their crossover success worldwide.
Essential track: "Du Riechst So Gut"
Rammstein - Du Riechst So Gut '95 (Official Video)
19: Machine Head: Burn My Eyes (1994)
If you mix a dash of the technicality and industrial sound of Fear Factory with the groove and aggression of Pantera and throw in some muscle and some heavy double bass drum, you've got the right alchemy for one of the best metal debut albums. Machine Head did just about this (and then some) while cranking up the musical intensity and social commentary along the way. Burn My Eyes is a ferocious debut, on almost every front: lyrically, sonically, and emotionally.
Essential Track: "Davidian"
18: System Of A Down: System Of A Down (1998)
Even in the diverse metal landscape of 1998, System Of A Down's debut stands out beyond the back. In less capable hands, this blend of circus metal, thrash, and doom, topped with frequently cartoonish vocals would be a disaster. But SOAD manages to bring it all together into one unique oddball of an album. Having a song like "Sugar" as your first single should be an indication to anyone paying attention that this band is anything but typical. Only a band like SOAD could have songs as disparate sounding as "Peephole," "Spiders" and "War?" on one album and still claim to have anything resembling cohesion. But they have enough energy, catchy riffs, and melodic chops to pull it off. The lyrics can be alternately poignant, silly, or trippy and yet it works so well. Extra points for the great guitar tone on this album – booming, heavy, with plenty of crunch.
Essential track: "Sugar"
17: Mastodon: Remission (2002)
Mastodon has such a varied and expansive discography that it can be easy to overlook their debut, but you'd be mistaken to do so. It is, unequivocally, one of the best metal debut albums of all time. A lot of the musical ideas that Mastodon would build upon in future albums are here, but what stands out most are the riffs. There are some all-time memorable moments on this album. The opening "Crusher Destroyer" sets the tone, along with killer riffs on the following tracks "March Of The Fire Ants," "Workhorse," and "Mother Puncher," all carried along by the amazing drumming of Brann "I Swear He Has Three Arms" Dialer.
Essential track: "March Of The Fire Ants"
16: Meshuggah: Contradictions Collapse (1991)
Falling further down the genre hole, Swedish math metal-slash-technical metal [adjusts glasses] band Meshuggah earned the reputation of being among the most technical and experimental metal groups thanks to their 1991 debut album. While many cite Destroy Erase Improve as a favorite, Contradictions Collapse is here the mind-bending time signature changes, the dissonant riffing, and airtight playing all began.
Essential track: "Paralyzing Ignorance"
15: Deftones: Adrenaline (1995)
Adrenaline rightly earns its place among the best metal debut albums for beating everyone to the punch with the heavy, shoegazey, dreamy metal that's pretty prevalent nowadays. Sacramento's Deftones never get lost in the space and atmospherics, while staying grounded with solid riffs and Abe Cunningham's groovy drumming. They're also not afraid to be brutal ("Nosebleed") and their debut album is the perfect mix of both, showcasing the group's eclectic streak of influences.
Essential track: "Bored"
14: Emperor: In the Nightside Eclipse (1994)
Early black metal can be a bit of a mixed bag. Poor production, dense songwriting, harsher than harsh vocals, and while these things were perhaps all part of the appeal of the scene to a lot of people, Emperor took a different route. In the Nightside Eclipse, first and foremost sounds great. The reverb-heavy guitars and blasting drums create a wall of sound, punctured by precise demonic vocals and haunting symphonic synths, but it never manages to sound muddy. There are layers and layers of sonic textures in these songs that a lot of black metal bands either couldn't achieve or didn't attempt to. Beyond the production though, there are some masterful compositions on this record. There's a lot of variety to be found here, within all the sonic wall Emperor puts up. The nine-minute opener "Into The Infinity of Thoughts" grabs a hold of you right away, pretty much single-handedly In The Nightshade Eclipse one of the best metal debut albums in history. But from there on out, the album doesn't let up. A great introduction for anyone looking to get into black metal, and a true classic worth revisiting.
Essential track: "I Am The Black Wizards"
13: Suffocation: Effigy Of the Forgotten (1991)
Suffocation combine the best in technical musicianship with great songwriting. For every speedy guitar noodling and blast-beat-filled part on this album, there's a counterweight – a punishing, heavy slam that will make even the meekest of Suffocation fans head for the pit. And all this accomplished in 1991. The fact that others are still following its path today means that Effigy Of The Forgotten will hold its place among the best metal debut albums for some time yet.
Essential track: "Infecting The Crypts"
12: Slipknot: Slipknot (1999)
A lot of heavy metal bands in the late 90s and early 00s had singers that would try to portray a sort of mentally unstable posture, lyrics that implied, "Keep your distance, I'm crazy," but a lot of it seemed more trite than terrifying. But with Slipknot you could believe it. Their members seemed so intense, their shows so frantic and full of energy, and their debut album Slipknot just oozed with rage and fury. However, even without the theatrics, costumes and imagery, musically, they had a lot going on. The band is a tight, nimble unit, capable of thrashing riffs and groove-heavy moments, coupled with a stronger sense of melody than many of their contemporaries. Just about every song on this album has a killer hook, whether sung or screamed, but especially the intensely catchy single, "Wait and Bleed" and its unforgettable chorus. There's a lot of metal from this era that hasn't held up well over time. Slipknot, however, did not make that kind of metal. They did make one of the best metal debut albums of the era – and in history.
Essential track: "Surfacing"
11: The Dillinger Escape Plan: Calculating Infinity (1999)
Calculating Infinity is the place where hardcore kids, metalheads, and Berkelee School Of Music graduates converge. It's a swirling mix of technical musicianship, neck-breaking tempo changes, and jazz time signatures that still manages to throw in a memorable hook and a catchy breakdown every once in a while. Jazz-fused heavy music of this sort had never before been attempted to this degree – nor to such awe-inspiring results. Calculating Infinity remains hugely influential and still adored by many as one of the best metal debut albums.
Essential track: "43% Burnt"
10: Opeth: Orchid (1995)
Putting a flower on your album cover may not seem very metal, but Swedish progressive (melodic) death metal group Opeth always opted for the unexpected. Their debut album not only introduced one of the most divine voices and enigmatic lyricists in metal (Mikael Åkerfeldt) but it also managed to create a complex prog masterpiece that veered from long acoustic interludes to guttural howls and next-to-no repeating parts.
Essential track: "In The Mist She Was Standing"
9: Megadeth: Killing Is My Business… And Business Is Good! (1985)
After leaving Metallica, Megadeth frontman Dave Mustaine was a man with a mission. He wanted to be "faster and heavier," and he achieved just that, cranking out thrash hits with razor-like precision and keen wordplay that ushered in the golden age of back-patch-sporting speed metal.
Essential track: "Rattlehead"
8: Ozzy Osbourne: Blizzard of Ozz (1980)
Any doubts about whether or not Ozzy could carry his own band, post-Black Sabbath were quickly put to rest with this stellar debut album. A song as classic as "Crazy Train" is almost enough to put this album on many "Best Of" lists, but this album goes so much deeper than that. "Mr. Crowley," "Suicide Solution" and even the slightly saccharine ballad "Goodbye To Romance" are all fantastic additions. And who knows what beautiful music the duo of Ozzy and Randy Rhoads would have made together had he not tragically died so soon after this album's release? At least we've got Blizzard.
Essential Track: "Crazy Train"
7: Death: Scream Bloody Gore (1987)
Every time we listen to Orlando metal outfit Death, we marvel at how Chuck Schuldiner accomplished what he did. It's common for metal bands to have a vocalist who plays no instrument live, because metal can be, well, complex, but Schuldiner was talented enough to do both – and brilliantly. A true innovator and master of both guitar and vocals (and a great lyricist to boot), all of his talents coalesce on what's arguably the first ever death metal album.
Essential track: "Zombie Ritual"
6: Motörhead: Motörhead (1977)
If you look at Motörhead's entire discography, there's a certain consistency that's been so perfected, they didn't need to drastically change their essential formula over their long and storied career. The combo of revved-up blues and roots music with Lemmy Kilmister's soulful and gritty vocals is a timeless one, and Motörhead did it better than anyone else. The production on Motörhead might be a little rough, and the band a little looser than they would come to be on future classics like Overkill, Ace of Spades, and Inferno, but the foundation for their singular sound (and Lemmy's God-like Status) was set here.
Essential Track: "Motörhead"
5: Iron Maiden: Iron Maiden (1980)
It was five years in the making, but when NWOBHM pioneers Iron Maiden released their self-titled debut album, it marked a brave new direction in the post-Judas Priest metal world. All the familiar elements were there: twin harmony guitars, howling vocals, and thunderous yet intricate drumming, and yet their infusion of punk's DIY sprit and prog-rock's instrumental complexity created a new blueprint that countless others have followed.
Essential track: "Running Free"
4: Slayer: Show No Mercy (1983)
As one of the Big Four of thrash, California metal outfit Slayer went from underground favorites to headlining act after their debut album, Show No Mercy, secured their place in extreme metal. Combining the satanic imagery of black metal with the combustible energy of hardcore music, Slayer laid down the foundation for a unique sound that came packed with explosive riffs and epic solos. Thrash was never the same again.
Essential track: "Black Magic"
3: Dio: Holy Diver (1983)
A permanent fixture on these kinds of lists, and in the hearts of many a metal fan, the Ronnie James Dio-fronted band's first offering instantly entered the ranks of the best metal debut albums of all time and remains one of the most enduring albums of the era. Coming off his success as a vocalist for the two UK rock institutions (Black Sabbath and Rainbow), Dio stacked the odds in his favor by recruiting legendary guitarist Vivian Campbell and bassist Jimmy Bain to create an album that's filled with metal anthems sung by one of the most imitable voices in music.
Essential track: "Holy Diver"
2: Metallica: Kill 'Em All (1983)
If Maiden created the thrash ballad, then Metallica perfected it. Their landmark debut, Kill 'Em All, proved they were out for blood with intricate instrumentation of their NWOBHM forbearers and the destructive power of a new thrash sound. Guitarist James Hetfield's dexterous playing drives much of Kill 'Em All, with the rest of the band following suit as a tightly controlled ball of fury. Hands down one of the best metal debut albums of all time, it was also a harbinger of further greatness from one of the most influential metal acts to come out of the 80s.
Essential track: "Seek And Destroy"
1: Black Sabbath: Black Sabbath (1970)
Not since Wagner's "Ride Of The Valkyries" has the essence of evil been so perfectly captured in music. Harnessing the bluesy undertones of bands such as Deep Purple, Led Zeppelin, and Blue Cheer, Black Sabbath then took them to a heavier and much darker place – birthing the sprawling genre of metal as we know it. Ozzy Osbourne's terrorizing vocals paired with guitarist Tony Iommi's tri-tone riffs created the essential ingredients that would become the catalyst for metal's evolution. The album might well have sat at the top of this list of the best metal debut albums of all time were it not for an LA five-piece that stormed the world in the 80s.
Essential track: "Black Sabbath"
Looking for more? Discover the Best Heavy Metal Music Videos Of All Time.