Pretty Hate Machines: A Beginner's Guide To Industrial Music
By bridging art-rock with aggression, oblique synths with sturm und drang, these pioneers of industrial music helped birth a brand new genre.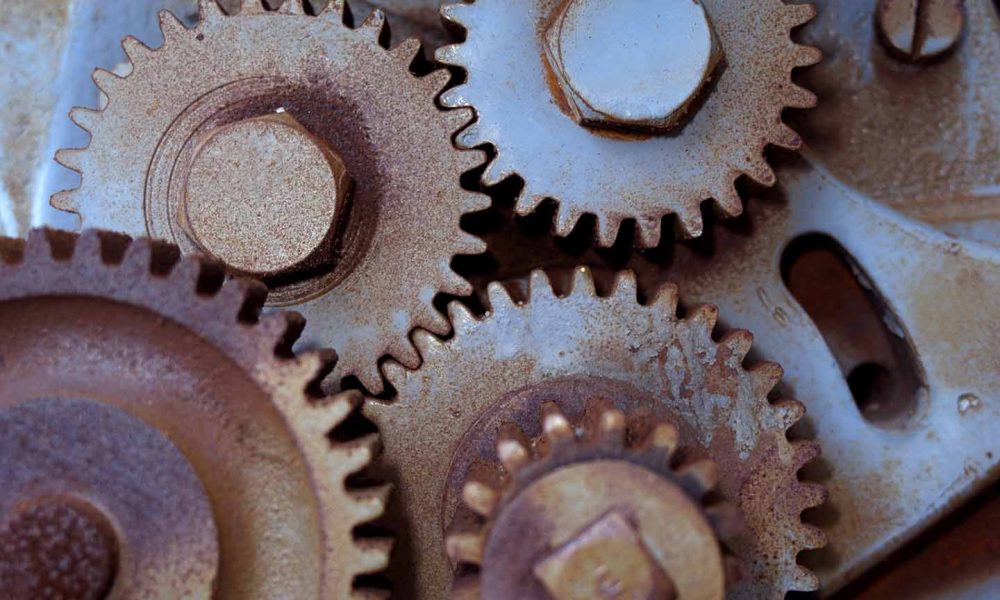 Cacophonic loops. Dyspeptic lyrics. Abrasive vocals. These are the calling cards of industrial music, the anti-establishment genre that made its mark by bridging art-rock with aggression, oblique synths with sturm und drang. Peaking in the 90s, the often socially incestuous scene yielded countless side projects (largely around Ministry), a palpable half-life (see White Zombie), and one enduring, mainstream breakout (Nine Inch Nails' Trent Reznor).
"Industrial" may be a convenient shorthand for the genre's hard-synth sound, however, the term refers to the Industrial Records imprint created in the mid-70s by Throbbing Gristle, its avant-garde forbearers. One of the label's artists, Monte Cazazza, suggested they adopt the slogan "Industrial music for industrial people," and so begat a new genre.
Though now associated with rage, the roots of industrial music were far more heady. A countercultural movement founded on anti-melodic, ambient sounds (with a dotted line to Kraftwerk's tech-savvy futurism), industrial music dismantled the shiny beats associated with disco and later new wave confections. At the time, bands such as UK's Throbbing Gristle and Cabaret Voltaire, as well as Einstürzende Neubauten (featuring Blixa Bargeld, later of Nick Cave And The Bad Seeds), made intriguing sounds. Yet it's debatable whether their looping, atonal creations constituted songs.
What they lacked in hooks, however, they made up for through performance. Throbbing Gristle, in particular, offered provocative visual installations alongside their music, including hardcore porn and used tampons, inspiring one member of Parliament to famously anoint them "wreckers of civilization."
If Throbbing Gristle unwittingly created industrial music, Skinny Puppy – their overachieving protégées, whose first show was, fittingly, at an art show – jump-started it in the 80s. A proto-Skinny Puppy, then-named Hell 'O' Death Day, even opened for the duo Chris & Cosey, both former Throbbing Gristle members. The Vancouver group, in kind, noodled these aesthetics into a highly influential, gothy electro-industrial sound.
Their ominous music, written by multi-instrumentalists cEvin Key and the late Dwayne Goettel (replacing Bill Leeb, who left in the band's infancy, to start Front Line Assembly), soundtracked the fake-blood-soaked performances of frontman Kevin "Nivek Ogre" Ogilvie, who sang in an unmistakable robo-growl. Inspired by horror films and animal-rights activism, their live shows and videos were banned years before Marilyn Manson, who would later emulate Skinny Puppy's vocals and theatrics.
The actual industrial revolution, if you will, began around 1987, when Ministry's Al Jourgensen, a new-wave musician rethinking his sound, met Ogre. Calling themselves PTP, they recorded the glitchy, dystopian-dance track "Show Me Your Spine," which landed on the RoboCop soundtrack.
In Ministry's new incarnation (now creatively partnered with bassist-songwriter Paul Barker), Jourgensen's once-bright vocals grew guttural. He invited Ogre on tour and later asked him to contribute vocals to 1989's The Mind Is A Terrible Thing To Taste, which fatefully filtered industrial sounds through metal riffs. The Skinny Puppy vocalist ended up co-writing the album's standout track, "Thieves," and, to the annoyance of his bandmates, Ogre invited the Ministry frontman into the studio while recording Skinny Puppy's 1989 album, Rabies, which would adopt a harder sound.
Their bubbling following, in kind, drew attention to overlooked industrial music pioneers such as the cultish Godflesh, the militant Slovenian Laibach, and the guitar-heavy KMFDM. The emerging scene would likewise bolster more club-friendly groups such as Nitzer Ebb, Meat Beat Manifesto, Front 242, and My Life With The Thrill Kill Kult – whose frontman, Frankie "Groovie Man" Nardiello, had collaborated with Jourgensen in his new wave days.
Jourgensen became a nexus for the genre. For Ministry's touring line-up, he recruited everyone from Killing Joke's Paul Raven to Rigor Mortis' Mike Scaccia and Prong's Tommy Victor. Meanwhile, his industrial-metal style could be heard in acts such as Rammstein and White Zombie throughout the 90s, as he expanded his sphere of collaborations. Among those extracurriculars were Lard (featuring Dead Kennedys' Jello Biafra), Pailhead (alongside Fugazi's Ian McKaye), Revolting Cocks (including Front 242's Richard 23), Acid Horse (with Cabaret Voltaire), and 1000 Homo DJs, with uncredited vocals from Trent Reznor.
The latter was immeasurably influenced by Jorgensen and Ogre. Reznor was once a roadie for Ministry, and he opened for Skinny Puppy in 1988, just before the release of Nine Inch Nails' debut, Pretty Hate Machine. Reznor later admitted that his track "Down In It" owed a great debt to Skinny Puppy's first single, "Dig It."
Nine Inch Nails - Down In It
While Ministry and Skinny Puppy were the undisputed alphas of the scene, Nine Inch Nails represented its global ambition. One need only listen to Reznor's radical remake of "Suck" for Nine Inch Nails' 1992 industrial-thrash Broken EP to understand his subsequent strengths as a producer. A minimalist, drum-driven track co-written as part of the rotating industrial supergroup Pigface (led by Ministry drummers Martin Atkins and Bill Rieflin), Reznor blew it out into an angsty anthem.
He would later apply this crisp, explosive aesthetic to Marilyn Manson (most effectively in 1996's multi-Platinum-selling Antichrist Superstar). This spawned an oft-referenced production style that could be heard in other mainstream industrial acts such as Filter (featuring ex-NIN guitarist Richard Patrick) and Stabbing Westward.
So how exactly did a subversive art project become a music-chart phenomenon? Here are a selection of essential industrial metal albums that no collection can be without.
Nine Inch Nails: The Downward Spiral (1994)
Amid a genre characterized by scrappy inventiveness, Trent Reznor's output possessed a perfectionist's polish. An energetic performer and shrewd producer, the Grammy- and Oscar-winning Reznor broke into the mainstream with his seminal, multiplatinum The Downward Spiral and has since pervaded pop culture through his work in film (The Girl With the Dragon Tattoo, The Social Network), documentaries (The Vietnam War), and video games (Quake, Call Of Duty).
Nine Inch Nails - Closer (Director's Cut)
Throbbing Gristle: 20 Jazz Funk Greats (1979)
Led by Genesis P-Orridge (later of Psychic TV), the first-wave industrial music group began as a provocative, controversial art collective called COUM Transmissions. They augmented their visual work, which focused on sex and mortality, with taped samples and spoken-word performances. This evolved into stark noise compositions set to brutish beats on the likes of 20 Jazz Funk Greats – which is neither jazzy nor funky – to forge a new genre.
Nitzer Ebb: Belief (1989)
An aural gateway drug from New Wave into industrial music, the English group grew their following after opening for their friends Depeche Mode. Two years later, in 1989, they released their seminal, techno-industrial album Belief (produced by Ministry and Nine Inch Nails affiliate Flood) which contrasted brighter, pulsing beats against anti-authoritarian chants.
Skinny Puppy: VIVIsectVI (1988)
Pioneers in crunchy synths, angular guitars, and ghoulish vocals, the band had the art-horror theatrics to go with the sound, truly transforming the genre with VIVIsectVI. Just how disturbing is their music? In 2014, Skinny Puppy billed the US Department Of Defense to the amount of $666k, after a former Guantánamo Bay guard informed them that the American military was using their music to torture prisoners.
Rob Zombie: Hellbilly Deluxe (1998)
Like Skinny Puppy and Marilyn Manson, the White Zombie frontman found great inspiration in horror. His solo debut, Hellbilly Deluxe, is a thunderous, orgiastic industrial-metal love letter to the genre (its defining single, "Dragula," is a reference to The Munsters). The album was a pivotal release for Rob Zombie because it not only went triple Platinum – outselling all White Zombie records – but also set the stage for his career as a fright-film director.
KMFDM: Angst (1993)
The German band, all heart-pumping riffs and beats (best album: Angst), found their following after moving to the States and touring with Ministry in 1990. (They'd pay it forward seven years later, when Rammstein – a band they clearly influenced – opened for them.) Fans speculated that their name was an acronym for Kill Motherf__king Depeche Mode. But it actually stands for Kein Mehrheit Für Die Mitleid, or "no pity for the majority," immediately reflected in their distinctive, Russian-propaganda-inspired artwork by Aiden Hughes.
Front 242: Front By Front (1988)
Industrial may mine darkness, but Belgian's Front 242 created the most compelling reasons to dance to it, especially on 1988's Front By Front. They coined the term "Electronic Body Music," which merged industrial with early techno beats, and became fast affiliates with the burgeoning Chicago industrial scene. Their pop-culture claim to fame: "Rhythm Of Time" was immortalized in a disturbing scene from the film Single White Female.
Ministry: Psalm 69: The Way To Succeed And The Way To Suck Eggs (1992)
It's arguable who invented industrial metal, but there's no mistaking that Ministry broadcast it the loudest. Their escalating potential culminated in Psalm 69. When the label asked how the band spent its $750,00 advance, they delivered "Jesus Built My Hotrod," boasting vocals from an unintelligibly drunk Gibby Haynes of Butthole Surfers. The label wasn't thrilled, until Ministry scored its biggest hit with the track.
Looking for more? Discover the best metal music videos of all time.