Misfit: How Danzig Went From Hardcore Punk To Metal Icon
Having established himself as a hardcore punk agitator with Misfits, Danzig's uncompromising vision lead him to heavy metal and the iconic group Danzig.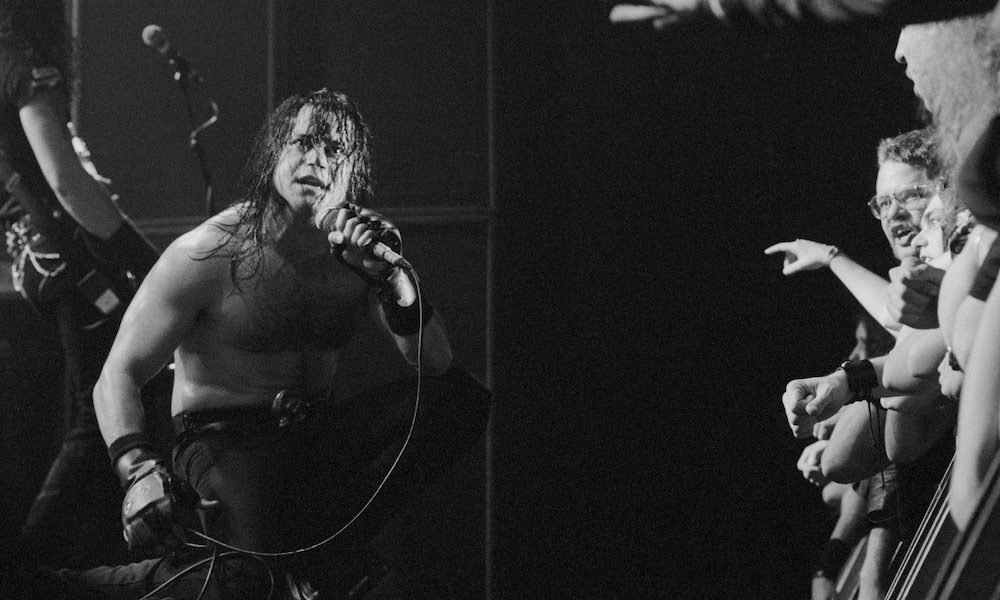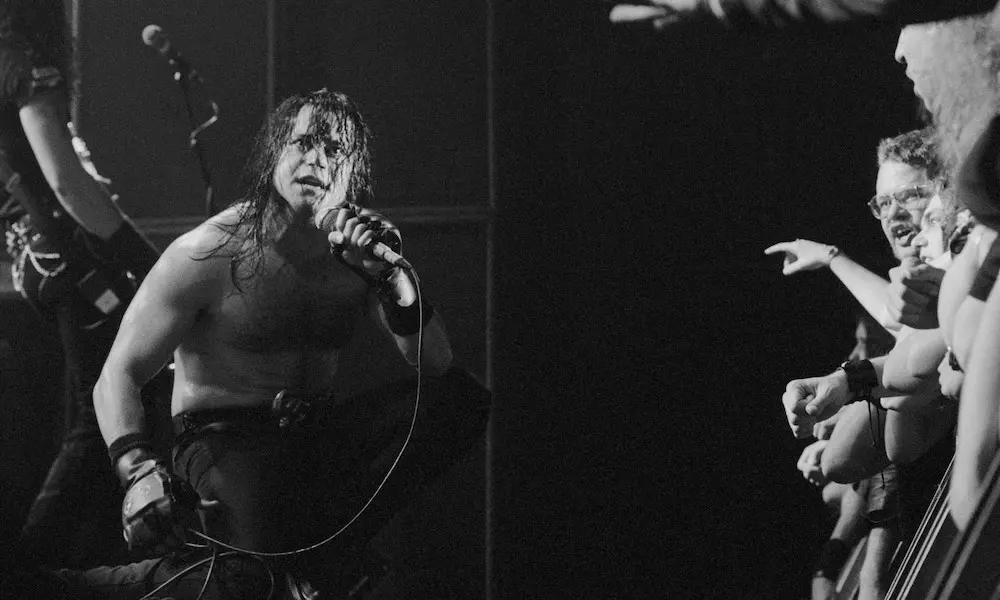 The rise of Glenn Danzig from horror punk shouter in Misfits to hard rock crooner and metal icon came from a determined and unapologetic desire to always push creatively forward. Danzig has always strived to keep looking ahead, no matter who he may alienate.
Listen to the best of Danzig on Apple Music and Spotify.
Original misfit
It all started when Glenn Danzig, born June 23, 1955, founded Misfits in Lodi, New Jersey in 1977, lifting the name from Marilyn Monroe's final film. He recruited drummer Manny Martínez, who then brought on the only other consistent member of Misfits besides Danzig, Jerry Caiafa. Caiafa had only been playing bass for just two months when they joined forces, and the band was only a unit for six months when they jumped into a recording studio without anyone on guitar. Danzig played electric piano on Misfits' first single, "Cough/Cool," and its B-side, "She," on his own Blank Records. Due to a misprint of Caiafa's surname, he insisted on being credited as "Jerry, only Jerry," which led to his lifelong pseudonym, Jerry Only.
Misfits - Cough Cool 1977
While this first recording doesn't sound like the Misfits most people are familiar with, the ingredients were there. The band played their first shows – still sans guitarist – and when they finally landed one, it allowed them to embrace a more punk-rock sound. Luck came to the Jersey boys when Mercury records wanted to put a Pere Ubu album out on their new subdivision, Blank Records, unaware that Danzig had the trademark to the name. In exchange for the label name, Mercury paid for 30 hours of Misfits studio time.
The birth of horror-punk
Misfits recorded what would have been their debut album, Static Age, but every label passed on it. So they instead released EPs and singles from the sessions, on their own rebooted label, Plan 9. The songs drew inspiration from pulp horror films such as Return Of The Fly and Teenagers From Mars, and American historical events from the 60s and 70s. Case in point: "She" is based on the notorious Patty Hearst story, while "Bullet" is about the JFK assassination. This became the catalyst of a whole new punk sub-genre, invented and perfected by Misfits: horror punk. Fusing the best of 70s melodic punk with more hardcore elements, Misfits further bridged the gap between the disparate scenes of punk and metal.
Shortly after this recording, Misfits started cultivating their signature look. While they previously looked like Jersey thugs kitted up in leather (much like the other early punk adopters), the "corpse paint" make-up and the iconic devil-lock haircuts soon became part of their image, cementing their place as goth influencers. The now-ubiquitous Crimson Ghost logo also started popping up in their flyers during this time, and, shortly after, they recorded Walk Among Us, the only album to be released during the band's Danzig era.
Misfits live shows at this point had become the stuff of legend. Their frequent home base, Max's Kansas City, had to remove tables that were close to the stage to avoid them being destroyed and left in a pile of debris by evening's end. Another show ritual involved hanging dead animal body parts from the rafters.
However, Danzig was slowly becoming disillusioned with Misfits. He started writing material for a new band, and Misfits' last recordings, Earth AD, would be released two months after the band called it quits. After a tumultuous Halloween show in Detroit, in 1983, Danzig announced to the crowd that it would be his final show. His next step was the group Samhain.
A new chapter: Samhain
Samhain was originally planned as a side project with his friend, Misfits photographer, and archivist, Eerie Von on bass. "Bloodfeast" and "Death Comes Ripping," from Earth AD, were supposed to be on Samhain's first record, especially since the first two Samhain releases sound like they could have come from Misfits. However, Samhain III: November-Coming-Fire, is truly the bridge into Danzig's evolution. Jumping styles and genres, very few songs on the record sounded like his previous work – and, most importantly, almost none of it sounded like Misfits.
One fortuitous night in 1986, Def Jam and Def American founder, Rick Rubin, caught the final Samhain show at The Ritz in New York, on the advice of Metallica bassist Cliff Burton. The show was part of the industry event New Music Seminar, where Rubin had discovered his label's original signees, Slayer, at the previous year's conference.
In 1989, Danzig told an interviewer that, even before he started Samhain, he'd thought of naming the band after himself but thought it would be "too Billy Idol." Rubin, however, explained that starting a band called Danzig could allow him more artistic freedom and so the deal was done, with Danzig bringing along Eerie Von as part of the agreement.
Evil Elvis
The first post-Samhain release wasn't actually credited to Danzig: a crooning, Elvis-like ballad on the Less Than Zero soundtrack, "You And Me (Less Than Zero)" was credited Glenn Danzig And The Power And Fury Orchestra, while Danzig also penned a similarly styled song for Roy Orbison on the same soundtrack. After the quick disbanding of Samhain, Danzig only kept his bassist and longtime friend Eerie Von, and hired legendary punk drummer Chuck Biscuits (Black Flag, DOA) and guitarist John Christ.
Eerie Von told The Void Report in 2017, "We tried out like 20 guitarists and I think John was the last one. I thought he was fantastic and so did a couple of the record company guys and Rick Rubin. Glenn was like, 'I don't like him, he's a metal guy, we're punk rock guys. I don't want him.' So, Rubin took him out to dinner and John kept leaving messages on Glenn's answering machine of him playing some of the Samhain songs. He told me, 'This guy's crazy! He keeps leaving me messages where he's playing guitar.' And I said, 'Well, he obviously wants the job.'"
As proved by Samhain's later songs, Danzig was expanding as a songwriter, but now he had a virtuoso guitarist who could play anything. Eerie Von continued: "We would go to rehearsals and Glenn would have an idea and he would just hum a riff and John would say 'Alright' and give him five different choices."
Going solo
Together they created the classic Danzig sound. The death-rock of Samhain became blues-driven hard rock, and Danzig embraced the tenor croon of the likes of Jim Morrison, Roy Orbison, and Elvis Presley. Almost every track of the self-titled Danzig record sounds great through a car stereo, but they also have that very essential AC/DC-like bump'n'grind backseat rhythm that makes the album perfect for clubs. From the album's skull cover art to the scripture-laden lyrics and Danzig's imitable growl, Danzig marked the former Misfits' arrival as a metal icon.
Metalheads and rock fans alike rallied around Danzig's anti-censorship anthem, "Mother," which was written as a rebuke to Tipper Gore and the Parents Music Resource Centre's attempt to clean up rock. The song's ubiquitous presence on FM radio propelled Danzig into the mainstream and supplied rock fans everywhere an instant retort to their parents complaining about their "devil music."
The "Danzig" sound
The success of the Danzig sound continued onto the second album, Danzig II: Lucifuge, and Danzig III: How The Gods Kill. While the first Danzig record is dry, with the vocals forward in the mix, each album gets progressively flashier in production, John Christ's solos become more integral and everyone's musicianship continues to grow. Metalheads latched onto Danzig right away, but greater success was still on the horizon.
In 1993, they released the EP Thrall: Demonsweatlive, featuring new songs on one half and live recordings on the other, including a live revisit of "Mother." The music video got heavy airplay on MTV and people started to rediscover Danzig's earlier work, along with the old Misfits recordings. Metallica and Guns N' Roses were also at a peak during this time and started covering Misfits numbers during their live sets (GNR favored "Attitude," while Metallica took on "Green Hell" and "Last Caress").
Never one to play it safe, before released Danzig IV, Danzig composed a classical record titled Black Aria (1992) and started to experiment with industrial music. "Obviously I could have wrote 'Mother' 20 times and made tons of money and be playing gigantic arenas and whatever, but that's not really what I want to do," said Danzig. "It's time to move on and explore other areas and I hope that there's other bands coming up keep that same mind-set and try to expand what this genre is."
While always pushing the envelope forward, Danzig has also looked to the past. In 2012, he taped Legacy, an homage to the famous 1968 Elvis comeback special, and has played in a number of Misfits reunion shows over the past couple years, as well as continuing to release Danzig albums. Now, three decades after the release of his self-titled debut and unleashing the Danzig persona upon the world, Glenn Danzig remains both a punk and metal pioneer.