Metallica
Metallica are one of the most successful metal bands of all time, comprised of James Hetfield, Lars Ulrich, Kirk Hammett, and Robert Trujillo and with a peerless career that's included classic albums like Master of Puppets, The Black Album, and Ride the Lightning.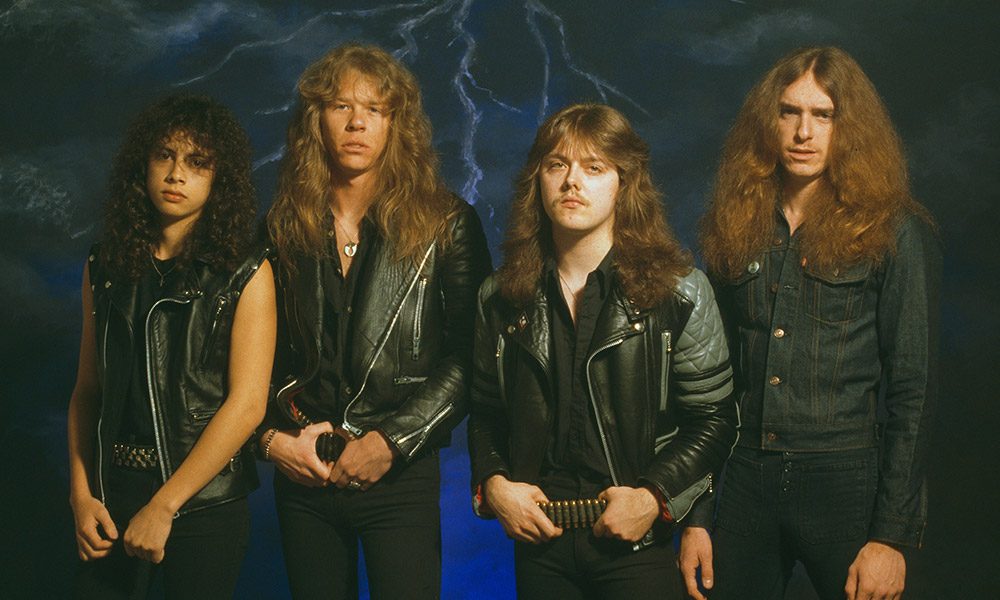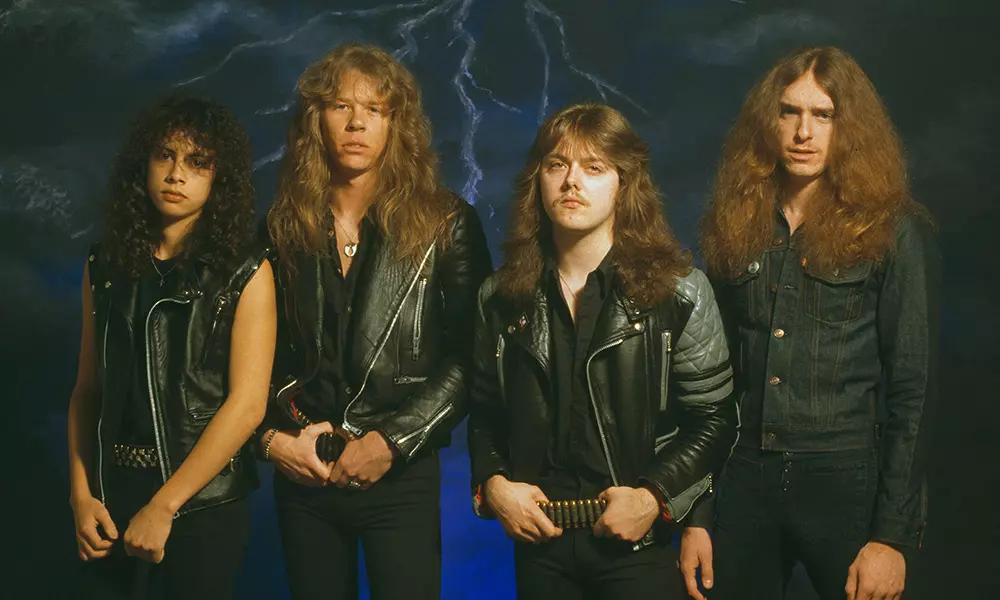 One of the most successful post-metal bands of all time, Metallica the band and Metallica the brand is a savvy blend of consummately crafted hard rock, expertly polished song-writing and attention to detail image that has set the standard by which stadium rock is gauged.
With nine studio albums, four live sets and six compilations in the locker there's plenty for the newcomer and the connoisseur to enjoy. Fronted by long-standing founders Lars Ulrich (drums) and the inimitable James Hetfield (vocals, guitar) the best known early line-up is completed by Kirk Hammett's blistering lead and the late Cliff Burton's outstanding bass guitar talents. However, Jason Newsted, Cliff's replacement, is equally respected and loved by the fans as is his successor, the charismatic handsome Robert Trujillo.
Phenomenally successful, as their career has taken off Metallica have enjoyed a straight run of five number one albums and hoik so much platinum they don't count their sales, they weigh them. The band have tributed various heroes – Blue Oyster Cult, The Ramones, Ennio Morricone and Thin Lizzy being four obvious examples – and collaborated with a spellbinding cast of luminaries, including Lou Reed, Iron Maiden, Ja Rule and Ozzy Osbourne. These days they're almost as well known for their long format videos and DVDs, but we're here to salute the mighty Metallica's music.
Crawling out of San Francisco in the early 1980s, Hetfield and Ulrich's plan for world domination was a slow burner at first. The sparkling debut proper, Kill 'Em All, and the following Ride The Lightning set down a marker which Master Of Puppets picked up and turned to gold. Newsted's arrival coincided with the massive selling LP …And Justice For All, while the group's self-titled fifth disc, the so-called Black Album found them moving into huge arenas and notching sales to match.
Typically audaciously, the Load and Reload albums were recorded as two parts of a double (1996/7) and by the end of the 1990s, Metallica's status was such that their live masterpiece S&M, which was recorded with the San Francisco Symphony Orchestra conducted by Michael Kamen, an esoteric project, still reached the heights of charts everywhere.
The previous year's covers disc, Garage Inc. paid homage to the new wave of metal with nods at Diamond Head, Black Sabbath, Lynyrd Skynyrd, Mercyful Fate and Nick Cave and the Bad Seeds. Their version of BOC's 'Astronomy' is worth the price of admission alone and the other 60 odd minutes ain't too shabby either.
Metallica have enjoyed critical success to go with all the accepted trappings of fame but while they are no angels – Hetfield has admitted to personal problems – they are resolutely professional and hard-working dudes, rather than showy or flash individuals and it's that trait which endears them to their monster fan base. When they play live they give the decided impression that they are at one with the audience and the experience. There is a purity to their craft which is deeply affecting.
Leave 'em wanting more is another characteristic of this quartet. They took six years to release St. Anger but boy, was it worth the wait. The album, produced by Bob Rock (he'd hooked horns with Lars and chums in 1991) won the group a Grammy for Best Metal Performance and its six million-plus sales indicate it's another must-hear earworm.
Brutal and beautiful the St. Anger album was recorded in an old rented army barracks in Presidio, California during a time of turmoil, documented in the film Some Kind of Monster. Because of all the changes, the outfit were going through it's cited by them as their most intensely personal album, with Rock pushing them to hit their rawest nerves and emerge triumphant, like some kind of reborn garage band. St. Anger was also the catalyst for an insane period of touring as Hetfield and co. got all their problems out of their system on a crushingly exhaustive two-year world tour. The road had always been one of Metallica's fortes but now the sound and the fury coalesced and Trujillo's appearance on the Rehearsals DVD only added to the impression of a band on the brink but waiting for redemption. What were they letting themselves in for?
2008's Death Magnetic, recorded at Sound City Studios, LA – a very old school environment – and also in their HQ in San Rafael, was a completely different proposition. Boasting a more modernistic style, thanks in great part to a new liaison with producer Rick Rubin, the Metallica core values of intellectual thrash were retained; guitar solos, which were stripped to rhythm alone on St. Anger, are all over this album. Hardcore fans rate this disc for its full-fat sturm und drang. Hammett and Hetfield have rarely sounded so possessed. As if to hammer home the gems within, the band have released six variational singles from Death Magnetic with 'The Day That Never Comes' and 'Cyanide' in particular emulating the power and majesty of their trademark song 'Enter Sandman' an anthem for metal nuts everywhere.
That Lou Reed collaboration – Lulu – a devilish combo of old Lou's Berlin and the band's Master Of Puppets, flummoxed, enraged and delighted listeners, often at the same time. Acoustic guitars? It was like a neutron bomb going off in metal land, according to Lars Ulrich but then they've never been an outfit to do things either by halves or half-heartedly. Hence, perhaps, the decision to utilise concept producer Hal Willner for many of the cuts.
With 2011 also unleashing the long-form EP Beyond Magnetic and the shorter 30th Anniversary celebration, live from the Fillmore, San Francisco, it seems the band are back in gestation mode; no doubt plotting new ways to enthral. There are rumblings underground. Metallica have started their own label, Blackened Recordings, to be distributed by Universal Music internationally, and they have a film in the pipeline ready for IMAX release this autumn entitled Through The Never. Rumours imply they will soon be working with Rick Rubin again, picking up where Death Magnetic left off. With Metallica you see, there is always unfinished business. Even when you don't see 'em they aren't standing still. The rage remains as does the mystery of these sandmen puppeteers who have come to rob you of your sleep and to imprint their sonic wonder all over your retinas and synapses.
Remarkable group this lot. A band that amazes and a brand stamped with integrity. Now, that's something you don't always see in rock and roll.
Words: Steve Huey