Lynyrd Skynyrd
The Southern rock band that originally featured Ronnie Van Zant as lead singer are known for such classic songs as 'Freebird' and 'Sweet Home Alabama'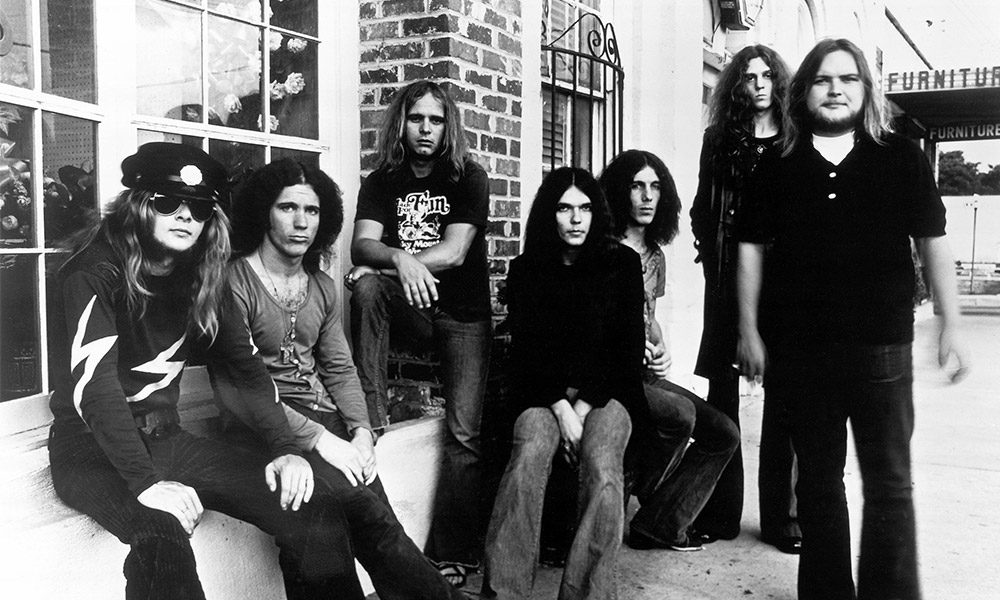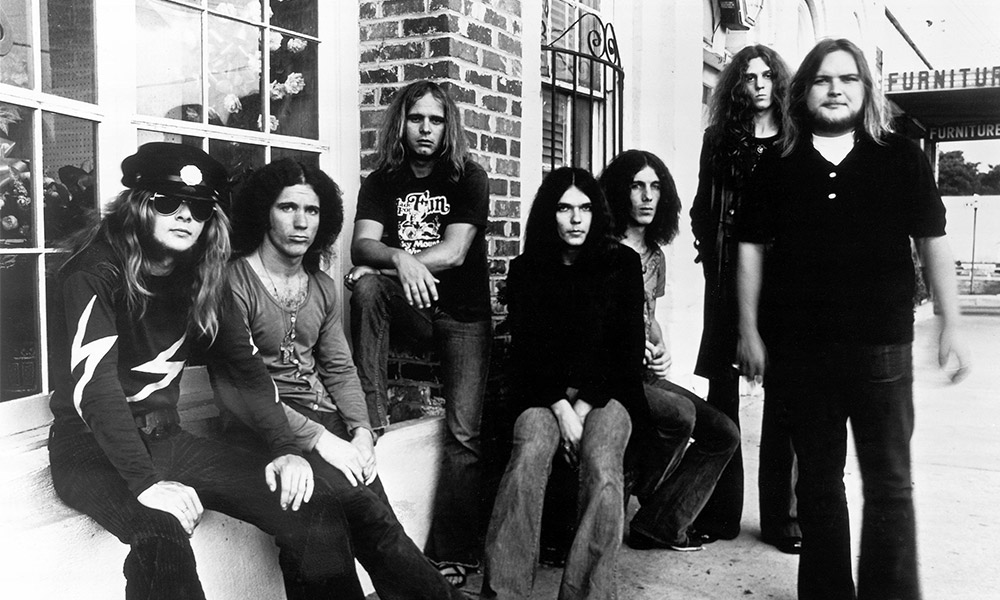 World-renowned for their hard-driven Southern rock attack and their magnificent melodies Lynyrd Skynyrd have sold millions of albums and sent audiences into raptures ever since they emerged from Jacksonville, Florida in 1966. Their first five classic albums are all available here, as are some stonking live sets and a generous number of anthologies, hits and compilations. Skynyrd have endured until the present day and survived awful tragedies and terrible bad luck on the way but the Van Zant dynasty and their comrades Rossington and Collins remain an American institution. Members of the Rock and Roll Hall of Fame they are one of the greatest rock acts of all time and thanks to legendary tracks like "Free Bird" and "Sweet Home Alabama" they continue to enthral each passing generation while maintaining a fanatical following in the US, Europe and Asia. Their hard rocking and hard living escapades have made this group what they are – no point glossing the truth – but midst the excesses lies a body of classic work that keeps Lyn Skyn vital and vibrant and we are proud to feature their thrilling music and urge you to discover it again. Let's face it; their triple-guitar attack and evocative Southern rock vocals are a part of the history of their locale. Their fans love them warts and all, and so do we.
The origins of the band go back to teenage school years when singer Ronnie Van Zant and guitarists Allen Collins and Gary Rossington formed garage acts like My Backyard and The Noble Five in their native Jacksonville. The legendary name sprang from a disciplinarian teacher called Leonard Skinnerd who gave the boys hell in PE and forbade fashionable Beatle length hair. The distinctive Lynyrd Skynyrd spelling came into use in early 1970 by which time roadie Billy Powell was hired on keyboards. Their big break came when the producer and musician Al Kooper saw them in his guise as a member of Blood, Sweat & Tears. Suitably impressed Kooper signed them to his Sounds of the South label and won distribution via MCA Records. A new bassist Al King, formerly in Strawberry Alarm Clock added necessary gravitas but they'd learned on the job and their debut, known as Lynyrd Skynyrd – Pronounced 'leh-nerd 'skin-nerd' (1973) includes the excellent "Gimme Three Steps", "Simple Man', the epic "Tuesday's Gone" and the ever wonderful "Free Bird". Quite a beginning! Kooper's immaculate production and the boys' innate abilities make this disc shine but there is more to them than simply Southern rock boogie. Van Zant's passionate lyrics and equally adroit vocals became a marker on a recording that has since sold well over two million copies and consequently gone double Platinum. The expanded CD with bonus material is particularly commended since the demos are pretty much as good as the finished artefact.
Second Helping (1974) is miraculously every bit as emphatic. Consider the classic "Sweet Home Alabama" which they wrote in answer to Neil Young's "Southern Man" and "Alabama" – wherein he implies that rednecks are racists – and marvel at the three-pronged guitar attack. This is a landmark outing, again produced by Kooper but with a bigger budget that took the LS crew to The Record Plant in Los Angeles where their wild partying antics didn't go unnoticed. In many ways an unreconstructed product of their environment they still don't lack for subtlety on tracks like "Don't Ask Me No Questions" and turn in a terrific version of J.J. Cale's "Call Me The Breeze". Again the CD with bonus tracks cuts the mustard and even a famously exacting critic like Robert Christgau gave this Second Helping a five-star mark.
The modestly titled Nuthin' Fancy (1975) maintains a hard-working lifestyle and by now the Lyn Skyn gang are a major live attraction with new drummer Artimus Pyle becoming a star in his own right. Kooper again bosses the board and the band blow a storm on "Saturday Night Special" and "Made in the Shade", Van Zant gems both that are improved by the addition of funky percussion and a side order of Barry Harwood's Dobro and mandolin.
On a suitable roll, they released Gimme Back My Bullets in 1976 with producer Tom Dowd, an icon to the band, and effectively created a quasi-conceptual suite of Southern songs that hit home hard and still sound magic. "All I Can Do Is Write About It" and "Cry For The Bad Man" are amongst the more sophisticated songs in the Van Zant and Allen Collins trove and their second J.J. Cale cover, "I Got the Same Old Blues", fingers them as men of consummate taste. The bonus CD with extras is a wonderful thing too since it includes all the tracks they played for the BBC 2 Old Grey Whistle Test broadcast from November 1975 – a mind-blowing event if you happened to be in the audience for that one. Strangely this hasn't yet gone Platinum or higher in the US which is a travesty considering many feel it to be a definitive moment in Southern blues.
One More From The Road is the only official live disc from the 'classic line-up' era. Pitched over four sides of vinyl in the old money it contains the total work out version of "Free Bird" and all the hits you'd expect to hear as well as a scintillating interpretation of Jimmy Rodgers "T For Texas" and a sweetly nuanced attack on Robert Johnson's "Crossroads". The remastered CD 25th Anniversary Deluxe Edition is worth the extra cash too – since you get far more than double your money in terms of time and value and the chance to become acquainted with newcomers Steve and Cassie Gaines. The extra live stuff from the Fox Theatre in Atlanta, Georgia makes this package one of the greatest live documents Southern rock has graced us with. Completely recommended.
Street Survivors is a poignant affair from 1977 recorded in Miami with Tom Dowd adding various shades and textures to a sound that was now attaining perfection. But this would be the last album made with Van Zant and Collins. Three days after release a plane crash took the lives of those original souls as well as the Gaines siblings. The majority of the rest were severely injured and horribly traumatised. They'd completed a successful concert in South Carolina and were en route to Louisiana when the tragedy occurred, the Corvair they were on crashing in woods in McComb, Mississippi.
Viewed posthumously there's an air of foreboding within the camp. Van Zant had thrown down the gauntlet regarding certain excesses on "That Smell" and they'd already endured car smashes and excess all areas behaviour that threatened the internal brotherhood. Check this out on the expanded version again because you'll get a late period live set from Fresno, California (August 1977) plus original and/or alternate takes on "What's Your Name" and "Sweet Little Missy".
Of course, their story is far from over and the posthumous releases, as well as those by the newer line-ups, continue to captivate. Try Skynyrd's First And …Last, that contains their legendary Muscle Shoals sessions from 1971-1972 with selections from the Box Set and priceless attempts at "Free Bird" "Preacher's Daughter" and the rocking spiritual "Lend a Helpin' Hand". On this release, you can hear how closely grounded Lynyrd Skynyrd in the sounds of the south, black and white and every shade between. Another magnificent artefact.
Remember them that way in their early pomp and also seek out Legend for the 1977 era demos. Then we offer Southern by the Grace of God, the live album that reunites them with old guitar pal Ed King and pushes young Johnny Van Zant into the mic spotlight.
We cater for all pockets when it comes to compilations of this grand band. The 20th Century Masters CD and Gold both offer a neat précis but you could investigate the depth of Skynyrd's Innyrds, which has sold five times Platinum, or Solo Flytes, where side projects tale centre stage. Genuinely something for everyone: in the case of the 3-CD Box Set that includes even the most ardent Skynyrd fanatic.
Lynyrd Skynyrd are like the Dude, they will prevail. Not just a classic Southern Rock group – a classic rock group, period.
Words: Max Bell