Best Music Documentaries: 56 Essential Watches For Music Fans
Music's myriad subgenres and biggest starss have inspired some of the best documentaries ever made. Here are the ones you need to see.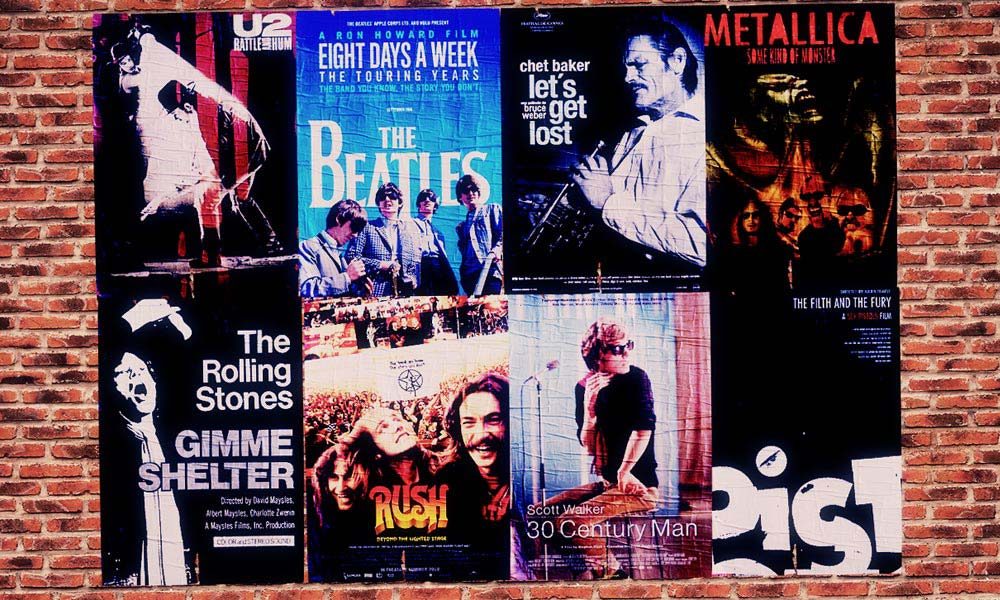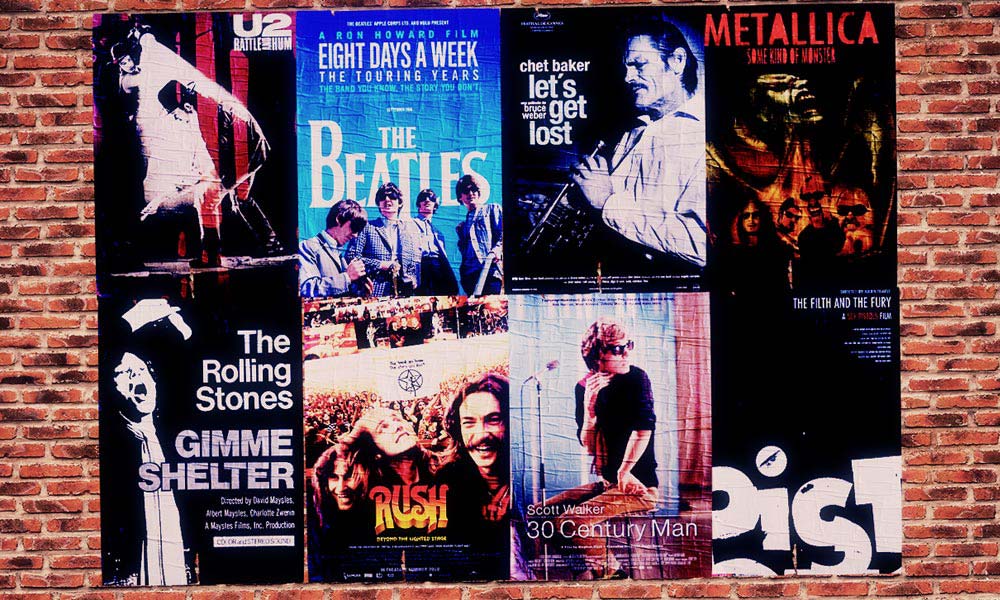 In cultural terms, the course of "popular" music has sometimes been dictated by prevailing fads and fashions, and its harshest critics have often dismissed it as disposable. Yet rock, pop, and modern music's myriad subgenres have nonetheless inspired some of the most enduring documentaries of our age – and, if HBO and Netflix have anything to do with it, that's not going to end anytime soon. To celebrate this, we grab some popcorn, dim the lights, and revisit the best music documentaries ever made.
While you're reading, listen to our Music Documentaries playlist here.
Gimme Shelter (1970)
Often seen to mirror the death of the idealistic 60s, the free concert The Rolling Stones performed at California's Altamont Speedway in December 1969 was tagged onto the end of their triumphant US tour and intended as a celebratory night out for fans. However, Gimme Shelter, the film the Maysles brothers shot that fateful night, captured one of the worst tragedies in rock history when fan Meredith Hunter was stabbed to death by Hells Angel Alan Passaro while the Stones performed. Five decades later, it has lost none of its bleak power; a feeling of dread still hangs over this most apocalyptic of all music documentaries.
Gimme Shelter (1970) ORIGINAL TRAILER [HD 1080p]
Elvis: That's The Way It Is (1970)
The critically hailed '68 Comeback Special arguably reintroduced Elvis Presley to a serious rock'n'roll audience, but director Denis Sanders' Elvis: That's The Way It Is was The King's first non-dramatic movie since his film career began in 1956. Though ostensibly a record of Presley's Las Vegas residency during the summer of 1970, there's also plenty of compelling backstage and off-duty footage, while the electrifying live performances depict Elvis on lean and vital form.
Elvis: That's the Way It Is | Official Trailer | Warner Bros. Entertainment
Amazing Grace (1972)
Sydney Pollack's Aretha Franklin concert film, Amazing Grace, was captured in 1972, but ended up languishing in the vaults owing to various technical and legal issues. After producer Alan Elliott acquired the rights to it, however, the film was finally restored and released in August 2018, following Franklin's death. A remarkable concert film, Amazing Grace tracks the Queen Of Soul's return to gospel music in 1972 with the choir at New Bethel Baptist Church in Watts, Los Angeles. Variety said that her on-screen performance "sounds like the holiest of trumpets, with every note piercingly bright yet as soft as velvet." We agree. It's one of the best music documentaries ever made.
AMAZING GRACE - Official Trailer - Aretha Franklin Concert Film
Cracked Actor (1974)
Ziggy acolytes have DA Pennebaker's concert film Ziggy Stardust And The Spiders From Mars, but Alan Yentob's BBC-sponsored documentary Cracked Actor is equally mandatory. Filmed while David Bowie was touring Diamond Dogs in 1974 and struggling with a nagging cocaine dependency, it depicts the artist in a markedly fragile mental state. Indeed, it's thrown into even sharper relief when you consider that, over the next 12 months, Bowie would somehow also complete Young Americans and star in The Man Who Fell To Earth.
The Last Waltz (1978)
What makes The Last Waltz one of the best music documentaries ever made is that it is both the record of a magnificent concert and a feat of daring cinematography. For their extraordinary final shows at San Francisco's Winterland Ballroom in November 1976, The Band, led by Robbie Robertson, assembled an amazing cast to share the moment, including Muddy Waters, Bob Dylan, Van Morrison, and Joni Mitchell. Acclaimed director Martin Scorsese was on hand to capture the whole thing and later released it as a movie. Scorsese, using multiple cameras and 35mm film, oversaw a complex challenge – cameras often ran out of film and synch motors would break – using innovative shooting angles and giant cranes to get the shots he wanted. He also brought in a top-flight team of cinematographers, led by Michael Chapman and including László Kovács (Easy Rider) and Vilmos Zsigmond (McCabe & Mrs. Miller) to ensure his vision was fulfilled. In 2020, Scorsese served as executive producer on the fine The Band documentary called Once Were Brothers. – Martin Chilton
The Decline Of Western Civilization (1981)
She's overseen hit movies such as Wayne's World, but Penelope Spheeris' magnum opus surely still remains her three-part The Decline Of Western Civilization. Finally issued as a 3DVD box set in 2015, the entertaining (if sometimes preposterous) second volume, The Metal Years, depicted LA's late 80s metal scene in all its pomp, while '98's III concentrated on the city's newer breed of Mohican-sporting "gutter punks." However, it's Spheeris' original 1981 documentary, The Decline Of Western Civilization – a warts'n'all portrayal of the LA punk scene, with electrifying footage of The Germs, X, and Circle Jerks, which remains the trilogy's iconic flick.
The Decline Of Western Civilization Official Trailer #1 (1981)
Talking Heads: Stop Making Sense (1984)
Stop Making Sense, the Talking Heads concert film directed by Jonathan Demme, is widely recognized as one of the best concert / music documentaries of all time, winning the National Society of Film Critics award for best non-fiction film in 1984. It was shot during four nights of concerts at Hollywood's Pantages Theatre and pioneered the use of 24-track digital sound. As well as the dazzling music, starting with a boombox version of "Psycho Killer," the film also fused Demme's sumptuous cinematographic style with singer David Byrne's eye for visual stagecraft. His famous giant suit came at a time when he had been interested in traditional Japanese theatre. He was inspired by a remark from his friend Jurgen Lehl, a fashion designer, who said that everything was bigger on stage. "He was referring to gestures and all that, but I applied the idea to a businessman's suit," said Byrne. – Martin Chilton
Let's Get Lost (1988)
Brilliant, mercurial jazz trumpeter Chet Baker possessed looks worthy of James Dean, while his talent led him to record with jazz legends such as Charlie Parker and Gerry Mulligan. However, after decades of heroin addiction and hard living, he died prematurely when he fell from a hotel window in Amsterdam. Baker's turbulent life and career is framed beautifully in Bruce Weber's critically acclaimed, novelistic Let's Get Lost, which features insights from Baker's ex-wives and former associates, plus vintage footage of Baker in his prime on US TV's The Steve Allen Show from the late 50s.
Rattle And Hum (1988)
U2's sixth LP, Rattle And Hum, was a runaway commercial success that sold 14 million copies, though the critics were divided over the Dublin quartet's exploration of American roots music. Nonetheless, Phil Joanou's emotive companion music documentary captures U2's rites of passage as they become fully-fledged, stadium-filling superstars. Simply for its breathtaking live footage shot in Arizona's Sun Devil Stadium, Rattle And Hum remains worthy of the price of admission.
U2: Rattle and Hum - Trailer
Rhyme & Reason (1997)
Peter Spirer's exhaustive film explores the history of hip-hop culture and reveals how rap took the international music scene by storm. Beginning in the dingy tenements of the Bronx and ending in Hollywood, where many of the genre's leading lights have relocated to become multi-millionaires, Rhyme & Reason lets the artists speak for themselves, with veteran old-school rappers (KRS-One, Chuck D) and contemporaneous hitmakers (Wu-Tang Clan, Dr Dre, The Fugees) taking the opportunity to speak frankly about everything from sex to crime, drugs and the next generation.
Rhyme & Reason | Official Trailer (HD) – Dr. Dre, Nas, Lauryn Hill | MIRAMAX
Meeting People Is Easy (1998)
Radiohead's critically adored third LP, 1997's OK Computer, launched them onto the international stage, selling around five million copies worldwide; the subsequent world tour (taking in over 100 gigs) almost killed the band and left Thom Yorke on the verge of a nervous breakdown. The drama of the trek is chronicled by director Grant Gee's Grammy Award-winning Meeting People Is Easy: a numb, abstract, yet compelling capture of the events presented using disorienting cinematic methods including slow tracking shots and time-lapse photography.
Meeting People is Easy (Trailer @ Beat Film Festival 2016)
Buena Vista Social Club (1999)
Directed by Wim Wenders and globally acclaimed on its initial release, Buena Vista Social Club chronicles Ry Cooder's quest to bring together an ensemble of legendary, octogenarian Cuban musicians to record an LP and then perform the music in Europe and at a historic concert in New York's legendary Carnegie Hall. Wenders' cinematography is typically lush and beautifully shot; the Cuban musicians' roguish charm is undeniable. The film fully deserved its Academy Award nomination in 2000, and it remains one of the best music documentaries ever made.
WIM WENDERS - Buena Vista Social (trailer)
The Filth And The Fury (2000)
As all serious punk fans know, The Great Rock'n'Roll Swindle was (and still is) great fun, but ultimately it was Machiavellian manager Malcolm McLaren's outrageous fantasy version of Sex Pistols' history, and hard facts rarely entered into it. Two decades on, however, director Julien Temple gave the band a chance to set the record straight, which they did in no uncertain terms during The Filth And The Fury. Filmed in silhouette, the individual members are utterly candid in recalling the real story of their notorious past, with the normally cynical John Lydon even breaking down over the senseless death of Sid Vicious.
The Filth and the Fury (2000) | Film4 Trailer
Made In Sheffield: The Birth Of Electronic Pop (2002)
Punk's revolutionary DIY ethos may have set off a chain reaction around the UK, but as Eve Wood's provocative Made In Sheffield asserts, the hipper scenesters in this seemingly dour Yorkshire steel town already knew guitars were passé and that synthesizers would reconfigure the musical landscape in the post-punk world. They weren't wrong, either, as this transcendent little Sheffield scene spawned electro-pop giants such as The Human League, Heaven 17, and Cabaret Voltaire, all of whom reflect on this intense period when, as Heaven 17's Ian Craig Marsh so memorably puts it, "We thought we were killing off rock'n'roll."
I Am Trying To Break Your Heart: A Film About Wilco (2002)
Influenced by the horrific events of 9/11, Yankee Hotel Foxtrot, the fourth album by Chicagoan Americana pioneers turned alt.rockers Wilco, is often cited as their landmark release. Its creation, however, was fraught with difficulties, and Sam Jones' engrossing black-and-white film I Am Trying To Break Your Heart consequently documents the internal tensions which resulted in the departure of multi-instrumentalist Jay Bennett and the events which led to Wilco recording Yankee Hotel Foxtrot for one Warner Bros imprint (Reprise) and eventually releasing it through another (Nonesuch).
I Am Trying to Break Your Heart: A Film About Wilco - Official Trailer
Dig! (2003)
Over seven years, filmmaker Ondi Timoner shot 1,500 hours of footage for the 108-minute rockumentary Dig! which examines the rivalry between two American bands: The Dandy Warhols and the Brian Jonestown Massacre. While the Dandy Warhols, led by Courtney Taylor, ended up filling stadiums and earning money from advertisements, Anton Newcombe's BJM's forged a path of destruction. The film offers a revealing insight into the alternative music scene and the way friendships can falter under the pressure of trying to make money while retaining artistic integrity. Dig! is also packed with wonderfully bizarre backstage shenanigans. The film won the Grand Jury Prize at the 2004 Sundance Film Festival, and stands as one of the best music documentaries ever put to film. – Martin Chilton
Be Here To Love Me: A Film About Townes Van Zandt (2004)
Late Texan troubadour Townes Van Zandt was arguably one of the greatest country-folk singer-songwriters of them all, but he was also a tormented soul. Compiled from intimate home movies, old TV performances and detailed interviews with contemporaries such as Steve Earle and Guy Clark, director Margaret Brown's Be Here To Love Me paints a sympathetic portrait of a sensitive artist who would count superstars such as Willie Nelson among his fans, despite the fact that his poetic, fatalistic songs often sprang from his lifelong struggles with drink, drugs and bipolar disorder.
Metallica: Some Kind Of Monster (2004)
When metal leviathans Metallica agreed to allow directors Joe Berlinger and Bruce Sinofsky to shoot a no-holds-barred film, they got rather more than they bargained for. In one of the most revealing music documentaries ever, Some Kind Of Monster documents arguably the band's most turbulent era: a period wherein bassist Jason Newsted quits, frontman James Hetfield enters rehab, and a long-simmering power struggle between Hetfield and drummer Lars Ulrich spills over and launches a tsunami of emotions.
Metallica: Some Kind of Monster (DVD Trailer)
No Direction Home (2005)
Bob Dylan buffs can also gorge on excellent docs including DA Pennebaker's brilliant, gonzo-style Dont Look Back and Murray Lerner's The Other Side Of The Mirror, but Martin Scorsese's No Direction Home is surely the most thorough and comprehensive examination of the iconic trailblazer's life and times. Including rarely seen Pennebaker-filmed footage circa '66, exclusive interviews with Allen Ginsberg and Dylan's ex-girlfriend Suze Rotolo, not to mention Dylan's own candid commentary about his seismic early years, No Direction Home remains as close to lifting the veil as Dylan fans can get.
No Direction Home (10th Anniversary Edition Trailer)
We Jam Econo: The Story Of The Minutemen (2005)
Punk-funk trailblazers The Minutemen were cited as influential by just about every US punk outfit worth their salt during the 80s, but their career was cruelly terminated when frontman D Boon was killed in a car crash in December 1985, aged just 27. Copping its moniker from SoCal slang for the band's dedication to DIY low-cost record production and touring, We Jam Econo features poignant interviews with the band's surviving members Mike Watt and George Hurley, and, fittingly, its 2005 premiere was in the trio's hometown of San Pedro, California.
The Minutemen - We Jam Econo Trailer
The Devil And Daniel Johnston (2006)
Despite being diagnosed with both bipolar disorder and schizophrenia, outsider artist Daniel Johnston became a grunge-era icon thanks to his lo-fi, home-recorded music and highly prized drawings garnering praise from renowned names such as Tom Waits and Kurt Cobain. He later became the subject of director Jeff Feuerzeig's acclaimed, if painfully intimate, The Devil And Daniel Johnston, which won the Documentary Directing Award at 2005's prestigious Sundance Film Festival.
The Devil and Daniel Johnston (Trailer)
American Hardcore: The History Of American Punk Rock 1980-86 (2006)
Directed by Paul Rachman and based on author Steven Blush's book American Hardcore: A Tribal History, this engaging rockumentary does exactly what it says on the tin, addressing the birth and evolution of hardcore punk in its major strongholds such as Washington, DC, Los Angeles and Chicago during the late 70s and early 80s. Featuring exclusive contemporaneous interviews with movers and shakers the likes of Black Flag's Henry Rollins and Fugazi/Minor Threat mainstay Ian MacKaye, the film also boasts vintage live footage often supplied by the bands themselves.
American Hardcore Punk Documentary
Scott Walker: 30 Century Man (2007)
One of pop's coolest ever enigmas, the naturally reclusive Scott Walker recorded an immaculate series of glorious, orchestrally inclined pop albums during the late 60s, before going into self-imposed exile. Finally resurfacing with 1984's Climate Of Hunter, he went on to release a series of radical, avant-garde-inclined albums recorded at a snail's pace. Director Stephen Kijak's 30 Century Man was released to showcase Walker's highly anticipated 2006 opus, The Drift, and it remains an insightful overview of his elusive career, with input from high-profile interviewees including Brian Eno and the film's executive producer, David Bowie.
Scott Walker: 30 Century Man - Trailer
It Might Get Loud (2008)
Filmmaker Davis Guggenheim said he wanted to make a music documentary about guitarists Jimmy Page, the Edge from U2, and Jack White to highlight the three different stories they had to tell and the similarities that brought them together. "The thing that the three shared is that they're all searchers," said Guggenheim. "These are guys who are not just great guitar players, they're artists who are trying to find themselves." It Might Get Loud, which was given a premiere at the Toronto International Film Festival, was unscripted, allowing the guitarists to chat openly and spontaneously. "You never really knew what was going to come next, or what was going to evolve next. And that was the beauty of it," said Page, founder of Led Zeppelin. Among the many enriching moments in the film is seeing the three top musicians collaborate as they learn to play "The Weight" by The Band. – Martin Chilton
Anvil! The Story of Anvil (2008)
British screenwriter-turned-director Sacha Gervasi was only 17 when he introduced himself to Canadian heavy metal band Anvil in London in 1982, telling them he was "England's number-one Anvil fan." He later became a roadie for the band – they nicknamed him "Teabag" – and reunited with them two decades later to make a charming, affectionate music documentary about their failed attempts to hit the big time. (The group has often been called a "real-life Spinal Tap.") Anvil! went on to win the 2010 Emmy award for "outstanding arts and cultural programming." Even for people who aren't fans of the metal band, the documentary is a treat, full of the forlorn adventures of once-influential drummer Robb Reiner and lead vocalist Steve "Lips" Kudlow, including a desultory gig in an almost empty student bar in Croatia. The film is centered around the pair, now in their fifties, who are gearing up to cut their thirteenth album, This is Thirteen. It's a funny, touching tale. – Martin Chilton
Oil City Confidential (2009)
Their glory days were cut short by internal squabbling and line-up changes, yet supercharged Canvey Island R&B outfit Dr Feelgood were arguably the coolest thing on eight legs during Britain's pre-punk pub rock era. Warmly received by the critics on release in 2010, director Julien Temple's insightful Oil City Confidential inevitably homes in on the lives of the band's two major players: much-missed, harmonica-toting frontman Lee Brilleaux and studious English literature teacher turned manic, strutting lead guitarist Wilko Johnson.
Oil City Confidential Trailer
Who Is Harry Nilsson (And Why Is Everybody Talkin' About Him?) (2010)
"I was a tremendous fan of Harry Nilsson in my college days, but didn't really know too much of his story," director and scriptwriter John Scheinfeld said. "When his estate came to me and asked if I was interested in doing a film about him, I read a bit more into him and I found that it was just a compelling story that needed to be told." What makes Who is Harry Nilsson (And Why Is Everybody Talkin' About Him?) such a great music documentary is that it does a wonderful job of introducing you to a fantastic singer whose private life – apart from his eccentric friendship with John Lennon – was not often in the public eye. This is a fascinating portrait of a highly original singer-songwriter and an eye-opening exploration of the dark side of success. The film, which features interviews with Randy Newman, Jimmy Webb, and Eric Idle, was nominated for Best Documentary Screenplay by the Writers Guild of America. – Martin Chilton
Beyond The Lighted Stage (2010)
Enduring prog rock trio Rush are akin to deities in their native Canada, and have earned a devoted audience that's followed them for the best part of five decades. Their back catalog includes seismic LPs such as 2112, Permanent Waves, and Moving Pictures, and their long and winding career is treated with the reverence it deserves in Scot McFadyen and Sam Dunn's Beyond The Lighted Stage, which – aside from a wealth of backstage and personal footage – includes enthusiastic testimonials from stellar artists as diverse as Billy Corgan, Gene Simmons, and Trent Reznor.
Rush Beyond The Lighted Stage Trailer (HD)
Searching for Sugar Man (2012)
One of the most inspiring music documentaries of modern times is Searching for Sugar Man, a Swedish-British production about a lost relic of the American folk scene, a folk singer called Sixto Rodriguez whose work was a significant part of the soundtrack for the anti-apartheid movement in South Africa. Malik Bendjelloul's film reveals how Rodriguez's South African fans initially assumed that their idol had died – before discovering he was actually working as a builder in Detroit. The success of the film – it won an Oscar for best documentary – rejuvenated Rodriguez's singing career. The documentary was uplifting and touching, but there was a sad postscript: Bendjelloul was just 36 when he killed himself in Stockholm, two years after the film came out. – Martin Chilton
Punk In Africa (2012)
Punk appealed to intelligent, forward-thinking kids in South Africa just as much as it did in the UK, but due to the nation's repressive political regime, the revolution was only finally televised when Deon Maas and Keith Jones' Punk In Africa premiered worldwide in 2012. Revealing how angry, courageous outfits such as Wild Youth and the mixed-race National Wake formed after the 1976 Soweto Riots and later handed the baton to the next generation of refuseniks in South Africa, Zimbabwe, and Mozambique, the film tells the captivating story of the original artists against Apartheid.
Sound City: Real to Reel (2013)
Dave Grohl, the drummer for Nirvana and later founder of Foo Fighters, once joked that when he first entered the famous Sound City Studios in Van Nuys, Los Angeles, he was shocked by how much of a "dump" the famous recording venue had become since its glory opening days in 1969. When the studio closed in 2011, Grohl bought the Neve 8028 analog mixing console and decided to produce and direct a documentary in tribute to a famous studio that he said, "really did change my life forever." The documentary includes interviews with console inventor Rupert Neve and lots of the musicians who used the studio, including Tom Petty, Paul McCartney, John Fogerty, and Neil Young. Grohl is an impressive guide to the studio and the soundtrack is excellent. – Martin Chilton
20 Feet from Stardom (2013)
Backing singers usually remain the unnamed voices at the rear of the stage. 20 Feet from Stardom, put them firmly in the spotlight, with the bittersweet tale of the backup singers such as Darlene Love, Judith Hill, Lisa Fischer, and Claudia Lennear. Pop stars are usually the focus of music documentaries and this original film spoke volumes about the truth of the music industry. "I was really more interested in people who were voices for hire, who were able to walk into sessions never knowing what they had to do and could bring it," said filmmaker Morgan Neville. As well as heart-breaking stories of disappointments, there are uplifting tales and insights into some of music's famous hits. Merry Clayton, for example, recalls going into the studio with the Rolling Stones at two in the morning, very pregnant with curlers in her hair, to add her own special something to "Gimme Shelter." 20 Feet from Stardom won the Oscar for Best Documentary Feature at the 2014 Academy Awards. – Martin Chilton
Looking For Johnny: The Johnny Thunders Story (2014)
Central to the story of legendary NYC proto-punks New York Dolls, and later the leader of the talented but short-lived Heartbreakers, the enigmatic Johnny Thunders inspired glam-metal and punk, yet his career was blighted by chronic drug addiction and he died in mysterious circumstances in New Orleans in 1991. In the gripping Looking For Johnny, director Danny Garcia adroitly traces the arc of a surprisingly complex life, from Thunders' early years as a shy, baseball-adoring teen to his poignant latter years battling narcotics and leukemia.
"LOOKING FOR JOHNNY" The Legend of Johnny Thunders - TRAILER
Amy (2015)
Two years in the making, Asif Kapadia's complex, yet intimate portrayal of Amy Winehouse's brief, though brilliant career and her tragically premature death was billed as "the singer in her own words." Compiled from in-depth interviews with the star's friends, family and associates, Amy also includes extensive, previously unseen archival footage and rarely heard live performances, and is a feast for fans. First released theatrically in July 2015, Amy has since received over 30 cinematic awards and currently holds the title for the highest-grossing British documentary of all time.
Amy Official Trailer #1 (2015) - Amy Winehouse Documentary HD
What Happened, Miss Simone? (2015)
Released through Netflix in June 2015, What Happened, Miss Simone? delves into the life and times of the pioneering, genre-straddling singer-songwriter and civil-rights activist Nina Simone. Pulling in archival footage and contemporary interviews with Simone's daughter, Lisa Simone Kelly, and close friends, this insightful film, directed by Liz Garbus, opened the 2015 Sundance Film Festival. The premiere was followed by an emotional tribute performance by John Legend. It was later nominated for an Oscar and six Emmy Awards, where it triumphed in the Outstanding Documentary category.
Nina Simone - What Happened, Miss Simone? - Trailer
Kurt Cobain: Montage Of Heck (2015)
Brett Morgen, the filmmaker behind triumphs such as Chicago 10 and The Kid Stays in the Picture, spent eight years making the magnificent documentary about the life of Nirvana's frontman Kurt Cobain. The HBO documentary, the first authorized by the estate of the musician who was only 27 when he killed himself in 1994, is an honest and perceptive look at the life of the man behind the seminal song "Smells Like Teen Spirit." Kurt Cobain: Montage Of Heck utilizes revealing home movies, Cobain's own autobiographical recordings, concert footage, and interviews with Krist Novoselic and Courtney Love to tell its story. It all mounts up to an intimate, emotional triumph, a genuine insight into the life of a private superstar. – Martin Chilton
The Beatles: Eight Days A Week (2016)
With the exhaustive The Compleat Beatles and The Beatles Anthology already in the can, long-term Beatles addicts already have an embarrassment of quality docs to savor. The one everyone had long been anticipating, however, was director Ron Howard's Eight Days A Week. Subtitled The Touring Years, it charts the period from 1962-66, when The Beatles were probably the hardest working band on the planet. Given a theatrical release in September 2016, Howard's critically acclaimed opus features electrifying footage from the band's early days at The Cavern through to their final US tour, though it's the digitally restored film of the group wowing their adoring public at their first Shea Stadium bash which arguably best bottles the bedlam of Beatlemania.
THE BEATLES: EIGHT DAYS A WEEK – THE TOURING YEARS. Official UK Trailer
The Slits: Here To Be Heard (2017)
Renowned for their groundbreaking, dub-infused 1979 debut album, Cut, The Slits inspired generations of artists, from Sonic Youth to Sleater-Kinney and Bikini Kill. William E Badgley's Here To Be Heard pulls no punches in telling the story of a group that literally changed the cultural landscape of Britain in the patriarchal 70s with their furious proto-feminist battle cry. The director was allowed access to the band's personal archives and could draw upon in-depth interviews with surviving Slits, bassist Tessa Pollitt, guitarist Viv Albertine, and original drummer Palmolive.
HERE TO BE HEARD trailer 2017
Gaga: Five Foot Two (2017)
The Netflix documentary Gaga: Five Foot Two follows global superstar Lady Gaga as she releases her album Joanne and prepares for her Super Bowl halftime show. She talks openly about her struggles with chronic pain and the emotional and mental health issues she has experienced in her action-packed career. What makes it one of the best music documentaries is how it captures Gaga at high points and low points with unflinching honesty. After its release, Lady Gaga issued a long statement about the film. "I felt proud, I felt sadness, I felt empowered, I felt vulnerable… but what struck me the most was the film's authenticity in the way Chris, the director, chose to show my lowest lows, my highest highs, and the close relationship with my family that I clung to fiercely while writing my album Joanne. I wrote "Joanne" to help understand my physical and emotional pain through my family's history of the death of my aunt at a young age in 1974 of the auto-immune disease Lupus." – Martin Chilton
John & Yoko: Above Us Only Sky (2018)
Directed by the Oscar-nominated Michael Epstein (of LennoNYC fame), 2018's revealing Above Us Only Sky explores the previously untold story of the making of John Lennon's classic 1971 album, Imagine, as well as investigating how John and Yoko's art, politics, and music are intrinsically entwined. It also includes interviews with Yoko Ono as well as insiders such as photographer David Bailey and Lennon's son Julian, in addition to previously unseen footage of Lennon and Ono from their private archive.
John Lennon & Yoko Ono - Above Us Only Sky (excerpt)
If I Leave Here Tomorrow (2018)
Compiled by director Stephen Kijak (Stones In Exile, We Are X), If I Leave Here Tomorrow covers most of the legend-enshrining aspects of legendary Southern rockers Lynyrd Skynyrd's career. Narrated by guitarist and founding member Gary Rossington, the documentary begins by tackling the group's initial rise from Jacksonville, Florida, takes in the plane crash that killed vocalist Ronnie Van Zant, guitarist Steve Gaines, and several crew members, and covers the band's courageous return to the fray.
Teaser If I Leave Here Tomorrow - A Film About Lynyrd Skynyrd
The Public Image Is Rotten (2018)
Initially screened to coincide with 2018's career-spanning multi-disc box set of the same name, Tabbert Fiiller's The Public Image Is Rotten features reams of previously unseen footage and extremely candid interviews with PiL members past and present, though John Lydon inevitably dominates proceedings in a series of disarmingly frank interviews. The documentary stands as both a commendable tribute to one of post-punk's most important bands and one of the best portraits of a singular frontman who, in his own words, remains "one of the very few people in pop history who will not go away."
THE PUBLIC IMAGE IS ROTTEN (2018)
Quincy (2018)
Premiering on Netflix, Quincy navigates industry giant Quincy Jones' entire career, from his time as a trumpeter, film composer, and jazz conductor, through to his legendary production work on Michael Jackson's Thriller, his Rock And Roll Hall Of Fame induction, and his colossal 27 Grammy Award wins. Directed by Alan Hicks and Jones' daughter Rashida, this absorbing music documentary includes contributions from high-profile stars such as former US president Barack Obama, Will Smith, Dr. Dre, Kendrick Lamar, Oprah Winfrey, and Snoop Dogg, all of whom credit Jones among their primary inspirations.
Quincy | Official Trailer [HD] | Netflix
Blue Note Records: Beyond The Notes (2018)
Directed by Swiss-born, LA-based filmmaker Sophie Huber, 2018's Blue Note Records: Beyond The Notes investigates the vision behind the iconic jazz record label that, since its inception in 1939, has actively encouraged its artists to push the envelope through jazz and way beyond. Through current recording sessions, rare archive material, and conversations with iconic Blue Note artists, the film reveals an intimate perspective of a legacy that continues to grow in stature, even in the rapidly evolving 21st Century.
TRAILER: Blue Note Records: Beyond the Notes by Sophie Huber
Echo in the Canyon (2018)
Echo In the Canyon is a look at how The Byrds, The Beach Boys, Buffalo Springfield, and The Mamas & the Papas were all key to the beginnings of the Laurel Canyon music scene. Although this poignant documentary was directed by Andrew Slater, one of the most important people behind its success was co-executive producer Jakob Dylan, who wrote songs for the film and helped uncover never-before-heard personal details behind some of the historic recordings. Echo Canyon, which was an official selection for New York's documentary festival DOC NYC, features a stellar line-up of interviewees, including David Crosby, Ringo Starr, Eric Clapton, Norah Jones, Beck, and – in his last televised interview – Tom Petty. – Martin Chilton
ZAPPA (2019)
Alex Winter's vault-opening doc is as innovative and uncompromising as its subject, the composer and rock polymath Frank Zappa. Six years in the making, ZAPPA attempts to pin down one of music's greatest eccentrics, from his unconventional childhood to his free speech activism and unusual family dynamics. It's more a portrait of an artist and flawed family man than a musical deep-dive into the immense musical output of Zappa. With over 60 albums in his discography, you'd need more film reels and Ken Burns for that. – Laura Stavropoulos
David Bowie: The Last Five Years (2019)
The second installment of a trilogy of David Bowie documentaries directed and produced by Francis Whately, 2018's The Last Five Years is an intimate portrait of the iconic musician's remarkable late burst of creativity which resulted in the critically-acclaimed albums The Next Day and ★, and the play Lazarus. The film includes every key member of Bowie's The Next Day and ★ bands, and those who worked with Bowie on Lazarus, plus a wealth of unseen and rare archival footage.
Miles Davis: The Birth Of The Cool (2019)
One of the best feature-length music documentaries in recent years, Miles Davis: The Birth Of The Cool was directed by Emmy Award-winning filmmaker Stanley Nelson (The Black Panthers: Vanguards Of The Revolution), who was granted unique access to the Miles Davis Estate. Consequently, the film boasts tantalizing, never-before-seen footage including recording outtakes from studio sessions and new interviews with musicians Davis inspired, among them Quincy Jones, Carlos Santana, Clive Davis, Wayne Shorter, and Ron Carter, to name just a few.
Hot Docs 2019 Trailers: MILES DAVIS: BIRTH OF THE COOL
The Two Killings Of Sam Cooke (2019)
Netflix's ReMastered series has already distinguished itself with some of the best music documentaries of recent vintage, tackling Bob Marley's wider career (Who Shot The Sheriff?) and the still-unsolved murder of Run-DMC's DJ (Who Killed Jam Master Jay?), but The Two Killings Of Sam Cooke is a true heavyweight. Drawing upon interviews with Quincy Jones and Smokey Robinson, among others, it features rarely-seen footage and examines the oft-disputed events of the night of December 11, 1964, which led to the murder of the suave and likable pop and R&B singer, aged just 33.
ReMastered | Official Trailer [HD] | Netflix
Linda Ronstadt: The Sound Of My Voice (2019)
Linda Ronstadt: The Sound of My Voice enjoyed its world premiere at New York's Tribeca Film Festival on April 26, 2019, and looked to be one of the year's most celebrated docs. Assembled by filmmakers and long-term fans Rob Epstein and Jeffrey Friedman, the action follows the acclaimed vocalist's emergence as a solo artist in Los Angeles clubs, after her initial success with The Stone Poneys, her superstardom of the 70s and her later work. Billboard suggested it "makes a succinct, powerful case for Ronstadt's status as a twentieth-century music icon."
Homecoming: A film by Beyoncé (2019)
Beyoncé was the writer, director, and executive producer on Netflix's Homecoming, a brilliant intimate look at her celebrated Coachella performance from 2018, the first time a black woman had ever headlined the famous music and arts festival in California. Along with quotes from eminent writers such as W.E.B. DuBois and Toni Morrison, the 137-minute film (which was also released with an accompanying 40-song live album) features dazzling costumes, a cameo from Jay-Z, rehearsal footage from the 36-year-old Beyoncé, along with her voice-over talking about her craft. This is one of the best music documentaries/concert films you'll ever see. – Martin Chilton
Taylor Swift: Miss Americana (2020)
Miss Americana offers something that will entertain and absorb a wider audience than just her millions of diehard fans (the Swifties). It's a revealing portrait of a sometimes lonely and self-critical young songwriter – while watching footage of herself on a video set, she suddenly remarks, "I have a really slappable face" – who is, however, beginning to appreciate her own empowerment. In the Netflix documentary, directed by Lana Wilson, Swift talks wistfully about her reluctance to use her platform to speak out about Donald Trump's candidacy in the 2016 presidential election. Miss Americana uses exclusive voice memos, video, and interviews to offer an intriguing insight into Taylor Swift's process, including how she came to create the song "Lover," her first without a co-writer. – Martin Chilton
How Can You Mend A Broken Heart (2020)
While their pop harmonies have soundtracked so many lives, director Frank Marshall offers a fresh perspective on the story of the Bee Gees that is both heartfelt and bittersweet. How Can You Mend A Broken Heart follows a conventual format, chronicling the rise of the Brothers Gibb and how it feels when your immense popularity becomes your downfall, but the story of the Bee Gees is one of resilience. Featuring fascinating archive material and personal interviews, the viewer grieves along with Barry and the loss of his brothers while marveling at the sheer output and brilliance of one of pop's most enduring groups. – Laura Stavropoulos
The Velvet Underground (2021)
Many music documentaries follow the familiar formula of a band or artist's ascension to fame, quickly followed by a crash and burn and redemptive arc. But director Todd Haynes took a page out of his subject's book and threw narrative convention to the wind in his 2021 documentary The Velvet Underground that documented one of the most unconventional rock legends of the 60s. Interviewing surviving members John Cale and Maureen Tucker along with many of the band's peers and proteges, Haynes took an avant garde approach to telling the Velvets' story that would make Warhol proud. No talking heads required. – Laura Stavropoulos
The Velvet Underground — Official Trailer | Apple TV+
Summer of Soul (2021)
One of the best music documentaries of recent years, Summer of Soul showcases the incredible array of artists that performed at the Harlem Cultural Festival in 1969. Directed by The Roots drummer Questlove, the footage of this event had been thought lost to time, and was discovered in a basement after 50 years. It features electric performances from Stevie Wonder, Nina Simone, The Staple Singers, Sly and the Family Stone, and many more. In addition to the great music, it also tells the story of the time period, revealing that many of the concerns of 1969 – Civil Rights, poverty, and racism – remain all too relevant today. As Questlove said to NPR around the release of the film, "The lesson that [artists] need to learn is that message and activism, those things matter. Those things matter. We can't lose that." – Sam Armstrong
The Beatles: Get Back (2021)
Before the arrival of Peter Jackson's eight-hour sprawling docuseries on Disney+, The Last Waltz was held up as the prime example of a film truly capturing a band's essence. But with The Beatles: Get Back, it documents not only what brilliant performers the Fab Four were but is perhaps the first film to accurately capture the creative process behind songwriting. It also offers a rare fly-on-the-wall experience of "hanging" with The Beatles, turning these larger-than-life legends into affable, humorous friends who just happen to be musical geniuses. Similar to Hayne's VU film, Jackson forgoes the typical talking head narration that distances the viewer from the subjects, so you don't have to reflect on what transpired 50 years later, but rather live in the moment with one of the most iconic bands in music history. – Laura Stavropoulos
The Beatles: Get Back | Official Trailer | Disney+
Think we missed one of the best music documentaries ever made? Let us know in the comments below.