Blue Note Artists Keeping Jazz Relevant In The 21st Century
From Robert Glasper to Kandace Springs, Gregory Porter and GoGo Penguin, there are many Blue Note musicians keeping jazz relevant as the label turns 80.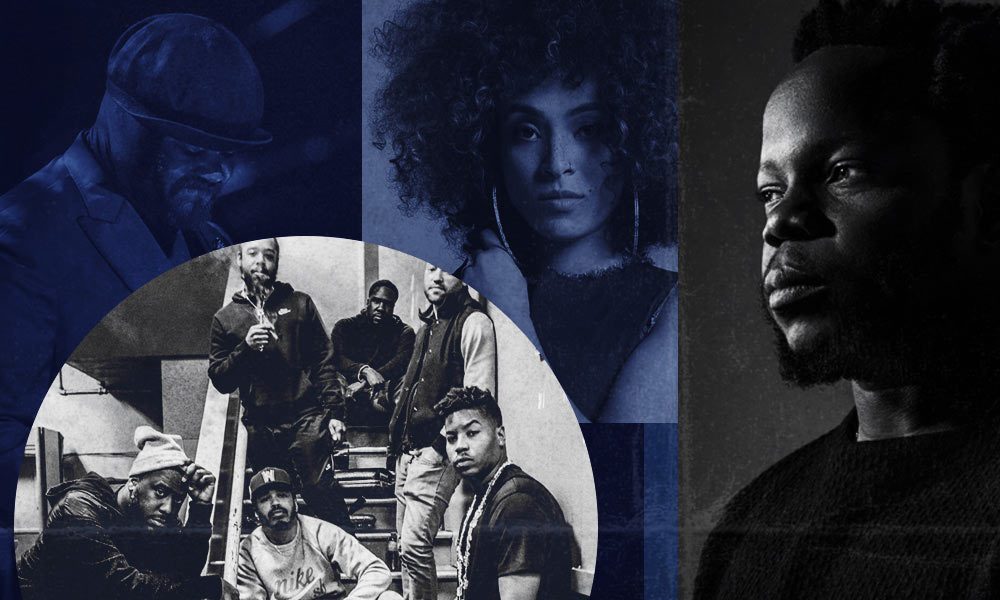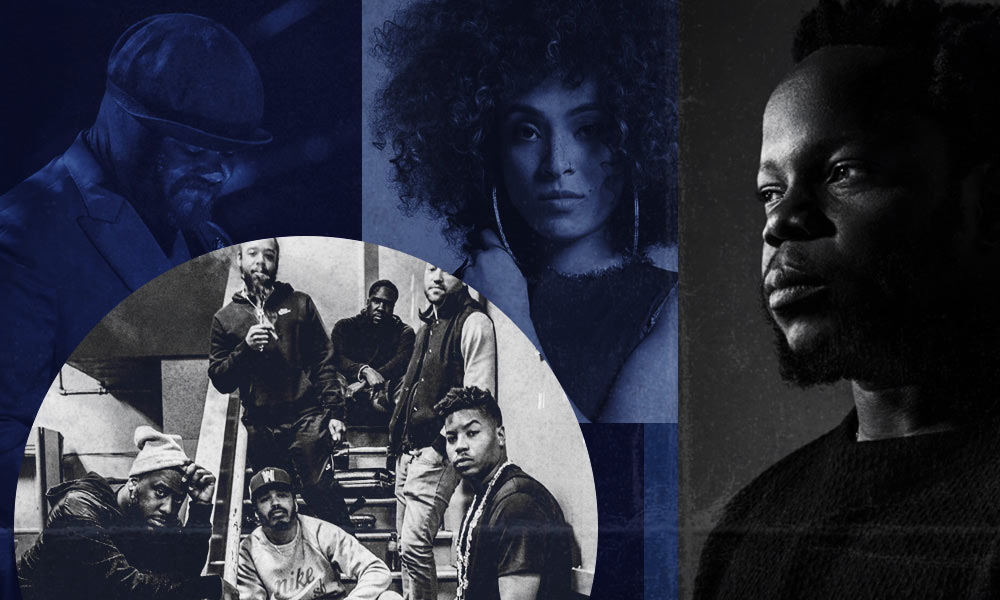 Though it celebrates its 80th birthday this year, Blue Note Records isn't a record label solely defined by its past – though its history and back catalogue are among the most amazing in jazz, and forward-thinking listeners have always been able to rely on Blue Note artists keeping jazz relevant.
Since its inception in 1939, when German-Jewish émigrés Alfred Lion and Francis Wolff opened the company's first office, in New York, the label was passionate about capturing music that was happening in the "now", reflecting the contemporary state of jazz. Their vow, as stated in their inaugural mission statement, was to act as a conduit for "uncompromising expression". From swing to blues, bebop, hard bop, soul jazz and even free jazz, Lion and Wolff stayed true to their pledge, recording many of the key exponents of jazz's subgenres.
So too did Bruce Lundvall between 1984 and 2010, when, as the label's president, he helped to revive Blue Note as an imprint of EMI. Since 2012, noted producer and musician Don Was has steered Blue Note's ship, and, like his predecessors, has adhered to the label's original doctrine. Significantly, he has also diversified the label's roster without sacrificing its jazz roots, signing innovative musicians that push boundaries and extend jazz's heritage while acknowledging its traditions.
Was inherited two major signings from the late Lundvall era in the shape of Norah Jones and Robert Glasper, but also added a key acquisition of his own in singer-songwriter Gregory Porter. One At the forefront of Blue Note artists keeping jazz relevant in the 21st Century, Porter has successfully revived the soul jazz format and sold thousands of records around the world. Vital new blood has also come in the shape of another groundbreaking male singer, José James, whose stylistic shape-shifting reflects the eclecticism inherent in 21st-century music.
Gregory Porter - Liquid Spirit (Official Music Video)
On the instrumental front, Was has brought in the remarkable trumpeter Ambrose Akinmusire, along with saxophonist Marcus Strickland (whose band, Twi-Life, blur the boundaries between jazz, soul and hip-hop), bassist Derrick Hodge, drummer Chris Dave and his group, The Drumhedz, and, more recently, young pianist James Francies. They join a roster that also includes international acts such as Benin-born guitarist Lionel Loueke, veteran Afrobeat drummer Tony Allen, and forward-looking British band GoGo Penguin.
As the label enters its ninth decade, there seems to be no shortage of Blue Note artists keeping jazz relevant in the 21st Century, shaping and re-shaping it for longtime listeners and newcomers alike.
Listen to Blue Note's Jazz Now! playlist on Apple Music and Spotify, and scroll down for our ten Blue Note artists keeping jazz relevant.
Blue Note Artists Keeping Jazz Relevant In The 21st Century
Robert Glasper
Signed by Blue Note 14 years ago, this Texas-born keyboard magus played straight-ahead acoustic jazz on Canvas, his 2005 debut for the label, but since then has gone on to progressively muddy the demarcation lines between jazz, R&B and hip-hop. Whether solo or as part of a collective, Glasper is one of the most forward-thinking Blue Note artists keeping jazz relevant today. 2012's genre-busting Black Radio was a big success for Glasper and his Experiment band, who seamlessly married different elements of contemporary urban music to create a truly landmark album. Since then, Glasper has appeared alongside his heroes, Wayne Shorter and Herbie Hancock, on Blue Note All-Stars' album Our Point Of View. More recently, he formed a supergroup, R+R=NOW, whose 2018 album, Collagically Speaking, was a further exploration in framing jazz within a hip-hop-meets-R&B context.
GoGo Penguin
Manchester's Mercury Prize-nominated GoGo Penguin might be a jazz trio, but they're not an orthodox one. Though they play acoustic instruments, their main source of inspiration is electronica, which they blend with elements from techno, hip-hop, dubstep and Philip Glass-esque micro-minimalism. Pianist Chris Illingworth, bassist Nick Blacka and drummer Rob Turner don't tend to play long solos highlighting individual musicianship, but gel together as a single entity to create mesmerising filmic soundscapes. So far, the group has made two albums for Blue Note, 2016's Man Made Object and last year's A Humdrum Star. A truly groundbreaking group, they easily rank among the Blue Note artists keeping jazz relevant today.
Ambrose Akinmusire
This super-talented California-born trumpeter joined Blue Note as a 28-year-old in 2011 and immediately had the critics drooling over his debut album, When The Heart Emerges Glistening. What was immediately striking was Akinmusire's gorgeous tone – at times sounding more flute-like than a traditional horn – and his unique approach to composition. Akinmusire also revealed himself as a musician who wasn't afraid to make socio-political statements with his recordings. His fourth outing for Blue Note, 2018's Origami Harvest, is an ambitious mosaic comprised of post-bop jazz, hip-hop and classical music which has been hailed as a masterpiece by some. If you want cutting-edge contemporary jazz, look no further than this man.
Ambrose Akinmusire - a blooming bloodfruit in a hoodie (Audio)
José James
Often heralded as a jazz singer for the hip-hop generation, Minneapolis-born James has undergone several musical metamorphoses since he debuted in 2008 on a UK indie label with his first LP, The Dreamer. Back then, he seemed to be carrying the torch for bop-influenced jazz singers such as Jon Hendricks, but with a succession of albums over the next decade (he joined Blue Note in 2012), James would show supreme versatility, exploring different styles of music as an R&B singer, a Johnny Hartman-esque jazz crooner, an alt.rock singer-songwriter and a funky, post-millennium disco dude. James' fifth album for Blue Note, 2018's Lean On Me, was a soulful tribute to the songcraft of Bill Withers. His eclecticism reflects Blue Note's penchant for ignoring musical demarcation lines in the 21st Century.
José James - Lovely Day ft. Lalah Hathaway
Gregory Porter
California-born Porter – famed as much for his stylish headgear, perhaps, as his powerfully expressive, caramel-coated, baritone voice – has singlehandedly revived the soul jazz aesthetic with his distinctive, gospel-infused sound. His 2013 debut for Blue Note, Liquid Spirit, followed in the wake of two fine LPs for the Motema label, and not only earned the affable man from Bakersfield a Grammy award but also went platinum in the UK, where the singer has a huge fanbase. As well as possessing a fabulous voice and having a charismatic stage presence, Porter is also a jazz singer who prefers to write his own material rather than draw on the standards songbook, ensuring his place among the current crop of Blue Note artists keeping jazz relevant. His latest studio project, Nat "King" Cole & Me, is a heartfelt homage to the singer who has been his biggest inspiration.
Gregory Porter - Hey Laura (Live At The Royal Albert Hall / 02 April 2018)
Kandace Springs
Possessing a smoky and seductive voice that Prince once said could melt snow, this Nashville-born chanteuse joined Blue Note in 2014. She debuted two years later with the acclaimed album Soul Eyes, on which she took classic elements from both soul and jazz and blended them with her own contemporary approach to both genres. Her second album, Indigo, helmed by noted producer Karriem Riggins, introduced a more palpable hip-hop vibe – though not at the expense of Springs' inherent soulfulness, which remains the core of her appeal. Though her music acknowledges black music's traditions, she's also innovative and has brought a fresh new perspective to jazz and soul in the 21st Century.
Kandace Springs - Breakdown
Marcus Strickland
Voted a rising star of the tenor saxophone by US jazz bible DownBeat, this Florida-born former sideman for Roy Haines and Dave Douglass has been recording albums under his own name since 2001. He joined Blue Note in 2016 and immediately impressed with his accomplished self-produced debut, Nihil Novi, a heady fusion of post-bop jazz, R&B and hip-hop that he recorded with his band, Twi-Life. Strickland (who plays three varieties of saxophone, plus bass clarinet) recently returned with Twi-Life for their second Blue Note LP, People Of The Sun, a meditation on the African diaspora that featured cameos from singer Bilal and rapper Pharoahe Monch. Above all, Strickland's seamless fusion of musical idioms highlights the interconnectedness and the common ground between jazz and hip-hop – an area in which you'll find many Blue Note artists keeping jazz relevant.
Marcus Strickland Twi-Life - On My Mind (Audio) ft. Bilal, Pharoahe Monch, Greg Tate
James Francies
One of Blue Note's most recent signings, Francies is typical of many young American jazz musicians in that he's also fluent in the languages of R&B and hip-hop (as a sideman Francies has played for the likes of Lauryn Hill, José James, Common, Nas and The Roots). The DNA from those two different genres can certainly be felt on Flight, the 23-year-old keyboard wiz's scintillating Blue Note debut, released in late 2018. Like fellow Blue Note artist Robert Glasper – with whom he worked on the 2015 Nina Simone tribute album, Nina Revisted – Francies hails from Houston, Texas, and looks set to become one of jazz's pathfinders as the 21st Century heads towards its third decade.
James Francies - Dreaming (Audio)
Derrick Hodge
Much more than a bassist, the Philadelphia-born Hodge is also a noted film composer and producer. A ubiquitous post-millennium session player, Hodge has appeared on innumerable jazz, R&B and hip-hop records since 2001 – logging sessions with everyone from Clark Terry and Robert Glasper to Kanye West – and has made two highly regarded albums for Blue Note, as well as being part of the R+R=NOW collective. His 2013 debut, Live Today, was a kaleidoscopic record whose musical tapestry reflected a plethora of influences but most of all helped to further the intimate relationship between jazz and hip-hop. His sophomore LP, The Second, consolidated his fresh approach, establishing Hodge as a unique voice among the Blue Note artists keeping jazz relevant today.
Derrick Hodge - The Second (Audio)
Chris Dave And The Drumhedz
Like his Blue Note labelmates Robert Glasper and James Francies, drummer Chris Dave is originally from Houston, Texas. Through his father's influence (he was also a drummer) Dave was drawn to jazz at an early age, but ended up playing in the 90s Minneapolis R&B band Mint Condition. His extensive sessionography also includes recordings with everyone from Adele and Justin Bieber to D'Angelo, Robert Glasper and Meshell Ndegeocello. Together with his band, The Drumhedz, Dave launched his Blue Note career in 2018 with a self-titled debut album that drew on hip-hop and contemporary R&B as well as jazz. Renowned for his adventurous polyrhythms and subtle use of syncopation as well as his ability to merge genres, Dave is a musical pathfinder whose ingenuity is helping to keep Blue Note at the forefront of contemporary jazz.
NEW Chris Dave & The Drumhedz Last Night at The Virgil After the BET AWARDS
Follow the Blue Note: The Finest In Jazz Since 1939 playlist for more essential Blue Note.
Format:
UK English