D'Angelo
D'Angelo has been compared to Sly Stone and Brian Wilson but really it's his own musical trip we're concerned with. Let the soul party begin.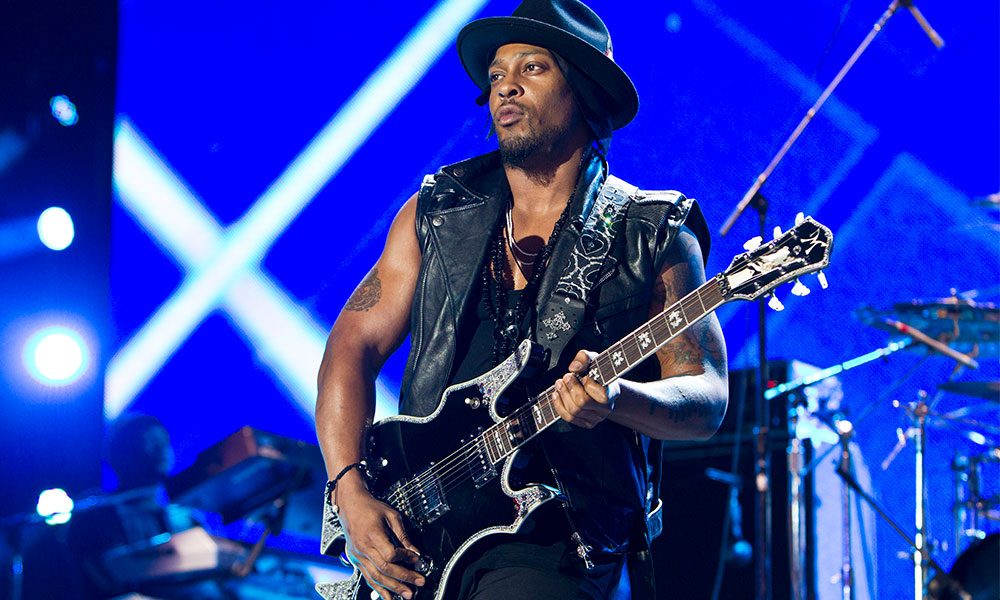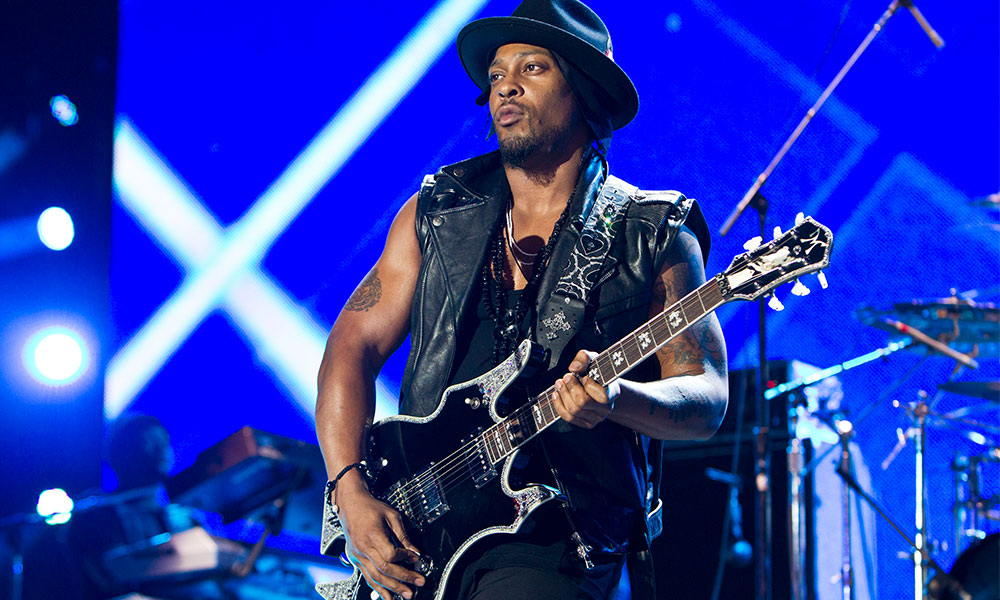 Raised on a heady mixture of Miles Davis jazz and gospel music the funk and soul star D'Angelo is one of the modern breeds who became infatuated with the Prince model, whereby the artist takes control of his sound and image. Every so often a singer comes along who is elevated as the saviour of soul. Few ever live up the hyperbole but D'Angelo has done more than most to revive interest in the old-school styles of classic figures like Donny Hathaway, Al Green and Sam Cooke. But he isn't purely retro. Hip-hop and urban, his sound introduces elements of rap and is based on beats as well as the values and structure of standard songwriting. His three studio albums to date span the period from 1995 to 2014. The debut Brown Sugar is a Platinum-selling sensation and the long-awaited follow-up Voodoo fared even better. 2014's Black Messiah may have arrived after a long hiatus but that too hit the top backed by the successful tour, The Second Coming, that visited European halls with his good friend and confidante Mary J. Blige. Talented and single-minded D'Angelo has endured personal problems and been chased by rumours and demons but his latent ability never went away. In fact, Black Messiah topped many a poll and could be seen as the emergence of a born again artist with an intuitive grasp of all forms of R&B. He's been compared to Sly Stone and Brian Wilson but really it's his own trip we're concerned with. Let the party begin.
Born Michael Eugene Archer in Richmond, Virginia 1974 he is the celebrated son of a preacher man. A visit to Harlem persuaded the teenage prodigy – he specialises in keyboards but nothing much else fazes him – that a career in music was to be his calling. Others agreed and after a short spell in the hip hop outfit I.D.U. (stands for Intelligent, Deadly but Unique) the street noise persuaded EMI to sign him up as an artist in development and for his obvious writing ability. His own hit single "U Will Know" covered those bases while a stint working with Black Men United sharpened his approach as he linked up with Brian McKnight, Usher, R. Kelly, Boyz 11 Men et al and held his own on a sharp learning curve.
D'Angelo's debut, Brown Sugar, landed in 1995 and was the proverbial bomb. A fantastic meeting of classic soul tropes, funky and the sleekest R&B it garnered four Academy Award nominations and sold a million copies in the US and well over 100,000 in the UK. A groundbreaking foretaste of digital production with the producer elevated to the role of shape maker. Specialising in the glorious tones of Fender Rhodes and Hammond organ D'Angelo handled the bulk of playing with assists from Bob Power on guitar, a battery of string and orchestral specialists and a telling cameo from bass player Will Lee. The album is a precursor to the new smart trend of soul whose fellow followers include Maxwell, Fugees, Lauryn Hill and Erykah Badou: artists with one foot in the future and one tickling the past greats like Marvin Gaye and Diana Ross.
In fact, D'Angelo would hit large with his version of Smokey Robinson's monster smash "Cruisin", Everything else is from the main man's pen though some are co-written with Ali Shaheed Muhammed, Angela Stone and cohort Raphael Saadiq. The results sprung neo-soul into life and gathered in hordes of new converts to a contemporary brand of R&B that had radio bounce and the integrity of the auteur in every lick and every single groove.
This masterpiece was followed by a frustrating period when label problems thwarted a fast successor. In between times he worked with Hill and used many of the musicians associated with Badou and the artist Common – aka the Soulquarians. The live disc, at the Jazz Café, London was something to be going on with and is very fine indeed. In the reissued version known as The Complete Show (2014) where previously unreleased visits to "I'm Glad You're Mine", "Lady" and "Can't Hide Love", written by the late, great Skip Scarborough expand upon the original 7-track affair it sounds particularly fine.
Now signed to Virgin D'Angelo made up for not altogether lost studio time with Voodoo, the cover depicting him in his raw sex symbol form. This grown-up commentary on life, love and spirituality kept D'Angelo honest and in demand with millions flocking to the well to drink from a powerful brew that summoned up Sly, Jimi Hendrix and the bubbling under sound of Parliament/Funkadelic. Voodoo worked its magic and won the Grammy for Best R&B Album while Time magazine placed it #1 in its end of year poll. Voodoo is one of those albums that crosses over all genres and has an appeal that is timeless. If you've never really heard the whole thing it's completely commended and is so worth discovering that devotees still hold it on a pedestal.
Combining vintage sounds and some retro equipment with Latin salsa rhythms in places and with Questlove's delicious drumming all over it, Voodoo features such brilliant players as guitarist Charlie Hunter, bassman Pino Palladino, Q-Tip and even a cheeky Prince sample on "Africa". Packed with hit tunes– "Devil's Pie", "Left & Right", the Grammy vocal R&B performance winner "Untitled (How Does It Feel)", "Send It On" and "Feel Like Makin' Love" (the song made famous by Roberta Flack in 1974) – the production process was bolstered by careful examination of core soul figures like Sly Stone, Al Green, George Clinton, James Brown, Marvin Gaye and of course Hendrix, since they recorded this disc in the main at Electric Lady Studios to feel that vibe. Black music heaviness pervades the results and the entire album had a profound effect on the participants as well as the listeners.
Fourteen years will elapse until we get to hear Black Messiah. D'Angelo had set himself a ferocious schedule and felt somewhat dismayed by his perception as a sex symbol. He began to pursue different strands of social awareness, racial inequality and politics in general.
During this break he wasn't short of input to other projects: he collaborated with J Dilla, Snoop Dogg, Common and others and returned to his own work in various spells. The resulting release has been hailed as an experimental soul masterpiece and was released digitally in December 2014 with the hit single "Really Love" hitting airwaves a month later. Guests on the latest suite of D'Angelo joints include The Time's Jesse Johnson, legendary drummer James Gadson and the versatile master of syncopation Chris Dave.
We point you to the compilation The Best So Far… for its rarities and radio edits and the hits packed ICON where those honeyed vocals and superbly crafted songs will blow you away in no time at all.
Now that neo-soul has been integrated into the mainstream it's time to check out one of the men who made it happen: D'Angelo is the man in the vanguard.
Words: Max Bell
Format:
UK English