Seduction By Mixtape: Creating The Perfect Mix For Every Relationship
In honor of Valentine's Day, here's a guide on how to make the perfect mixtape for each stage of courtship.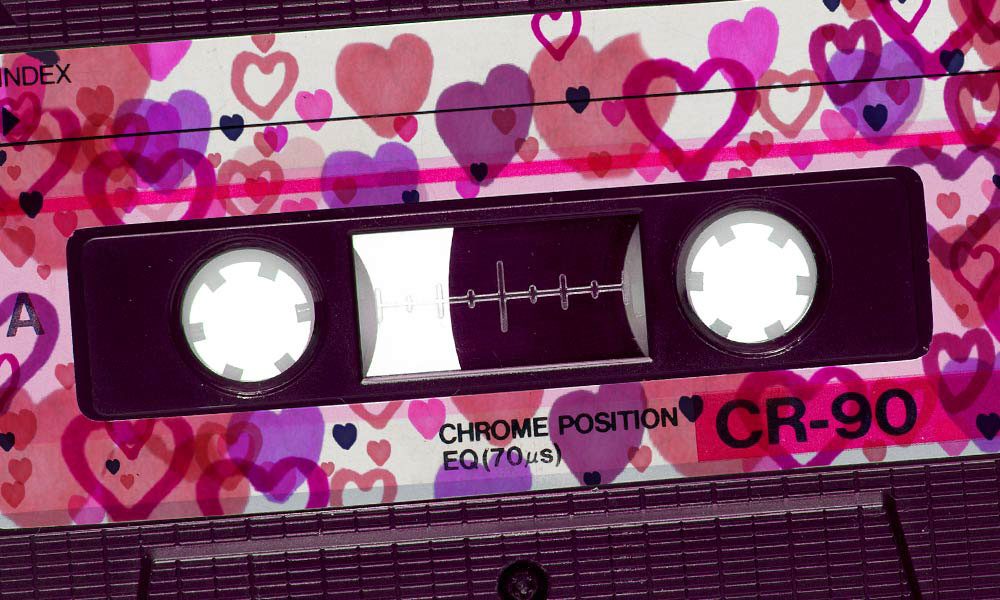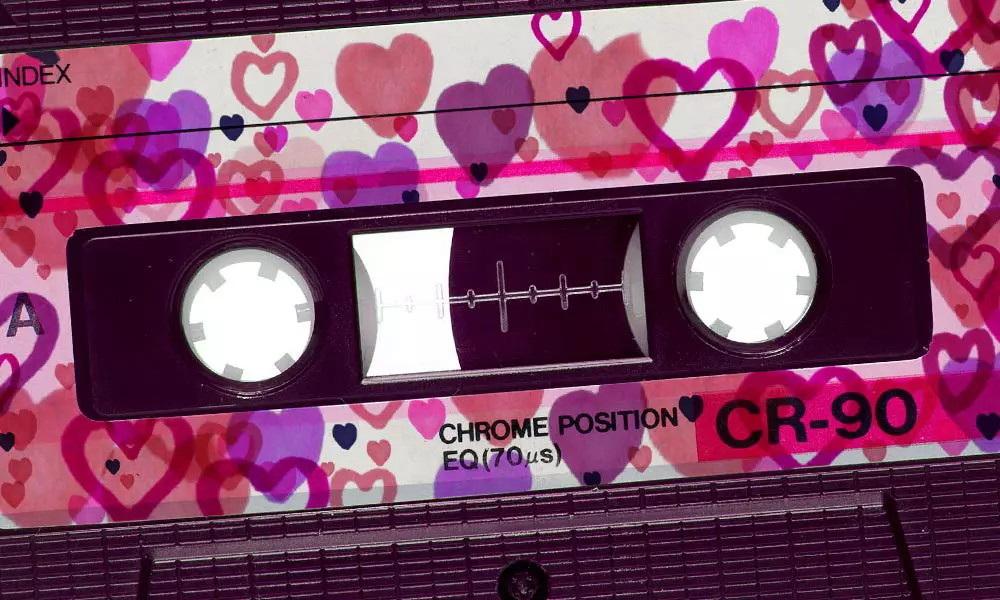 Just as vinyl has experienced a renaissance over the years, so has the humble cassette tape, beloved by Gen-Xers and the vehicle for crafting one of the most intimate forms of expression… the mixtape.
Played endlessly until you know every skip, crackle, and pause, a mixtape may get lost, but the songs on it are never really forgotten and instantly transport you to the time, place, and person who made it.
There is an acknowledged art to making the perfect mixtape, one that's been immortalized in the film adaption of Nick Hornby's novel High Fidelity, with John Cusack pontificating on the subtle intricacies of making a mix: "Making a tape is like writing a letter – there's a lot of erasing and rethinking and starting again. A good compilation tape, like breaking up, is hard to do."
Making a mix can communicate any feeling you want, without having to put anything into words – other than a catchy title. Speaking of which, a theme is essential. Mixtapes are not playlists, they need to be cohesive rather than just a jumbling of songs. So what are the rules – or, rather, guidelines? When it comes to affairs of the heart, there are no rules.
So, with Valentine's Day right around the corner, scroll down to read our guide to making the perfect mixtape for each stage of courtship.
Three important things to remember
First, make it personal. Mixtapes represent not only songs you like, but selections you think the recipient will love. Even for the romantic sadomasochists, there's Danzig's "Devil's Plaything." Consider the genre, but don't be afraid to mix things up. There is a certain amount of peacocking that goes into tape curation, but don't go too obscure just for the sake of it.
Secondly, there are general organizational rules of thumb: avoid including more than one track by the same artist, or two versions of the same song back to back (though covers are welcome). And avoiding excessively long tracks, there's a beauty to sticking to analogue tape limits.
Thirdly, try to avoid the big hits. Not that Top 40 music is inferior, but more because he or she can just turn on the radio if they want to hear what's charting on Billboard. Moreover, never underestimate the importance of flow. You can't follow Mazzy Star's "Bells Ring" with "Love Song" by The Damned. And when all else fails, go for a song with a girl or boy's name in it.
While this labor of love no longer involves supreme patience and a tape machine, you can still make a "mixtape" no matter the format.
High Fidelity - Compilation Tape
First Crush
This is perhaps the trickiest tape mix of all. How do you make your intentions clear without overwhelming the target of your affection? You can't kick off a tape with The Smashing Pumpkins' "Ava Adore," you have to work your way up to it. For the non-committal types, there's Rufus Wainwright's "Vibrate," which promises undisrupted attention; or for the heart-on-your-sleeve types there's "No.1 Fan" by The Beautiful South. If you're one of the many who couch their feelings in satire, you can use Bill Baxter's "Embrasse-moi, Idiot!" and let him or her figure out the lyrics.
Raphael Saadiq - Be Here (Closed Captioned) ft. D'Angelo
While you can't go full torch song yet, it doesn't mean you can't get a little soulful, maybe Raphael Saadiq and D'Angelo's "Be Here"? What about those looking to turn a friendship into something more? Jurassic 5's "Thin Line" covered this dilemma and then some. And if you want to be really obvious, there's always Lil' Kim's "Crush On You" or Sophie B. Hawkins' "Damn I Wish I Was Your Lover."
Early Dating
So your tape has succeeded and you're dating. Congratulations! You've already set the bar high and now you've trod into equally slippery territory, where you're a couple but still figuring out how serious you want to be. Pre-declaration of the "L-word," opt for something beautiful and evocative: "I have searched for all your fragrance in the silent dark/Is that OK?" The Clientele's "We Could Walk Together" conveys poetic longing while avoiding cliché, while Stephen Merritt of The Magnetic Fields can always be counted on for a sardonic love tune – after all, he did write a triple-album called 69 Love Songs.
When you're are at the stage of professing love, there are decades of love songs at your disposal. But a mixtape is all about avoiding the obvious (sorry, "Sunshine, Lollipops, And Rainbows"). Love can be a strange and disorienting thing, and nothing captures that more than Pulp's "F.E.E.L.I.N.G.C.A.L.L.E.D.L.O.V.E." "Oh yeah, all the stuff they tell you about in the movies/But this isn't chocolate boxes and roses – it's dirtier than that." Jarvis gets it. Not all love songs require lyrical gymnastics, case in point: Alex Chilton's pie-eyed vocals on Big Star's "I'm In Love With A Girl."
Traditionally, the mixtape is often flush with 80s and 90s music due to the advent of tape decks and the almighty Walkman, but that's not to say you can't get some 70s funk on there and dip into other decades. Syreeta's bass-fuelled cover of Stevie Wonder's "I Love Every Little Thing About You" is one of the most delightful love songs on record; it's a true mystery why her solo career never fully took off.
Serious Relationship
This is where you can really flex your mixtape muscles, crafting an impeccable mix for your significant other. You know their likes, their dislikes and can include songs that hold special meaning in your relationship. But if you're ever in doubt, a soul song can always move the heart. Irma Thomas has been getting a lot of action lately due to her 1964 song "Anyone Who Knows What Love Is (Will Understand)" cropping up in TV and film – notably the fourth season of Charlie Brooker's Black Mirror – but her earlier release, "Ruler Of My Heart," is equally stirring.
Cover versions are great for mixes because they allow you to experience a song you're familiar with in a new way. While Brenda Holloway sings the hell out of "You've Made Me So Happy," Lou Rawls' silky vocals take it over the top. Side-stepping the saccharine love songs of the adult contemporary dial, Glen Campbell manages to make grown men weep with his emotionally raw interpretation of Jimmy Webb's "Wichita Lineman," a blue-collar ballad that lays it all on the line.
Let's Get Back Together
So you flew too close to the sun and now your relationship is a pile of ashes. Depending on how things ended, there might be a chance you can rekindle the flame the same way you started it – with a mixtape! The key to putting together a "take me back" mix is to lay all your cards on the table, even if it means the inclusion of James Brown's "Begging Begging." Sure, it'd be easy to just fill both "sides" with Hank Williams and call it a day, but you can catch more flies with honey.
Let the smooth vocal harmonies of the Gibb brothers wash over him or her on Bee Gees' "You Know It's For You," which seeks to win over the heart through perseverance alone. Or you could leave it up to Roxy Music's "All I Want Is You" to win them over. After all, Bryan Ferry has always had luck with the ladies. And if your break-up was more misunderstanding than a result of egregious errors, Angel Olsen's "Shut Up Kiss Me" cuts right to the heart of the matter.
Looking for something more? Deconstructing The Love Song: How And Why Love Songs Work.