Roxy Music
The British glam rock band founded by Bryan Ferry also counted Phil Manzanera and Brian Eno as members and was massively influential on music for decades after their initial run.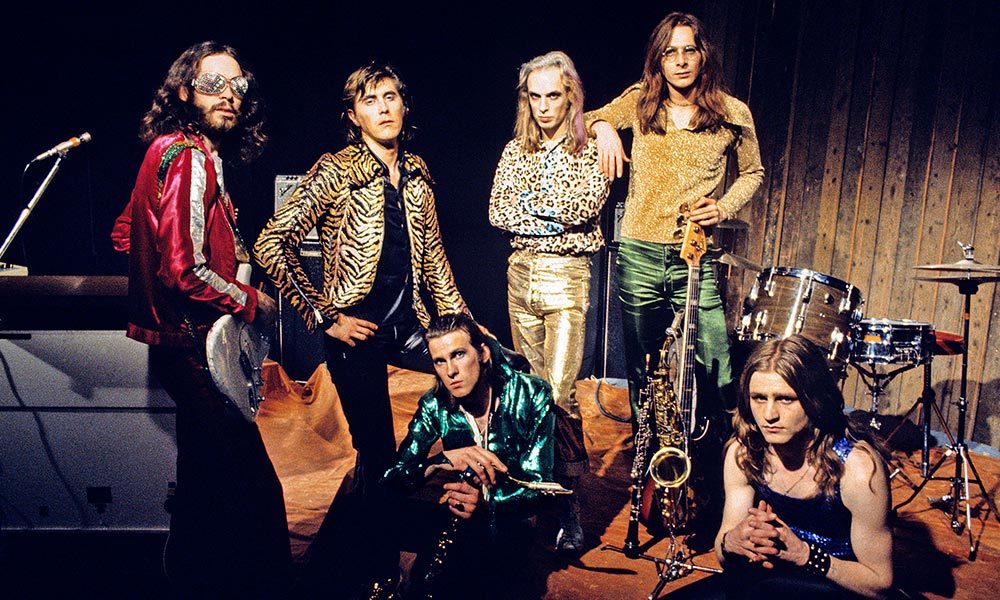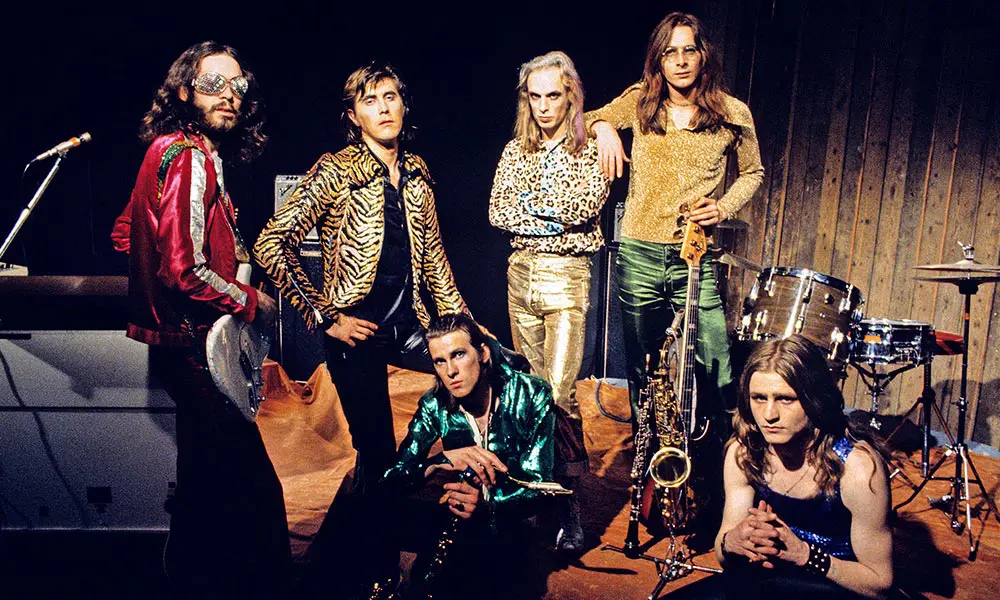 Incredible to think that Roxy Music and their founding member Bryan Ferry have been making classic albums across five decades. Originally a product of the Art School meets glam rock avant-garde on the early seventies the Ferry/Roxy axis has easily outlived simple pigeonholing and defied time, tide and fashion while remaining chic and desirable for generations of listeners. They're like a fine Claret or vintage malt. You can admire them in their original form but when you pull them out and sample, boy do they still pack a punch.
Roxy Music themselves have been responsible for a sequence of albums beginning with their self-titled debut from 1972 and developing via For Your Pleasure, Stranded, the mighty Avalon and 2012's superb The Complete Studio Recordings, the latter set having reviewers drooling while style magazines and TV documentary makers went into hyperbolic overdrive. Meanwhile, Ferry himself, the consummate lounge lizard, is no slouch. His own catalogue shadows that of the core group and continues onwards. With Roxy on hold, he is responsible for a body of work that fuses originals and standards with elan – seeing a dozen of his own immaculate creations cracking the top 20 – with 1985's Boys and Girls reaching the coveted top slot. Perhaps it's a bit vulgar to major on too many facts and figures where Ferry and Roxy are concerned. Their history is more to do with a body of work that repays discovery and relistening and never fails to thrill.
Cast your mind back to the early 1970s and social commentators will have you believe that the United Kingdom was a dull, impoverished place, languishing on former glories. Not a bit of it. That period is responsible for producing some of the most vibrant and aesthetically pleasing music ever to be found on our shores and Roxy Music were at the thick of it. Formed as a result of kismet when Ferry enlisted Andy Mackay, his mate Brian Eno and bassist Graham Simpson, they were going out briefly as a prototype band called Gas Board before becoming Roxy Music – the name a tribute to the art deco glamour of cinematic iconography with a generous splash of 1950s rock and roll cult swagger thrown in.
Given their inbuilt combination of Mackay's sax, Eno's ever so flamboyant synthesiser presence and Ferry's own idiosyncratic vocal style the pieces still needed cementing but fell into place when guitarist Phil Manzanera and sturdy drum man Paul Thompson completed the classic original sextet. A series of albums with impeccable, sexy covers and a level of songwriting right up there with David Bowie soon found Roxy Music building a fanatic following. Their debut single 'Virginia Plain' was a smoky affair and the attendant album a moody and memorable summary of their act circa 1972 when they hit TV screens and theatres like aliens from another planet.
Eno would wander away after For Your Pleasure, leaving Bryan as the undisputed bandleader, yet there was no let-up in quality during his swansong. Indeed, songs like 'In Every Dream Home A Heartache' and 'The Bogus Man' are still considered to be standouts from the era.
1973's Stranded only took the band higher up the pecking order, to number one, in fact, thanks in part to the success of the 'Street Life' single, although items like 'Mother of Pearl' and 'A Song for Europe' retain all their old lustre. Three cherries in a row. Frankly, no one else was making this kind of stuff. Adding ex-Curved Air violinist Eddie Jobson was another inspired move.
Country Life (1974) only broadened the appeal. Everything was just so. The music in the shape of 'If It Takes All Night' and smash hit 'All I Want Is You', established Roxy's position at the forefront of intelligent pop while the cover art, featuring a pair of lingerie models wagged tails for other reasons. Personnel changes aside (bass players came and went) Roxy Music never fell foul of the so-called difficult follow-up album syndrome. Siren, featuring Bryan's then significant other Jerry Hall on the sleeve, boasted 'Both Ends Burning' and 'Love Is The Drug', indicating a Midas Touch that few others from the era could aspire towards.
The live disc Viva! Roxy Music – recorded in Ferry's home patch of Newcastle, and strongholds in Glasgow and Wembley was a clever precis of Ferry's five-year plan thus far while 1977's Greatest Hits was exactly that; no idle boast of a beast at all. One might sense that Ferry and Roxy were taking stock and re-evaluating during this period. After all, there had been the sea change of punk and the musical terrain in Britain had altered so dramatically that even craftsmen like these couldn't look to their laurels.
Energised and confident Roxy returned to the album fray properly with the aptly named Manifesto following a virtual four-year hiatus. They came back with something of a bang too as 'Dance Away' and 'Angel Eyes' heralded a complete understanding of the disco and electronic fusion sweeping across Europe. Significantly, the album made use of session funk masters, Richard Tee, Steve Ferrone and Rick Marotta and became a hit in America where folks were just coming to grips with this weird bunch from across the pond.
Entering the new decade 1980's Flesh + Blood found Roxy trying their hand with a couple of well-chosen and disparate covers in the shape of the Wilson Pickett/Steve Cropper soul classic 'In The Midnight Hour' and The Byrds' equally pristine psych-rock gem 'Eight Miles High', though the original compositions 'Oh Yeah' and 'Over You' were the songs that raced into the Top Five again.
The band's last studio album would be the one that many consider their finest hour. For Avalon (1982) Roxy decamped to Compass Point Studios, Nassau and The Power Station in Manhattan, smelling more exotic air and the late-night fumes of New York City at night. Avalon is undoubtedly the band's smoothest offering. Made as something of a gaze from afar, hence the title culled from old mythology, Avalon boasts a slick production and all-time classic tracks like the title song, the ethereal 'More Than This' and 'True To Life'. Although Avalon is actually one of the group's shorter albums it gives the impression of great depth and boundless atmospheric vistas with banks of percussion and an incredible rhythmic intensity provided by the masterful combination of Andy Newmark and Alan Spenner on drums and bass respectively.