'Music For Installations': Shining A Light On Brian Eno's Mercurial Collection
'Music For Installations' is an appropriately illuminating celebration of Brian Eno's parallel work with music, light, and video.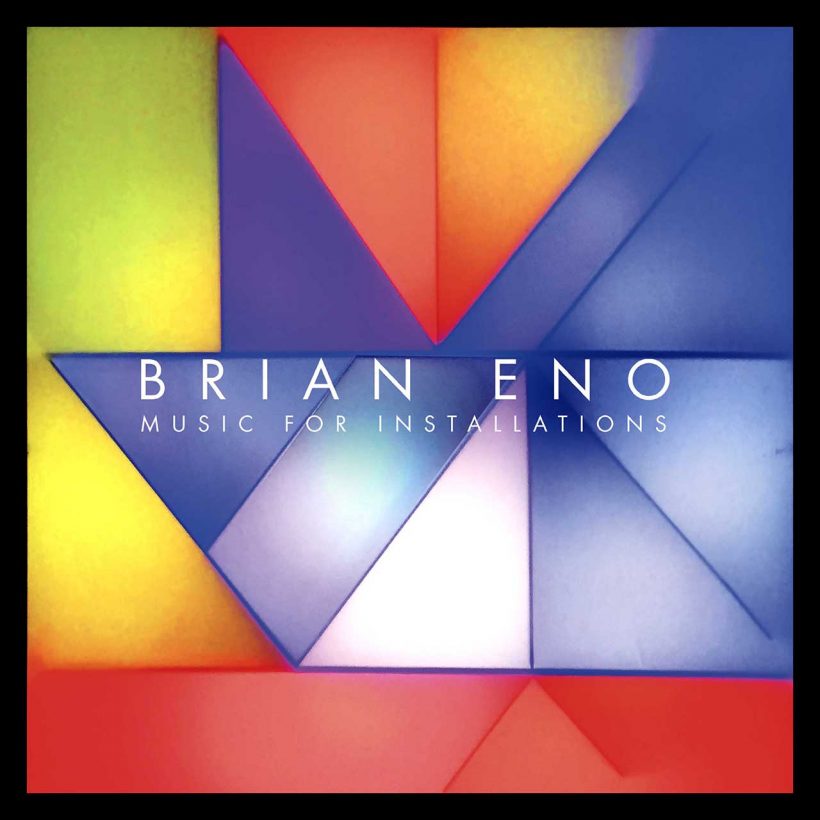 Right from the outset, when Roxy Music crashed sideways into the collective consciousness like a retro-futurist rocket, you could tell that a world bounded by Top Of The Pops and The Old Grey Whistle Test was never going to be interesting or substantial enough to contain Brian Eno. Rock and pop were all very well for short-term gratification, but it was a lumpy old realm in the main, strung with too many dim bulbs; and we owe Eno a debt of gratitude for bothering to boot the doors open, let in some fresh air and brighten the corners. His 2018 collection, Music For Installations, was yet another illuminating look at the cross-section between audio and visual art.
Listen to Music For Installations right now.
Eno's inspirational production techniques are a matter of record(s), rejuvenating the often repetitive processes of studio-based recording with the aid of the Oblique Strategies cards he developed with Peter Schmidt – bearing instructions ranging from "magnify the most difficult details" to "use 'unqualified' people." As befits an art-school graduate with a sharpened holistic sense, Eno has also long demonstrated a practical interest in the way music could complement, integrate with or discreetly comment upon its surroundings; to which end 1978's Ambient 1: Music For Airports represented one of his earliest exercises in creating pieces designed to function as a looped sound installation.
Forty years on from that ambient landmark, Music For Installations, released on May 4, 2018, proffered a selection of works constructed by Eno for use in the experimental, audio-visual light and video installations he has been quietly but tirelessly working on since the turn of the 80s. Pathologically hardwired to subvert convention, Eno has remarked that his methodology for the installations has been to "make very still music and paintings that move." The box set draws upon material from 1986 right up to the present day, while the final disc in the set, the self-explanatory Music For Future Installations, consists entirely of brand-new recordings.
Aptly, given that it contains sounds designed to resonate around gallery spaces, museums, and parks, Music For Installations is an aesthetically pleasing artifact, available in super deluxe and standard 6CD iterations, or as a 9LP vinyl edition. All formats come with a 64-page book of exhibition photographs, plus a new essay by Eno, and the release marks the first time that any of the tracks have been released on vinyl.
The 21-minute "77 Million Paintings – Part 1," from an installation premiered at Laforet Museum in Tokyo, in 2006, and projected onto the Sydney Opera House in 2009, is a key example of a piece intended to be deployed in tandem with multiple-monitor visuals yet which still works impeccably in isolation as an evocative, immersive end in itself. Over the ghost outline of an implied C# base, temple bells and granular sprays of white noise – like a detuned television – gently wash in and out, while arcane, indecipherable, and robotic vocoder murmurings intermittently edge into the sound picture; shadow beings from the dusty recesses of the subconscious.
In its placid, eerie stasis, there are pleasingly few degrees of separation between this and the chillier outer reaches of so-called space rock – Tangerine Dream's Zeit, by way of example. Similarly, the wobbling synth of "All The Stars Were Out," splaying over the softly urgent hiss of its night-train rhythm, are oddly redolent of Rick Wright's Farfisa combo organ in the 1967-era Pink Floyd. "Unnoticed Planet," from the Music For Future Installations disc, directly references deep space – and, without a word of a lie, suggests Barry Gray's end titles for Gerry Anderson's UFO series in 1970. (The Blackburn-born former accompanist/arranger for Vera Lynn was a determined proponent of electronic musique concrète on the quiet.)
Elsewhere, the circular percussion pattern of "Needle Click" could easily be Sandy Nelson's "Let There Be Drums" as interpreted by locusts; and the miniature melody fragments of "Flora And Fauna/Gleise 581d," delineated in three-note motifs, spider-crawl across its surface with infinitesimal care. Even the imperious "Kazakhstan," slowly turning in glittering suspension for 20 attractively glacial minutes, is visited by small, mosquito-cloud infestations of high synth notes. If the devil really is in the detail, Music For Installations contains enough incidental devilry to lead us into temptation.
The super deluxe 6CD Music For Installations box set can be bought here.