Tangerine Dream
The German electronic group founded by Edgar Froese have spent their fifty-year-plus career redefining the sound of the synth in pop.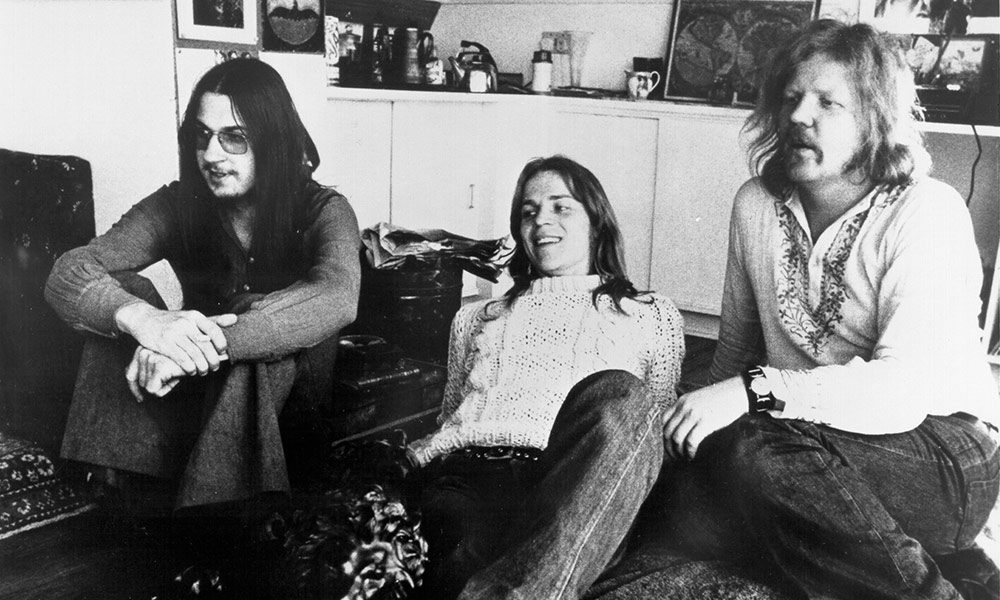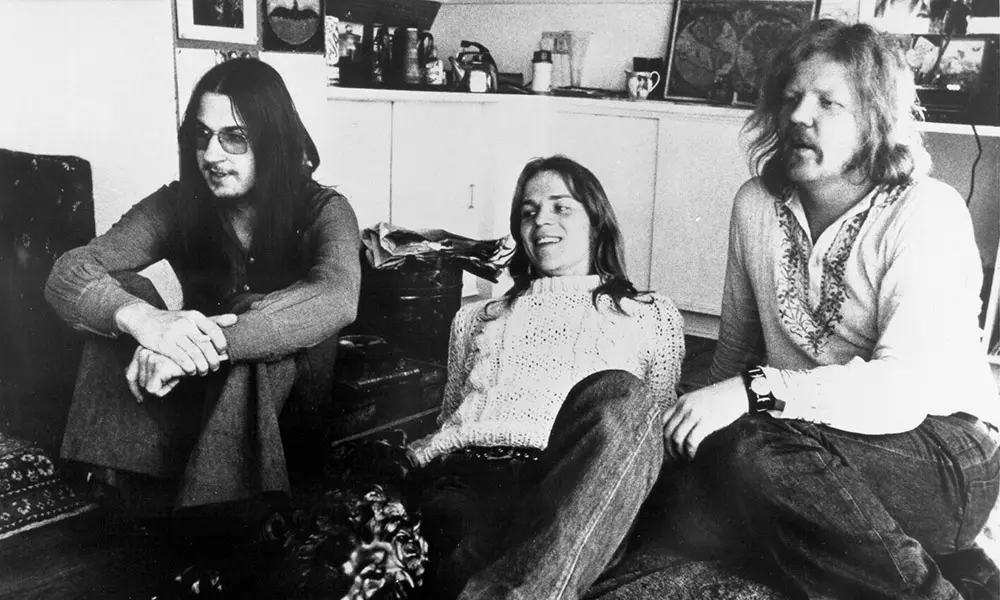 Although they have often been classified as supreme masters of Teutonic efficiency, once you take the longer view of Tangerine Dream and study them through time's telescope you'll find they are actually anything but the solemn sultans of electronica. See them now as glorious trailblazers of what became known as Krautrock: playful, sometimes chaotic, serious in intent for sure, but never likely to stay static or maintain a rigid approach. In that sense, Tangerine Dream are more like conservatoire punks than stolid establishment musicians. And once that becomes apparent then the kaleidoscopic nature of Tangerine Dream can slowly zoom into focus. The cliché is kicked firmly into the undergrowth. Or is, as the Germans say, kaput.
Given their vast repertoire and a career that now spans work in six decades, albeit with an astonishing array of changing musicianship, it's worth going back to the main man Edgar Froese's R&B groundings in West Berlin circa 1967. Here he'd formed The Ones (biggest hit was Lady Greengrass), though he would soon swap his idiosyncratic take on soul and beat for strides into the unknown, capes by a voracious enthusiasm for Berlin's urban take on surrealism, the theatre of the absurd, concrete art, painting and classical structure.
Having cut his teeth so to speak with fellow travellers Steve Joliffe and the legendary Klaus Schulze, the East Prussian-born Froese performed for Salvador Dali and studied Schoenberg and Stockhausen as avidly as he mutated Chuck Berry rhythms into languid soundscapes. Edgar's Road to Damascus moments probably arrived when he teamed up first with Christopher Franke, a drummer and multi-instrumentalist, and then Peter Baumann. Fusing psych and budding lower case krautrock onto an adventurous keyboard-driven template, Tangerine Dream itself was given birth thanks to the pop/art lyrics in John Lennon's 'Lucy In The Sky With Diamonds'. After an important stint recording for Ohr (label logo: a pink ear) their tape collages and mellotron heavy melodies were championed by John Peel. He made the 1973 album Atem (roughly meaning 'breathless') his spin of the year. Landing next on Virgin was a logical choice: the label's relationship with the smart avant-garde artists of the era suited Froese and co., who also loved recording in the Oxfordshire countryside at Richard Branson's state of the art Manor Studios – where plentiful supplies of wine and lawn tripping lovelies cleared the head after hours of flashing console lights.
The Virgin Years coincided with the Dream's rise. They'd already been the biggest selling import act in the business and now their album Phaedra shifted an incredible 100,000 copies in six weeks and found the band playing to rapturous crowds at the Royal Albert Hall and the Rainbow, as well as SRO tours of the far-flung North of Britain. Remarkable enough, given the times were underscored by pre-punk pub rock and American stadium acts, Tangerine Dream's attitude didn't falter. They continued to baffle critics as Rubycon, the live Ricochet and Encore albums, and the brilliant Stratosfear cemented their place in British hearts and discerning record collections in the era between 1974 and 1976. This despite a rather hands-off reaction from certain quarters of the weekly press, who were often suspicious of technology, and viewed computers with a Luddite's mistrust – as if these things were best-left gathering dust in government bunkers or bank headquarters. What ho, chaps!
Froese and his fellows had however woken up and smelt the future espresso. Moreover, they released at least an album a year, so even those who didn't understand could hardly typecast them. Plangent guitars, sound wave synth drums, full-fat Gothic organs and layered treated voices were the band's calling card. Live too; they were a magnificent proposition, performing under UV lights with sets that looked like mystic jungles. Far from playing behind some kind of Berlin Wall of sound their refusal to reproduce studio pieces, and their insistence on improvising new music from an urge to itch a scratch, ensured each gig was a unique experience. The cosmic couriers were also at the forefront of the good new stuff: mothers of invention, like kindred spirits, Can and Popol Vuh. They weren't afraid to take risks and if they fell slightly sideways with the artificial head systems ultra hi-fi technique, or couldn't always reach a glitch-free perfection for their pyramid style quad set-up, well …  they didn't mind because innovation is always just around the corner.
The total progressive masterpiece Cyclone, the first Dream album with proper lyrics and vocals, saw Baumann leave to be replaced by old accomplices Jolliffe and Klaus Kruger, while the complexity of the instrumentation reached bamboozling heights as banks of Moogs battled with reeds and brass, oriental Burmese gongs, clavinets and sequencers. Staying in Berlin but now utilising the famed Hansa Studios, TD cut back on that prodigious amount of kit and sent out the stripped-back Force Majeure, heralding a return to roots and a glimpse of the uber-melodic sound which would be in demand for movie soundtracks – everything from Risky Business and Firestarter to Miracle Mile, Wavelength and Heartbreakers. Indeed for many, the soundtrack cover line: 'Music composed by Tangerine Dream' would be their intro to this extraordinarily mythic outfit, ensuring new legions of admirers came on board as tastes and technology evolved.
Equally pertinently, a new brood of electro-pop merchants was discovering the work of Froese et al; neither hidebound nor cynical the music of the Dream was deemed revolutionary and vital by many a young group – Depeche Mode being one important example.
Tangerine Dream's legacy on record alone is so vast it can't be shoehorned. Nor should it be. Discovery is the lifeblood for the interested listener. One can jump into Tangram and Hyperborea from the early 1980s or sample all-encompassing paranoia on the Cold War classic Exit. Highly recommended starting points are The Virgin Years: 1974-1978 and the companion 1977-1983.
Tangerine Dream became a family concern with son Jerome joining father Edgar. A recent album Starmus – Sonic Universe, celebrating 50 years of manned spaceflight, is a fantastic collaboration between TD and Brian May.
Format:
UK English