Underworld
The British electronic band from Cardiff comprised of Karl Hyde and Rick Smith have a catalogue that's defined dance music.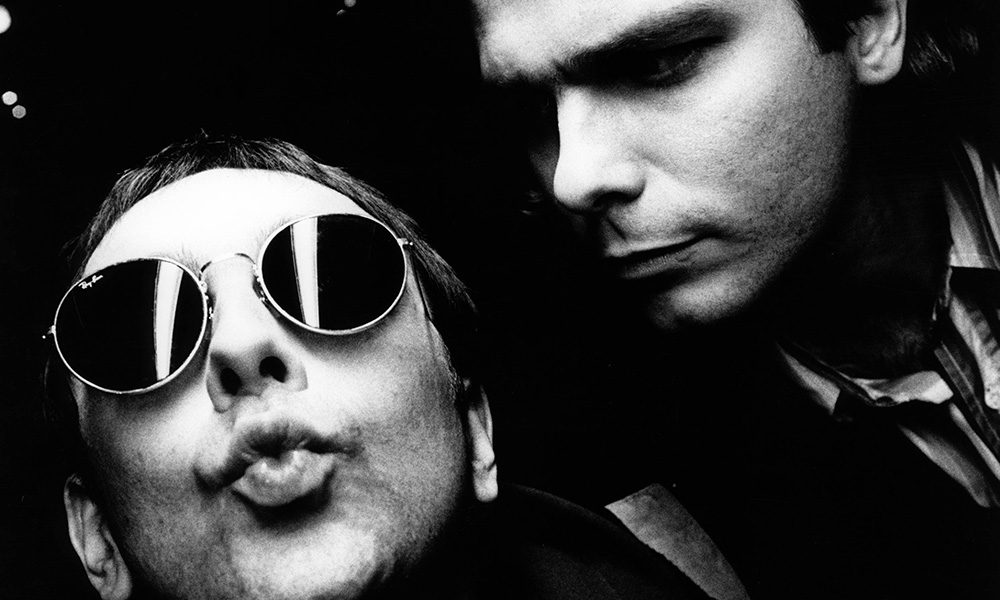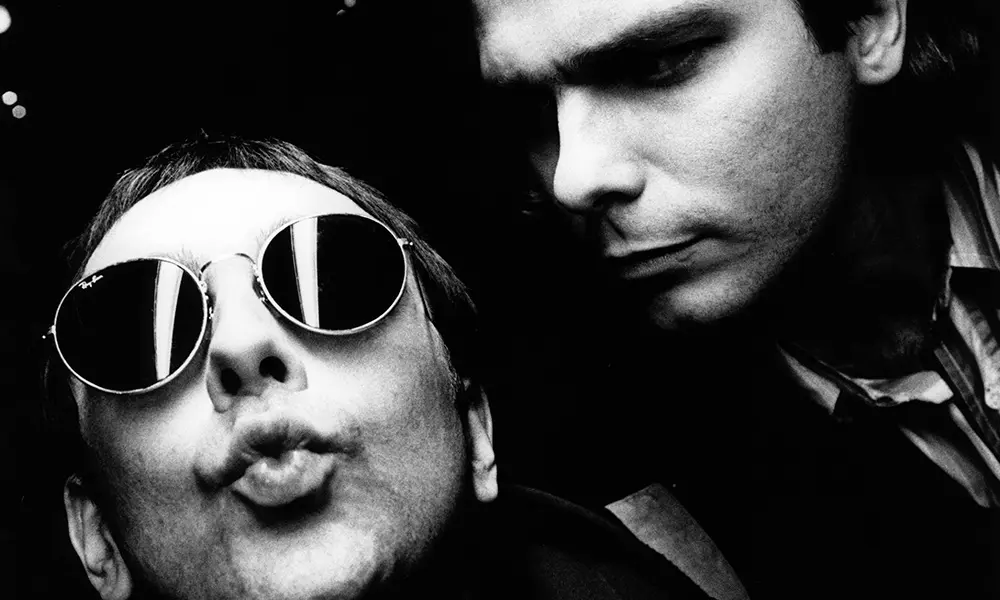 Made in Romford. Formed in Cardiff. Honed at Prince's Paisley Park Studios and on the road in the early days with Eurythmics, the much-loved duo of Karl Hyde and Rick Smith – with notable collaborators including the two Darren's, Price and Emerson, are Underworld. One of the first of the second wave new dance and club acts to transcend any perceived computer boffin image, the duo are renowned for their wit and sparkle and truly groundbreaking excursions into the outer lands of electronic music.
Icons of their time too, thanks to the breakthrough success of the immortal track "Born Slippy.NUXX", used to such devastating effect in Danny Boyle's movie Trainspotting, Smith and Hyde go from strength to strength.
In the twenty years since the release of dubnobasswithmyheadman, Underworld's DNA has spread through both electronic music and popular culture in general – mutated and reimagined as the EDM soundtrack of the dance floors of Las Vegas; acknowledged and acclaimed as the backbone to Danny  Boyle's production of Frankenstein at the National Theatre and his globally acclaimed Opening Ceremony to the London 2012 Olympic Games where they acted as musical directors to an inspired, hallucinatory sprint through three hundred years of British history.
We're pleased to say that dubnobasswithmyheadman is now newly available in a variety of formats. To celebrate this twentieth anniversary, the band's Rick Smith has meticulously re-mastered the record at Abbey Road for a deluxe reissue. Revisiting the original MIDI files, Rick uncovered a wealth of previously unreleased material and rare alternate mixes that sit alongside the record's original companion singles and remixes and offer a fascinating insight into the creation of the record. The resultant release is the definitive version of one of those rare records that truly deserves to be described as a classic. Other Underworld albums will be afforded the same luxury treatment in the months to come.
Our heroes Hyde and Smith formed Underworld in Cardiff in 1980 following a run out with various ensembles influenced by Kraftwerk, Prince, dubstep and just about any genre they cared to chuck into the pot. Electro-pop origins led to the early Underworld discs Underneath The Radar and Change The Weather in the late 1980s before they fell on their feet for good with DJ Darren Emerson and started producing danceable techno for the thriving rave scene.
In fact, dubnobasswithmyheadman arrived while the duo were also experimenting with the art design project Tomato and delivering singles under the Lemon Interrupt moniker. The seeds were thus sown for a bewilderingly audacious scope of ideas and adventures, except that unlike many of their peers the Underworld boys delivered.
dubnobasswithmyheadman (1994) is a gauntlet thrown down: techno, progressive house and trance bubble through and an album that astonishes today just as it left folks reeling back in the day. Acid house and rushing, blood firing dub mean that this is a dance album that rocks. Maybe if we leave off the generic typecasting it's easier to just say that this is one of the most essential albums of the era. Epochal, that kind of thing. And considering what's inside – classics include "Dark & Long", "Mmm Skyscraper I Love You", "Dirty Epic" and "Cowgirl" – the original approach to composition, where cut-up and Cubism can sit next to a guitar riff or a montage of rhythms, is what will set Underworld apart from the herd.
Often cited as a musical equivalent of a George Orwell vision of the future, Underworld doesn't lack a sense of humour. The brilliantly entitled follow-up Second Toughest In The Infants (1996) is more of the same, only better and subtler. Following the worldwide success of their "Born Slippy.NUXX" soundtrack offering Infants soared into the UK Top Ten and started to make inroads worldwide, in Europe, Australia and eventually America. Our reissues come with class bonus material and like we say – look out for forthcoming deluxe formats), "Slippy" itself and the massive dance anthem "Rez" often coupled together live with "Cowgirl".
As Underworld's live reputation starts to soar at the same pace as their studio work they embrace elements if jungle and always hip hop and reggae. 1999's Beaucoup Fish was well worth the wait. The thrusting piano-driven "Push Upstairs" and the guitar drenched "King of Snake" are facets of a remarkable disc. The rocky "Bruce Lee" is atypical Underworld – or is it? That's the trick. Keep 'em guessing.
As cool and vital as anything contemporary by, say, Fatboy Slim or Lauryn Hill, Beaucoup Fish stands as another landmark on Underworld's path. The desire to create artefacts, rather than simply churn out music for its own sake, is a given with them and will soon draw them to the attention of folk like Brian Eno. Meanwhile, the live Everything, Everything (2000) recorded a year earlier in Brussels, is far more than your standard greatest hits and a couple of ringers. It gets better with every play while avoiding many of the pitfalls associated with over-indulgent live recordings.
A Hundred Days Off sees that Eno empathy arrives in full effect. This is a more ambient affair with a touch of lounge about it although tracks like "Two Months Off" and "Dinosaur Adventure 3D" are classic Underworld in construction. For those anxious to play a bit of catch-up the compilation 1992-2002 enables one to do just that and moreover, it finds them cracking Japan and moving into American territory with a vengeance, so mission accomplished.
Live in Tokyo 25th November 2005 cements their arrival in the East before Oblivion with Bells (2007) takes them into Abbey Road. It had to happen. In many ways, this is their most esoteric set to date although then origins of songs like "Ring Road" or "Holding the Moth" are gloriously immediate. Football gamers will recognize "Crocodile" too because it was used on the FIFA Street 3 sound bed. That's U2's Larry Mullen Jr. on "Boys, Boys, Boys"
And so full circle and back to Barking (2010) where Smith and Hyde wrote and recorded each track before sending them out to producers well known for their contributions to trance, drum and bass and dubstep. As usual with these guys, there are many formats available, with deluxe variations, alternative versions and DVD material a-plenty. Another global charting gem, Barking is one of the finest Essex referencing albums of all time.
The updated anthology 1992-2012 also comes with unreleased tracks and rarities across three discs while A Collection caters for those who want to enjoy all the goods on a single CD.
Suffice to say that while these fellows have been making grand sounds in four different decades they remain on top of their game and the arrival of the multi-packaged dubnobasswithmyheadman and some imminent live dates are bound to make them household names. Again.
In many ways, Underworld are like the storyline of Danny Boyle's movie Sunshine, for which they provided the soundtrack. Their mission seems to be reigniting the universe and adapt all available space. While they continue to operate from the edge lands they have an innate sense of humanity about them. This is dance music, Jim. But not as we know it. We recommend an immediate investigation, without prejudice. Good for the head man.
Words: Max Bell
Format:
UK English