Paradise On The Dancefloor: A Brief History Of Club Music
This brief history of club music runs from groundbreaking Paradise Garage DJs such as Larry Levan, to 90s and 00s club megabombs.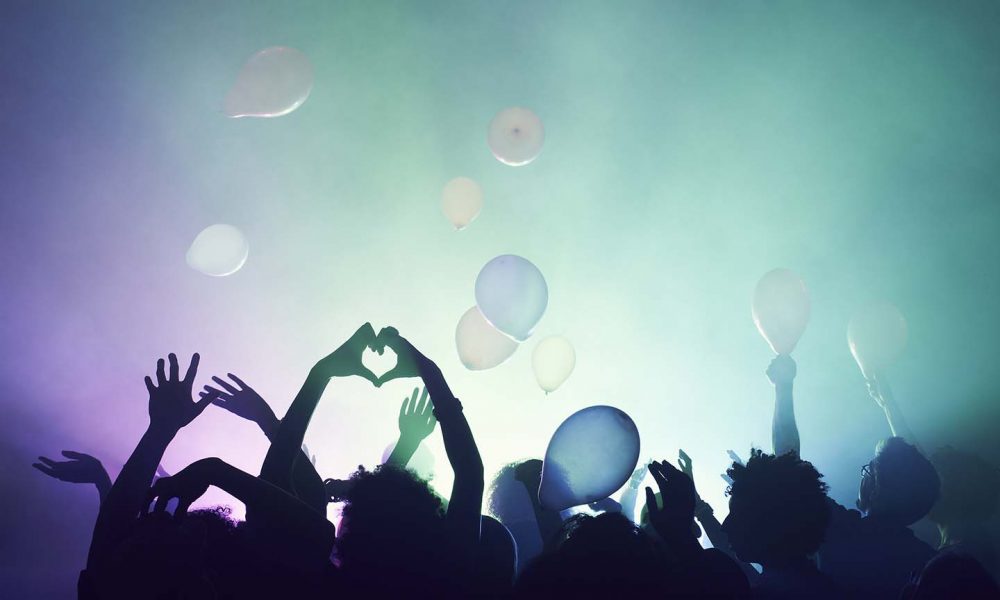 Ever since someone placed two turntables next to each other and started playing records back to back, the dancefloor has been subjected to all manner of megabombs, from short, sharp shocks to deep cuts, many of which have had a nuclear half-life. Here's a miniature selection of some of the classics that reveals the history of club music from the early days to the present era.
Listen to the history of floor-filling club music on Spotify.
James Brown's wrestling of soul into the tight, sweaty shape of funk was perfect for the days when the word "disco" still referred to the venue, rather than the music. Among the Brown pieces certified as doing the damage at New York's hippest nightspots was "Cold Sweat," given the ultimate accolade by virtue of being sampled hundreds of times since. Another Polydor act, Timmy Thomas, provided a crucial development in 1972 by being one of the first to make use of one of the early drum machines on his beautiful and moving future Balearic anthem "Why Can't We Live Together?"
Larry Levan and Paradise Garage
The constant tempos of electronic music suited the dancefloor, even if early innovators such as Germany's Kraftwerk could perhaps have been forgiven if they hadn't expected the likes of "Trans Europe Express" to become popular at venues such as New York's legendary Paradise Garage. Any history of club music would not be complete without mentioning Giorgio Moroder, whose collaborations with Donna Summer yielded the immortal "I Feel Love." There have been countless remakes and take-offs, but the late Patrick Cowley triumphed on his early, masterful 16-minute remix.
Someone else spun heavily at the Paradise Garage was Grace Jones, whose albums are gradually being reissued, complete with all manner of extras. 2015's Disco box set gathers together her criminally underrated early recordings; her breakthrough album, Warm Leatherette, is being reissued on June 17 and features rarities such as "Private Life (Dub Version)", where her first major fly-away hit is subjected to a sumptuously long and authentic West Indian treatment.
The Garage's late, lamented DJ Larry Levan has had some of his finest production and remix work gathered together on the tremendous Genius Of Time two-disc collection. It includes many cuts from Levan's muses, such as Gwen Guthrie's "Padlock (Larry Levan Mix)." Soulsters from the time had every ounce of emotion wrung out of their productions as Levan dramatically transformed them to fit his club ideals.
The rise of Chicago house and Detroit techno
Towards the end of the Paradise Garage's reign, Levan had naturally become keen on the house sounds emerging from Chicago. His old friend Frankie Knuckles was instrumental in creating the genre at the Warehouse club and other venues, and his recordings for Virgin include the delightful deep house classic "The Whistle Song." Back over in New York, the post-Levan house and garage scene produced artists who have largely defined the genre for purists ever since. Kenny "Dope" Gonzalez and "Little" Louie Vega's Masters At Work production team were among those keeping the links to the roots of disco visible on the dancefloor, making the connection completely explicit on tracks such as their spine-tingling cover of Loleatta Holloway's "Runaway," recorded under the Nuyorican Soul banner for Talkin' Loud.
Any introduction to the history of club music must also mention Detroit, where techno was born. The sounds of techno were more explicitly based around electro than house had been, and the genre scored early crossover hits with Inner City. Helmed by the immensely talented and diverse Kevin Saunderson, the group's hit single "Good Life" featured mixes by both of the other major names in the early days of the movement, Juan Atkins and Derrick May. Techno became ever more abstracted as the years went on, leading to adventurous productions such as those of Carl Craig, whose Innerzone Orchestra graced Talkin' Loud with the appropriately jazzy "At Les" in 1999.
Block-rockin' beats: Enter UK electronica
In the UK, electronica soundtracked the manic rave scene in all its permutations, and techno was sublet out to an emerging wave of acts – many of whom signed to the Virgin imprint – producing work that sounded wonderfully ethereal in the chill-out zones but also packed quite a bottom end for the dancefloor. Among these, The Future Sound Of London dealt out one of the classics of this type with 1991's "Papua New Guinea." Other groups to summit Mount Electronica in the era included Underworld, whose superb super-deluxe edition of dubnobasswithmyheadman finally blessed us with the full vocal of 1993's "Cowgirl," a piece of as much consequence to electronic music history as anything guitar-led dug out for equivalent box sets aimed at rock fans.
Comparable to Underworld's success was that of Virgin labelmates The Chemical Brothers, who helped dance music cross over to college and university campuses with records such as "Leave Home." This was territory more traditionally occupied by indie bands, but the Chems' dirty bass and scuzzy guitars, allied with their trademark block-rockin' beats, floored any doubters. France's Daft Punk repeated the trick with "Da Funk," which leveled everything in front of it in 1995.
Drum'n'bass, UK garage, and a lasting legacy
Stepping back a bit in time, Bristol, in the UK's West Country, had been developing its own West Indian-influenced music scene through the 80s and early 90s. One of the earliest hits from this quarter came courtesy of Fresh Four (yet another Virgin act). The instrumental of the group's cover of "Wishing On A Star" was retitled "Smoke Filled Thoughts" and makes fairly clear what direction the town was headed in, with the trip-hop explosion just around the corner. Two of the group went on to become known as DJs Krust and Suv, and played a major part in Roni Size's Reprazent. The links between this earlier period and that group's dynamic take on drum'n'bass can perhaps be seen on productions such as Roni Size's downtempo mix of "New Forms," originally stuck on the B-side of one of the singles from the classic Talkin' Loud album of the same name.
The influence of the UK garage sound continues to be heard through to the present day, with electronic duo Disclosure among the descendants. Their 2013 single "White Noise" had the same lightness and freshness of all those decades of frothy sounds that came before them. As with all club music, as well as producing crossover anthems, the UK's bass music sector has also innovated time and again, as when La Roux was taken on by Skream for a remix of "In For The Kill" that turned an artful bit of synth-pop into a hugely atmospheric dubstep track with a surprise in store at the end: paradise on the dancefloor.
Looking for more history of club music? Check out how "Pose" celebrates the music of ballroom culture.