The Best Albums of 1998: 67 Albums To Check Out
The best albums of 1998 are some of the best of the decade, with masterpieces from DMX, Massive Attack, PJ Harvey, and many more.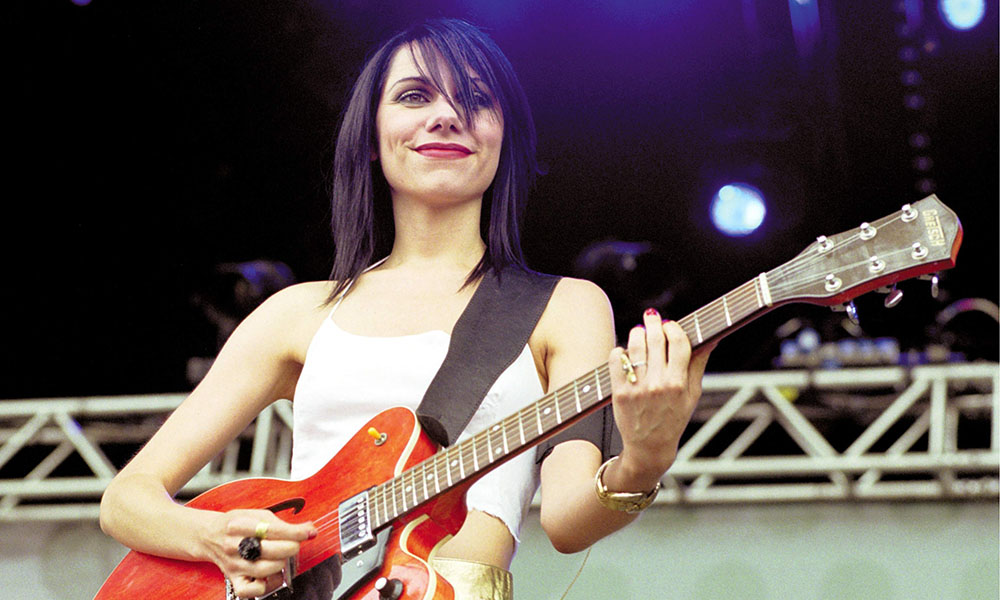 The best albums from 1998 reflect an unusually fertile year in a variety of genres. There were genre-defining albums in hip-hop: Lauryn Hill, DMX, Outkast, and many more turned in some of their best work. There was electronic music galore, with Boards of Canada and Massive Attack leading the way. If you wanted alternative, PJ Harvey and Tori Amos had you covered. In short, 1998 was one of the best years for albums during the 90s… a decade that had a boatload of incredible music.
Can't get enough 90s music? Listen to our 90s Music playlist here.
67: R.E.M. – Up
Up was the first album R.E.M. recorded without Bill Berry, but it revealed a new side to the multi-faceted legends.
R.E.M. - Daysleeper (Official HD Music Video)
66: Rachid Taha – Diwan
Rachid Taha dug deep into his heritage for Diwan, with a less aggressive sound. The result was one of his most satisfying albums.
65: The Offspring – Americana
Featuring "Pretty Fly (for a White Guy)" and "The Kids Aren't Alright," this 1998 Offspring album has some of the rock group's biggest hits.
64: Smashing Pumpkins – Adore
Following up Mellon Collie and the Infinite Sadness must have been terrifying for the Smashing Pumpkins. They emerged with one of the group's most eclectic efforts.
63: Robbie Williams – I've Been Expecting You
"Millennium," from this 1994 album, was Robbie Williams' first UK number one hit. Many more would follow in its wake.
62: Fugazi – End Hits
The band's fifth studio album is not often heralded as one of their best, but upon further inspection, their fearless experimentation and excellent musicianship makes a strong case for its inclusion in the band's top albums.
61: Gang Starr – Moment Of Truth
The hip-hop duo's hard-hitting fifth studio album is akin to a comeback record seeing as the group had been quiet for four years, but it was well worth the wait and includes favorites like "You Know My Steez."
Gang Starr - You Know My Steez
60: Garbage – Version 2.0
With its bigger and bolder sound, the rock band's second studio album is widely considered to be their best album.
59: 98 Degrees – 98 Degrees and Rising
The popular boy band's sophomore album is peak boy band magic, full of genre-mashing pop bangers, infectious hooks and lyrics that are begging to be belted out.
58: A Tribe Called Quest – The Love Movement
The influential hip-hop group's last album with founding member Phife Dawg is a meditation on love that masterfully bounces between the emotional and the carnal, presenting love in its varied forms over jazz-influenced production.
57: David Gray – White Ladder
Recorded in his bedroom, Grey's heartfelt songs of love carry a depth of feeling that finally earned him the breakthrough success he deserved.
56: Sonic Youth – A Thousand Leaves
With free rein in a new studio, Sonic Youth's 1998 album A Thousand Leaves featured a number of sprawling, exploratory tunes.
55: Tori Amos – From the Choirgirl Hotel
Tori Amos added a variety of different instruments to the mix on From the Choirgirl Hotel. The result was one of her most satisfying albums yet.
54: Tortoise – TNT
The Chicago jazz-adjacent group's TNT was one of the most post-modern albums of the year, taking full advantage of digital technology.
53: Faith Hill – Faith
The country superstar continued her run of pop success on this blockbuster 1998 album.
52: Elvis Costello and Burt Bacharach – Painted from Memory
Pop and punk meet on this collaborative album that brings out the absolute best in both and is full of beautiful melodies and sagacious lyrics.
51: Goo Goo Dolls – Dizzy Up the Girl
The rock band's sixth studio album embraced their mainstream appeal with catchy and well-polished pop-rock including lead single, "Iris" and fan favorite, "Slide."
50: Eels – Electro-Shock Blues
The rock band's second album was created in the wake of immense loss and the result is a somber yet striking work that offers a way out of the darkness.
Eels - Last Stop: This Town
49: Manu Chao – Clandestino
The French-Spanish singer's solo album is a multi-lingual, multi-genre tour de force whose politics and musical prowess earned the artist comparisons to Bob Marley.
48: Mark Hollis – Mark Hollis
The English musician's only solo album is a wonderful fusion of jazz, folk, and ambient that extends the work of Talk Talk to create a distinct and beautiful record.
47: Maxwell – Embrya
The R&B singer's impressionistic second album signaled a departure from his traditional debut and introduced Maxwell as an innovator of the genre.
46: Pearl Jam – Yield
Pearl Jam emerged from a dying grunge scene with their 1998 record which saw the band embrace hard rock and powerful ballads making it one of their most accessible albums.
45: Placebo – Without You I'm Nothing
The rock band's second album pulls from 70s rock and punk music to create a gender-fluid, culture-defining record.
44: Rob Zombie – Hellbilly Deluxe
The subtitle to this album is 3 Tales of Cadaverous Cavorting Inside the Spookshow International and that's about all you need to know about its ferocious and terrifying sound.
43: Rufus Wainwright – Rufus Wainwright
The singer-songwriter's 1998 debut album announced the arrival of one of the most distinctive voices in popular music.
42: Dru Hill – Enter the Dru
The R&B group's sophomore album blends smooth R&B with a street savvy edge vaguely reminiscent of New Jack Swing but distinct enough to stand in a league of its own.
Dru Hill - How Deep Is Your Love
41: Dixie Chicks – Wide Open Spaces
The country group's first album with Natalie Maines earned them breakthrough success and features the hits, "There's Your Trouble" and "You Were Mine."
40: Kruder & Dorfmeister – The K&D Sessions
The group's landmark DJ mix features innovative remixes of Depeche Mode and Bone Thugs-N-Harmony among many others and sounds just as fresh today as it did in 1998.
39: Alain Bashung – Fantaisie militaire
The French pop star's tenth studio album includes the hit single "La Nuit de Mens" and shot to the top of the charts earning popular and critical acclaim.
38: Boredoms – Super AE
The Japanese rock band's 1998 album is full of wildly eclectic takes on various strains of rock music from prog to noise to psych.
37: Brandy – Never Say Never
The "Vocal Bible"'s second studio album includes the mega smash, "The Boy Is Mine," and several other tracks that demonstrate her signature husky vocals and stunning harmonies.
36: Onyx – Shut 'Em Down
The hip-hop group's third album is an excellent example of hardcore hip-hop at a time when it flirted with mainstream success and includes hits like "The Worst" and "Shut 'Em Down."
Onyx - Shut 'Em Down ft. DMX
35: Jeff Buckley – Sketches for My Sweetheart the Drunk
The beloved singer-songwriter's posthumous album includes scrapped recordings and demos that reflects his brilliance as well as the unfinished arc of a career cut short.
34: Royal Trux – Accelerator
The dynamic duo of Royal Trux was never in better form than this rollicking masterpiece of scuzz rock.
33: Kid Rock – Devil Without a Cause
All of Kid Rock's genre-switching resulted in a surprisingly hard rock album in 1998, it's a refreshing effort from the provocative artist and is full of humour and good times.
32: Pulp – This Is Hardcore
The band's 1998 album can at times feel oppressively bleak – many say it killed Britpop – but if you make it through, its darkness almost feels prophetic.
31: UNKLE – Psyence Fiction
This star-studded album could've been a disaster, but the steady hand of James Lavelle and DJ Shadow at the controls ensured its sonic consistency and quality.
Rabbit In Your Headlights
30: Sunny Day Real Estate – How It Feels To Be Something On
The 1998 album from the emo giants is one of their finest efforts, with "Pillars" and "Every Shining Time You Arrive" leading the way.
29: System of a Down – System of a Down
This 1998 debut is the starting point for one of the most distinctive metal bands of its era.
28: Beastie Boys – Hello Nasty
From electro to Latin music to pop, the rap group's fifth studio pulls from a wide array of influences to create a freewheeling hip-hop record that is as fun as it is surprising.
27: Beck – Mutations
With Radiohead producer Nigel Godrich onboard, Beck's follow-up to the instant classic Odelay, is among his most joyful and melody-driven work.
26: Belle & Sebastian – The Boy With the Arab Strap
The Scottish band's third studio album is dark, complex, and replete with vivid and fleshed-out characters whose stories are beautifully tragic.
25: Fatboy Slim – You've Come a Long Way, Baby
Norman Cook's second album is breakbeat at its most brazen and eccentric featuring samples from far and wide.
24: Gomez – Bring It On
The English band's debut album earned them a Mercury Prize and set the stage for their singular bluesy rock to take over the charts.
Gomez - Whippin' Piccadilly
23: Mercury Rev – Deserter's Songs
With its orchestral-like arrangements and luxurious textures, the rock band's fourth album is some of their most beautiful and melodious work.
22: Plastikman – Consumed
Richie Hawtin's 1998 album is a techno masterpiece that expanded the boundaries of the genre with its commitment to experimentation and minimalism.
21: Hole – Celebrity Skin
The Courtney Love fronted band's 1998 album was released in the midst of grief (Kurt Cobain passed away a week before) and in its haunting melodies and heart-wrenching lyrics exposes the inside of a heart in mourning.
Hole - Celebrity Skin (Official Music Video)
20: Korn – Follow the Leader
The famed metal band's third studio album has sold millions of records around the world to date and catapulted the band and nu metal to superstar levels.
19: Refused – The Shape of Punk to Come
The Swedish group's 1998 masterpiece lived up to its name, charting a path forward for hard-edged bands around the world.
18: Silver Jews – American Water
Arguably the finest record David Berman put to tape, American Water has a few key assists from Stephen Malkmus and more.
17: Queens of the Stone Age – Queens of the Stone Age
The California rock band's debut album is stoner rock at its finest, full of captivating solos and endless grooves.
16: Air – Moon Safari
The French duo's landmark debut revitalized electronic music by introducing new textures and instrumentation to induce a state of bliss and relaxation.
15: Elliott Smith – XO
The singer-songwriter's fourth studio album is expansive and heartbreaking, full of resonant songs that pack just as strong a punch over a decade later.
14: Juvenile – 400 Degreez
The New Orleans rapper's best-selling album includes perennial club staple, "Back That Azz Up," and established Cash Money Records as a force to be reckoned with.
13: Lucinda Williams – Car Wheels on a Gravel Road
The singer-songwriter's fifth studio album is full of distinctly southern places and faces that are buoyed by her distinct vocals and flawless production.
12: Jay-Z Vol. 2… Hard Knock Life
The hip-hop GOAT's 1998 album was his first to debut at number one on the Billboard 200 off the strength of lead single "Can I Get A…," and transformed the rapper from buzzy artist to superstar.
11: Madonna – Ray of Light
The pop queen's seventh studio album took a left turn from the pop sound of the decade by introducing introspection and spirituality to the landscape, the result is one of her most successful albums to date.
10: Massive Attack – Mezzanine
The trip-hop pioneers' 1998 album is predictably heady and dark but also transcends the genre in its intensity and scope, making it one of the best records to ever come out of the Bristol scene.
Massive Attack - Teardrop (Official Video)
9: Cat Power – Moon Pix
The singer-songwriter's masterpiece album is full of fiercely intimate songs that are at turns soulful, meditative, and melancholy.
8: Bob Dylan – Live 1966: The "Royal Albert Hall" Concert
This two-CD set of bootleg live recordings features both electric and acoustic songs from the famed singer-songwriter and is widely considered to be a crucial document in rock music history.
7: Neutral Milk Hotel – In the Aeroplane Over the Sea
The indie rock band's second album was inspired by the life of Anne Frank and compellingly captures the brilliance of an extraordinary life and the devastation of untimely death.
6: DMX – It's Dark And Hell Is Hot
The late New York rapper's debut album is as spooky and troubled as the title suggests and introduced to the world to one of the genre's greatest showmen.
DMX - Ruff Ryders' Anthem
5: OutKast – Aquemini
Few hip-hop albums have been as impactful to the genre as this one. From Andre 3000 and Big Boi's effortless interplay to its distinctly Atlanta feel, it's not an overstatement to say that this album put Southern hip-hop on the map.
4: Black Star – Mos Def & Talib Kweli Are Black Star
The duo's debut is their only album to date and news of their highly anticipated follow-up has become the stuff of hip-hop lore. Filled with dense and thrilling rhymes from two masters of the craft over unforgettable production, it's no wonder it's widely considered a classic.
3: Boards of Canada – Music Has the Right to Children
The Scottish electronic duo's debut album pulled from psychedelic music and nostalgia to create a timeless classic that has influenced countless musicians in its wake.
2: PJ Harvey – Is This Desire?
The idiosyncratic artist's 1998 album flips the break-up album trope on its head by choosing pluralism over individualism as she inhabits different characters to tell her side of the story. It also earned her one of her biggest UK hits with "A Perfect Day Elise."
PJ Harvey - A Perfect Day Elise
1: Lauryn Hill – The Miseducation of Lauryn Hill
Hill's groundbreaking album is the gift that keeps on giving. Her timeless reflections on love, loss, and community, not to mention her seamless blending of raps and breathtaking vocal runs, is unmatched.
Think we missed one of the best albums from 1998? Let us know in the comments below.