Sonic Youth
The experimental rock act comprised of Thurston Moore, Kim Gordon, Steve Shelley, and Lee Ranaldo are regarded as highly influential on generations of rock bands.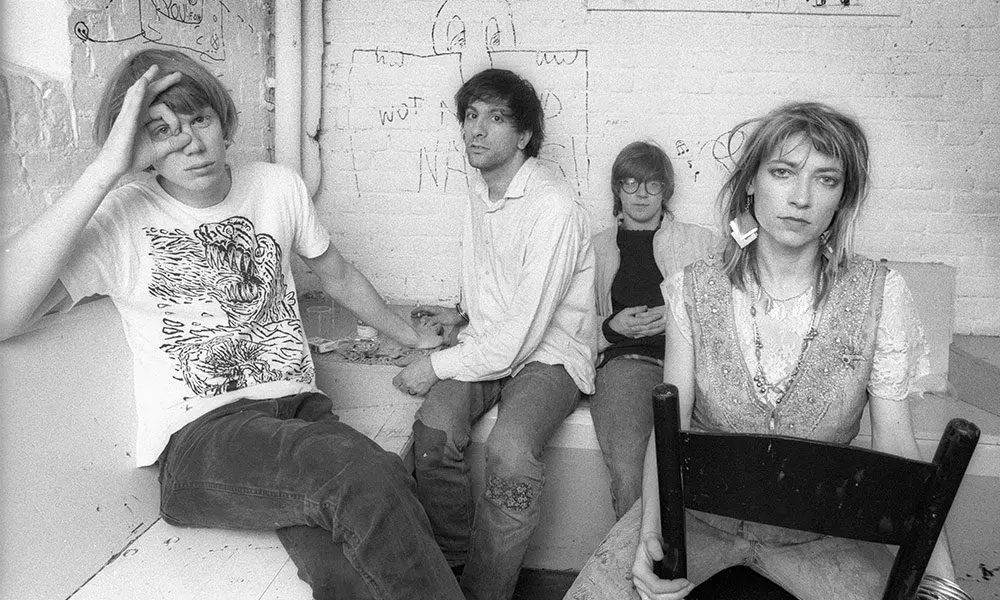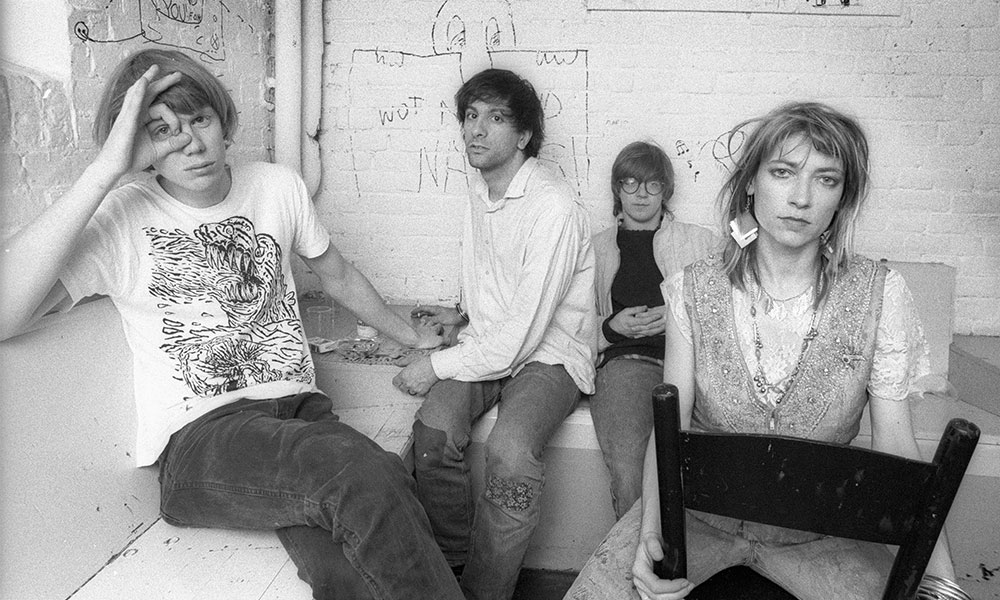 Formed in 1981, Sonic Youth hit upon the name for the band by combining the nickname of the MC5's Fred 'Sonic' Smith with the reggae artist Big Youth. Many of their influences came from the British Punk scene and they initially found far wider acceptance in Europe than back home in New York City. Many people see Sonic Youth as a pivotal influence on indie and alternative rock.
Sonic Youth's self-titled debut album was a live recording at New York City's Radio City Music Hall which came out in 1982. It was followed by Confusion Of Sex and Bad Moon Rising in the next couple of years before the release of EVOL in 1986, which saw the band, at last, begin to break through in America and to establish itself as a truly important group. The following year Sister gained massive critical approval, but being distributed and marketed by an indie label meant that sales were not as good as they should have been. In 1988 Daydream Nation, although a bigger seller, was still more of a critical success than a sales story, however, in 2006, it was chosen by the Library of Congress to be added to the National Recording Registry. The album's sales and the band's visibility were helped by the release of the single, Teenage Riot, which picked up significant airplay.
When they signed to Geffen Records in 1990 Goo made the Top 100 of the American album charts, a feat replicated two years later by Dirty. However, both were bigger sellers in Britain where Goo made No.32 and Dirty got to No.6. Through the 1990s and into the 21st Century Sonic Youth have continued to be both influential and critically successful. Stylistically they have moved away from their Punk roots and the more dense soundscapes of their earlier albums as can be heard on Washing Machine. In 2006 Rather Ripped was made one of the Top 3 albums of the year, not bad for a band whose pedigree stretched back a quarter of a century.
Sonic Youth were one of the most unlikely success stories of underground American rock in the '80s. Where contemporaries R.E.M. and Husker Du were fairly conventional in terms of song structure and melody, Sonic Youth began their career by abandoning any pretence of traditional rock & roll conventions. Borrowing heavily from the free-form noise experimentalism of the Velvet Underground and the Stooges, and melding it with a performance art aesthetic borrowed from the New York post-punk avant-garde, Sonic Youth redefined what noise meant within rock & roll. Sonic Youth rarely rocked, though they were inspired directly by hardcore punk, post-punk, and no wave. Instead, their dissonance, feedback, and alternate tunings created a new sonic landscape, one that redefined what rock guitar could do.
The band's trio of independent late-'80s records — EVOL, Sister, Daydream Nation — became touchstones for a generation of indie rockers who either replicated the noise or reinterpreted it in a more palatable setting. As their career progressed, Sonic Youth grew more palatable as well, as their more free-form songs began to feel like compositions and their shorter works began to rock harder. During the '90s, most American indie bands, and many British underground bands, displayed a heavy debt to Sonic Youth, and the group itself had become a popular cult band, with each of its albums charting in the Top 100.
Such success was unthinkable when guitarists Thurston Moore and Lee Ranaldo formed Sonic Youth with bassist Kim Gordon in 1981. Moore had spent his childhood in Bethel, Connecticut; Ranaldo was from Long Island. Both guitarists arrived in Manhattan during the height of the New York-based post-punk no wave movement and began performing with the avant-garde composer Glenn Branca, whose dissonant, guitar-based music provided the basis for much of Sonic Youth's early music. Moore's girlfriend Gordon had been active in the avant and no wave scenes for some time, and the pair helped stage the Noise Festival, in which the band made its live debut during the summer of 1981. At the time, Sonic Youth also featured keyboardist Anne DeMarinis and drummer Richard Edson. DeMarinis left the band shortly afterwards, and the quartet recorded its eponymous debut EP, which was released on Branca's Neutral Records the following year. During 1983, Edson left the band to pursue an acting career and he was replaced by Bob Bert, who drummed on the group's debut album, Confusion Is Sex (1983). The band supported the album with its first European tour. Later that year, the group released the EP Kill Yr Idols on the German Zensor label.
Early in 1984, Moore attempted to land the band a contract with the British indie label Doublevision, but the label rejected the demos. Paul Smith, one of the owners of Doublevision, decided to form Blast First Records in order to release Sonic Youth records. Soon, he received a distribution deal from the hip U.K. indie label Rough Trade, and the band had its first label with strong distribution. During all these record label negotiations in 1984, the cassette-only live album Sonic Death: Sonic Youth Live was released on Ecstatic Peace. Bad Moon Rising, the group's first album for Blast First, was released in 1985 to strong reviews throughout the underground music press. The album was markedly different from their earlier releases — it was the first record they made that incorporated their dissonant, feedback-drenched experimentations within relatively straightforward pop song structures. Following the release of the Death Valley '69 EP, Bert was replaced by Steve Shelley, who became the group's permanent drummer.
Bad Moon Rising had attracted significant attention throughout the American underground, including some offers from major labels. Instead, Sonic Youth decided to sign with SST, home of Husker Du and Black Flag, releasing EVOL in 1986. With EVOL, the group became a fixture on college radio, and its status grew significantly with 1987's Sister, which was heavily praised by mainstream publications like Rolling Stone. The group's profile increased further with the 1988 Ciccone Youth side project The Whitey Album, which was a tongue-in-cheek tribute to Madonna and other parts of mainstream pop culture.
The band's true breakthrough came later in 1988 with the double album Daydream Nation. Released on Enigma Records, it was a tour de force that was hailed as a masterpiece upon its fall release, and it generated a college radio hit with "Teenage Riot". Though the album was widely praised, Enigma suffered from poor distribution and eventually bankruptcy, which meant the album occasionally wasn't available in stores. These factors contributed heavily to the band's decision to move to the major label DGC in 1990.
Signing a contract that gave them complete creative control, as well as letting them function as pseudo-A&R reps for the label, Sonic Youth established a precedent for alternative bands moving to majors during the '90s, proving that it was possible to preserve indie credibility on a major label. Released in the fall of 1990, Goo, the band's first major-label album, boasted a more focused sound, yet it didn't abandon the group's noise aesthetics. The result was a college radio hit, and the group's first album to crack the Top 100. Neil Young invited Sonic Youth to open for him on his arena tour for Ragged Glory, and though they failed to win over much of the rocker's audience, it represented their first major incursion into the mainstream; it also helped make Young a cult figure within the alternative circles during the '90s.
For their second major-label album, Dirty, Sonic Youth attempted to replicate the sloppy, straightforward sound of grunge rockers Mudhoney and Nirvana. The band had been supporting those two Seattle-based groups for several years (and had released a split single with Mudhoney and brought Nirvana to DGC Records), and while the songs on Dirty were hardly grunge, it was more pop-oriented and accessible than earlier Sonic Youth records. Produced by Butch Vig, who also produced Nirvana's Nevermind, Dirty became an alternative hit upon its summer 1992 release, generating the modern rock hits "100%," "Youth Against Fascism," and "Sugar Kane." Sonic Youth quickly became hailed as one of the godfathers of the alternative rock that had become the most popular form of rock music in the U.S., and Dirty became a hit along with the exposure, eventually going gold.
Sonic Youth again worked with Vig for 1994's Experimental Jet Set, Trash And No Star, which entered the U.S. charts at number 34 and the U.K. charts at number ten, making it their highest-charting album ever. The high chart position was proof of their popularity during the previous two years, as it received decidedly mixed reviews and quickly fell down the charts. Later in 1994, Moore and Gordon — who had married several years before — had their first child, a daughter named Coco Haley. Sonic Youth agreed to headline 1995's American Lollapalooza package tour, using the earnings to build a new studio. Following the completion of the tour, Sonic Youth released Washing Machine, which received their strongest reviews since Daydream Nation. After a series of experimental EPs issued on their own SYR label, they resurfaced in 1998 with the full-length A Thousand Leaves. NYC Ghosts & Flowers, which featured Jim O'Rourke as a producer and musician, followed in the spring of 2000. O'Rourke became a full member of the group, touring with the band and appearing on and producing 2002's Murray Street.
The five-piece Sonic Youth returned in 2004 with Sonic Nurse; one year later, however, O'Rourke departed the band to pursue a career as a film director. Late in 2005, the remaining bandmates issued SYR 6, a recording of a benefit concert for the Anthology Film Archives that Sonic Youth had played alongside percussionist Tim Barnes. Rather Ripped, a fusion of the mellow, sprawling feel of the band's previous two albums with a more stripped-down sound, was released in 2006. In 2008, the band resurrected the SYR series: J'Accuse Ted Hughes arrived that spring as a vinyl-only release, while Andre Sider Af Sonic Youth chronicled an improvised performance at 2005's Roskilde Festival. They also assembled a compilation album for Starbucks, Hits Are for Squares, featuring the previously unreleased track "Slow Revolution."
Format:
UK English