Best Female Bassists: An Essential Top 25 Countdown
Our list of the best female bassists includes key players in punk, funk, and lyrical rock.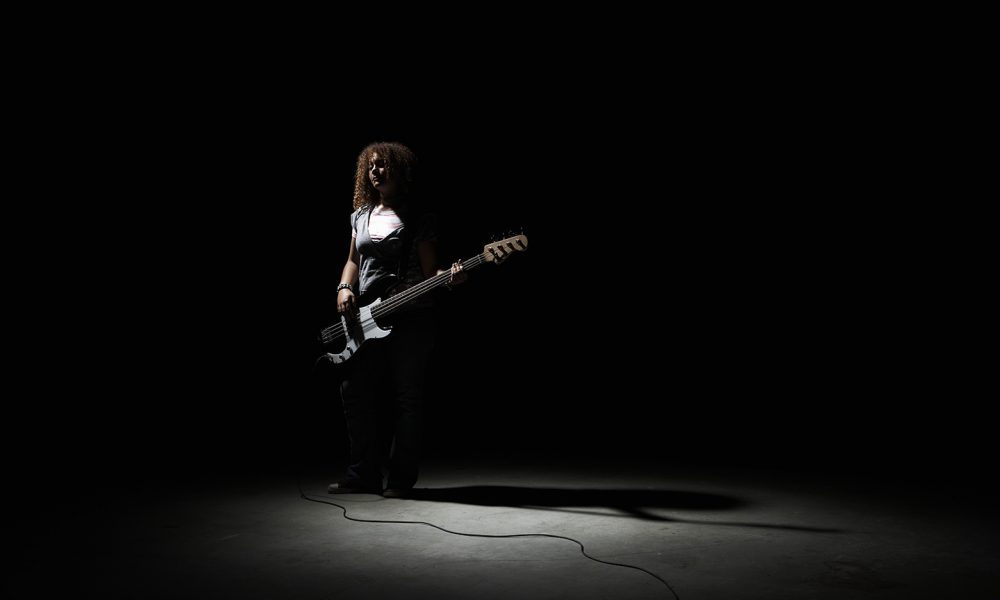 Looking over this list of best female bassists, the first thing that comes to mind is that it includes some of the best musicians we can name – not just the best bassists or best females. The other is what an impressive number of them also excel at other things: playing guitar, writing songs, and being frontwomen. Maybe it's because in the bass-playing world, as in so many other places, women have to excel that much more before the guys start admitting it.
Keeping that in mind, our list of the best female bassists of all-time includes some of the key players in punk, funk, and lyrical rock, and it's headed by one of the most versatile musicians ever to pick up an instrument.
Here are our Top 25 best female bassists of all time.
25: Joan Armatrading
Another gifted singer-songwriter who's less recognized as a multi-instrumentalist, Armatrading played a bit of bass on her classic-era albums (along with her usual guitar and keyboards). Her 2018 album, Not Too Far Away, is filled with the kind of lyrical basslines that she used to hire top-flight session guys to play. And since her latest run of albums have included jazz, blues, and electric rock sets, she's a remarkably versatile player as well, earning her place among the best female bassists.
Joan Armatrading - Not Too Far Away (Official Audio)
24: Kendra Smith (The Dream Syndicate, Opal)
One of the most striking musicians to emerge from LA's Paisley Underground, Kendra Smith got nearly as much attention as the group's frontman, Steve Wynn, did. She left after the band's classic debut album, The Days Of Wine And Roses, and their sound was never the same. Smith continued as a beloved cult figure, making a hauntingly beautiful album with Opal and then a solo album, Nine Ways Of Disappearing – after which she did just that, reportedly living in the desert. But she reappeared, like a lovely hallucination, on The Dream Syndicate's 2017 reunion album, How Did I Find Myself Here?
23: Suzi Quatro
The usual US response to Suzi Quatro's name is: "Who?" But she was a rock goddess in the UK during the glam rock era, when her singles "Can The Can" and "Devil Gate Drive" were the sexiest of struts. As more mid-60s garage singles got reissued, it later came to light that Quatro had been in the Detroit band The Pleasure Seekers, whose single "Never Thought You'd Leave Me" is one of the few great female-fronted nuggets in the garage genre – and it opens with a bass solo. It's also fair to say that Quatro is the only entrant in this list of the best female bassists to have a recurring role on Happy Days.
22: Melissa Auf Der Maur (Smashing Pumpkins, Hole)
A rock-solid bassist, Melissa Auf Der Maur specialized in patching together bands who were in volatile situations, first joining Hole in the dark days after Kristen Pfaff's death, then Smashing Pumpkins after their fall out with D'arcy Wretzky. She showed her versatility by joining the former band at its most pop (Celebrity Skin) and the latter at its most metallic (Machina). Her two solo albums put both approaches together, with some prog and punk thrown in.
Auf Der Maur - Followed The Waves
21: Sean Yseult (White Zombie)
The New Orleans-based Sean Yseult is an artist who's worked in various media; she's authored a book, exhibited her photography, and has a parallel fashion career. As one the best female bassists, she's got a dirty tone and a lowdown sensibility; she's even played with The Cramps. But Yseult is best known for her long stint in White Zombie, a band that managed to combine doomy drones with rock'n'roll fun.
White Zombie - Black Sunshine ft. Iggy Pop
20: Aimee Mann ('Til Tuesday)
Some might be tempted to disqualify Aimee Mann here, simply because she's played so little bass since her days with 'Til Tuesday. While her singing and songwriting has become more impressive on every level since, she's had a regular bassist (Paul Bryan) in her solo band and mostly plays rhythm guitar onstage. But with Both, her occasional collaboration with Ted Leo, we're reminded how dazzling Mann is as a bassist, turning out fast punk basslines with a songwriter's sense of melody.
19: Johnette Napolitano (Concrete Blonde)
Frontwomen who play bass seem to have a love/hate relationship with the instrument; like Juliana Hatfield and Aimee Mann, Johnette Napolitano has switched to guitar on a few albums and tours, but her status as one of the world's best female bassists is assured. The early-90s line-up of Concrete Blonde (the one with her on bass, ex-Roxy Music member Paul Thompson on drums, and Jim Mankey on guitar) was one hell of a power trio, pulling off ominous goth-tinged grooves and celebratory rockers.
Concrete Blonde - Joey (Official Video)
18: Kim Deal (Pixies, The Breeders)
So far as many fans were concerned, Kim Deal was Pixies. And while that's overlooking the band's other key members, there's no denying that her sound and presence were key to their original chemistry. As for Deal's musical abilities, consider that two of the best-loved Pixies tracks ("Debaser" and "Gigantic") both opened with bass solos and that she did a fine job of being the entire band on her pseudonymous solo album, Pacer By The Amps.
17: Gaye Advert (The Adverts)
One of the best female bassists to emerge from the punk scene, Gaye Advert might have gotten her proper due if only her band hadn't imploded after one classic single, "Gary Gilmore's Eyes," and a couple of alright follow-ups, none of which were even released in the US. Punk bass was all about speed and accuracy, and the likes of Dee Dee Ramone and Glen Matlock had nothing on Gaye Advert.
The Adverts Gary Gilmore's Eyes Live @ Top Of The Pops 1977
16: Cait O'Riordan (The Pogues)
Think it's easy holding together a gang of acoustic musicians in various stages of inebriation? As The Pogues' original bassist, O'Riordan had the thankless job of keeping everybody in line, which she managed surprisingly well. If the band sounded impossibly tight, she's the one to thank. She was perhaps the most diehard punk rocker in the line-up, and it helped that she was the only one who could plug in.
15: Michele Temple (Pere Ubu)
As the longest-serving bassist in Pere Ubu – in fact, the longest-serving member in the "avant-garage" band's history, aside from frontman David Thomas – Michele Temple has one of the toughest jobs in the band. It falls on her to make their trickiest moments sound immediate, and vice versa.
14: Sara Lee (Gang Of Four, The B-52s, The League Of Gentlemen)
One of the first great punk-funk bassists, Sara Lee was the unheralded star of Robert Fripp's short-lived dance band The League Of Gentlemen, where her basslines were mostly what you danced to. She then replaced Dave Allen in Gang Of Four, a band that lived or died by their fearsome rhythm section, and added the necessary bottom to The B-52s. As her one solo album, Make It Beautiful, demonstrated, Lee's no slouch as a singer-songwriter either.
Gang of Four - "I Love a Man in a Uniform" (Live on Rockpalast, 1983) [8/21]
13: Gail Greenwood (Belly, L7)
You might call Gail Greenwood the anti-John Entwistle. As a stage bassist she's anything but the quiet one. Plucked from the Providence punk world to join Belly on their second album, she added an exuberant live presence (and ever-changing hair color) to their shows, coaxing frontwoman Tanya Donelly out of her shell. Greenwood later joined L7, becoming a hair-shaker among hair-shakers, and rejoined Belly when they released their first album in 23 years, 2018's Dove.
12: Enid Williams/Gil Weston (Girlschool)
You can't be in Girlschool and not be hailed as one of the best female bassists that ever lived. Girlschool broke important ground as the first all-female heavy metal band, though they were more recognized in the UK than anywhere else. Williams and Weston have to share the title as they both played in the band's classic era (roughly 1980-85); original member Williams is back in the line-up now. Girlschool are probably best-known in the US for collaborating with Motörhead – and you'd better believe that any band endorsed by Lemmy has a good bassist.
Girlschool - C'mon Lets Go (Official Music Video)
11: Abby Travis
The Ultimate Versatility Award goes to the Los Angeles wunderkind Abby Travis, who we chanced upon in 2011 at an obscure prog-rock reunion show, featuring the Anglo-German band Nektar and the freaky Euro/krautrock band Brainticket. The latter got a new lease of life courtesy of a young, goth-looking singer-bassist who gave them a stage presence they never had before. Despite being a good 30 years younger than the rest of the group, Travis was fully on the band's acid-drenched wavelength. A year later she replaced Kathy Valentine in Go-Go's. She's also toured with Butthole Surfers and Cher (now there's a sentence you don't get to write every day) and can apparently play anything with anybody.
"I Put A Spell On You" live Abby Travis
10: Juliana Hatfield (Blake Babies, Lemonheads, Solo)
Juliana Hatfield is one of those artists who's so well established as a singer-songwriter that her instrumental gifts tend to get overlooked, yet she was probably the best musician in the first two bands she was in, Blake Babies and The Lemonheads. In both cases, her playing is supple and melodic, and the producers wisely pushed it up front. Listen to The Lemonheads' It's A Shame About Ray album, and the way she makes the whole thing zoom along.
It's A Shame About Ray (Remastered)
9: Laura Kennedy (Bush Tetras)
Any band whose anthem includes the line "You can't be funky if you haven't got a soul" better have a great bassist. And the late Laura Kennedy was one: a key player in the New York "no wave" movement. The closest US equivalent to Gang Of Four, Bush Tetras wanted to be edgy and confrontational, but they also wanted to be a dance band, and succeeded on both counts.
Bush Tetras Live at Hurrah - 1-30-81
8: Gail Ann Dorsey
Gail Ann Dorsey is one of a precious handful of bassists whose formidable technique is matched with a nonchalant stylistic flexibility – and she scrupulously monitors the dosage of these enviable strengths so that the song, as it should, always comes first. A subtle hallmark of her playing, as a bassist of choice for notables including David Bowie and Tears For Fears (and as a solo artist in her own right), is her seamless musicality: a combination of impeccable note choice and intuitively-weighted groove, so in the pocket that the details only emerge when you listen through an ear microscope. At which point the discreet rightness knocks you on your arse.
Gail Ann Dorsey - Stop on By - the Tube
7: Kim Gordon (Sonic Youth)
Kim Gordon has always been more than a "girl in a band," she's a genuinely innovative player whose voice was essential to the mix of Sonic Youth. Her bass tone was always recognizable, at times providing the reassuring voice when Thurston Moore and Lee Ranaldo went off on dissonant jams. But she could enter the fray as well. Listen to Sonic Youth's 20-minute "The Diamond Sea" to hear how threatening a bass can sound.
Sonic Youth - The Diamond Sea (Live Germany 1996) FULL Song
6: Rhonda Smith (Prince, Jeff Beck)
If you've seen Jeff Beck's current tour, you've got the evidence that this Canadian bassist improves any band she's in. She entered Prince's orbit for the Jam Of The Year tour – the one where he put the sequencers away and got down to some serious funk, working James Brown covers in among the classics. She's largely been in the funk world since then, touring with Chaka Khan and Beyoncé. With Beck, she gets to be flashy and funky at once.
Jeff Beck - "Rhonda Smith" Bass Solo & People Get Ready" - Live Tokyo 2010 [Full HD]
5: Tina Weymouth (Talking Heads, Tom Tom Club)
With her husband and rhythm twin Chris Frantz (the two have never worked separately), Tina Weymouth was instrumental in bringing a sense of groove to the emerging new wave movement. There's a reason why Talking Heads were the only CBGB-era band who could make a signature tune out of an Al Green number. In particular, the version of "Genius Of Love" in the movie Stop Making Sense is some of the most joyful funk ever played by a rock band.
Tom Tom Club - Genius of Love (Stop Making Sense)
4: Tal Wilkenfeld
It would be enough if this Australian prodigy was simply a monster fusion bassist. Wilkenfeld proved that during her touring stints with Chick Corea, Jeff Beck, and when opening for The Who, when she dazzled older audiences who hadn't seen that kind of spirit since 1969. But in her club shows, she's less about fusion and more about sophisticated songwriting, even covering The Smiths and Tom Petty.
Tal Wilkenfeld - Bass Solo (from Jeff Beck Live at Ronnie Scott's)
3: Meshell Ndegeocello
Easily holding her own among the best female bassists of all time, Ndegeocello is the only bassist on this list who's played in The Rolling Stones… and that may be the least of her accomplishments. Her early 90s work set a soul revival in motion and established her as one of those mavericks who could build something original and modern out of the soul tradition, incorporating pop, rap, and reggae into the mix – and of course, many tasty basslines.
2: Esperanza Spalding
It makes perfect sense that one of the most progressive musicians currently working would come out of the jazz world, where she'd already established herself as a world-class singer and one of the best female bassists in the genre. But her 2016 concept album, Emily's D+Evolution, took things to a whole new level. With its complex rock leanings, R&B touchstones, and jazz underpinnings, it's the kind of headphones album you can travel along with, and the brilliant bass playing is just one of the attractions.
Esperanza Spalding - "I Know You Know / Smile Like That" (Live in San Sebastian july 23, 2009 - 3/9)
1: Carol Kaye (The Wrecking Crew)
The presence of this virtuoso in Los Angeles' legendary Wrecking Crew should have once and for all dismissed any notions that female musicians were a novelty. Kaye is one of the most-recorded bassists in history, but the real story is in the scope of her recordings. She did funk, acoustic, the lushest of orchestrated pop (the entirety of Pet Sounds, for starters) and played indelible licks such as the intro to the Grass Roots' "Midnight Confessions" and even the salsa groove on Joe Cocker's "Feelin' Alright." Easily topping this list of the best female bassists of all time, Kaye's status as a legend is assured for decades to come.
Bored of phallic fretwork and cock-rock grandstanding? Find out more about the best female guitarists of all time.