'Black Coffee': Peggy Lee's Darker Exploration Of Love
One of the greatest vocal albums in jazz history, Peggy Lee's 'Black Coffee' marked a defining moment in the legendary singer's career.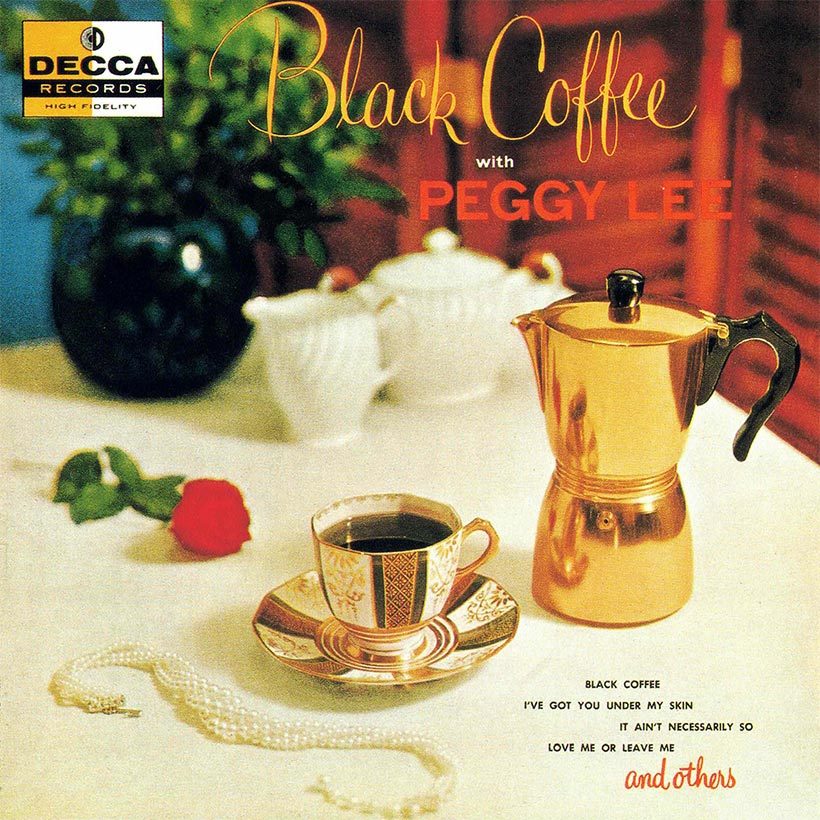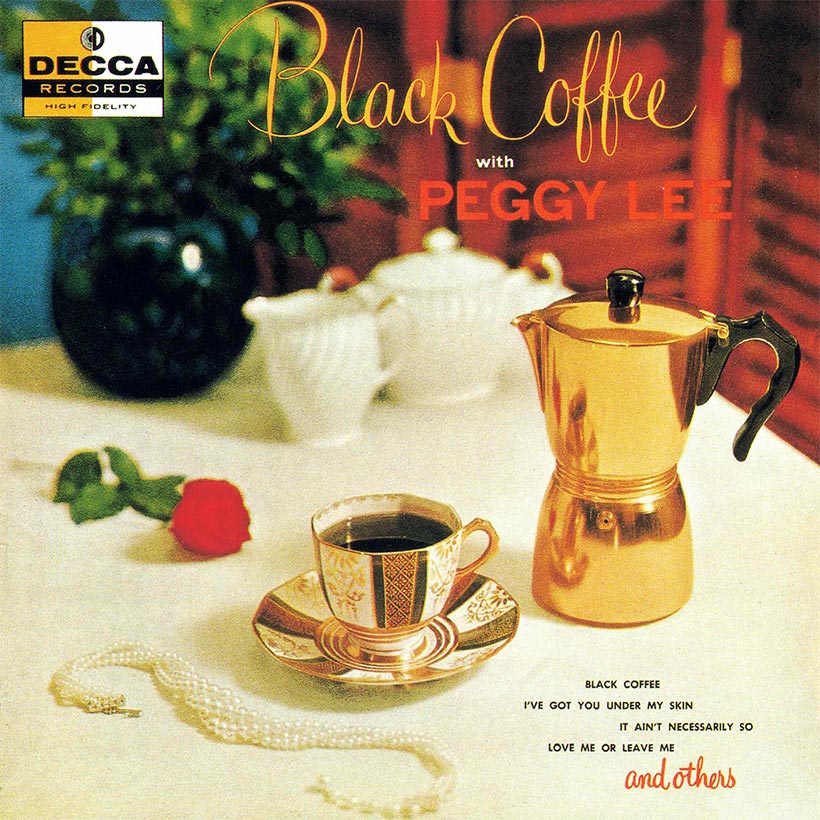 Peggy Lee was 32 years old when she walked into the Decca label's recording studios in midtown New York to lay down the tracks for what became Black Coffee. Remarkably, it was among the singer's first albums, even though she had a swathe of hit singles to her name, including "Mañana (Is Soon Enough for Me)," a No.1 US smash in 1948.
Listen to Black Coffee on Apple Music and Spotify.
"You can record anything you want"
Born Norma Deloris Egstrom, in Jamestown, North Dakota, on May 26, 1920, Lee served her musical apprenticeship as a featured singer in Benny Goodman's band before carving out a successful solo career at the fledgling Capitol label between 1944 and 1951. In 1952, she left Capitol after they refused to let her record a vocal version of Les Paul's instrumental hit, the Rodgers & Hart-penned "Lover." Producer Milt Gabler enticed her over to Decca with the promise, "You come with me, and you can record anything you want." Lee opened her Decca account with "Lover," which became a hit single.
Black Coffee followed a year later. Recorded across three sessions – held on April 30, and May 1 and 4, 1953 – with Gabler at the helm, Lee was accompanied by pianist Jimmy Rowles, bassist Max Wayne, and drummer Ed Shaughnessy, plus a horn player, trumpeter Pete Candoli, who became a stalwart of the West Coast jazz scene. Sipping cognac sweetened with honey in between takes, Lee and her band recreated the intimate vibe of a jazz club performance, putting down eight tracks whose blend of languor and nocturnal reverie helped to cement Lee's status as a torch-song goddess.
"It's a darker exploration of love"
Black Coffee wasn't a random collection of songs. As Dr. Tish Oney, author of a forthcoming book on Lee, Peggy Lee: A Century Of Song, explains: "She created one of the first concept albums with Black Coffee. To that point, albums hadn't necessarily had any thread linking the songs together, but Black Coffee was one of the very first that had a theme. The songs have to do with love, but not in the manner that it had been dealt with previously. The album is a darker exploration of imperfect love relationships, and I think a lot of people could relate to that."
Though Sarah Vaughan recorded Sonny Burke and Paul Frances Webster's "Black Coffee" song first, Lee made it her own, transforming it into a smoky-hazed hymn of loneliness, longing, and desperation that oozes sensuality. "I don't think anyone has ever done the title song better," says Oney. "The quality of huskiness in her voice suggests to me it's early in the morning and her voice hasn't warmed up yet. She didn't always sound like that, but she's able to use that tone quality to bring out some raw emotion in the song."
A critical factor in creating the song's melancholy mood is Pete Candoli's muted trumpet, which shadows Lee's vocals with shards of bluesy melody. "I think his presence was very significant because it was a partnership," says Oney. "He was just as much being featured during the vocal parts of each song as Peggy Lee was. He sometimes echoes things that she does, and they go back and forth. That commentary of what the other has just played or sung is really special. In some ways, you might consider him the male counterpart in the relationship she's singing about."
"She can bring more than one meaning to a song"
Cole Porter's classic, much-covered swing number "I've Got You Under My Skin" lifts the downcast mood momentarily with its peppy sense of brio and Jimmy Rowles' sparkling piano solo. A disconsolate atmosphere returns on Ralph Rainger and Leo Robin's slow ballad "Easy Living," though it is dispelled by the hard-charging "My Heart Belongs To Daddy," on which Lee's passionate vocals joust with Candoli's fiery bursts of dazzling muted horn.
"Lee's performance is a little tongue-in-cheek because the song has many different meanings," says Oney. "I think it offers an insight into the way she can bring more than one meaning to a song, and uses innuendo so that you might not quite know what she's trying to say. She keeps a veil over herself, and her meanings sometimes permit people to interpret it however they want to interpret it. I love that about her. Not all singers have that capability of keeping that veil really drawn."
Beginning and ending with an ominous tolling bell, Willard Robison's lovelorn ballad "A Woman Alone With The Blues" proceeds at a funereal pace but allows Lee to show her skill in caressing a melody and teasing out a variety of emotional nuances. Here she shows a degree of vulnerability, but there is a sense of inner steel. "It's just incredible how many different sounds she was able to get," says Oney. Clock chimes figure on a delightful version of Rodgers & Hart's "I Didn't Know What Time It Was," which begins as a ballad and then morphs into a blithe swinger driven by Max Wayne's walking bass.
A Woman Alone With The Blues
Originally a French song called "Le Chevalier De Paris" (famously recorded by Edith Piaf in 1950), "(Ah, The Apple Trees) When The World Was Young" is about a worldly femme fatale who seems to have everything but longs for the lost innocence of her youth. With English lyrics by US songwriter Johnny Mercer, it's been covered by everyone from Frank Sinatra and Nat King Cole to Scott Walker and Bob Dylan. Lee's poignant rendition is, however, one of the most memorable versions, beginning with Candoli's brief quote from "La Marsellaise" in the intro.
Candoli's horn features prominently on "Love Me Or Leave Me," where Lee presents her lover with an ultimatum, and the song's brisk tempo belies its melancholy message. "'Love Me Or Leave Me' is her way of saying, 'You may be breaking my heart, but I'll be OK, and I'm moving on, with or without you,'" explains Oney. "I think that point of strength is an important aspect of her personality, but I love the way that Pete Candoli meanders around her lyrics and phrases, and the two together really create a beautiful dialogue in that song."
"Black Coffee has never been eclipsed"
In 1953, the eight-song version of Black Coffee was issued on Decca as a 10" LP, but in 1956 Lee added four more tracks to the album for a 12" vinyl release. She cut them with a different set of musicians: pianist Lou Levy, guitarist Bill Pitman, bassist Buddy Clark, drummer/vibraphonist Larry Bunker, and harpist Stella Castellucci. Together they accompanied Lee on an exquisite version of George Gershwin's "It Ain't Necessarily So," along with three contrasting ballads: "Gee, Baby, Ain't I Good To You," the utterly bewitching "You're My Thrill" and "There's A Small Hotel." The latter is a much-covered Rodgers & Hart jazz standard, which Lee reconfigured as a waltz with dizzying harp glissandi before briefly breaking out into a finger-clicking swinger.
"Black Coffee has never been really eclipsed," says Tish Oney, summing up the album's unique qualities. "The music is timeless. Peggy Lee's expression and musical excellence on it is truly outstanding. She shows so many hats that she could wear and doesn't sound like the same artist, song after song after song. That's very hard to accomplish."
The album was a critical success – US jazz magazine DownBeat gave it a glowing five-star review – but it wasn't a massive seller at the time. Over the years, though, Black Coffee's reputation has grown. "It's considered by many jazz aficionados and scholars to be one of the top ten jazz vocal albums of all time," says Oney. "I think that together, all of the songs exhibit Lee's wide range of emotions, her technical command, rhythmic sense, and her phrasing mastery."
"The meanings behind every song are universal"
Oney also believes that Black Coffee made a deep impact on others singers as well as listeners. "I think it has been an extremely influential recording," she says. "Peggy Lee really opened the door for cool vocalists that came behind her." Those who fell under the album's spell were Joni Mitchell – who later recorded "My Thrill" – and kd lang, while veteran UK singer Petula Clark once described the album as "my Bible."
Though Peggy Lee went on to record albums that were more commercially successful, Black Coffee was a defining moment in her career and the artistic high point of her Decca tenure. Dr. Tish Oney believes that it remains relevant today, over 60 years after its first release.
"The meanings behind every song – and the songs together – are universal," she says. "The inevitable disappointment of love relationships was beautifully rendered. It was no longer the happy, naive Peggy, but the disenchanted, disillusioned, wiser Peggy singing. And everyone who's ever had a broken heart can relate to that."