Joni Mitchell
Joni Mitchell is one of the most beloved singer-songwriters of the last century, with a catalogue of classic albums and unforgettable songs.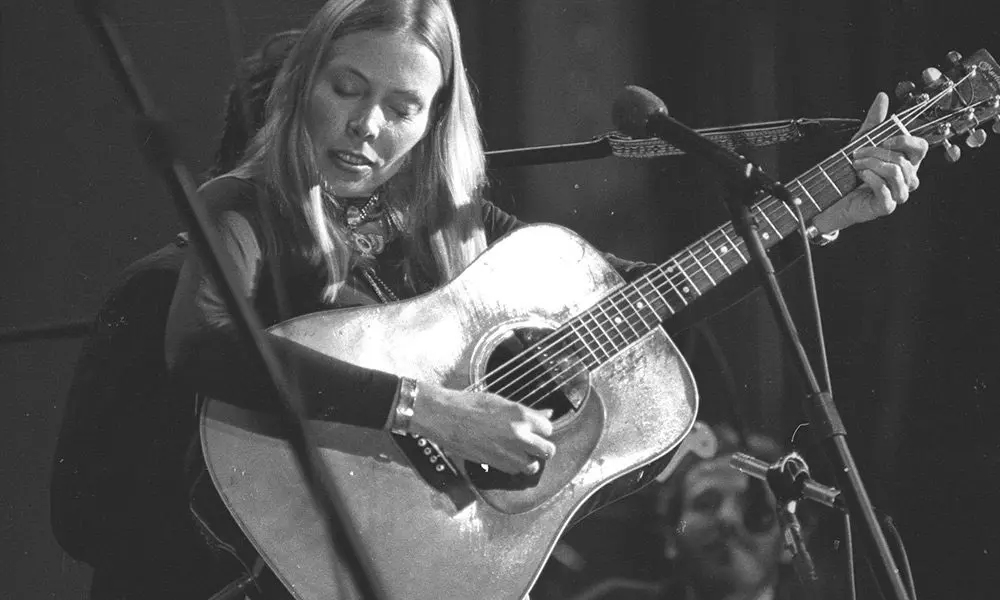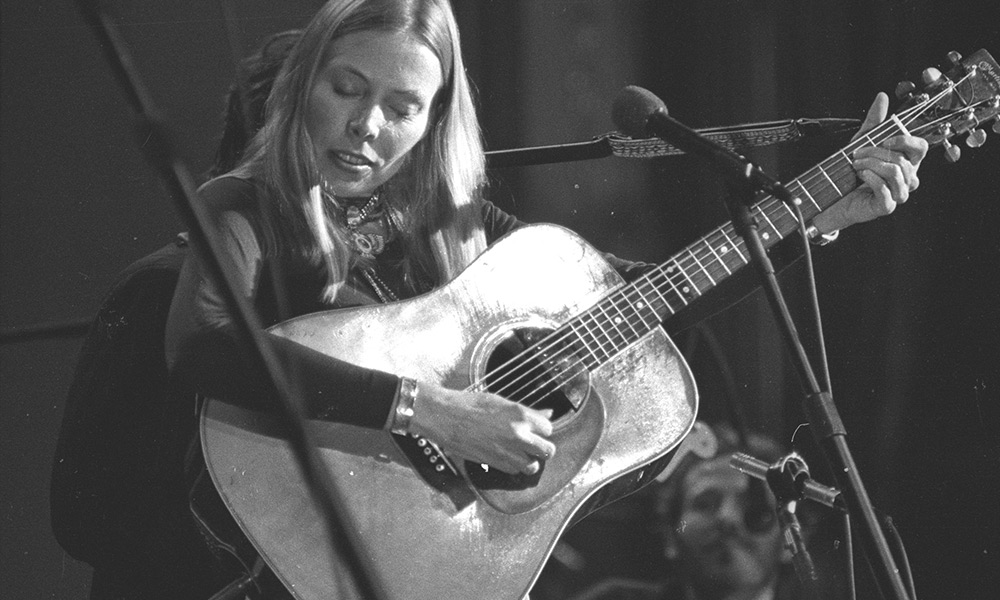 Joni Mitchell came from the open prairie and changed the way we think about the singer-songwriter; indeed, Painting With Words And Music is the apt title for her concert film. That's what she does. Never in a hurry, it seems, she still manages to inhabit the persona of the ultimate troubadour.
She has been a muse for many – Graham Nash, James Taylor, Stephen Stills, Bob Dylan and Robert Plant spring to mind – but she doesn't owe them. Her key albums are dotted across six decades, from 1968's Song To A Seagull to 2007's Shine, which she said would be her last foray into a business with which she shares a love-hate relationship.
If so, she has gifted us enough classic songs: 'Chelsea Morning', 'Both Sides, Now', 'Big Yellow Taxi', 'You Turn Me On, I'm A Radio', 'Free Man in Paris' – all tell a story, and Mitchell's narrative skills are as famous for their grace as the artist herself. Leaving Canada for New York – and, later, the West Coast – she developed from a coffeehouse hopeful into a musician who has worked with Jackson Browne, Stephen Stills, David Crosby, Larry Carlton, Willie Nelson, and the jazz giant who inform her later work, notably Herbie Hancock, Pat Metheny, Charles Mingus, and Weather Report's Wayne Shorter and Jaco Pastorius. Mitchell's albums have won her nine Grammy Awards, Companion Of The Order Of Canada and induction into the Rock And Roll Hall of Fame (she didn't attend). When she was given the Grammy Lifetime Achievement Award, in 2002, the citation pointed out she is "one of the most important female recording artists of the rock era" and "a powerful influence on all artists who embrace diversity, imagination and integrity". She, however, describes herself as "a painter derailed by circumstance".
Roberta Joan Anderson comes from Norwegian and Celtic stock but was born in Alberta, in 1943 – though she claimed Saskatoon as her hometown. Mixing passions for music and art, she dropped out of college to pursue a folk career. Seeing Buffy Sainte-Marie in 1964 convinced her to follow the folk path to Toronto, then Detroit, New York City and, eventually, California – travels that informed her first album, 1968's Song To A Seagull.
Produced by David Crosby, the album made some surprising omissions of songs Mitchell had already written, notably 'Both Sides, Now' and 'Chelsea Morning' (hits for Judy Collins and Dave Van Ronk), 'The Circle Game' (Tom Rush) and 'Eastern Rain' (Fairport Convention). The following year's Clouds was a more assured affair, with Doors producer Paul A Rothchild at the board and Stephen Stills playing bass and guitar. This time the immaculate 'Both Sides, Now' and her paean to New York City, 'Chelsea Morning', were included, and helped develop a cult following that turned Joni into a star once Ladies Of The Canyon emerged. One of the most important albums of 1970, if only for 'Big Yellow Taxi' and 'Woodstock', this is where the rock and jazz crowd began to take notice.
1971's Blue was the turning point. Ever-expanding her palette, Mitchell used an Appalachian dulcimer and was backed by Stills (again), James Taylor, "Sneaky Pete" Kleinow and Russ Kunkel. This time around her lyrics became more personal and intense, and she experimented with alternative tuning – and detuning – on her acoustic as a means of forcing her vocals to fly into territory not usually associated with standard pop. The most poignant example is 'Little Green', about the daughter she gave up for adoption in 1965.
The following year's For The Roses gave Mitchell the first hit in 'You Turn Me On, I'm A Radio', a backhanded allusion to a company request to write more commercial material, but it's 'See You Sometime' that nails the wars of love on the head. Elsewhere, love songs and social commentary abound.
Released in 1974, Court And Spark remain her most successful album. With Joni backed by The Crusaders, Robbie Robertson, Cheech And Chong, Wayne Perkins and Jose Feliciano, it elevated her to the status of a West Coast jazz-folk-pop goddess. 'Help Me', 'Free Man In Paris' and the meandering melodic structure of 'Down To You' stood out and helped the album go double platinum.
The live 2LP Miles Of Aisles was further evidence of her moving closer to jazz, performing live with Tom Scott and Robben Ford from LA Express, and then she went further out for The Hissing Of Summer Lawns, an album that has been compared to Blood On The Tracks for its importance, and been widely praised. Prince was such a fan of the album that he sent Mitchell love letters (and he would go on to reference 'Help Me' in 'The Ballad Of Dorothy Parker' and cover 'A Case Of You' many times on stage throughout his career). The masterpieces on … Summer Lawns are 'In France They Kiss On Main Street' and 'Shades Of Scarlett Conquering', but everything has a widescreen cinematic impact with resonations and ruminations on art, the drug world, the music business and the modern metropolis.
Hejira, featuring Jaco Pastorius, Larry Carlton and Neil Young, repeats the trick and includes the wry 'Coyote', on which Bob Dylan's 1975's Rolling Thunder Revue (which, for a brief moment, picked Mitchell up) gets a none-too-favourable mention.
Don Juan's Reckless Daughter and Mingus are where Mitchell really parts company with the mainstream world of rock. While the former features JD Souther, Glenn Frey and Chaka Khan, it can't disguise Mitchell's diva status. Mingus, meanwhile, was a collaboration with the great composer and jazz musician, recorded shortly before his death. Taking on 'Goodbye Pork Pie Hat', 'A Chair In The Sky' and 'The Dry Cleaner From Des Moines', it sees Joni become something of a grande dame in waiting, but sales were better than expected.
Moving to Geffen for her next four albums – Wild Things Run Fast, Dog Eat Dog, Chalk Mark In A Rain Storm and Night Ride Home – she worked up more pop-orientated material which featured her producer and soon-to-be-husband and producer Larry Klein. Nodding to the likes of Talking Heads, The Police and Steely Dan, Mitchell began to concentrate on her rhythm section but also hung with a different crowd. Guests in this era include Willie Nelson, Tom Petty and Peter Gabriel.
Returning to Reprise for Turbulent Indigo (marked by its artwork, a self-portrait homage to Van Gogh), Mitchell's fortunes enjoyed an upturn which the compilations Hits And Misses capitalised upon. Though towards the end of the 90s she would start hinting at retirement, Taming The Tiger emerged in 1998 and Mitchell set out on a co-headlining tour with Dylan and Van Morrison. It reignited her love for performance and, in 2000, she released the ambitious concept disc Both Sides Now. Featuring orchestral reinterpretations of evergreen classics from Rube Bloom, Rodgers and Hart, Harold Arlen and Sidney Clare ('You're My Thrill' set the standard), it won her two Grammy Awards and glowing praise.
In a similar vein, 2002's Travelogue reworked her catalogue to great effect and even includes a newly minted 'The Last Time I Saw Richard', a song which originally featured on Blue and was about her brief marriage to Richard Mitchell.
A series of compilations of Mitchell's latter-day career – The Beginning Of Survival, Dreamland and Songs Of A Prairie Girl – coincided with an onset of bad health. In 2006, she announced that her next album, the following year's Shine, would be her last. She's in fine form on it, however, and the song 'One Week Last Summer' won her the 2008 Grammy Awards for Best Pop Instrumental Performance.
In 2015, Mitchell suffered a brain aneurysm but appears to be on the mend. Allaying fans' fears, her old friend, peer and ally Judy Collins, reported, "Joni is walking, talking, painting some, doing much rehab every day."
Many singer-songwriters have been said to have changed the music business, but few with the impact that Joni Mitchell has had. She's lived an epic life. The 4CD box set she compiled, Love Has Many Faces: A Quartet, A Ballet, Waiting To Be Danced, pays testimony to a remarkable person. Her hejira – her journey – is not yet over.
Max Bell
Format:
UK English