Singer-Songwriters: The 100 Greatest Songs
Celebrating the 100 greatest songs from singer-songwriters from the last seven decades, including the best from Bob Dylan and Elton John.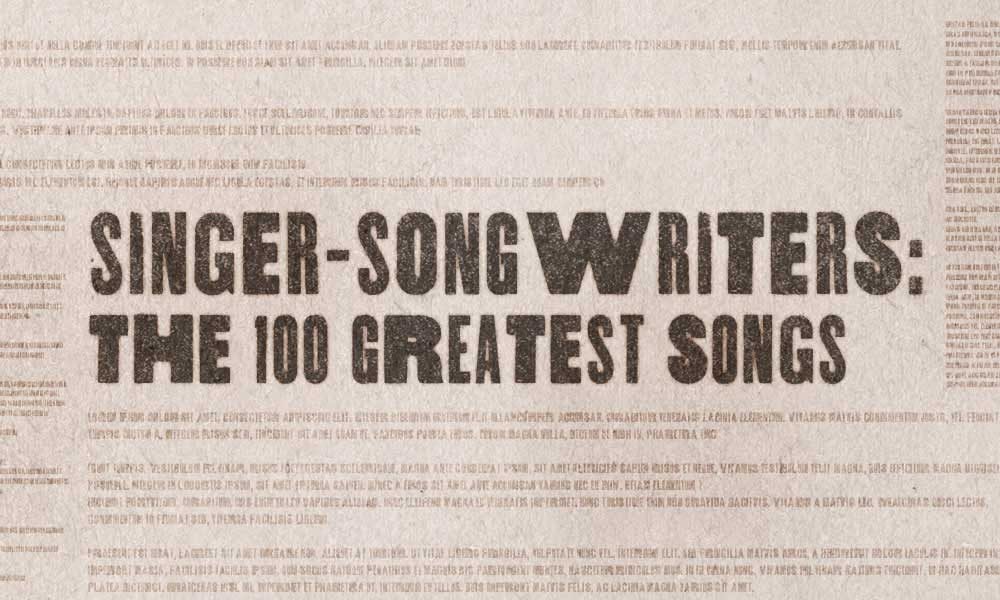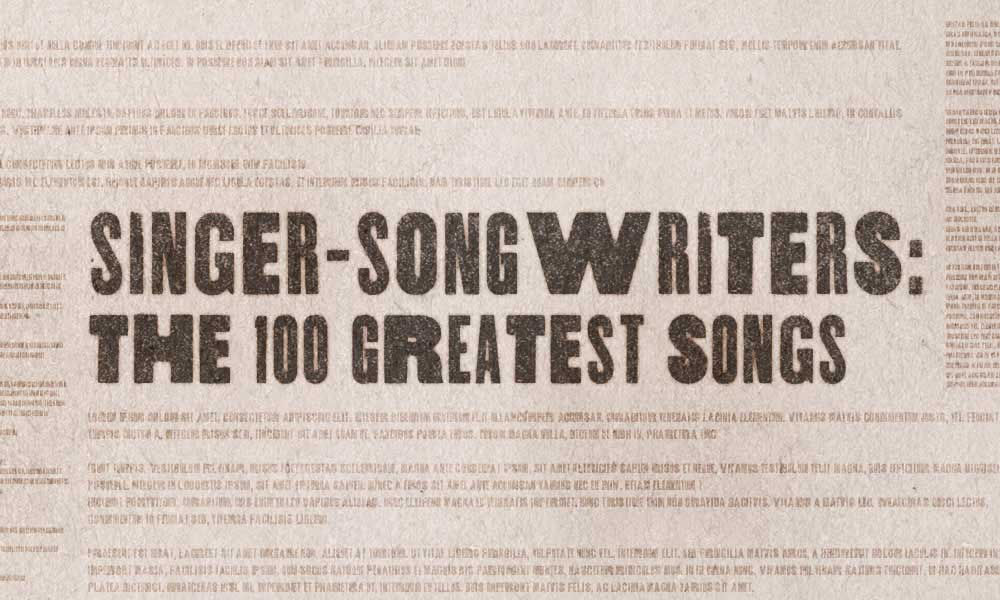 In a time long ago – well, sometime before the early 60s – songwriters wrote songs and singers sang them. It was less often that people did both. Of course, there were exceptions; arguably it was the coming of Bob Dylan that signalled a great leap forward for singer-songwriters.
But, cast your mind back, if you can, to March 1962 and the release of Dylan's self-titled debut album. Of the 13 songs on the album, just two were written by the Bobster. Five were Dylan's arrangements of traditional songs, two were other people's arrangements of traditional songs, and there were covers of Blind Lemon Jefferson, Jesse Fuller, Bukka White and Curtis Jones. It wasn't until a year later, in May 1963, that Bob's second album revealed his emerging songwriting talents: 11 of its 13 tracks were Dylan originals. Two months earlier and Lennon and McCartney wrote eight of the 14 tracks on The Beatles' debut album. It was something of a turning point.
Dylan came out of the folk tradition, and it was the acoustic-folk genre that was – and remains – the spiritual home of the singer-songwriter, where performers tend to provide the sole accompaniment to an entire composition or song, typically using a guitar or piano. The political protest songs of Pete Seeger and Woody Guthrie are what people thought of as singer-songwriters before Dylan, but by 1963 there was a subtle shift that accelerated as the 60s advanced. Even before that time, however, singers such as Hank Williams were forging a place in musical history where they wrote and performed their own songs, though they were often backed by a group, which causes some to forget that Williams was a true singer-songwriter.
Go back a little further and Blind Lemon Jefferson, Blind Willie McTell, Son House and others from the Mississippi Delta were doing just the same in the 30s. Add to that list Robert Johnson, who created a canon second to none of songs that have been covered by countless others ever since. But at the same time, never forget that when Johnson was playing juke joints and house rent parties, he would frequently cover the hits of Bing Crosby who was singing songs from the writers that frequented New York's Tin Pan Alley. He, like so many performers, was trying to entertain and earn a crust… the covers band and covers singer is a proud tradition. Recently someone posted a video online of a guy with a guitar covering Stevie Wonder's 'Superstition' on stage at a hotel, somewhere in America; Stevie himself was in the hotel and he went on stage to join the unknown performer to sing his own composition. Somehow it feels like the tradition finally came full circle.
We have tried to come up with the ultimate playlist of the greatest songs performed and written by singer-songwriters. It includes all the usual suspects, From Dylan, Elton and Stevie to Carole King, Joni and Dolly. It also unearths some real gems by singer-songwriters who have crafted superb songs that forced their way into our list.
There's Scott Walker's 'Such A Small Love', from his debut solo album; one of Canada's finest songwriter-singers, Gino Vannelli and 'Gypsy Days' Nashville's Gretchen Peters' 'Secret Of Life', Clifford T Ward's 'Home Thoughts From Abroad' and Stephen Bishop's 'On and On'. Which is just what we could do with this list… The 70s was the heyday of the singer-songwriter, but they are as meaningful today as they've ever been.
So what are the 100 greatest songs?
100. Skin – Rag'n'Bone Man
99. This Masquerade – Leon Russell
98. Perfect Day – Lou Reed
97. Okie From Muskogee – Merle Haggard
96. Fidelity – Regina Spektor
95. Actor Out Of Work – St. Vincent
94. Lonely At The Top – Randy Newman
93. Suedehead – Morrissey
92. Southern Nights – Allen Toussaint
91. Chicago – Sufjan Stevens
90. Drop The Pilot – Joan Armatrading
89. Fast Car – Tracy Chapman
88. Luka – Suzanne Vega
87. The Last Living Rose – PJ Harvey
86. Wild World – Yusuf/Cat Stevens
85. Everything Is Everything – Ms. Lauryn Hill
84. Werewolves of London – Warren Zevon
83. Cornflake Girl – Tori Amos
82. Land Locked Blues – Bright Eyes
81. Fast As You Can – Fiona Apple
80. Sailing to Philadelphia – Mark Knopfler
79. Fist City – Loretta Lynn
78. Record Year – Eric Church
77. Traveller – Chris Stapelton
76. Merry Go 'Round – Kasey Musgraves
75. Royals – Lorde
74. Downtown Train – Tom Waits
73.  Where I Stood – Missy Higgins
72. Perfect Skin – Lloyd Cole and the Commotions
71. If It Makes You Happy – Sheryl Crow
70. Free Fallin' – Tom Petty
69. Going To A Town – Rufus Wainwright
68. Capsized – Andrew Bird
67. American Pie – Don McLean
66. Miss Misery – Elliot Smith
65. For A Change – Chris Difford
64. Maggie May – Rod Stewart
63. On and On – Stephen Bishop
62. Being With You – Smokey Robinson
61. Garden Party – Rick Nelson, The Stone Canyon Band
60. Draw Of The Cards – Kim Carnes
59. The Immigrant – Neil Sedaka
58. Home Thoughts From Abroad – Clifford T. Ward
57. Superstition – Stevie Wonder
56. Life On Mars – David Bowie
55. Song To The Siren – Tim Buckley
54. New Kid In Town – JD Souther
53. The End of Innocence – Don Henley
52. Desperados Waiting For A Train – Guy Clark
51. Boulder To Birmingham – Emmylou Harris
50. She – Gram Parsons
49. Sunday Mornin' Comin' Down – Kris Kristofferson
48. Copperhead Road – Steve Earle
47. 1952 Vincent Black Lightning – Richard Thompson
46. The Wreck of Edmund Fitzgerald – Gordon Lightfoot
45. Cat's In The Cradle – Harry Chaplin
44. Oh My Sweet Carolina – Ryan Adams
43. Chateau Lobby #4 (in C for Two Virgins) – Father John Misty
42. Lost Cause – Beck
41. Sweet Caroline – Neil Diamond
40. Piano Man – Billy Joel
39. On The Road Again – Willie Nelson
38. Wuthering Heights – Kate Bush
37. Rollin' And Tumblin' – Muddy Waters
36. Alison – Elvis Costello
35. Let's Get It On – Marvin Gaye
34. Solid Air – John Martyn
33. Come Away With Me – Norah Jones
32. Jolene – Dolly Parton
31. Your Cheatin' Heart – Hank Williams, Drifting Cowboys
30. Longer – Dan Fogelberg
29. At Seventeen – Janis Ian
28. Like A Rolling Stone – Bob Dylan
27. The Secret of Life – Gretchen Peters
26. We're All Alone – Boz Scaggs
25. Gypsy Days – Gino Vannelli
24. Running On Empty – Jackson Browne
23. Pink Moon – Nick Drake
22. Lady-O – Judee Sill
21. Traction In The Rain – David Crosby
20. Fire and Rain – James Taylor
19. Yesterday – Paul McCartney
18. On The Border – Al Stewart
17. Into The Mystic – Van Morrison
16. Field of Gold – Sting
15. Suzanne – Leonard Cohen
14. Heart of Gold – Neil Young
13. Such A Small Love – Scott Walker
12. How Can We Hang On To A Dream – Tim Hardin
11. 50 Ways To Leave Your Lover – Paul Simon
10. Late Night Grande Hotel – Nanci Griffith
9. Constant Craving – k.d. lang
8. Both Sides Now – Joni Mitchell
7. My Sweet Lord – George Harrison
6. Stony End – Laura Nyro
5. You're So Vain – Carly Simon
4. Imagine – John Lennon
3. It's Too Late – Carole King
2. Your Song – Elton John
1. Who Knows Where The Time Goes – Sandy Denny
Format:
UK English