Best Ella Fitzgerald Songs: 20 Memorable Jazz Classics
As much a pioneer as she was a powerhouse, Ella Fitzgerald's timeless tunes only get better with age.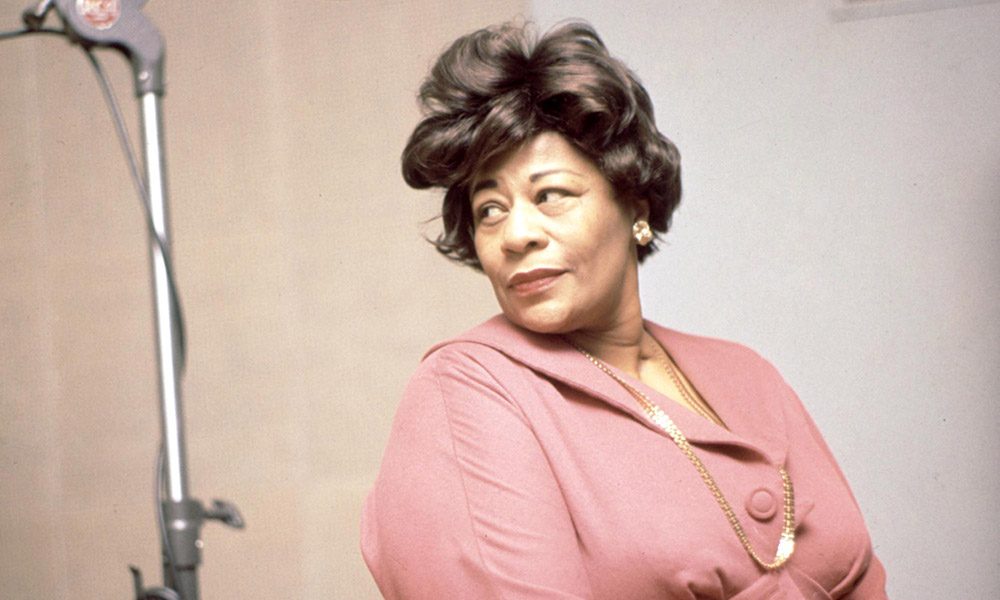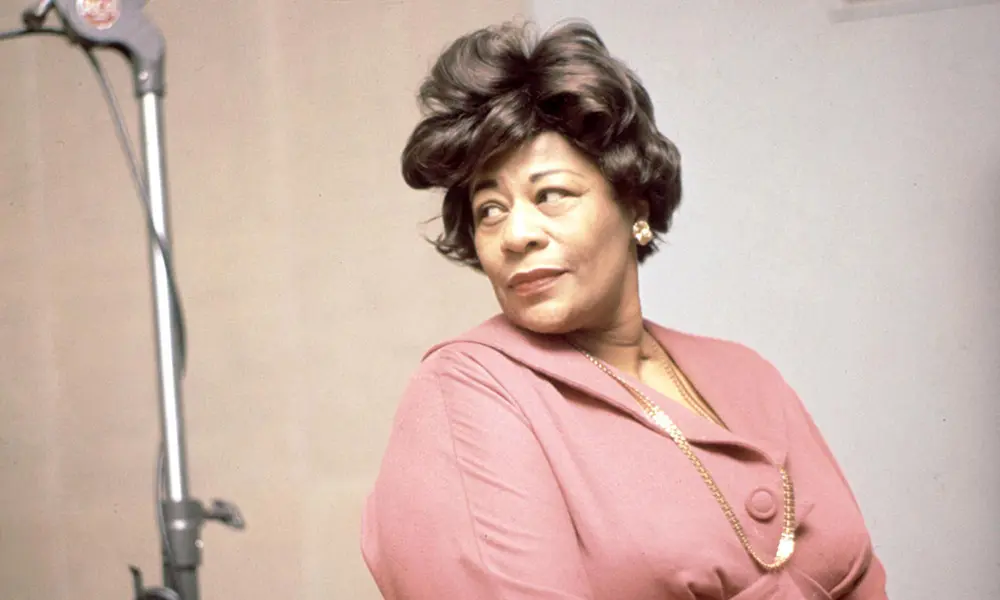 In the fall of 1934, Ella Fitzgerald – then a homeless, 17-year-old girl in Harlem – took the stage at the Apollo Theater's very first Amateur Night. She had planned on dancing in hopes of securing her shot at fame, but was intimidated by a tap-dancing act who won the crowd over with their fancy footwork before her turn. She sang the songs "Judy" and "The Object of My Affection" instead, and won the evening's top prize. The rest is history.
Soon, Ella was singing with bands as they provided the soundtrack for smoke-filled dance halls, like Harlem's Savoy Ballroom, and swinging, sultry jazz nights across town. She joined the ranks of Chick Webb's orchestra as its velvet voice within a year of her triumphant Amateur Night debut.
By 1938, Ella had recorded a number of singles, but struck gold with her elevated take on a popular nursery rhyme, "A Tisket A Tasket." Hers was a voice that immediately put the listener at ease – amber, warm, and with a strong vibrato that lent itself beautifully to countless styles. She navigated dance floor ditties and mournful ballads with ease, collaborated with legendary bandleaders like Benny Goodman and Count Basie, and belted and crooned her way through the great American Songbook. Her renditions of these jazz classics, from the work of Irving Berlin and George and Ira Gershwin to Duke Ellington, have become renowned standards in and of themselves.
Listen to the best Ella Fitzgerald songs on Apple Music and Spotify.
As adored and accessible as these immediately recognizable songs are, Fitzgerald was as much a pioneer as she was a powerhouse. She was an effortless scatter, fluent in jazz's improvisational language; she never settled for the comforts of success and challenged herself to sing swing, musical theater, pop, and beyond, a mix that made her shows (and her subsequent live albums) captivating proof of her prowess. She was the first black female artist to win a Grammy, and collected 13 over the course of her career (and that doesn't count her lifetime achievement award, which she received in 1967). She was presented with the Kennedy Center's Medal of Honor in 1979, as well as the presidential medal of freedom in 1992, and her work is preserved by both the Smithsonian Institute and Library of Congress.
The Queen of Jazz, the First Lady of Song, Lady Ella – no matter the title, listeners have loved American jazz singer Ella Fitzgerald and her music for nearly a century, and it's no wonder that her timeless songs only get better with age.
Ella Fitzgerald's early recordings
From the start, Ella Fitzgerald's voice was a force, and one that grew more nuanced and respected with time – but the earliest tapes of her singing reveal a vibrant, vivacious appeal that charmed listeners and kept them coming back for more. Her first credited song, 1935's "I'll Chase the Blues Away" with the Chick Webb Orchestra, is a buoyant, cheerful flirtation of an introduction, a love note set to a toe-tapping beat. Three years later, she found her national breakthrough in an unlikely source: "A-Tisket A-Tasket" made for a sweet spin thanks to its origins as a familiar nursery rhyme, but Ella's take is anything but juvenile: it borrows the wordplay and melody while giving it an easily danceable beat, one that could easily translate to a bustling dance hall. Listeners agreed, and the song was her ticket to fame: she performed it in Abbott & Costello's 1942 film, Ride 'Em Cowboy, which served as her onscreen debut.
Following the death of Webb in 1939, Ella was dubbed the orchestra's new bandleader, and she sang with them through 1942. She'd continue to collaborate with other musicians, and teamed up with Harry James and James Lunceford on the catchy motivational anthem "T'Ain't What You Do, It's the Way That You Do It," which peaked at No. 19 on the charts and carried over the playful bounce of her prior songs, and "Into Each Life Some Rain Must Fall," her duet with Bill Kenny and the Ink Spots and first chart-topping hit. Also of note during this period: Her work with Louis Jordan, most notably in duets like "Baby, It's Cold Outside."
The scat superlatives
A list of the best Ella Fitzgerald songs simply must include a section on one specific part of her singing ability: With her exceptional enunciation, quick tongue, and mighty lungs, Ella Fitzgerald could deliver rapid-fire scat outbursts that took a straightforward performance into immortal territory. To say that Ella was a great scatter doesn't quite capture it. The word "bebop" literally originated in one of her improvisational interludes. 1956's Lullabies of Birdland offers a masterclass in the form: "Flying Home" does have a few lyrics, but Ella's scatting coasts the curves of every chord progression as the song gallops to its finish. "Oh, Lady Be Good" is a similarly effortless cascade of scatting over Benny Goodman's jovial band, as is "How High the Moon." But "Airmail Special" is a singular triumph, and one that completely transforms – and ramps up to an ecstatic, euphoric level – in live recordings (notably the one from her 1957 Newport Jazz Festival performance).
Ella Fitzgerald's biggest hits
As Ella Fitzgerald's spotlight grew brighter and bigger, so did her range. "Satin Doll," her 1953 version of Ellington's jazz standard, is a textbook example of doing the most with less: accompanied by a tight, demure band, Ella vocalized, simply and wordlessly telling a story with the ebb and flow of the melody. Even when she flubbed the lines, she won over audiences. "Mack the Knife" was already a hit by the time Ella covered the song in 1960, but a recording of her performing it with the Paul Smith quartet in Berlin – on a night where she forgot the words, and sang some of her own off-the-cuff lyrics instead – earned her a Grammy.
Mack The Knife (Live In Berlin/1960)
"Cry Me A River" was originally penned for Ella by Arthur Hamilton, and though the scorned anthem has led many to the mic, her version in all its glowering glory is pure, potent emotion. "Blue Skies," with the swell of the big band and her effervescent scatting, is a perfect example of Ella in her prime: every vocal flourish and captivating improvisation makes the song her own.
The American Songbook standards
Ella Fitzgerald's best songs sometimes weren't "her" songs at all. The compositions of Jerome Kern, the Gershwins, Cole Porter, Irving Berlin, Rodgers & Hart, and more soundtracked the jazz age – and were revived, with great success, by Ella Fitzgerald's refreshing vocals in the 50s. (She also tackled the Duke Ellington song book as well.) In 1955, her manager, producer Norman Granz, brought her from Decca Records to his new label, Verve Records, where she focused on the American Songbook. She released several albums dedicated to these then-retro gems and remade them in her own image, with the Broadway-worthy verve of "I Got Rhythm" and swingin' charm of "Puttin' on the Ritz" wooing listeners a generation removed from their creators. (Some credit here must go to the excellent arrangers that worked closely with Ella, like Nelson Riddle – perhaps best known for his work with Frank Sinatra.)
The ballads were just as captivating, and the palpable longing on Rodgers & Harts' "Bewitched, Bothered and Bewildered" is the stuff of slow-dance dreams. "Someone to Watch Over Me" may be one of Gershwin's most revered accomplishments, and it's one of Ella's best songs (particularly her recording with the London Symphony Orchestra, which was taped at Abbey Road Studios). Her standards became the standard at the intersection of jazz and pop, and earned her two Grammy Awards in 1958. The American Songbook truly met its modern match in Ella.
The Louis Armstrong duets
A list of the best Ella Fitzgerald songs would hardly be complete without her fruitful collaborations with Louis Armstrong. Accompaniment, in many cases, came from the Oscar Peterson Quartet, with help from Herb Ellis and Buddy Rich. But these records are all about their contrasting voices, which somehow sound like soulmates in song: their first album together, 1956's Ella and Louis, featured their smooth interpretation of the Gershwins' "They Can't Take That Away From Me," as well as Berlin's "Cheek to Cheek." The pair were constantly in musical dialogue with each other, even when Satchmo doesn't sing a word: his trumpet is a warm, brassy partner for Ella's hypnotizing vocals. Two more albums followed, 1957's Ella and Louis Again, which offered their dizzyingly romantic "Autumn in New York," and 1959's Porgy and Bess. "Summertime," the haunting signature melody from Gershwin's opera, is a swooning, jazzy shade of the lullaby – one that beautifully amplifies Ella's impeccable diction.
Hear Ella like you've never heard her before on The Lost Berlin Tapes, featuring her performance at Berlin's Sportpalast on March 25, 1962 and finds Fitzgerald at the top of her game with a trio led by pianist Paul Smith, Wilfred Middlebrooks on bass, and Stan Levey on drums. The Lost Berlin Tapes can be bought here.