Tori Amos
Tori Amos is one of the most celebrated singer-songwriters of the last several decades, with a peerless catalogue that's influenced scores of artists.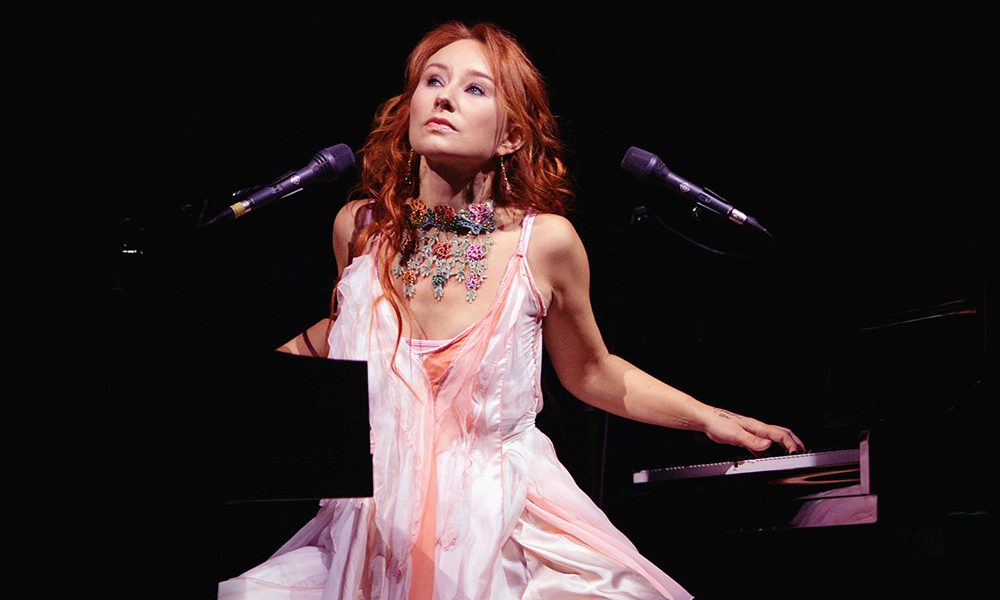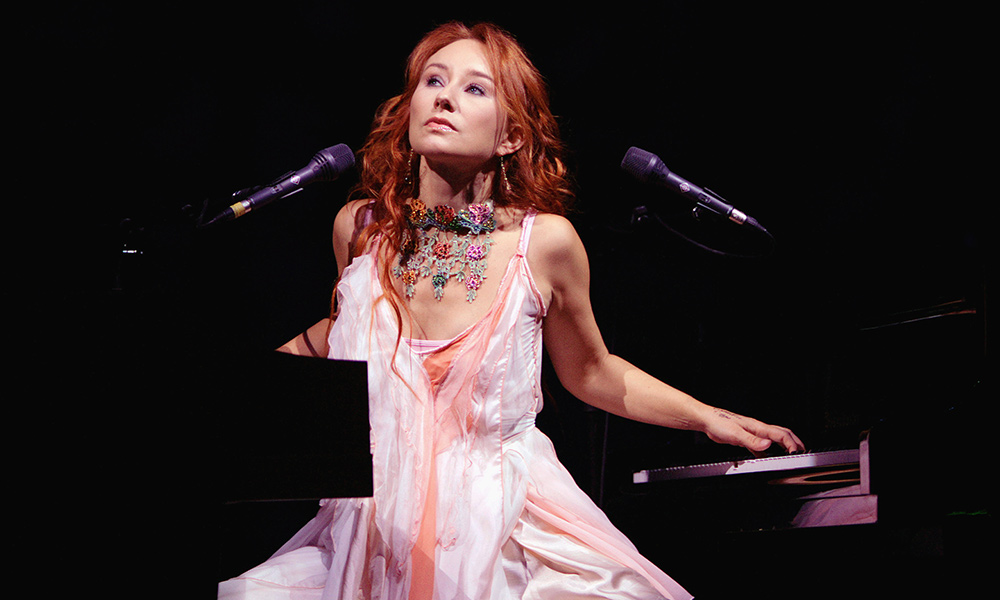 That Tori Amos was born to the Reverend Dr Edison Amos, a Method minister, and Mary Ellen (Copeland), whose parents were of Eastern Cherokee heritage, is not incidental to her music. Born Myra Ellen Amos in 1963 – but known to legions of fans simply as "Tori" – the daughter of a preacher man's turbulent relationship with the church makes its way into many of her early songs – 'Crucify', 'God', 'Muhammad My Friend' – which are also filled with the spirituality and storytelling she inherited from her maternal grandparents.
Born in Newton, North Carolina, and growing up in Georgetown, Washington, DC, and Baltimore, Maryland, Tori was a child prodigy. Playing the piano from the age of two, she would copy, by ear, tunes she heard her older brother and sister play, as well as songs on the radio and entire scores of musicals. Songs from the latter, such as Oliver! and The Sound Of Music, were among the first non-religious music she was exposed to and featured in her audition for the prestigious Peabody Institute, an internationally renowned conservatory and preparatory school, part of Johns Hopkins University, where Tori won a full scholarship at the age of just five – the youngest student ever to be admitted.
Studying classical piano at the Peabody seems to have been a mixed experience for Amos, who struggled with conforming and had from a young age shown an interest in pop and rock (one anecdote tells how, at the age of five, she wandered around the family home clutching a copy of Sgt Pepper's Lonely Hearts Club Band, saying, "This is what I'm going to do"). Another problem was that the powers that be wanted Tori to read sheet music rather than playing by ear as she was used to (an idea referenced by her first rock project, Y Kant Tori Read).
After the Peabody Institute and Tori parted ways when she was 11 (she has said variously that her scholarship was revoked and that she was kicked out) Tori was set adrift in the "normal" world of growing up: friends, first kisses and the important business of a rock education – she loved The Beatles, Elton John and Joni Mitchell, but it seems Led Zeppelin, and Robert Plant in particular, truly stole her heart.
In a perhaps unexpected move for a Methodist minister, her father, who had had high hopes for her as a classical pianist, helped Tori get gigs at piano bars, acting as chaperone and chauffeur to his teenage daughter, who described herself at that time as a "human jukebox", with roughly 1,500 songs in her repertoire – everything from Gershwin and Cole Porter to her beloved Led Zeppelin, as well as fellow pianists Carole King, Billy Joel and Elton John.
By the time she was 15, Amos was navigating this nocturnal world on her own, listening to the anecdotes of barflies by night (she still loves talking to strangers and hearing their stories) and turning up to school by day, where history, art and, of course, music were her favourite subjects. At around this time, though she had been composing since she was seven, Tori started submitting demos to producers and penned, with her brother Michael, 'Baltimore', the winning song in a local contest, which was pressed as a single. At 17 or 18, she dropped the name Myra Ellen and became Tori – at the suggestion of a friend's boyfriend (in one version of the story, because she looked like a west coast Torrey pine).
After briefly enrolling at Montgomery College, where she studied music, Tori couldn't settle. Feeling that formal education wasn't for her, like many before her, she left home at 21 to seek her fortune in Los Angeles.
Her first serious foray into the world of rock as the frontwoman of synth-pop/glitz metal band Y Kant Tori Read was not a success. The eponymous album, released by Atlantic in 1988, was universally panned – an experience Amos now credits for returning her to her beloved piano.
"It was a real fight to get people to have a different image of what the piano was," says Tori of that time, "and somebody had to fight that fight. While I was fighting it, I didn't realise that I happened to be that person, because when it's happening you don't see it in a historical context. I started to get… well, it became a mission of mine; I guess I became a vigilante, because I refused to see how the piano had been boxed into this definition of passive – passive and non-confrontational, and I decided you could be confrontational and powerful – and the screaming had to be in the content, not necessarily in what your voice was doing."
Little Earthquakes was rejected – in its first incarnation – by the label. Tori explains: "Doug Morris, who ran Atlantic Records at that time in America, made a deal with me that if I turned in four more songs that weren't just centred around the piano, but were more band-based, that we would move forward… But I have to acknowledge after I turned in the other songs and after he really listened to it, that he got it. Doug Morris got it and he got behind it. And by then those four songs, which were 'Girl', 'Tear in Your Hand', 'Precious Things' and 'Little Earthquakes', kind of made the record a whole."
Tori had a lot to scream about. In raw, confessional songs that reimagined the piano as sensual and provocative, Little Earthquakes marked Amos's commercial and artistic breakthrough. Tracks such as 'Silent All These Years', 'China' and 'Winter' were the UK hit singles and also saw the album eventually scale the charts in the US. The album tackled powerful subjects, such as Tori's religious upbringing, misogyny and traumatic sexual assault that took place during her Y Kant Tori Read days, which is documented in the haunting a cappella song 'Me And A Gun'. In 1994 Tori helped found RAINN (Rape, Abuse And Incest National Network) and became the first national spokesperson for the organisation.
If Tori equates Little Earthquakes with a diary, she compares her second, 1994's Under The Pink, with a painting. "Once your stories have gone out to the world and the people have responded, it's never the same again for you as a writer," she says. "What's key is Little Earthquakes was written kind of alone in a tiny room, behind a church in Hollywood, when I was still playing piano bar to pay my rent. Under The Pink was written while I realised my life had changed, but still grappling with some of those subjects and exploring others that I hadn't really talked about."
Tori and Eric Rosse – her producer and long-term partner – headed to New Mexico to record Under The Pink, where they set up in an old hacienda. The resulting album, released in January 1994, reached the top of the British charts (No.12 in the US) on the back of the hit single 'Cornflake Girl'. Opener 'Pretty Good Year' was her second Top 10 hit in Britain, while other tracks such as 'Past The Mission' and 'God' explored, again, her relationship with the religion of her childhood.
Boys For Pele, the album that followed in 1996, was created in the aftermath of Tori's painful break up with Rosse. A longer, more experimental work than the preceding two, it is Amos' most successful transatlantic release, narrowly missing the top spot in the album charts in both Britain and the US. Featuring an eclectic range of sounds – the harpsichord, harmonium and clavichord among the keyboard instruments, as well as a gospel choir, Caribbean percussionists, Louisiana brass bands and bagpipes, the album was largely recorded in an Irish church and yielded hit singles 'Caught A Lite Sneeze', 'Talula' and double-A-side 'Hey Jupiter'/'Professional Widow' (the latter, said to be written about the death of Kurt Cobain, whose 'Smells Like Teen Spirit' Tori had covered in 1992, was later remixed as a successful hit by dance music producer Armand van Helden in 1997).
As well as marking a turning point creatively, Pele seems to have brought Tori closure on her relationship with Rosse and saw the beginnings of a new relationship with British sound engineer Mark Hawley, who had worked on her last two albums and whom she went on to marry in 1998. However, a miscarriage just before Christmas 1996 left the pair reeling, and Tori's sense of loss resonates throughout her subsequent 1998 album, From The Choirgirl Hotel, in songs such as 'Playboy Mommy' and single 'Spark'. Choirgirl also saw the beginning of a long-term collaboration with percussionist Matt Chamberlain and was the first of her albums to be recorded in a converted barn in Cornwall, which came to be known as Martian Engineering.
Tori's next album, To Venus And Back, released in 1999, fused live gems with new studio material, while her first project of the new millennium was inspired by new motherhood to a baby girl, Natashya. For Strange Little Girls (2001) Tori covered songs written exclusively by male artists, from Tom Waits to Eminem. Her version of the latter's ''97 Bonnie And Clyde', the most controversial track on the album, Tori argued, gave the woman murdered in the song's narrative a voice. In each song, Tori reimagined a female perspective in this way, and the accompanying artwork featured Amos photographed as a number of different characters.
Strange Little Girls marked the end of what had become an unhappy relationship with Atlantic. In late 2001, Amos signed to Epic and, that year, on 11 September, happened to be in New York City when tragedy struck. Scarlet's Walk, which came out in October 2002, is a love letter to her homeland, which Tori wrote with her Native American heritage very much in mind: it's a road trip across America, perhaps best encapsulated by bittersweet opener 'A Sorta Fairytale'. Arguably its British counterpart, 2005's The Beekeeper, with its bucolic imagery and songs such as 'Jamaica Inn' and 'Ribbons Undone', a touching song about Natashya growing up, focuses on Amos' home in Cornwall. Beekeeper debuted at No.5 on the Billboard 200, placing Amos in an elite group of female artists who have secured five or more US Top 10 album debuts.
Like its predecessor, American Doll Posse, released in 2007, also debuted at No.5 on the Billboard 200, though it makes for very different listening. Much more rock-orientated and confrontational, with the fury and fight of Tori's early works, American Doll Posse is a concept album in which Tori performs as five different characters of the "doll posse" – Isabel, Clyde, Pip, Santa and Tori – who are based on characters from Greek mythology. Themes include familiar ones such as misogyny, female empowerment and sexuality, as well as opposition to the Iraq war, which is addressed in 'Yo George' ("Is this just the Madness of King George?"). It was her last album for Epic.
In December 2008, an encounter with Doug Morris, who had worked with Tori on Little Earthquakes, and was then chairman of Universal Music Group, led to Amos signing a "joint venture" deal with Universal Republic Records. The first album to follow was Abnormally Attracted To Sin, which takes its title from a line spoken in Guys & Dolls by Sarah Brown, a woman whose religious convictions are being put to the test. The album, peopled by women on the edge, from the struggling mother on the cusp of ending it all in 'Maybe California' to the tragic heroine in 'Ophelia', sees Tori on slick and simmering form, as ever with a mind for giving the disenfranchised a voice.
Midwinter Graces, which followed the same year in time for Christmas, saw Tori reworking traditional carols, such as 'Nowell' and 'Star Of Wonder', as well as developing some of her own seasonal tracks ('Pink & Glitter', 'Our New Year') with the backing of a big band and orchestra. For those listening closely, a nine-year-old Natashya can be heard echoing her mother in 'Holly, Ivy, & Rose'.
Taking her return to her classical roots one step further, in September 2011 Amos released her first classical music album, Night Of Hunters, mining melodies from the classical canon, by composers ranging from Bach and Schubert to Granados and Satie, creating her own "21st-century song cycle" about the end of a relationship. While Tori takes centre stage with her beloved Bösendorfer, she is joined by, among others, young Polish string quartet Apollon Musagète, and Berlin Philharmonic principal clarinettist Andreas Ottensamer, in the string and woodwind arrangements by John Philip Shenale.
In 2013, Tori Amos marked the 25th anniversary of Little Earthquakes with the release of Gold Dust, which revisited songs from her first album – 'Winter', 'Silent All These Years' and 'Precious Things' – as well as more recent tracks ('Flavor' and 'Star Of Wonder'), in new arrangements for piano and orchestra recorded with the Metropole Orchestra and Jules Buckley, again released by classical record label Deutsche Grammophon.
A reference to "chamber pop" in the press blurb for Unrepentant Geraldines suggests that Tori's classical roots will continue to linger as an influence. Released not long after Amos turned 50, Unrepentant Geraldines, her 14th studio album, takes its name from an etching of a penitent woman called Geraldine, by Daniel Maclise, a 19th Century Irish artist. The title track is an early Tori-style anthem ("I'm gonna heal myself from your religion") that wouldn't have been out of place on Little Earthquakes, but the rest of the album is mellower, gentler, though exploring familiar Amos ideas of politics, religion and the plight of women, as well as the theme of paintings and artists, with songs such as '16 Shades Of Blue', named after Cezanne's varied palette.
Another cyclical return to the musical heritage of childhood is reflected in Tori's foray into the world of musicals. The Light Princess, a collaboration with playwright Samuel Adamson and director Marianne Elliott, premiered at London's National Theatre in October 2013 and tells the story of Princess Althea, who, unable at cry at the loss of her mother, becomes so light with grief she starts to float and has to be locked away. When released as a standalone original cast recording, The Light Princess included, in addition to the original cast performances, includes two songs from the musical ('Highness In The Sky' and 'Darkest Hour') performed by Tori Amos. As with Tori's foray into classical music, it sees Tori expanding her palette and writing music for the stage, suggesting that her next project may be one of her most ambitious yet.
Words: Nicola Rayner
Format:
UK English