Evanescence
The Little Rock, Arkansas, quintet led by charismatic vocalist/pianist Amy Lee have proved to be a powerful – and nigh-on permanent – presence in the international arena in the 21st Century.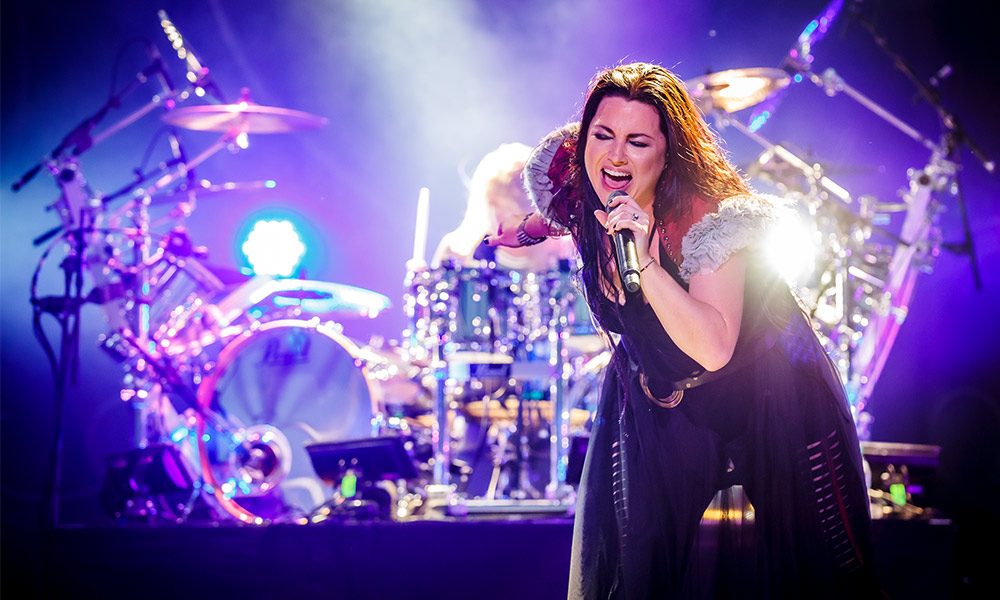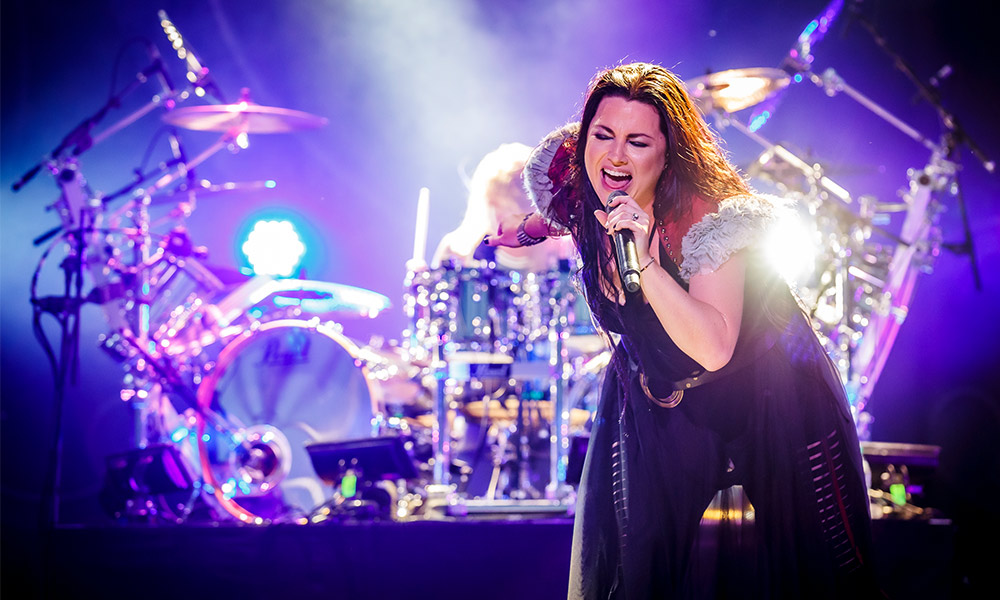 In theory, epic gothic rockers Evanescence have done everything but live up to their name, which is defined by most dictionaries as either a "disappearance" or else something that merely "dissipates like vapour".
Instead, the Little Rock, Arkansas, quintet led by charismatic vocalist/pianist Amy Lee have proved to be a powerful – and nigh-on permanent – presence in the international arena in the 21st Century. Their elusive sound has drawn comparisons with bands as diverse as nu-metal heroes Linkin Park through to intense symphonic metal acts such as Nightwish and Within Temptation, but in truth, Evanescence have always blazed their own trail. Indeed, since their commercial breakthrough with 2003's double Grammy-winning Fallen, they have sold over 25 million albums and established a fanatical global following.
Evanescence came from the humblest of beginnings when original lead guitarist Ben Moody met the band's one constant, the Californian-born Amy Lee, at a youth camp in Little Rock in 1994. Impressed by Lee's burgeoning talent as a pianist, the pair began collaborating on songs and playing low-key shows in coffee houses and bookstores, in addition to sending tapes to local radio stations and receiving a positive reaction from listeners.
Keen to get a full band together, Lee and Moody rejected a number of potential band names, such as Childish Intentions and Stricken, before settling on Evanescence and self-releasing a series of demo cassettes, including the Childish Intentions and Evanescence EPs which were distributed at the band's early shows. Line-up changes dogged these formative days, though keyboardist David Hodges signed up in 1999 and continued to collaborate with Lee and Moody until 2002.
With help from local label Bigwig Enterprises, the fledgeling outfit recorded a more substantial album-length demo, Origin, in 2000. It featured stripped-down versions of 'Whisper', 'My Immortal' and 'Imaginary', all of which would be re-recorded for the band's official debut, Fallen. Only 2,500 CD copies of the demo were pressed (essentially for distribution at Evanescence's reputation-building Little Rock gigs), but after the band exploded onto the international stage in 2003, Origin rapidly became highly collectable, with copies circulating on eBay for around $400.
The demo was mastered at Memphis' legendary Ardent Studios, where producer/ Pete Matthews (Alex Chilton, Golden Smog) first heard Evanescence's demos. Suitably impressed, he played some of their music for Diana Meltzer of NYC-based Wind-Up Records, who was reputedly struck by the potential of 'My Immortal'. Wind-Up subsequently signed the group but took their time developing their young charges, relocating them to LA where they also provided apartment and rehearsal space, along with acting, vocal and movement classes for Amy Lee.
Wind-Up were similarly measured when it came to releasing Evanescence's debut album, Fallen. Recorded across the latter half of 1992, with Dave Fortman (Slipknot, Mudvayne) in the producer's chair, the album featured Lee, Moody and Hodges, but also high-profile sessioneers such as drummer Josh Freese (Guns N'Roses, Nine Inch Nails) and bassist Francesco DiCosmo.
All this expensive preparation paid off, however, when Fallen was finally released in March 2003. Debuting at No.7 on the Billboard 200 and selling over 140,000 copies in its first week of release, Fallen eventually shifted a colossal 17 million copies worldwide, going eight times platinum in the US alone, and also racking up multi-platinum sales across the UK, Canada, Australia and France.
Fallen also received a raft of rave critical notices, with Amy Lee's soaring vocal capabilities frequently singled out for praise alongside the breadth and diversity of Evanescence's music, which ranged from angsty, hard-hitting rockers such as 'Tourniquet' and the hectoring, rap-infused nu-metal of 'Bring Me To Life' to piano-driven power ballads such as 'My Immortal' and the grandiose, strings- and choir-enhanced 'Whisper'.
The album also spawned four spin-off international hits in the shape of 'Going Under', 'My Immortal', 'Everybody's Fool' and 'Bring Me To Life' – the latter, featuring guest vocals from 12 Stones' Paul McCoy, also doing further brisk business after featuring in the soundtrack for the action movie Daredevil, starring Ben Affleck.
By the time Fallen was released, Evanescence had assembled a new line-up for live work. With keyboardist David Hodges departing, Lee and Moody were joined by guitarist John LeCompt, bassist Will Boyd and drummer Rocky Gray, all of whom had previously worked on the fledgeling band's demo recordings. However, while Fallen was barely off the blocks before it shot into the stratosphere, its success came at a heavy price. After a series of internal disagreements, Ben Moody controversially left his own band in October 2003, during the European leg of Evanescence's first world tour.
With guitarist Terry Balsamo (formerly of Florida-based alt.rockers Cold) replacing Moody, Evanescence completed their touring obligations and, in November 2004, Wind-Up released Anywhere But Home: a lavish souvenir of the band's world tour, with fans able to choose between) the standard 60-minute audio CD of the band's show at Paris venue Le Zenith, or the DVD featuring both that show and all of Evanescence's promotional videos to date.
Perhaps inevitably, Anywhere But Home couldn't replicate the stellar success of Fallen, but it was widely praised and went on to sell 1.5 million copies worldwide, ensuring the band's profile remained high while they concentrated on composing their second full-length album.
During preparations for this sophomore release, bassist Will Boyd quit the band in July 2006, guitarist Terry Balsamo suffered (though thankfully survived) a stroke, and the band changed their management team. However, the sophomore LP's no-holds-barred trailer single 'Call Me When You're Sober' (Amy Lee's pointed riposte to her ex-boyfriend) shot to No.10 on the US Billboard Hot 100. In its wake, the highly anticipated The Open Door debuted at No.1 in North America, where it sold nearly half a million copies during its first week of release.
A far more visceral proposition than its illustrious predecessor, The Open Door leant primarily towards widescreen Gothic rock. But while thick metal riffage was often the name of the game, Evanescence were also prepared to stretch, incorporating Portishead-esque drama and intrigue into 'Lose Control', and even elements of Mozart's Requiem and a 22-piece orchestra into the epic 'Lacrymosa'.
Critics once again widely praised Amy Lee's ethereal soprano, though save for 'Good Enough' and the slow, morose 'Lithium' (not a Nirvana cover, but Lee's personal ode to the late Kurt Cobain) The Open Door largely eschewed the Tori Amos-esque piano-led ballads which had been such a feature of Fallen. However, fans were in little doubt of its quality, sending the album double-platinum in the US, Australia, Canada and Russia, as it ultimately notched up sales of 5 million worldwide.
With ex-Revolution Smile guitarist Tim McCord recruited (and switching to bass) in place of Will Boyd, Evanescence kicked off their second world tour, supporting The Open Door. Opening in Toronto on 5 October 2006, the shows continued until December 2007, with the extensive itinerary including two separate tours of the US and Canada, dates in Japan and Australia, and a lengthy jaunt around Europe and the Middle East, climaxing with a sold-out show at the Ra'anana Amphitheatre in Israel.
As with their previous tour, this worldwide trek was widely acclaimed, with Amy Lee by now established as an iconic figure famous for her gothic-style make-up and a penchant for Victorian-era clothing. However, the band again suffered casualties along the way: John LeCompt and Rocky Gray both quit in May 2007 and were replaced by two ex-Dark New Day members, drummer Will Hunt and guitarist Troy McLawhorn.
This Evanescence line-up shaped the band's eponymous third LP, though the record was again the product of a rather painful birth. In fact, much of 2010 was eaten up by aborted initial sessions with the band's first choice of producer, Steve Lillywhite (U2, The Pogues), and the band eventually took time out to write additional material.
When recording restarted in April 2011, the band had decamped to Blackbird Studio in Nashville and a new producer, Nick Raskulinecz (Foo Fighters, Alice In Chains) was installed behind the console. This time, the recordings wrapped smoothly and Evanescence was finally released in October 2011.
Duplicating The Open Door's initial success, the LP again debuted at No.1 on the US Billboard 200. It subsequently went Gold in North America, the UK and Canada and, by 2012, had clocked up total sales of almost half a million copies. The critics, too, came out to praise Evanescence, with Kerrang! describing it as "easily" the band's "most cohesive and confident work". It certainly contained some of the group's most memorable – and accessible – songs, including the symphonic, Björk-like 'Lost In Paradise', the heavy (but infectiously melodic) 'What You Want' and the emotive, sex-trafficking-related ballad 'My Heart Is Broken'.
Again a monumental worldwide trek, the group's third world tour had already kicked off in Nashville prior to the album's release, and this time the shows took in previously uncharted territories such as Costa Rica and Panama, before a series of rapturously received performances in Europe which eventually wound down at London's Wembley Arena on 9 November 2012.
After a truly stratospheric decade, the band announced an extended break in the aftermath of the tour. While they have recorded no further material to date, Amy Lee has remained active, with acclaimed scores for two films, 2013's War Story and 2015 sci-fi epic Indigo Grey: The Passage, recently followed by Recover, Vol 1: an intimate 4-track EP including covers of U2's 'With Or Without You' and Led Zeppelin's 'Going To California'. Her next scheduled release is a solo album due through Amazon Prime Music later in 2016, but after Evanescence regrouped to play Japan's Ozzfest late in 2015, and sold out a run of shows in Florida, fans can be assured their heroes have no intention of disappearing anytime soon.
Format:
UK English